Wednesday, January 5, 2022
"I opened up this box and there was this sitar, it was the most awesome thing I'd ever seen" | Tommy Khosla
By Maria Lord
The stereotype-shattering sitarist talks about their deeply singular musical approach informed by dance, electronics and family reminiscences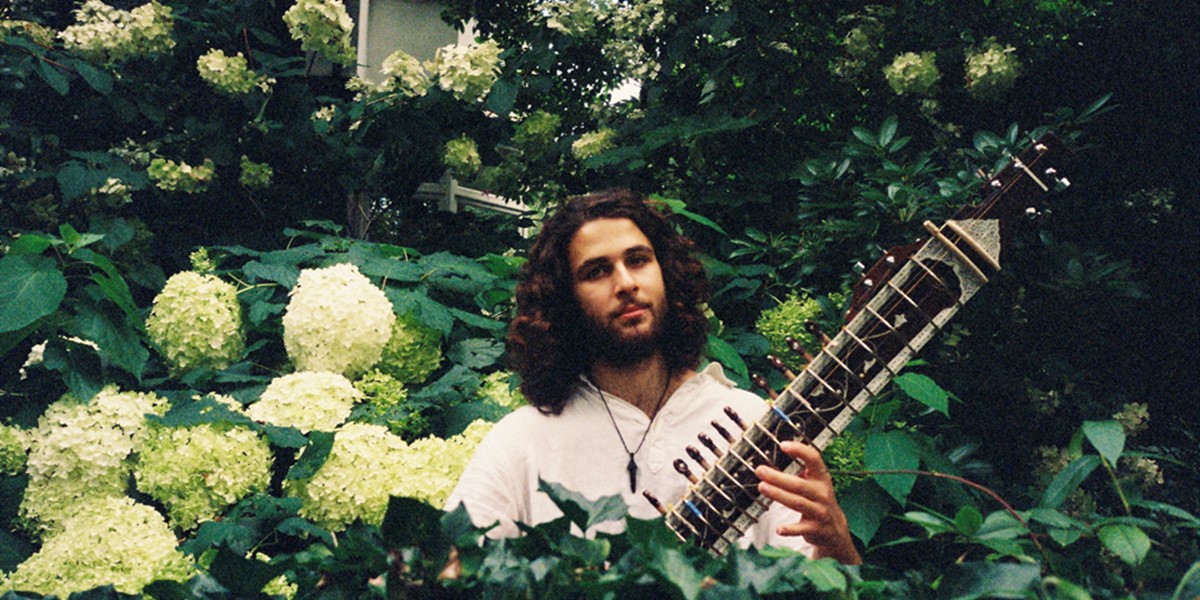 Tommy Khosla (©Eve Owen)
Tommy Khosla is a young British sitarist and composer whose recent debut album, Vignettes, offers 'little glimpses' into explorations of identity through the stories, pictures and feelings of family. It is an intensely personal approach to music making and one that is clearly key to the artist. 
Brought up in Devon, with parents hailing originally from India and France, Khosla found himself negotiating between different worlds from an early age. Initially receiving musical training on piano, around the age of 11 they discovered a huge, intriguing case brought back by their father from India: "I opened up this box and there was this sitar, it was just the most awesome thing I'd ever seen, I just saw it and I was like, I have to learn how to play this."
They found a teacher, the sitarist Ricky Romain based in the West Country, and lessons began, with Khosla busking to raise money for fees and travel. Subsequently winning the award for Indian Classical Music at the 2016 Awards for Young Musicians enabled them to study for a year with Sanjay Guha at The Bhavan in London. However, being steeped in this firmly traditional musical environment did not stop Khosla from pursuing another passion – dance – and they went on to study at the London Contemporary Dance School. It is not hard to see a connection between the embodied expression of the self in dance and the deep-seated emotional connection Khosla has with music.
This openness to other creative worlds is a central feature of Khosla's work. He cites influences including hip-hop, lo-fi beats, folk and bossa nova, as well as the ground-breaking Indian musician Ananda Shankar and the sitarist Anoushka Shankar. That many of these use electronics is important to them: "I love using electronic music, it just takes it to another place." This also enables a certain self-sufficiency, something they felt was important for a first album seeking to establish an individual voice. 
Vignettes consists of short, jewel-like pieces: "Once I feel like I've finished an idea, I stop the track, even if it's really short." But they also described being inspired by the idea that a recording could offer two- to three-minute glimpses of many different ragas. This format also proved to be perfect for creating fleeting impressions of the feelings evoked by the very personal memories behind the tracks; the album is inspired by slideshows of his grandparents' travels in North India and includes field recordings and fragments of recorded family reminiscences. 
Looking ahead, Khosla's most immediate concern is returning to studying traditional music by taking up a place on the Music Performance MA at SOAS. Having begun to help Western listeners get a sense of the sitar outside of its normal contexts, they also hope to extend this journey by widely collaborating and forming a trio to explore music in live performance. Keep your eyes and ears open, for we are going to see and hear much more of this thoughtful young artist.   
---
Read the review of Vignettes in the Songlines Reviews Database
This article originally appeared in the December 2021 issue of Songlines magazine. Never miss an issue – subscribe today