Tuesday, December 3, 2019
Introducing... Altın Gün: "We just want to keep spreading the positive Turkish vibes"
Robert Rigney speaks to the sextet appealing to new audiences with their blend of vintage Turkish psychedelia and traditional folk music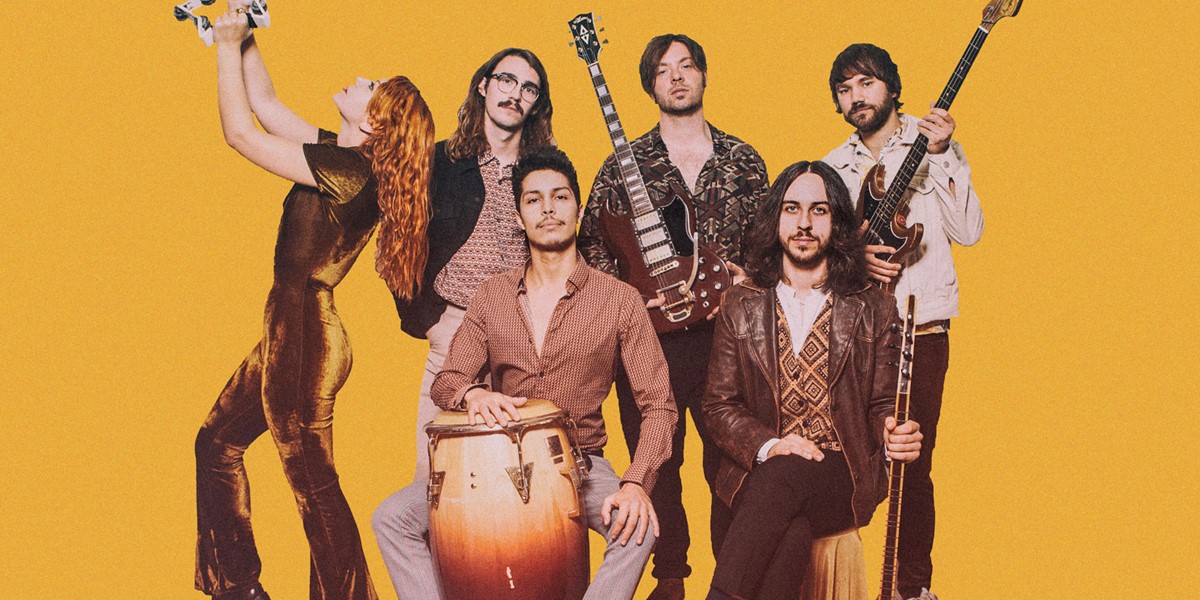 Altın Gün (photo: Rona Lane)
Last summer Altın Gün, a hot new Turkish psychedelic rock sextet from Amsterdam, played to a packed house in Gretchen, a concert venue in the heavily Turkish Berlin district of Kreuzberg. Apart from the strong contingent of Turks in the audience, most of the hipster crowd had probably never heard of Neşet Ertaş and Âşık Veysel – two Turkish folk legends covered by Altın Gün. In fact, the band played with so much verve, they might well have imagined they'd been hearing their own freaked-out compositions.
After the show singer, saz (lute) and synth player Erdinç Ecevit jostles with Berlin Turks who want to laud the Dutch band for performing "their" songs with so much originality. I ask Ecevit: why the current interest in Turkish psychedelic music from the 70s (known as 'Anatolian rock')?
"Artists like Barış Manço and Selda Bağcan are already popular in Turkey," said Ecevit. "But not really in the rest of the world. And now with the internet it is easy to find new things. People are getting turned on to Anatolian rock."
Ecevit describes Altın Gün as a kind of cover band for 70s Turkish songs, but band founder Jasper Verhulst baulks at the term, insisting that Altın Gün – which translates as 'Golden Day' (Verhulst wanted a name that was "both kitschy and positive") – are much more.
"In jazz music or folk music, it's normal to play standards and traditional pieces. So I'm not sure that people consider this covering, because there is not really one famous version of these songs. So we fill it in completely with our arrangements."
Altın Gün have been rapidly gaining a following since they got together in 2017. Their first album, On, was on Bongo Joe records, and their second, Gece (Night) was released on Glitterbeat in April.
Verhulst's interest in Turkish music arose out of the fact that he lived in a Turkish neighbourhood in Amsterdam. In 2017, he made a trip to Istanbul with his former bandmate Jacco Gardner. There he engaged in some extensive crate-digging, inspired by his discovery of Turkish folk singer Selda Bağcan.
Putting out a call over Facebook, Verhulst, who plays bass guitar, assembled a six-piece band consisting of a Dutch guitar player and percussionist, another British guitarist, a Turkish saz and synth player and a female Turkish vocalist.
I ask him what it is about the music that fascinates him. "There was a very interesting combination of folk tradition with 70s psychedelia and synthesizers, spacey effects like flangers and tape delays."
Altın Gün's music has a broad appeal to audiences of all ages and various cultural and ethnic backgrounds.
"The nice thing is that the audience is really diverse. We have older people, kids, hipsters. It depends on where we play. In Germany, almost half of the audience was Turkish, and the rest was German. But all ages come to our shows. We bring people together who maybe don't dance to the same music."
The band was given an unexpected boost by appearing on Seattle radio station KEXP, which led to the band acquiring followers outside Europe. As for the future, Verhulst says they will probably be engaged in a fair amount of travelling, and a third album may be on the horizon. "We just want to keep spreading the positive Turkish vibes."
This article originally appeared in the May 2019 issue of Songlines. Never miss an issue – subscribe today!