Friday, November 22, 2019
Introducing... Lakha Khan
It's rare to see 70-year-olds in our Introducing series, says Simon Broughton, but it is time to take a fresh look at the veteran master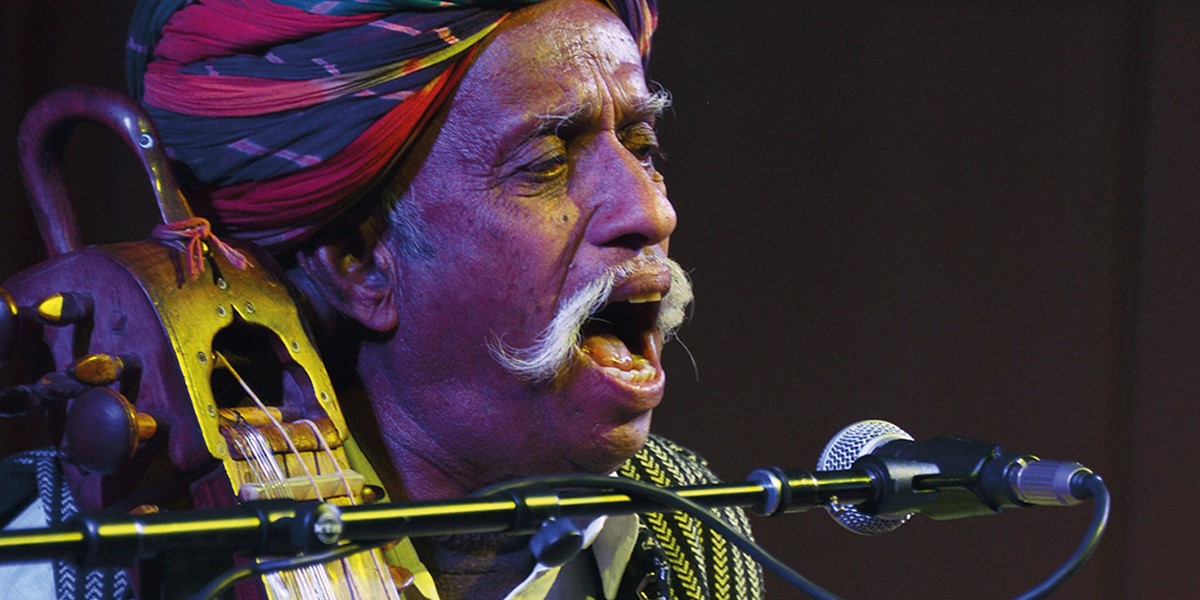 Lakha Khan (photo: Ankur Malhotra)
Usually the artists in our Introducing slot have just recorded their debut album or are embarking on their first tour. Lakha Khan isn't one of those; he's a glorious 70-year-old Rajasthani folk musician, who's been playing for years, including at some international festivals, but he is certainly someone who deserves to be introduced to a wider public.
Lakha Khan plays the sindhi sarangi, a wonderfully rich-sounding folk fiddle with its sympathetic strings creating an evocative shimmering soundscape. He's accompanied by his son Dane Khan on the dholak drum. The sarangi is an instrument usually used for accompanying songs and Lakha Khan is a splendid singer of these too: secular folk songs as well as Muslim Sufi kalaam and Hindu bhajans. Performing for both Muslim and Hindu patrons, he sings in several languages including Hindi, Marwari, Sindhi and Punjabi. What's wonderful is the super-expressive attack of the bow on the instrument and the way his fingers make the melodies soar ecstatically up and down the four main playing strings of the instrument.
Although great musicians from around the globe are now more and more discoverable on YouTube and streaming services, it still needs concentration to get into the sound-world and appreciate the artistry of a musician like this. This is why this year, WOMEX gave some showcases to superb traditional masters so they can be seen – and hopefully booked – by a wider audience.
Lakha Khan has released two albums on Amarrass Records, At Home (a Top of the World review in #101) and Live in Nashville (#106), both enthusiastically reviewed in Songlines. Of the latter I wrote: 'What is gratifying about this CD is that it presents unadorned Indian folk music with total confidence – and quite rightly so, because Lakha Khan is just as good a musician as a classical cellist or violinist. The warm silken tone of the sarangi is like a halo around his voice.'
Lakha Khan is a Manganiyar, one of the main musical castes of Rajasthan. But the instrument he plays, the sindhi sarangi, is usually associated with the Langa, the other principal musical caste of the region. This might not seem significant from afar, but it's quite a big thing in Rajasthan. He first learned sarangi from his father, who died when he was young. He then learned from his uncle. But the point is he's not a musician just following tradition but actually stepping outside it as well. He also plays kamayacha, the folk fiddle normally played by the Manganiyars, but it's as a sarangi player that he's become celebrated.
The world is, of course, full of extraordinary folk traditions. But Rajasthani music is colourful and accessible enough to have a wide global appeal – as the Jodhpur RIFF Festival has proved, with its programme of traditional musicians presented alongside international artists. With his extravagant moustache and charismatic persona, Lakha Khan is the real thing and a musician who can make a profound impact even on those who don't understand the intricacies of the music. As ever, it's the artistry, the integrity and the skill that carry the show. Lakha Khan possesses them all.