Monday, January 3, 2022
Jeremy Loops | My World
The South African superstar talks about the revolutionary music that inspired him and 'This Town', his joyous collaboration with Ladysmith Black Mambazo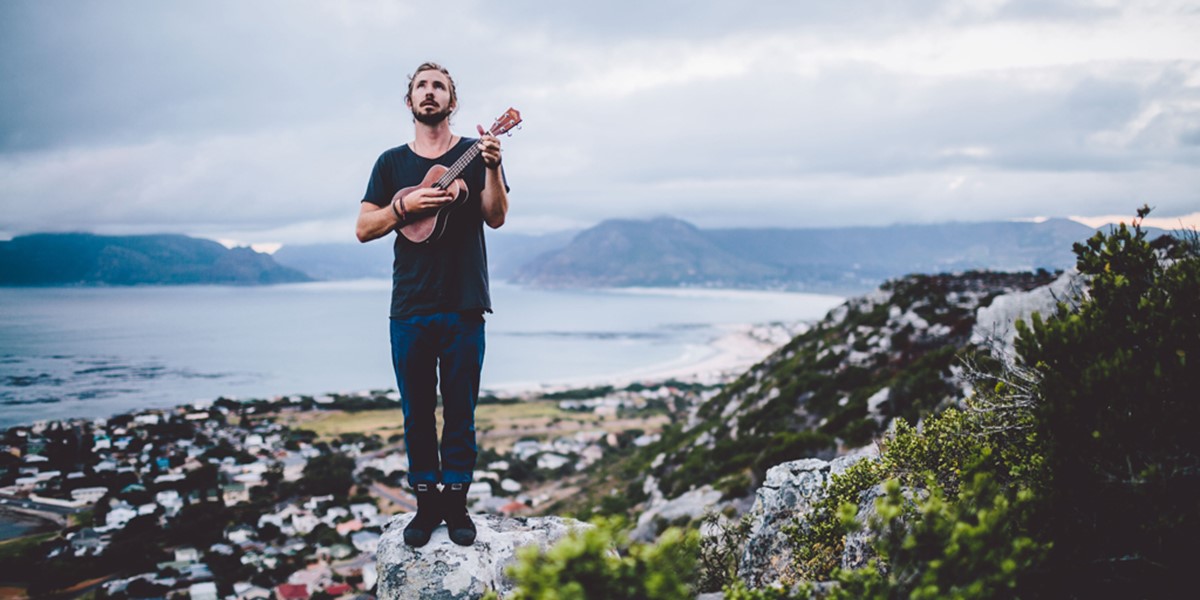 Jeremy Loops (©Ben Brown)
Considering his cult status back home in his native Cape Town and growing reputation internationally, singer-songwriter Jeremy Loops is surprisingly down-to-earth, laughing and chatting affably as we sit down to discuss all things music. His new EP, Souvenirs, is due out shortly after we speak, and he explains that it's a bit of a departure from his normal process. Known for his joyous live shows, he usually puts most of his energy into touring. "I'm used to drilling my songs by playing them live," he says. "I couldn't see a world where I released all these songs I'd worked so long on without being able to tour them." But that pesky pandemic you might have heard about had other ideas. Souvenirs, he admits, was a way to bridge that gap, getting music out into the world, but it was also an opportunity to try something new. "With an EP there was no pressure. So it was, like, well, let's just have fun. Who would I like to work with? And I couldn't think of anyone I would love to work with more than Ladysmith." 
And so he invited those giants of South African music, Ladysmith Black Mambazo, to record 'This Town', an upbeat track that perfectly blends the feel-good pop that Loops has mastered and the deliciously rich isicathamiya singing of Ladysmith Black Mambazo. "I had this melody that I jotted down, which became the melody that they sang around, but I didn't have words for it." He sent what he had written to the group, including a backing track he had played around with, only mumbling nonsense words. Sibongiseni Shabalala, son of the late Joseph Shabalala, wrote back. "He said, 'it sounds like what you are mumbling in the melody in Zulu is, 'music is my life, and my life is music'." Loops asked Shabalala to sing it to him and was surprised when it sounded exactly like the melody. "Sibong said, 'that's what you're singing though. I was like, 'I'm definitely not singing that!'" He laughs. "It was this beautiful coincidence that the words fit so perfectly. A lot of what the song is about is the difficulty we've all been going through these last 18 months." 
The video for 'This Town' is half behind-the-scenes and half happy jam session. "It's so heartfelt and everyone's just having a great time. It felt really natural… it ended up being probably the coolest music video I've ever been in." Everyone involved is clearly revelling in the performance and it's a delight to watch. Ladysmith are in fine form, dancing and posing for the camera, and Loops obviously relishes the opportunity to work with the legends. "They are national treasures in South Africa. They were, for a large part of their career, considered a struggle-era choir," he says, referring to apartheid. "Mandela was a big supporter of theirs. They were representing our country on the global stage at a very sensitive time in our history." 
Growing up as a young white South African in a liberal household, with parents who sympathised with the anti-apartheid movement, his house was full of revolutionary music. Not just Ladysmith, but Rodriguez, Janis Joplin and Bob Dylan. While teaching himself guitar during university as a release from the mundanity of his studies (he studied finance), he got to revisit this music. "As a young boy I heard that music and grew up with it, and when I was older, I got to engage with it myself." It was through his love of Dylan's songs that he stumbled onto Woody Guthrie. "When I found out that Bob revered Woody as his main dude, I was, like, I need to look closer at what Woody was saying." 
When asked if he has a favourite Guthrie track, he says, "I used to enjoy singing the song called 'Riding in My Car (Car Song)', where he just starts the song by going…" he buzzes his lips, making cartoon car noises before laughing again. "It's hilarious that he even put a song out like that." But it was Guthrie's activism and outspoken lyrics that mostly resonated with him. "He was a gangster, a real troubadour, a travelling renegade." To be both an artist and socially conscious is a creative philosophy that he's adopted in some of his own music. His songs may be upbeat, but he hasn't shied away from heavy subjects. His 2018 album, Critical as Water, for example, addressed Cape Town's water crisis and he's known for his work with environmental charity Greenpop, of which he is a co-founder. "I try not to be too on the nose with the way I comment socially and criticise things. But I'm very invested and involved in what's really going on in the world." He adds, that "leading by example is better than spelling things out in lyrics.
He loops (pun intended) the conversation back around to Ladysmith and how they are that perfect synthesis of positivity and activism. "They've always stood for hope and love and peace. It's amazing how they've stayed on message their whole career." 
Thanks in part to the infamous album Graceland, Ladysmith Black Mambazo are South Africa's biggest musical export, with a huge global following. But Loops notes that he's glad to see that, more generally, international eyes are starting to finally look towards Africa and its wealth of musical talent. "People are switching on to music coming from the African continent in a way that they weren't previously. It's difficult for African artists to penetrate the institutions that rule the music world [in the West], but it feels like the world is transitioning a bit now." One need only to mention the name Burna Boy, who has once again picked up multiple nominations in this year's Grammys, to realise that might be true. Loops brings up another Afrobeats star, Nigerian-American Davido – "he's a sleeping giant. His songs are so catchy" – before talking about another artist a bit closer to home: South African rapper Motheo Moleko. 
Moleko has toured with Loops for several years. "He was one of my first collaborators. He stumbled upon me when I was busking at a market in South Africa on a Saturday morning. He walked up and said, 'I like what you're doing. Can I rap along?' He absolutely killed it. He is an amazing rapper. He still tours with me to this day."   
---
This interview originally appeared in the January/February 2022 issue of Songlines magazine. Never miss an issue – subscribe today