Sunday, May 8, 2022
"Just accept yourself and see the beauty" | Eyal el Wahab (El Khat)
The frontman with Tel Aviv four-piece El Khat outlines the DIY aesthetic that has him digging into his Yemeni roots and through the neighbourhood's rubbish bins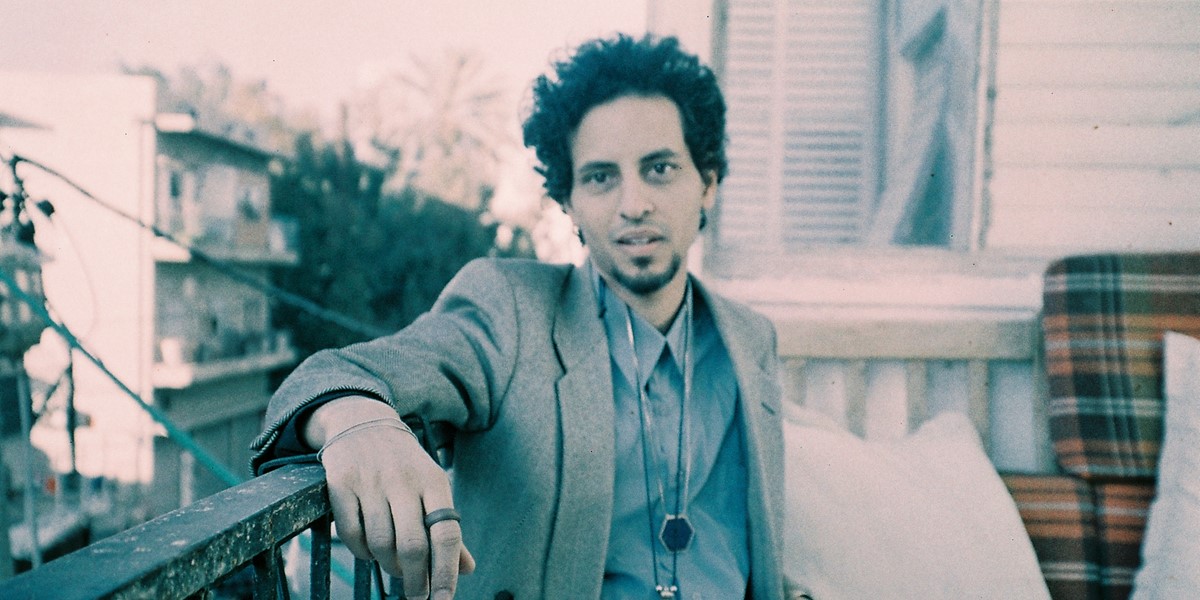 ©Marina Charchiyan
"In my entire journey of being a musician, I felt that something was missing and I couldn't really point my finger on what." Talking to me via Zoom from the balcony of his apartment in Tel Aviv, vocalist, multi-instrumentalist and composer Eyal el Wahab reflects on his musical identity. "It took a while and I realised what was missing –understanding where you're coming from."
It's been a voyage of discovery for el Wahab, who grew up in Israel among a Yemeni family – a voyage that has brought him to his current role as leader of the group El Khat. Named for the potent drug that's chewed throughout the Middle East, El Khat make music every bit as stimulating and euphoric as their namesake. Their new album, Albat Alawi Op 99, is a delirious mix of clattering percussion, dolorous vocals, ragged horns, microtonal strings and hard-grooving bass – a combination that suggests a kind of fantasy band, unmoored in time and place, both ancient and modern, otherworldly yet urgent.
Crucially, the project is a chance for el Wahab to investigate and reconnect with his Yemeni roots. El Khat's first album, 2019's Saadia Jefferson, featured 12 songs, half of them reimaginings of traditional Yemeni tunes. The new album, while boasting mostly originals, still has room for a woozy version of a traditional pre-nuptial henna ceremony song. 
Both albums foreground the raw bowing and brittle plucking of el Wahab's homemade string instruments, constructed from scraps of wood, metal and plastic. "I'm trying to make the entire instrument from things I find, not buying anything to finish it," he explains. "It's very difficult, actually, to use 100% only what you find. But that's basically what's leading me… just using what I see around." This urge to recycle and repurpose cast-off materials represents a powerful statement of personal philosophy. "It has to do a lot with using what you have and not consuming anything, from a place of maybe accepting yourself, who you are and not trying to be someone else," el Wahab clarifies. "You ask yourself, 'Why am I not taller? Why am I not brighter? Why don't I have muscles? Why don't I have money? Why don't I have a car?' All of that. Just accept yourself and see the beauty." At the same time, it's also an explicit homage to the lo-fi recordings of Yemeni music that inform El Khat's sound. "I was very much inspired and affected by Yemeni music that really has nothing, no arrangement, no facilities for recording normally," he says. "You can hear background noises and you can hear things are out of tune and you can hear very, very simple recordings. I fell in love with it, with this feeling, the imperfect."
This infatuation with the traditional music of his family's homeland is a relatively recent discovery for el Wahab. His younger years were filled with entirely different sounds. "I grew up hearing the music from the synagogue," he remembers. "It's very spiritual. It's like meditation, slightly monotonic and it has a lot of soul in it. It was sounds from the synagogue and cassettes of Yemeni Jewish singers like Bracha Cohen." In fact, his own adventures in music didn't begin in earnest until, when he was around 20 years old, he started teaching himself the cello. After a few years, he'd gained enough confidence on the instrument to take an important step: "Probably when I was 26 or something like that I decided I was going to do music only and stop working as a bar tender and in a coffee shop and in a truck and whatever. I started playing on the street. That's how I made my living and it was actually a good choice. I went out to the street with the cello and just tried things out."
Things took an unusual turn when he was asked to audition for the Jerusalem Andalusian Orchestra, playing Arabic music from North Africa. Despite being unable to read music, el Wahab somehow talked his way into the job. "For about a year, I was imitating myself playing," he laughs. "I was just sitting there and if I heard something, I would copy it. It was funny, but after a while it was stressful! I was really afraid that if they asked me to read something and play it I couldn't do that." Liberation came out of the blue when he was given a copy of the album Qat, Coffee & Qambus: Raw 45s from Yemen, a compilation of traditional Yemeni music from the 1960s released by Dust-to-Digital in 2012. The music he heard was a complete revelation. "It really touched me," he says. "It got to me." Leaving the orchestra, el Wahab set about creating El Khat.
It's certainly not hard to hear the influence that compilation had on him. Its opening track, sung by Fatimah Al-Zaelaeyah, rolls along on a metallic clang unmistakably echoed in El Khat's constructions. "This is classic Yemeni style," el Wahab states, "playing on plates and tins and stuff." Yet El Khat's single 'Djaja', released at the beginning of this year, reveals how much the group's sound veers from this traditional template, its loping clatter embellished with blistering psych guitar and a tottering wall of massed brass. "In Yemeni culture, you have an instrument called a mizmar," he explains, "which is a sort of double flute. It's a little bit like a bagpipe with a drone and the other flute sounds really out of tune. This is probably the closest to a trumpet. But my connection to the brass section or trumpet is actually in Gypsy music or Balkan music. I find a lot of connection between Balkan music, with the davul (drum) and the marching brass band, and the drumming of the Yemeni style."
If there's a magpie sensibility at work in this instrumentation, it speaks of an inclusive, globalist attitude that extends to el Wahab's work as a wordsmith, too. In translation, the lyrics to 'Djaja' (or 'Chicken' in the Yemeni Arabic dialect) come across as surreal non-sequiturs, with el Wahab crooning, 'chicken face – I am pretty / Duck face – the prettiest.' "In English, it doesn't sound like a poem any more," he sighs. "You lose a lot." Even so, he's made the effort to include phonetically rendered subtitles in the accompanying video so that non-Arabic speakers can sing along. For el Wahab, it's an opportunity to reach out beyond national and cultural boundaries, and connect with a wider audience that might just be less divided than we're led to believe. "If you look carefully, whatever language you choose, you will see that all the languages are connected in a way," he reflects. "We all share very similar words. There are many words in Arabic that are actually from English. And if you look geographically, Russian is similar to Polish, Polish is similar to German. You can really see the timeline of languages. You go around the globe and you see it's all connected."   
---
Read the review of Albat Alawi Op 99 in the Songlines Reviews Database
This feature originally appeared in the May 2022 issue of Songlines magazine. Never miss an issue – subscribe today​