Friday, March 20, 2020
Kinshasa Revisited
Songlines spoke to French producers Bernard Treton and Martin Meissonnier about their fascination with the progressive sounds coming from Kinshasa in the 70s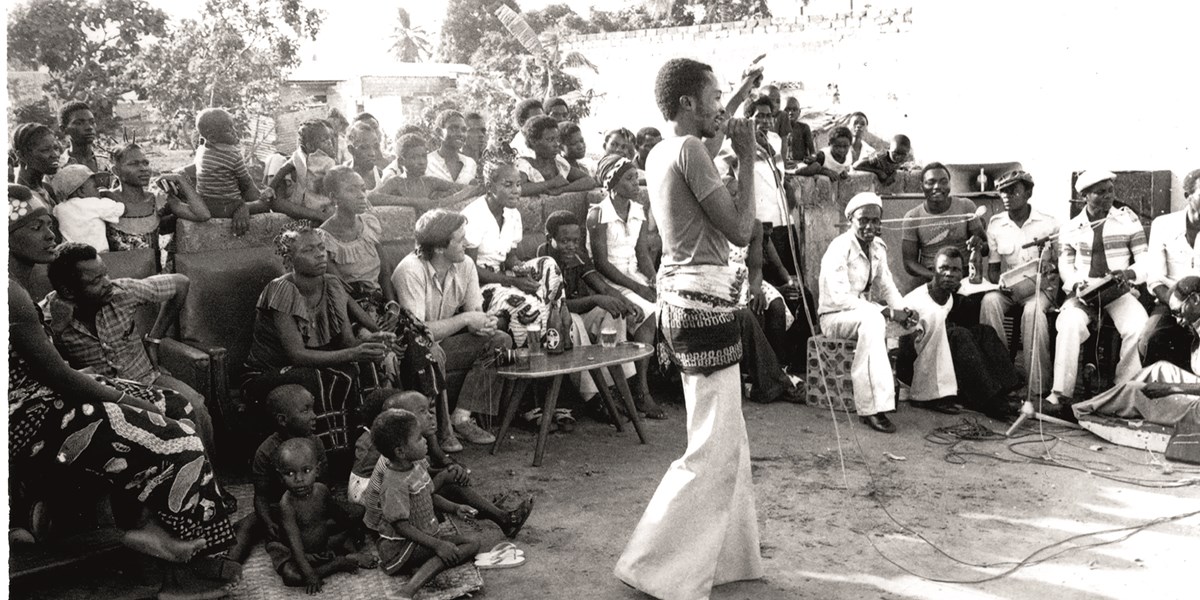 Orchestre Bana Luya (photo by Ballu)
When Bernard Treton arrived in Kinshasa at the end of 1977, it was a volatile but exciting time in the capital of what is today the Democratic Republic of Congo. The Zairean dictator Mobutu was strengthening his authoritarian grip and fighting off Katangan rebels, while musically the city was buzzing. The rumba pioneers of la belle époque of Congolese music such as Franco and Tabu Ley were still going strong and younger bands such as Zaiko Langa Langa and Papa Wemba's Viva La Musica were redefining the music as soukous, under the influence of James Brown, who had visited Zaire in 1974 to play at the legendary Rumble in the Jungle boxing match between George Foreman and Muhammad Ali.
"I was overwhelmed by the nightclubs and the extraordinary music," Treton recalls. "It was all the bands at the same time playing the same rumba rhythm. The whole sound was very beautiful and surreal, like a musical cloud that escaped from the city at night… magical."
One day in early 1978, however, Treton heard a sound he had never heard before coming out of the radio. He asked local drum teacher Maître Nono, from whom he was taking tam tam lessons, what it was and was told it was a band called Tout Puissant Likembé Konono No 1.
When the drum teacher told him the band were due to play at a funeral party in a ritual performance that would last all night, Treton asked if he could accompany him. "That's how I saw Konono No 1 for the first time on a little stage," he remembers. "It was extraordinary and I could immediately relate it to minimal music of Philip Glass and Steve Reich, which I loved, and also to punk music, because of the distorted sound of the likembés [type of lamellaphone]. I was in awe."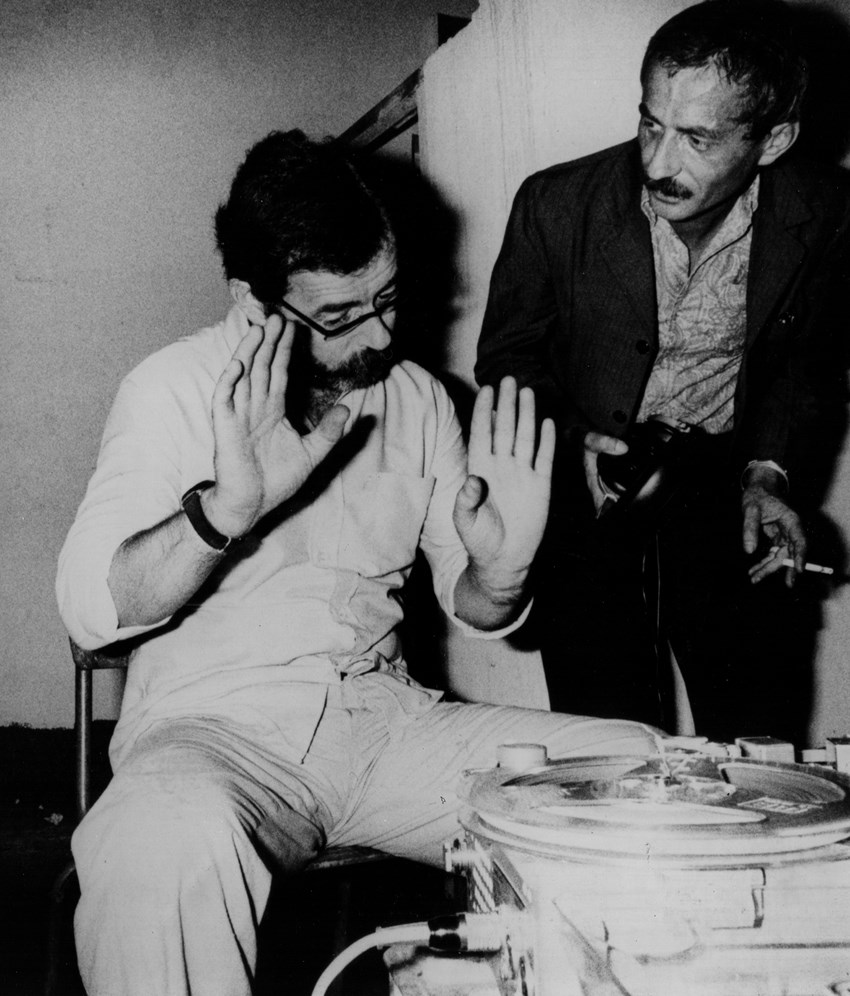 Konono became something of an "obsession" and Treton knew he had to record the band's gloriously raw and distorted cacophony of junkyard instruments, created with materials picked up in the thieves' market and amplified via DIY electrification to make themselves heard above the urban din.
In Paris, Treton had been a producer of music programmes for Radio France and was in Kinshasa to train young sound engineers at the radio station La Voix du Zaire. So he organised them to record Konono No 1. When Maître Nono told him there were "plenty of other bands like that," he embarked on a mission to record as many of them as he could.
At a wedding he met Mbuyamba Nyuni, a legendary singer, dancer and storyteller, who would later become one of the founding members of the Kasai Allstars, and who died in 2011. Nyuni played a giant bass likembé and led the band Sankayi, a street orchestra of clattering, distorted likembés and improvised percussion, creating a radial mutation of traditional Congolese forms in shifting, polyrhythmic patterns of hypnotic intensity.
Treton and his trainees recorded Sankayi in a basic rehearsal hall, using a portable Nagra machine and a small six-way mixer. Next he recorded the amplified likembés of Orchestre Bana Luya, a group of musicians from the Luba people and whose leader Kabongo Tshisense later joined the Kasai Allstars, and Orchestre Bambala, musicians of the Mbala ethnic group, who added a joyously wheezing accordion to the sound. The recording sessions were characterised by "a lot of dancing, eating and drinking," with Treton providing "a hundred bottles of beer and kebabs so they could invite their friends to create a warm live feeling, not a cold session." On his return to Paris, Treton selected four tracks – the shortest of them 12 minutes and the longest running to almost half an hour – and offered them to Ocora, Radio France's world music record label.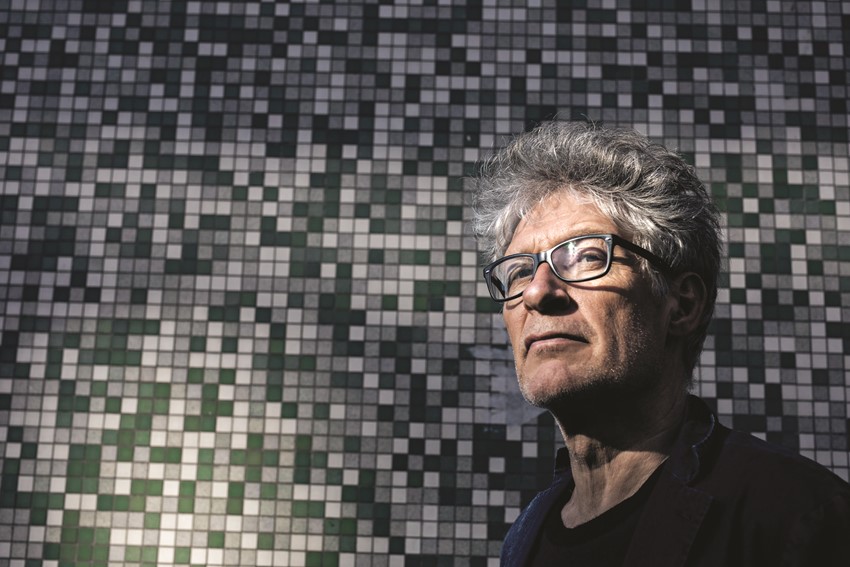 Released in 1986 as Zaïre: Musiques Urbaines à Kinshasa, the album at the time was largely overlooked, as Western fans of African music preferred traditional acoustic recordings or the glossy soukous dance music of Kanda Bongo Man and Papa Wemba. Yet not quite everyone ignored Treton's recordings. When the Belgian producer Vincent Kenis heard an excerpt from his Konono No 1 recording on the radio, he became obsessed with the sound and embarked upon a quest to find the band. After several trips to the Congo he eventually located them in 2000. Kenis went on to produce Konono No 1's classic album Congotronics (released in 2004, reviewed in #28) and helped to assemble the Kasai Allstars collective.
This time around the 'new' sound created a sensation, not only in world music circles but among indie rock and electronic music fans, too – except that, as we can now hear via Crammed's reissue of Treton's 1978 recordings, the sound wasn't really 'new' at all. The basic elements of Congotronics were all in place more than 40 years ago.
The reissue comes with a set of remixes from the original stereo tapes by Martin Meissonnier, who in the 70s was Treton's protégé at Radio France and subsequently became a highly respected world music producer (Fela Kuti, King Sunny Adé and Manu Dibango). "Bernard had this great idea to record street bands from four different ethnic groups and he told me at the time about these bands such as Konono No 1," Meissonnier remembers. "I was fascinated by these quasi-punk African musicians who were manufacturing their own instruments and playing in the streets." Three years ago he remixed the Konono track from the original recordings to play in his DJ sets and retitled it 'Roots of K'. When the Crammed Discs crew heard Meissonnier play the track at a festival in France to wild acclaim, they suggested an entire album of remixes to be released as a package alongside Treton's original 1978 recordings.
Meissonnier's aim was to stay as close as possible to the rhythm and spirit of the originals, while fattening up the sound. "I wanted to respect the metrics of the rhythm, not just put a 4/4 beat to it," he says. The result is an extraordinary pair of discs that not only traces the origins of the Congotronics sound but offers a post-modern repurposing for a brave new digital era.

This article originally appeared in the March 2020 issue of Songlines. Never miss an issue – subscribe today!
Watch