Monday, April 25, 2022
"Let the world know we are ready" | Gonora Sounds
Nigel Williamson speaks to the Zimbabwean family band's guitar maestro-in-chief, Daniel Gonora, about his first international release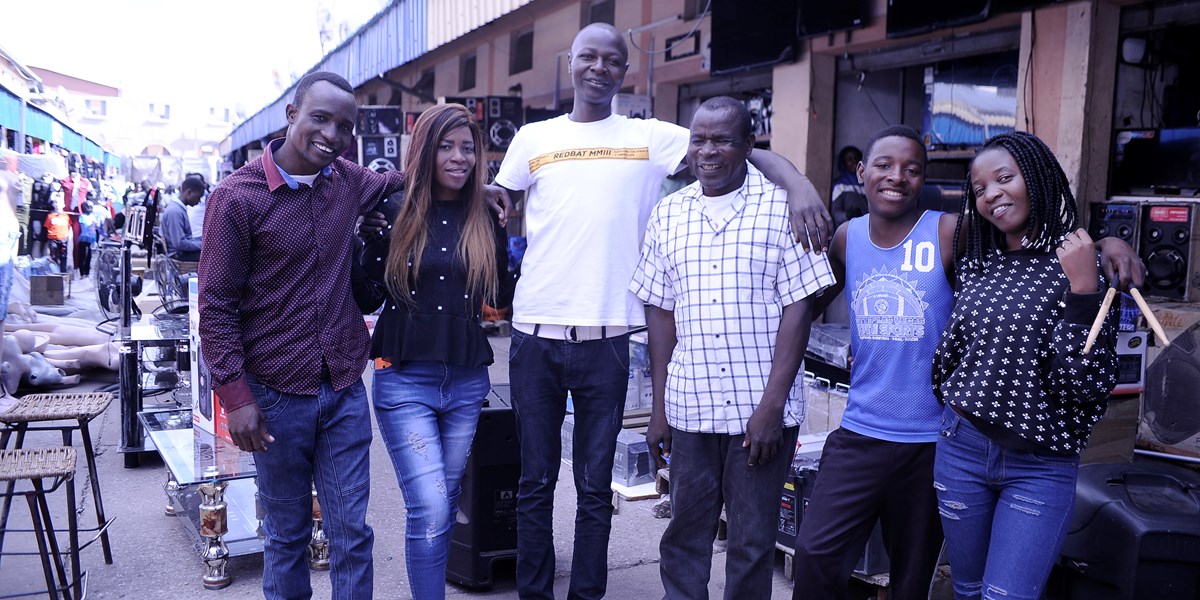 For many years now, guitarist Daniel Gonora has been a familiar sight on the streets of Harare, a blind man busking for pocket change for the world's most beleaguered currency and enticing passing Zimbabweans to dance spontaneously with his infectious rhythms.
Accompanied by his son Isaac on a homemade drum kit, even more have seen Gonora via a 2014 viral video of him playing a solar-powered electric guitar. The clip racked up millions of social media views and led to a short but powerful film about Gonora titled You Can't Hide from the Truth released in 2016. The documentary was a surprise hit at film festivals around the world and in turn brought him to the attention of New York-based indie label The Vital Record.
The result is Gonora's first international recording, Hard Times Never Kill. This extraordinary album opens with three tracks featuring his street set-up, which possess the earthy rawness of a bunch of Mississippi Delta field recordings made by the Lomaxes. They're followed by eight further tracks recorded in a studio with his full Gonora Sounds band, the music bouncing and ricocheting with the joyous energy of the Bhundu Boys at their most exuberant.
Now in his 60s, Gonora was a member of the celebrated Jairos Jiri Band before he turned street musician. Jiri recorded prolifically from the 1980s until 2003. In later years, Gonora led the group as its ranks were ravaged by AIDS. 
The band finally broke up when he found he was the only one left. At the same time the collapse of the economy left many Zimbabweans living on less than one US dollar a day and Gonora fell on difficult times, briefly leaving to seek a better life in South Africa.
Yet he never lost hope of putting a band together again. In addition to his son on drums, Gonora Sounds currently features Malizani Mbewe (bass), Nelson 'Mr Longman' Mutanda (lead guitar) and female backing singers Sehlaphi Mtombeni and Isabel Piyo.
Overseen by American producer David Aglow and Bothwell Nyamhondera, whose production credits include Oliver Mtukudzi and Thomas Mapfumo, Hard Times Never Kill finds Gonora playing in a popular local style known as sungura, which first emerged around the time of independence. "It's the music I love best," he says. "When I play it, I can feel it blessing me in my bones. Sungura is a strictly Zimbabwean style that is really important here. It can be mid-tempo, but other times it's really fast."
The self-penned material on the album ranges from an anthem for Zimbabwe's national football team ('Go Bhora') to gospel numbers reflecting his vocation as a church pastor ('Muchange Muripiko' and 'Wapinda Mazviri') via songs about the struggle to make a living and feed one's family ('MaZimbabwean'). "People can relate to the songs because I write about real-life issues," Daniel says. "I gave making this record my all and I feel hopeful about it. What I would love more than anything is to go on tour with this music. Let the world know we are ready!"   
---
Read the review of Hard Times Never Kill in the Songlines Reviews Database
This feature originally appeared in the April 2022 issue of Songlines magazine. Never miss an issue – subscribe today