Sunday, March 21, 2021
Mbira Dzavadzimu | Musical Instrument Guide (with Stella Chiweshe)
By Jim Hickson
Musician Stella Chiweshe speaks to Jim Hickson about the mbira, an instrument synonymous with Zimbabwe's Shona people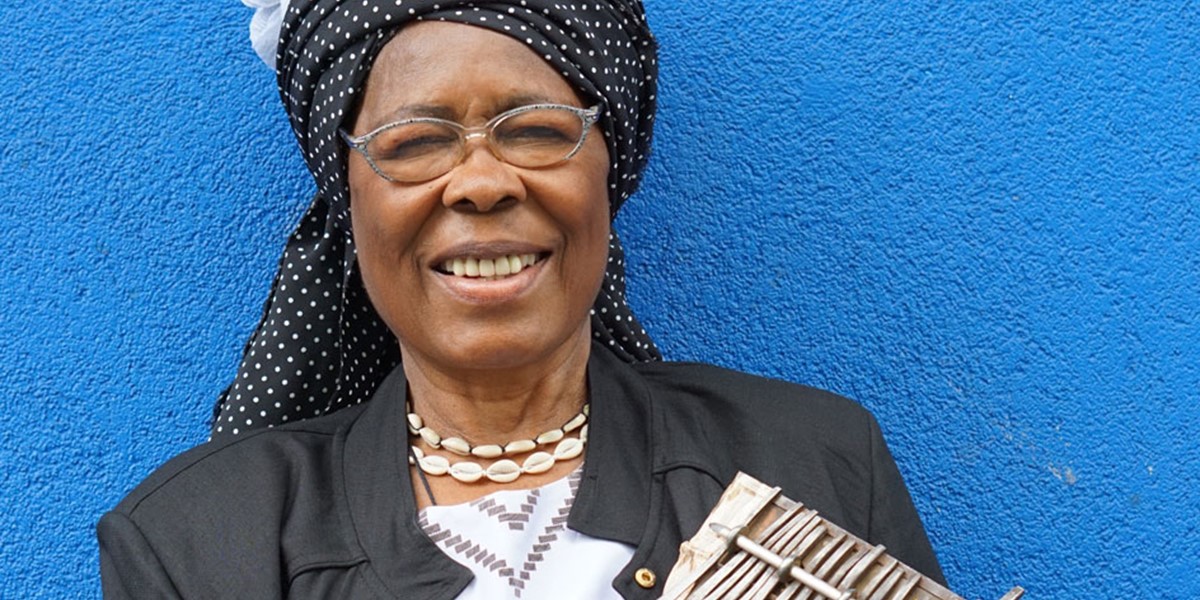 Stella Chiweshe (photo: Ilka Schlockermann)
Stella Chiweshe is widely known as the first woman to gain recognition as a master of the most important instrument of Zimbabwe's Shona people, the mbira dzavadzimu. It is a lamellophone – also called a thumb piano – in which steel keys made from beaten-flat bicycle spokes are mounted onto a wooden board and plucked with both thumbs and a forefinger. This technique creates an interlocking pattern in which circular melodies begin to shine through.
The mbira dzavadzimu is, literally, 'the voice of the ancestors,' the instrument that works as a go-between for many past generations to speak to the living. It was through this contact that led Chiweshe to the instrument aged 16. "One day in a ceremony, my mother's fifth-great-grandfather said through her that four of his greatest grandchildren would play the mbira. I am one of those four," she tells me. "But when he said that, nobody believed we could play. Exactly two years after that ceremony, I started to hear the mbira that was played that day afresh in my head. All the other music that I liked was locked out. I was locked into mbira for two years. I could only hear mbira in my head as if somebody was really playing." When she first began to learn the ways of the mbira, there were challenges from all sides: the instrument was illegal in then-Rhodesia and her status as a female player was unacceptable in Shona tradition, but when she learned to play, it became obvious that destiny was being fulfilled.
I meet Chiweshe in London after an entrancing concert at the Jazz Cafe. The instrument she uses on stage doesn't look like I expect. Traditionally, mbira dzavadzimu are usually housed in a large half-calabash for amplification, and covered in cowry shells (or, more recently, bottle caps) that rattle and add a different dimension, making it sound like the gentle lapping of waves on a shore. But this mbira (pictured) is different. While it plays in the traditional way – it has 32 keys, tuned in the standard way – its body is much smaller, without any shells to buzz and, crucially, it can be plugged into an amplifier. In other words, it's perfect to perform abroad. Although the instrument isn't right for all occasions ("I wouldn't play this for my elders because they would say it's naked!"), its spiritual nature is not compromised, according to Chiweshe: "I think every mbira is sacred because their purpose, even if it's three or five or 15 keys, the purpose is still the same."
This deeper meaning of the mbira dzavadzimu is impossible to weaken for Chiweshe, because it's part of nature: "Mbira gets in touch with everything, even the birds. Sometimes I go to the forest to play for the trees, sometimes I go to play for the water. Water likes mbira, the birds like mbira, the trees like mbira." When it's human ears that she's reaching, she teaches her audience how to listen correctly. By singling out the sound of one particular key, and listening for that one resonance in the rolling, circular patterns, you allow your mind to receive the meaning of mbira. "If you listen to all notes at the same time, you will get lost. But if you let your ear choose a note that is being played continuously, then everything will fall into place. It puts you in a meditative state. When we are meditating, we are trying to clear all thoughts that are scattered and focus on one thing. Mbira gives the direction by itself."
The mbira dzavadzimu will always be the instrument of the Shona ancestors, no matter where it's played or what shape or size it happens to be. In the hands of Stella Chiweshe, its spiritual and meditative powers will continue to reach the ears and souls of listeners across the world.
This article originally appeared in the November 2019 issue of Songlines. Never miss an issue – subscribe today!