Thursday, August 13, 2020
Musicians in Detention: "These people are hiding in plain sight, and rotting away"
Australia's hardline treatment of refugees is under fire as high-profile artists join the campaign in support of two detained Kurdish musicians: Farhad Bandesh and Mostafa 'Moz' Azimitabar. Jane Cornwell reports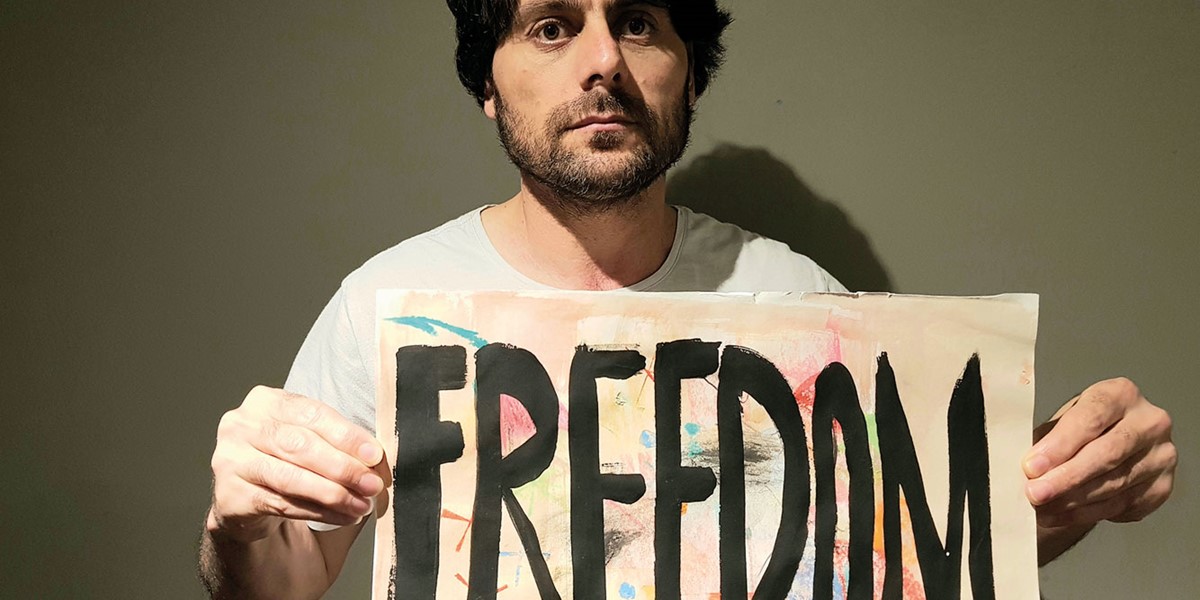 As a boy growing up in Ilam, the third largest Kurdish city in Iran, Farhad Bandesh remembers the sound of the saz (a long-necked plucked lute) emanating from open windows and shop doorways, from the villages in the nearby mountains where he used to hike, camp and pick wild berries. Ubiquitous in Iranian Kurdistan, the saz – which is also known as the bağlama – provided a melodic soundtrack to Farhad Bandesh's early life.
"Saz music connects people," says Bandesh, 37, speaking on his phone from Melbourne, Australia, where he is being held in the notorious Melbourne Immigration and Transit Accommodation Centre (MITA) in the northern suburb of Broadmeadows. "It is very old, very patient, used in folk songs that have been passed down through generations. The saz shares sorrow and happiness. It is music that makes you want to create."
Bandesh mastered the instrument as a child, plucking strings grouped in threes, playing scales made up of quarter tones, and took up the guitar aged 15. Music came easily to one whose creativity would spill over into singing, poetry and painting, into calligraphy, jewellery and furniture making. He became a luthier: "I'd make guitars from maple wood, and play them the way I played the saz, strumming and hitting the body with my fingers. I loved playing flamenco, and punk. Art and music make me not go crazy."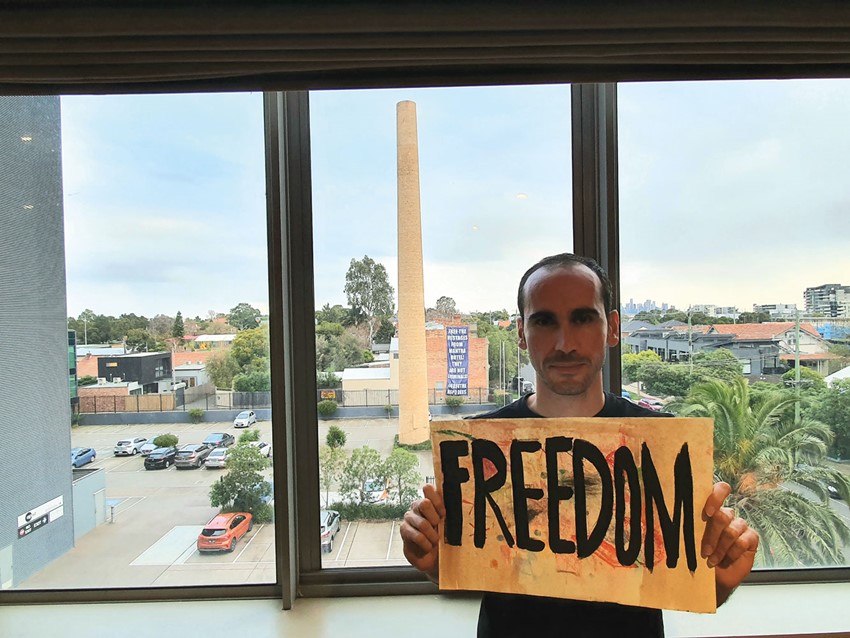 In Iran, the Kurds are an oppressed minority. Bandesh collaborated with other Kurdish musicians and artists, fighting against injustice so publicly that he earned the nickname 'The Lion.' In 2013, his life under threat, Bandesh fled Iran to Indonesia then took a boat to Australia, seeking refuge. Instead he ended up in offshore detention on Manus Island in Papua New Guinea, Australia's own, notoriously brutal Guantanamo Bay. For six years he experienced the sort of inhumane treatment described in No Friend but the Mountains: Writing from Manus Prison, the award-winning book by his former fellow detainee, Kurdish Iranian writer and Guardian journalist Behrouz Boochani (now in New Zealand).
Bandesh took art classes hosted by the Salvation Army but wasn't allowed to keep brushes and paints. For a while he played a guitar that was subsequently taken away. In 2016 he met the Melbourne-based musician and composer David Bridie, whose Wantok Musik label releases music from indigenous artists from Australia, Melanesia and Oceania, and who was on Manus to work with islander John Faunt, a singer-songwriter and garamut (slit log) drummer.
"There was so much bad press about Manus Island because of the detention centre that we wanted to highlight the island's culture and music," says Bridie. "When I was there a human rights worker told me about a Kurdish musician named Farhad, said that he needed a guitar and a basic Zoom audio recorder. I sourced these then spent time with Farhad, introducing him to local musicians I knew from a Not Drowning, Waving trip in 1988 [Bridie's former band collaborated on the album Tabaran with Rabaul township artists including singer George Telek]. When I was working on the soundtrack of [2018 comedy drama] The Merger, about a struggling football team that was recruiting refugees, I got Farhad to write a traditionally inspired tune for one of the characters ['Sayyid's Silo Lament'] then record it into his phone on an acoustic guitar."
"We released two further tracks, a Kurdish punk song ['Flee from War'] and 'The Big Exhale' individually as singles, with film clip accompaniment."
'Hunted like a bird, languish in a cage, eyes full of tears, holes in humanity…' are the opening lyrics of 'The Big Exhale', an emotive song about a life on hold. The song features Bridie on piano alongside violinist Hope Csutoros from Bridie's chamber pop group My Friend the Chocolate Cake. The video, choreographed by the Melbourne City Ballet, sees dancer Bilal Zeine moving behind prison bars. Bandesh's artwork has been printed on T-shirts, and exhibited in galleries.
His plight – alongside that of fellow detainee, Kurdish singer-songwriter Mostafa 'Moz' Azimitabar, who was incarcerated on Manus for six years – has focused the ire of other high profile artists-activists including, variously, revered singer-songwriter Shane Howard (pictured right); Jim Moginie, the founding member and leading songwriter for iconic Australian rockers Midnight Oil; indigenous activist and Greens senator Lidia Thorpe; former Socceroos football captain Craig Foster, whose #GameOver campaign is focused on ending offshore detention and getting people to safety. "Farhad is a true artist and a proud, lovely man who has committed no crime. People want to engage with him," says Bridie.
In June 2019 Bandesh was evacuated on physical and mental health grounds to the Mantra Hotel, a makeshift immigration centre in Melbourne's suburban Preston. In late March 2020 he was forcibly transferred to the prison-like MITA government facility after peacefully protesting unsanitary conditions amid fear of COVID-19. Bandesh and detainees including Moz had tweeted photographs of them holding placards with words highlighting the situation at the Mantra, where guards are unmasked and social distancing protocols impossible.
Two nights after appearing via video link on ABC TV current affairs programme Q&A to discuss the protest, Bandesh was forcibly removed from the Mantra Hotel and taken 12km to MITA without warning, and without his personal possessions. Organisations including Amnesty International have demanded answers from Home Affairs, and express grave concerns for the 1,400 refugees in Australia's immigration detention regime, along with the hundreds of refugees and asylum seekers still trapped in Australia's offshore detention system.
Like Bandesh, the majority of detainees are unauthorised boat arrivals seeking refugee protection. Instead they have fallen victim to the Australian government's hardline policy of indefinite detention, aimed to deter and more surreptitiously, win votes. Australia is a co-signatory of the UN Refugee Convention, which states that it is not illegal to seek asylum. Lawyers for organisations including Amnesty and the Refugee Council of Australia argue that the conditions to which these refugees and asylum seekers are subject fall under the definition of torture.
Shane Howard's latest solo album Dark Matter (to be reviewed next issue) tells of Manus on the track 'Prison Island'. It's a Woody Guthrie-esque take on those caught up in Australia's offshore detention regime. 'I was born into conflict/My country besieged/To kill or be killed/Or scatter and flee,' he sings, his social conscience as sharp as it was when he penned the beloved land rights anthem 'Solid Rock', which he recorded with his band Goanna in 1982.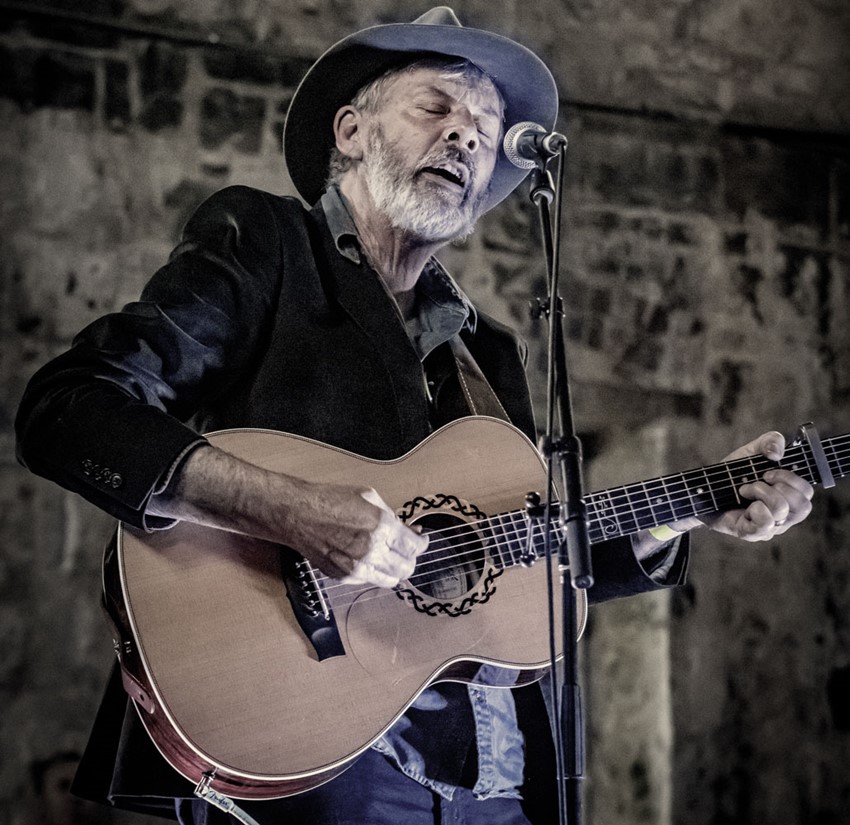 Howard launched Dark Matter in March at the Port Fairy Folk Festival. Between songs he told the crowd of Bandesh and his missing guitar. The donations rolled in: "Ewen Baker who plays fiddle and mandolin in my band, and his great friend the folk singer-songwriter Pat Evans, are both instrument makers. With their help we sourced a beautiful Cordoba guitar, made with nylon – not steel – strings according to regulations," says Howard. "Then came COVID-19. We were about to get the guitar through when Farhad began his silent protest and was transferred."
"Now the guitar also sits in limbo. 'While my guitar gently weeps…'," Howard quotes ex-Beatle George Harrison. "These are individuals who have fled persecution in their own country, and who we have abandoned," he continues. "No one wants to see people smugglers profiting from misery. But surely, in such an interconnected world, we could set up a system to help people in need."
"These Kurds hail from an ancient civilisation that has given the world so much in terms of music, literature, storytelling, art and poetry. There's such irony in the fact that Farhad's guitar and paints have been taken away." A pause. "There is also such irony in the fact that last February, here on the east coast of Australia, some residents and holiday makers were getting onto boats to escape the bushfires. By the grace of God go all of us."
Bridie and Howard repeatedly comment on the remarkable fortitude of Bandesh and Moz, and the way both Kurds consistently favour gratitude and hope. Bandesh's current single 'Friendship', released in June and recorded in collaboration with classically inspired Melbourne folk singer Laura Jean, tells of camaraderie across a divide. Bandesh recorded visuals and the vocals on his phone (a high court order allows detainees access to phones and social media) from inside the MITA facility.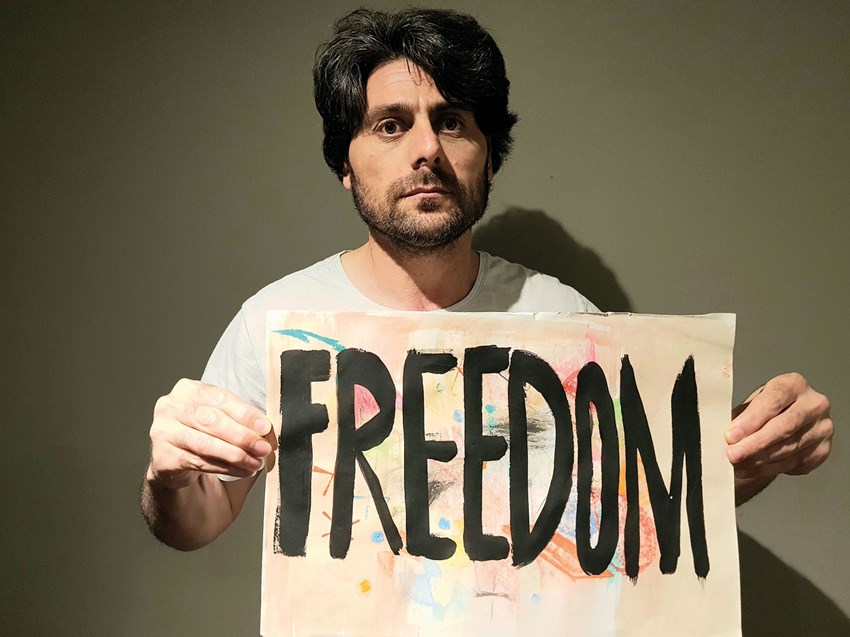 As a detainee on Manus Island, 34-year-old Moz Azimi suffered beatings with an iron bar and the death of his friend Reza Barati, who was murdered by detention centre employees (two of whom were convicted) in 2014. Having sung and played guitar since a teenager, music is his therapy. Moz's first song, 2017's 'All the Same' was written, rapped and sung from inside Manus with the aid of musicians, technicians and supporters in Australia. In 2019 he was transferred to the Mantra Hotel suffering from asthma. At the time of writing, along with 65 other refugees and asylum seekers he remains locked in his room on the third floor for 23 hours a day, his mental health – like Bandesh's – unchecked.
"These people are hiding in plain sight, and rotting away," says Jim Moginie, who produced and mixed Moz's current song 'Love', a catchy ballad expressing gratitude to the demonstrators who keep a vigil outside the hotel ('I'm looking at you from the window/I wanna tell you I love you'), which Moz played on a guitar given to him by Australian rock legend, Jimmy Barnes. "My feeling is if you're silent in the face of these injustices then you're implicit."
"Moz recorded this song on a Samsung phone, and I put some instruments around that," he continues. "It was a fast process. A friend did a video. Everyone wanted to help. Moz is such a sweet man, with a real talent for guitar, which he plays in a very distinctive Kurdish style. He says he's strong – but how long can you keep going in the face of a blank future?"
That Australia's immigration detention system has randomly freed some of those who arrived by boat, permitting them to build livelihoods, join communities, makes the incarceration of Bandesh and Moz – men who have committed no offence – all the more soul destroying. Speaking from inside the grim, grey Mantra, Moz says that playing guitar helps him forget his surroundings. His guitar is his best friend, he says, especially now that Bandesh is elsewhere.
Moz tells me he took up guitar aged 16 after hearing the famous, deeply felt track 'Age Ye Rooz Beri Safar' by legendary Iranian-American singer-guitarist Faramarz Aslani. "I asked my father, a builder, to get me an instrument, and I taught myself to play. I loved the way some Kurdish songs sounded almost Spanish," says Moz, the youngest of six brought up in Kermanshah, western Iran. He was at university studying English when he was forced to flee. "There is a unity inside Kurdish music. When people hear it, they come together. They hold hands and dance like they are family. I think music can always reminds us that we are all one family. You, me, we are the same... The only difference, really, is that I am not free."
+
HELP Support Bandesh and Moz by purchasing their music on Bandcamp at farhadbandeshband.bandcamp.com and mozmusic7.bandcamp.com
+
ALBUM Shane Howard's new album Dark Matter will be reviewed in the next issue of Songlines, available September 4