Wednesday, January 5, 2022
"Part of the story of this album is to bring a sense of hope for the entire Indian subcontinent" | Purbayan Chatterjee interview
Indian sitar maestro Purbayan Chatterjee's new star-studded album, a go-getting synthesis of South Asian and Western elements, is a creative response to the limitations of lockdown. Simon Broughton reports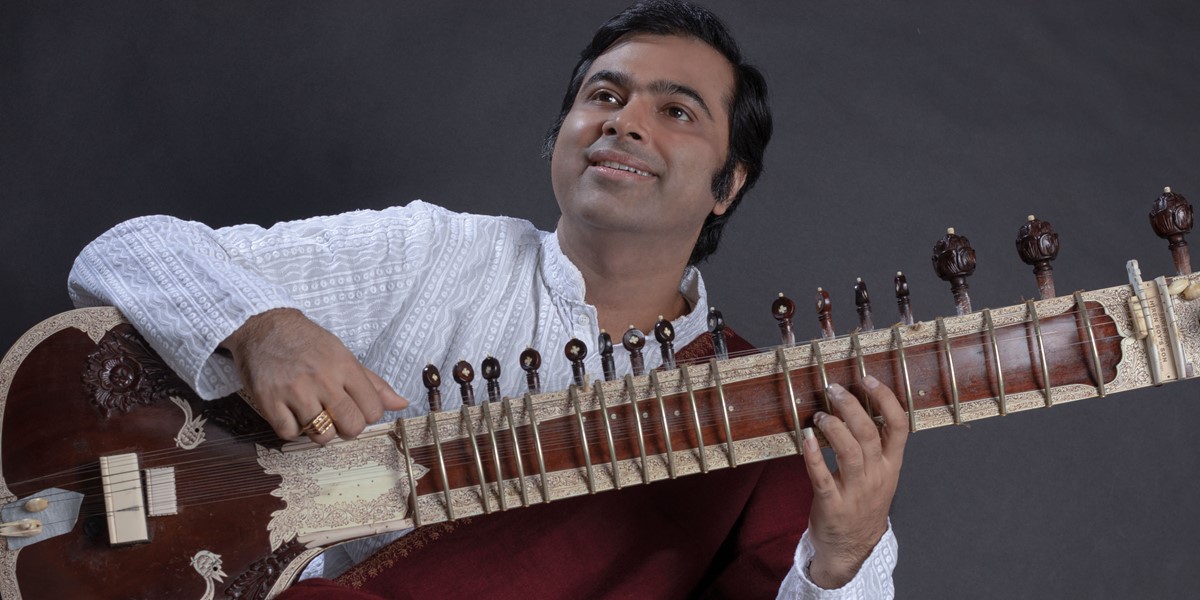 Purbayan Chatterjee
There have been lots of albums born out of lockdown – recorded in home studios or with files being exchanged between musicians across the globe. But few have been as ambitious as the one by Mumbai-based sitar player Purbayan Chatterjee involving more than 30 musicians from India, the UK and the US, including Zakir Hussain, Michael League and Béla Fleck. The project's very name, Unbounded (Abaad), suggests the defying of physical restraints.
"The album came out of the pandemic because we had time," says Jordan Rudess of progressive rock band Dream Theater. "But we can make it happen again whatever's happening. We're all looking for ways to open our minds to new things and there's no better way to do it than listening to other music."
Chatterjee is one of India's best sitar players. He recorded Samwad (2004), a wonderful duo album with violinist Kala Ramnath, and Rasayana (2005) with bansuri player Shashank (a Top of the World in the Sept/Oct 2005 issue) and he's appeared at the Darbar and Alchemy festivals in London. I remember talking to him around 2006 when he developed personalised raga ringtones for mobile phones. "They did very well at first," he chuckles, "but it's not a novel thing anymore. But outside of my music, I'm a bit of a tech geek." His subsequent albums, Lehar (2008) and Stringstruck (2009), have been very successful, and encounters with jazz musicians in the US eventually sparked this global collaboration. "I've done Indian classical all my life and that's fine," he says. "But as you collide with different musical cultures you find that just one form of music is inadequate. I felt this particularly with my encounters with Western harmony. Meeting with Chick Corea and Pat Metheny in 2009 sowed the seeds for this album. You have to wait for things to align. I wrote all of these songs in the space of two weeks and I feel it was destined to come together."

The underlying concept of Unbounded (Abaad) is a meeting of South Asian and Western styles. "I decided to pick six prominent genres that have come out of the subcontinent, and then I started thinking of corresponding genres which would synergise with them," Chatterjee explains. "For instance, Rajasthani folk and American country, or Karnatic music and Latin jazz. [Tabla player] Zakir Hussain and myself provide the bridge."
The opening track, 'Shanmukhapriya (The Mystic)' is a tour de force. It's in a Karnatic raga of the same name featuring a strange, unresolved note that gives it a mystic quality. "India brings mysticism into the world – our sense of philosophy and mysticism, and a sense of awe and wonder at the forces of nature. The accompanying video features fire and water and the forces of nature. It makes a statement about reversing climate change, because you see everything going in reverse, hoping that what we are doing to the planet can be reversed. People are looking at coming in peace with nature and this is one of the messages I wanted to bring."
It's the rhythmic complexities of Karnatic music that suggested to Chatterjee the link with Latin jazz and Pat Metheny's Mexican-American drummer Antonio Sánchez. "I try to marry the rhythmic progressions of Karnatic music with the harmonic progressions of Latin jazz." In the texture, Chatterjee's sitar sparkles and there are mandolin flourishes from U Rajesh, brother of the much-missed U Srinivas.
The pace slows for 'Sukoon (Catharsis)', which by contrast is a lyrical meeting of ghazal and vocal jazz, with scat-style improvisations from singers Thana Alexa and Gayatri Asokan, Chatterjee's wife. 'Khula Asmaan (Firmament)' brings together Sufi music with the driving force of progressive rock. "There's this high energy and Sufism is the sensation of bliss that you feel with the union with the divine, which has a kind of synergy for me," Chatterjee says. The Sufi vocals are taken by Javed Ali, who's sung several AR Rahman tracks and is known for his devotional singing. But the two Sufi parts of the song are joined by an energising piano solo from Rudess.
When the album was showcased during a live stream I was also amazed to see the young Mahesh Raghvan playing Indian string melodies on an iPad thanks to GeoShred, an app developed by Jordan Rudess' company. It clearly appeals to Chatterjee's geeky side. "They've taken an electric guitar tone and tweaked it to make it sound a little like a veena. Sliding his fingers along the simulated six strings on the iPad he can do all slides and Indian ornaments, but essentially the starting point is the electric guitar." The instrument sounds electronic, yet unmistakably Indian, and it's extraordinary to see it in action.

The other mash-ups on the album are 'Intezaar (The Wait)', which blends thumri, a light Indian love song, and smooth jazz. It features the clarinet of Anat Cohen, piano from Gary Husband and a touch of bowed sarangi, and Chatterjee describes it as "a love story of two people in two parts of the world, in NY or London and the other in India." Then there's 'Lalitha (The Joyful Mother)', a Rajasthani-meets-bluegrass voyage featuring singer Shankar Mahadevan, with whom Chatterjee has collaborated frequently, plus Rajasthani roots singer Mame Khan, who works in Bollywood but evinces an earthiness, as well as banjo player Béla Fleck who, despite his 14 Grammys, retains an authenticity with his more progressive inclinations.
Needless to say, banjo and sitar is a rarely-heard combination that works surprisingly well. The piece finishes with a spectacular tabla solo from Hussain. Chatterjee says that Fleck tried to make him play banjo-like on the sitar and Chatterjee was clearly relaying his own suggestions back. "What I appreciated about you and your team," says Fleck during the online stream, "was that you were very open to dialogue. I wanted to get in deep, get my hands dirty and work hard on stuff with people and you'd talk about what we could do. I appreciate being musically involved. We are trying to make something which is a sum total of so many energies." Chatterjee says he has voice memos from Béla Fleck about sections of the song that he "will hang onto forever."
The final piece on the album is preceded by a piano introduction by Gary Husband with soft sitar overlays and a Sanskrit phrase, 'Vasudeva Kutumbakam,' whispered by Gayatri Asokan. It translates as 'the entire world is a family,' and is about compassion and empathy, which is what the album is about.
Chatterjee describes the closing 'Nayi Shuruaat (New Beginnings)' as Indian film music meets symphonic sounds, with the violin of Deepak Pandit featuring prominently. There are vocals from Asokan and Wali Fateh Ali Khan, an Afghan singer who recorded in Kabul. "Part of the story of this album is to bring a sense of hope for the entire Indian subcontinent. It was a way of encouraging an Afghani artist to perform with many international stars, to bring Afghan music a little to the forefront. That's become even more urgent now. I got a frantic phone call from [Fateh Ali Khan] as the Taliban re-took Afghanistan saying, 'please take me off this song and don't include my name.' But he's now left Afghanistan and is in Pakistan, so we've run with it."
Collaborations have been a consistent thread throughout Chatterjee's work, with jugalbandi duets, fusions of Hindustani and Karnatic music and cross-cultural meetings like this one. Zakir Hussain is, of course, a veteran of Indian fusion in the groups Shakti and Remember Shakti, which included Shankar Mahadevan and V Selvaganesh (also involved in this project). "Zakir is one of these guys who makes things easy," says Fleck. "It's like a magic carpet ride. He thinks, 'Béla is ready for this, but not that.' He's very kind and makes it comfortable for you."
Although Chatterjee is an innovative musician, he's totally respectful of the masters. "Shakti and Ravi Shankar are like the benchmarks for how to use sounds from another musical culture and make the integration work. Shakti is so organic, the mixture comes over as one sound. It's a bit like creating a good cocktail. You can add white rum or coconut, you can add so many things, but you need to know what is going to work together."
It does feel like all these musicians are creating a single energy. The hope now, as we all become gradually more unbound, is for Chatterjee and co to create a touring version of this project that can be presented on stages across the world.
---
Read the review: Unbounded (Abaad)
This interview originally appeared in the December 2021 issue of Songlines. Never miss an issue – subscribe today