Thursday, May 28, 2020
San Salvador interview: "There's a universality in our music that works"
By Mark Sampson
Mark Sampson chats to the dynamic French vocal sextet San Salvador during a brief moment at home in south-west France following a whirlwind 18 months of international touring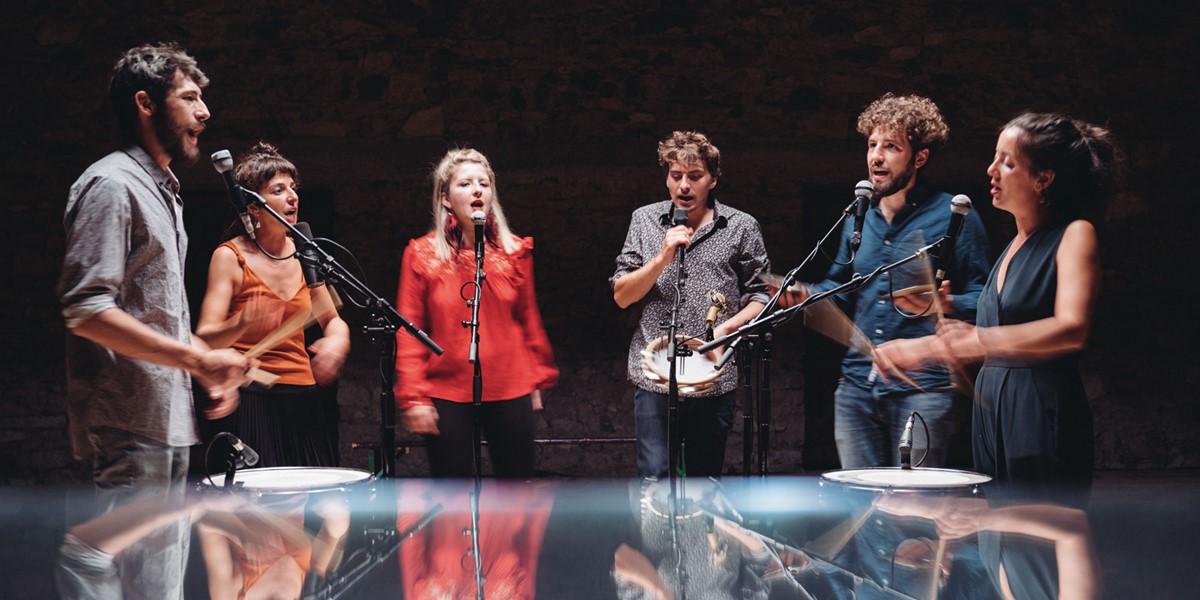 San Salvador (photo: Antoine Parouty)
From the tiny hamlet in which this group of childhood friends rehearse, you look across verdant, rolling pastures to the Monédière hills on the horizon. This is San Salvador's territory: a part of the Corrèze, the 'green country' of La France Profonde, that's virtually unknown to tourists. On my way here, I take a detour to look at the village of Saint-Salvadour, where the six members of this exciting polyphonic vocal group grew up together. By minor road from there to the rehearsal space they built together behind the house of Gabriel Durif, the group's lead voice, you pass nothing but a few sombre looking farms and the occasional timber lorry.
Before sitting down to talk at the end of their session, I'm taken into the enormous barn that will one day – with the help of assorted regional grants and a lot of very hard work on their part – serve as a permanent space for the choral workshops that they run locally. The space underneath is earmarked for the children's theatre to which all three of the young women belong: Gabriel's sister, Eva, Marion Lherbeil and Laure Nonique Desvergnes. Laure's brother Sylvestre and Thibault Chaumeil complete the group. While San Salvador is their prime focus – particularly after their striking success at 2018's WOMEX in Las Palmas – all six are part of an association, Lost in Traditions, dedicated to the promulgation of (local) arts and the folklore of the Massif Central, which helped to attract their parents to the area.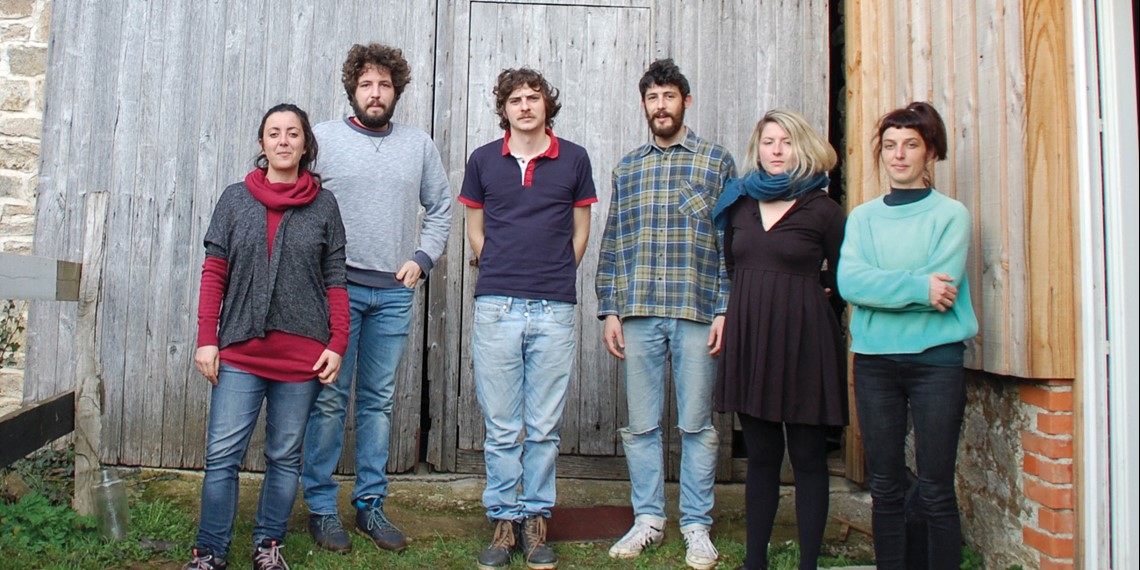 The barn-conversion project is ambitious and no one is under any illusions about how long it could take, but one thing emerges from our conversation: they don't shy away from hard work. "As soon as we get back from a tour," Sylvestre tells me, "we work." We're sitting around a table drinking a tisane of thyme from the garden in the living space of the old farmhouse that Gabriel shares with his Italian wife and their endearing little son, Marcello. There are various tours coming up, which take a huge amount of organisation, and in between they're recording in far-off Strasbourg their first official disc, due out in September. "It'll go on like this till we say stop," Gabriel suggests. "It's superb, we're very happy because it's what we want, but... it's hard."
"Nevertheless," Eva adds, "we're always very happy to get back to somewhere so calm and beautiful." If their WOMEX showcase turned their world upside down – and their success there was a surprise, they admit – they are still reassuringly rooted to the place where it all began. Their parents were all friends and the six childhood playmates all went from infants' school right through to lycée in the locality. Wednesdays, as is the French scholastic tradition, were dedicated to music. They learned to play assorted instruments – and learned to play the tunes by singing them first. They sang in Occitan, the ancient language of the south that they studied in school.
San Salvador saw the light of day around 2015. They started performing at village fêtes and festivals, exploiting the Occitan network in the south. They worked mainly in the summer, but the French system of subsidising 'intermittent' artists helped them to stay focused on their goals. Gradually, their signature sound started to emerge – to my ears at least, a kind of pulsating, percussive cross between early a capella Zap Mama and Corsican polyphonic choral music – and the challenge of playing in front of festival audiences that weren't necessarily attuned to Occitan traditions revealed that there is, in Gabriel's words, "a universality in our music that works." They took their music further afield: to Italy, Germany, Belgium and Switzerland. After that, Eva reveals, "we were curious to see how people reacted in countries like the Czech Republic. It was super; the reaction was always positive." Their shows last about an hour. A remarkably intense hour of singing, clapping and drumming. They must be wiped out by the end, I suggest. Eva smiles. "Yes, we're drained – but exhilarated."
The offers have poured in following WOMEX and their strategy has been to make their mark in Europe before venturing further afield. However, they recently tested the transatlantic waters: in Washington and New York, where they stayed in the Boho capital of Williamsburg, Brooklyn, a world away from their HQ in Chamboulive, Corrèze. The handful of gigs ranged between Joe's Pub in Manhattan and the Kennedy Center in DC.
If the experience hasn't turned their heads, it did make them want to see more, so they hope to return to the US before their album will be released in the autumn. The title as yet isn't fixed, but is likely to be La Grande Folie, named after the number that often concludes their act. It refers to another folkloric tradition of the Massif Central, one which their parents helped to revive when the six of them were children. Eva and Sylvestre elaborate. Each year, all through the nights of Easter Friday and Saturday, they tour the area, singing the Passion of Christ in return for gifts of eggs. Their reveille goes: 'Oh la grande folie, de dormir sans soucis' (roughly, 'oh the delusion of sleeping undisturbed'). On Sunday they rest and, on Easter Monday, they light a bread oven and cook the eggs for all participants. "We eat, we drink and we sing – again!" Sylvestre chortles.
As for singing, Gabriel explains their modus operandi: how a traditional song might evolve melodically and lyrically by re-working phrases of the original text. "We're not great Occitan speakers, so we can be quite free with the text. We might 'Italianise' certain words, taking the end of one word perhaps to bring up another. Take one of our songs, 'Capitaine', which becomes capita, meaning 'it arrives,' so 'the captain arrives.' Lots of plays on words: for their sound and their sense. We try not to deviate too far from the song's original meaning, but the words become almost part of the percussion."
It all becomes clearer that evening when I follow five of the group to a weekly workshop, led by Gabriel, in a retirement home on the edge of Tulle, the prefecture of the Corrèze. It starts late, because things always do here, but when everyone eventually takes their seat in a big circle and Gabriel suddenly leads off with a phrase in his rich, powerful tenor, the effect is electrifying. Working in a call-and-response fashion, together they embellish the phrase with vibrato and variations of pitch, and build it by repetition into something hypnotic and trance-like.
After quietly suggesting to Gabriel's son Marcello that he didn't give away all his sliced ham to an Alsatian puppy, I try to slip away discreetly into the night. But the band members all stop to wave me off and wish me bonne route. I drive home with a warm glow. It's rare and refreshing to encounter a group of young people so in harmony with their world. Success, I'm quite sure, will not spoil them. Right now, it's business as usual. This evening a retirement home in their bucolic homeland, tomorrow the world.
This article originally appeared in the May 2020 issue of Songlines. Never miss an issue – subscribe today!