Tuesday, February 13, 2018
Songs of the Syrian refugees
In a place where freedom of speech easily gets you arrested, refugees have daringly turned to music and poetry in order to express their feelings. Alexandra Petropoulos reports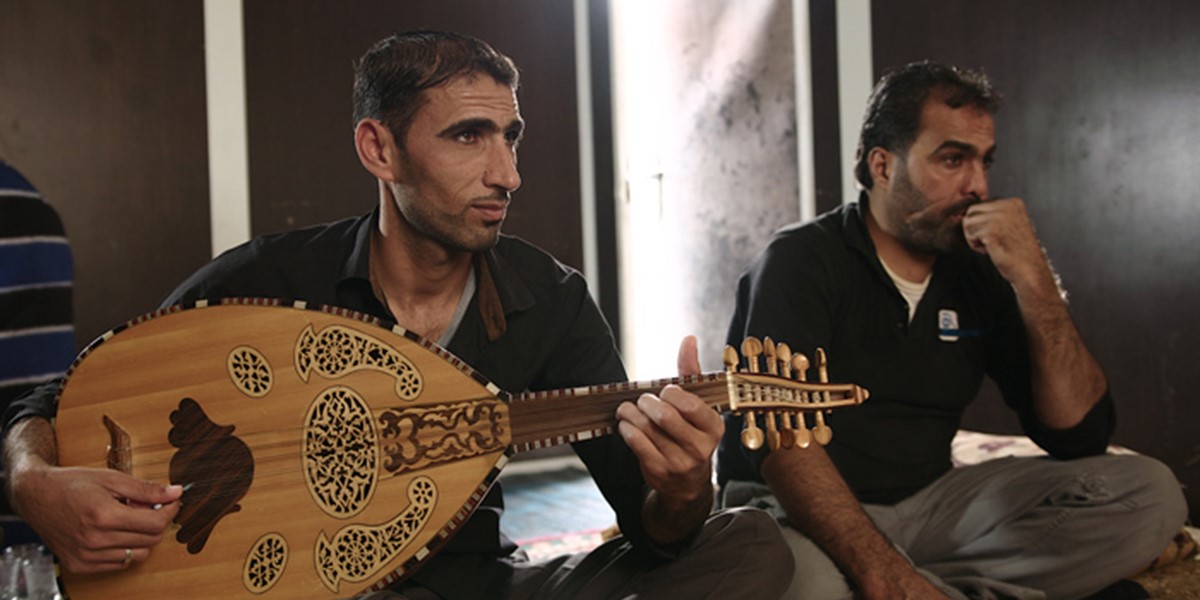 With his brow furrowed in concentration, Abu Abdullah rhythmically strums his oud, exploring the core of a melancholic melody. Mohamad Isa Almaziodi's robust and melismatic voice soars above, full of emotional ornamentation – sighing and repeating, rising and falling – until he runs out of breath and the phrase is forced to finish. In his song, Mohamad is singing about how strange life is, how harsh the nights are: 'Our home became very far. Very far.' But before he can finish, he is overcome by homesickness and with his head in his hands, he cries. He is crying for his beloved country and for the father he left behind.
Abu and Mohamad are residents of Zaatari, a refugee camp located just a few kilometres east of Mafraq, Jordan, near the Syrian border. Originally established as a temporary settlement in July 2012 for Syrians fleeing the civil war, Zaatari is now home to an estimated 79,000 refugees and stretches over five square kilometres.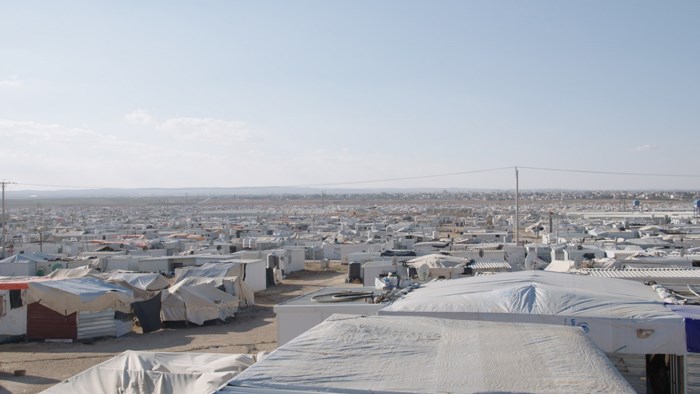 Zaatari, home to an estimated 79,000 Syrian refugees, was established as a temporary settlement in July 2012 (© Recording Earth)
In November last year, British filmmakers Olly Burton and Alex Blogg of Recording Earth visited the camp with a view to make a series of short documentaries about Zaatari and its residents, telling the stories of the refugees and following the narrative of the conflict through music. After recording and speaking to several musicians and one poet, they quickly discovered that almost all of the songs and poems shared a common theme – Syria, nostalgia and a longing for home. 

The songs offered the residents a way to cope with life in the camp and their crushing hunger for home. "The artists really go somewhere else when singing and they think about Syria," Burton recalls. "When Mohamad started crying, you felt like he was there and he was thinking about his dad in Syria." Earlier that day, Mohamad had spoken to his dad, who informed him that he was terminally ill. Mohamad would likely never see his father again. "He was singing this song about Syria and feeling nostalgic and it was like he was there. And then it's as if he suddenly snaps out of it and realises he's not. He's in a caravan, in a refugee camp."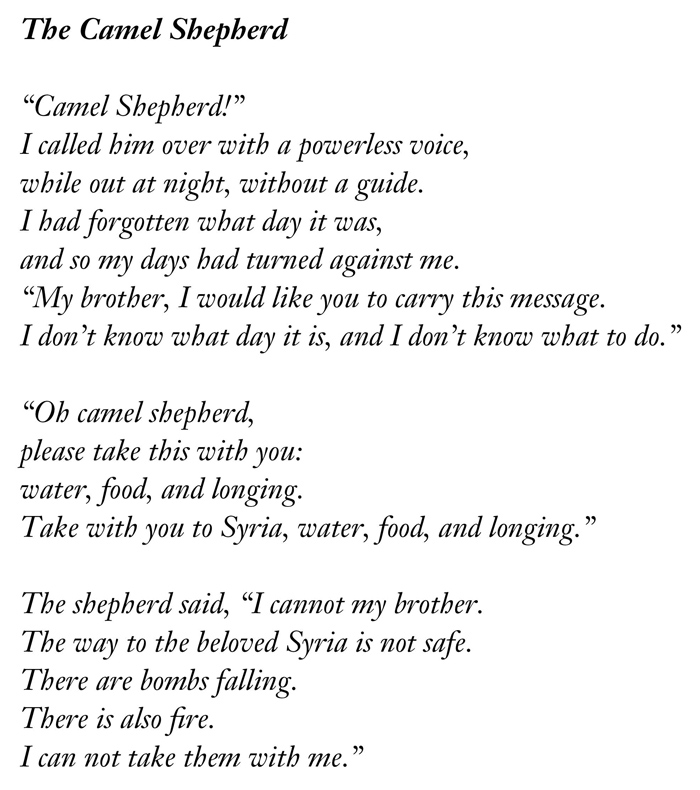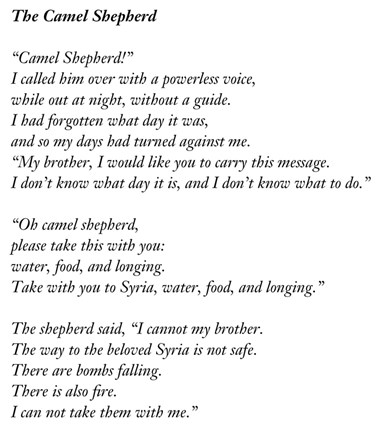 Mohamad sings another song, 'The Camel Shepherd', asking a shepherd to take food, water and his homesickness back to Syria, but the shepherd replies 'I cannot my brother. The way to the beloved Syria is not safe.'
"We came to Zaatari as refugees because of the fear we were living," says former policeman Ziad Qaem Al Masri, who fled from Daraa in southern Syria where the majority of the camp's residents are from. "The situation in Syria was indescribable. It was brutal."
Many of Zaatari's refugees held onto their homes as long as possible despite the violent and terrifying conditions back home. "It just got to the point where they couldn't stay anymore," Burton says. "Their town was under attack, yes, but that didn't stop them wanting to stay. It was when there was no running water and the infrastructure was failing. They didn't have any options left, they had to leave."
Forced to abandon their beloved country, Zaatari's residents now find themselves stuck in that haunting limbo familiar to every refugee. They have found a sanctuary away from the violence, but are shadowed by the black cloud of uncertainty – when will they ever be able to return? Several organisations and charities, such as French NGO ACTED, who helped arrange Recording Earth's visit, are trying to build infrastructure in the camp, while most of the refugees don't want to believe they'll be there long enough to reap the benefits.
"Some people spend 20 years in prison for one word. All the brave writers and poets are out of the Arab world
"
Unwilling to accept permanent separation from their beloved Syria, the refugees turn to song and poetry to help relieve the pain. Freedom of expression, however, was never easy to come by, in their home country or now in the Jordanian camp. As Zaatari is located only 15km from the border of Syria, security – for the sake of the residents, for the Jordanian people and for the NGOs working there – is tight. Refugees are required to ask permission to do just about anything, even to leave, and expressing yourself is a dangerous game. Raed Al Hussein, a poet living in the camp who spent 6 months in a Syrian prison for a poem he wrote, understands this all too well: "I am very cautious when I write. Some people spend 20 years in prison for one word. All the brave writers and poets are out of the Arab world."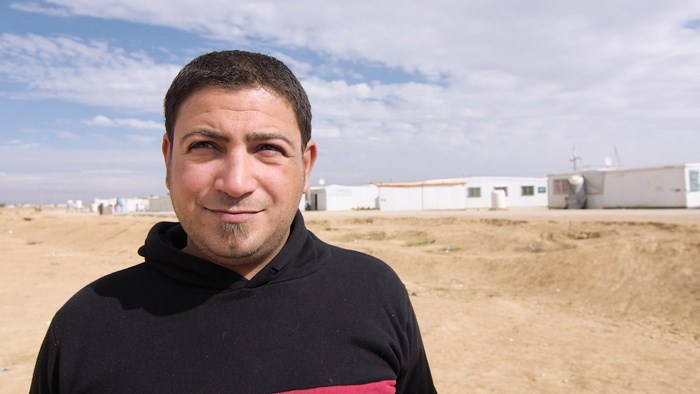 Poet and Zaatari resident, Raed Al Hussein: "I am very cautious when I write" (© Recording Earth)
Burton notes that when asking refugees questions, they often answered cautiously, with guarded, vague responses. "It was hard to get complete answers from the people we spoke to because they're very wary. They have to be with their families in the camp and they can't risk being sent away." But within the welcoming relief of music and poetry, individuals are able to express themselves in a way that doesn't compromise them.
The shared experience of longing and anguish inspires the music and poetry of the camp. No matter how hard a singer tries to hold on to a silver lining, the black cloud leaves a shadow on everything it touches. "The suffering we are living, the sadness and the pain inside us, is what drives us to write," Raed explains. "Sometimes I try to write about love, but politics always overcomes the love. The suffering, the sadness overcomes everything. From the suffering and the pain we have lived rises the need for writing. Whatever I try to write about, I find myself writing about the sadness. When I write a love letter I find the suffering and the pain within it."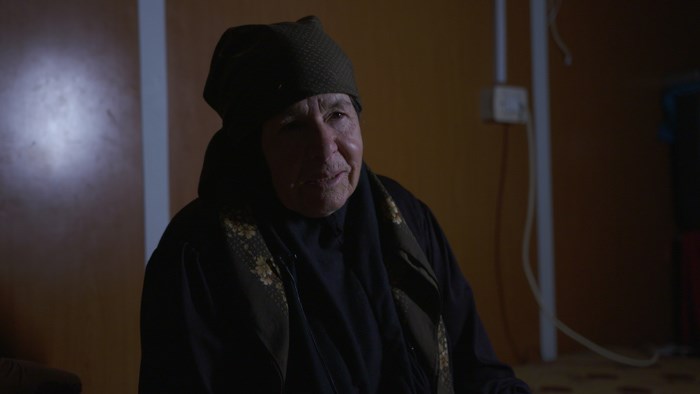 Fatima Al Hariri was forced to leave her children behind in Syria (© Recording Earth)
Everyone in the camp has lost someone, be it a parent, a lover or a child. "There is a lot of misery in my heart, and my eyes are tearing. I am not happy, I am singing to relieve my stress," sings Fatima Al Hariri, one of Zaatari's elderly residents. "Interviewing her was a hard one," Burton recalls. "When I walked into her camp, she said I looked like her son, so she just broke down and didn't stop crying until we left." Fatima fled to Zaatari four years ago with two of her children. The rest she was forced to leave behind. "I asked God to protect them. We are fine here, but we are not happy. We are tired, because we are always thinking." Sick with despair, Fatima sings songs to her son, Saed:
'I could not sleep last night, like other people would
There is a lot of misery in my heart, and my eyes are tearing
Saed, I wish I did not leave my country
Saed, I wish I stayed and did not see how weak my people became
Oh I would like to ask the dead, what it feels like to be dead?
Death is better than life sometimes
You know better'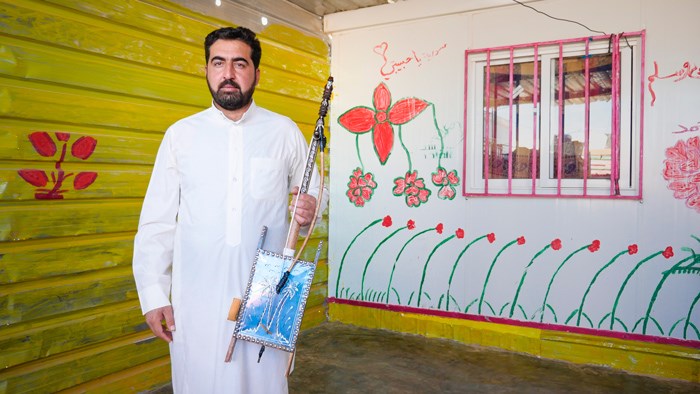 Ziad Al Massri finds consolation in playing his rebab (© Recording Earth)
But despite everything Zaatari's refugees still refuse to loosen their grip on hope. Zaatari's musicians and poets are desperately holding on to their tradition and memories of home, hoping that one day they'll be able to return to restore these songs and poems to their native country. "I have learned how to play rebab during my stay in Zataari," former policeman Ziad explains, "because the day we left our loved ones, I was determined to learn how to play. It is my favourite instrument. The rebab can express your feelings, whether it is sadness, worry or happiness. This is why I like to play it; it is like a lover to me. My lover. It's like you can have your feelings on the tips of your fingers."
➔ Follow the stories of these refugees and others like them through Recording Earth's Refugee Music Project website, www.refugeemusicproject.com, or their Facebook page.
Songlines is the definitive magazine for world music, investigating how the music fits into the political, cultural, and historical landscape. Songlines is your essential guide to a world of music and culture.