Thursday, October 3, 2019
Spotlight: INALA
Charlotte Algar talks to composer and producer Ella Spira about INALA, an ambitious cross-cultural dance and music collaboration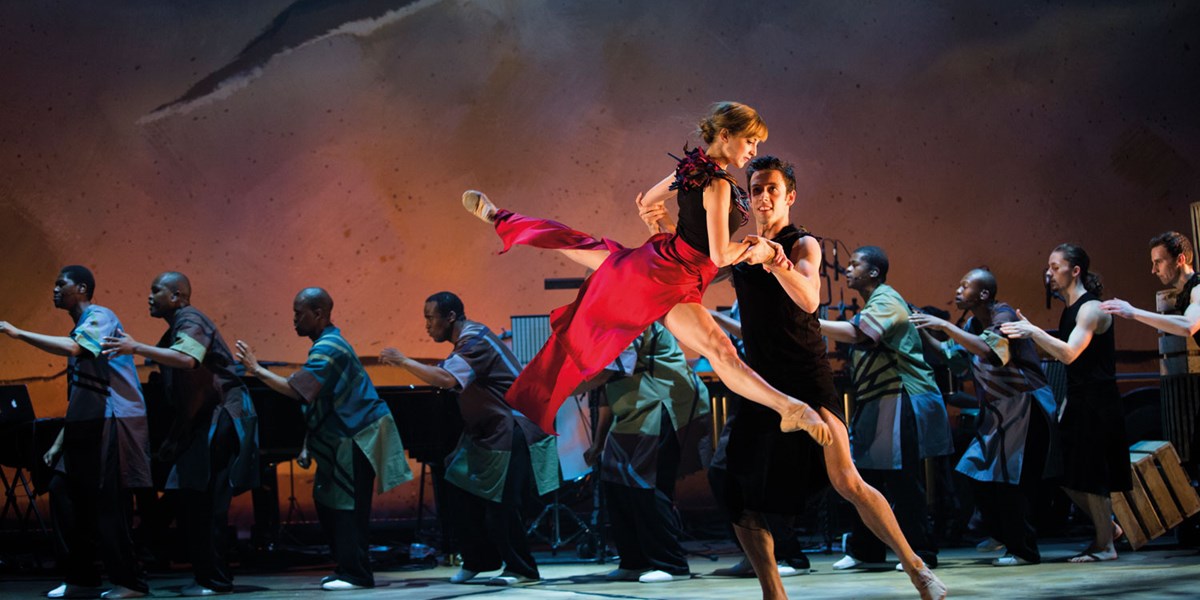 Photo: Giulietta Verdon-Roe
INALA, a Zulu ballet, combines South African isicathamiya singing, ballet and contemporary music in a production celebrating artistic collaboration between different cultures and mediums. The production company for INALA, Sisters Grimm, consists of Ella Spira, composer, and Pietra Mello-Pittman, Royal Ballet Company alumna and choreographer. Having staged other shows in the same vein, such as Voices of the Amazon, the duo is onto a winning formula.
The combination of ballet and Zulu music is an unusual one. Spira, who was composing for film by the time she was 16 and heavily inspired by Paul Simon's Graceland album, saw a gap in the market for a production of this style. "What I felt could be done musically, hadn't yet been done," she says.
I saw INALA in its first incarnation at Sadler's Wells a couple of years ago. Lithe ballet dancers (adorned with stylised feathers and headpieces) pranced about the stage backed by live music from Ladysmith Black Mambazo and instrumentalists (strings, piano, percussion). Happy moments of unison came when the dancers were interspersed with the choir, replicating their Zulu kicks and jumps with what I'm sure must have been frustrating ease, at least for the older, less mobile members of Ladysmith Black Mambazo.
Traditionally an a capella music, isicathamiya singing is seldom heard with instrumental accompaniment, making this show an intriguing prospect. The modern style of this vocal music, with its unique close harmony, became popular in urban South Africa during apartheid, where illegal competitions for the groups were held after curfew in townships. These competitions were judged on tightness of harmony, slickness of dress and togetherness of choreography. Ladysmith Black Mambazo are undeniably the most famous group within this tradition and were heavily involved in the early stages of the production. Spira says, "We worked closely with Joseph [Shabalala, musical director of Ladysmith Black Mambazo] and Ladysmith Black Mambazo wrote their own lyrics, which we asked them to translate for us and then tweaked here and there."
This time around, Ladysmith Black Mambazo are replaced by Soweto Gospel Choir who have been basking in isicathamiya limelight for a while now, recently winning their third Grammy, for their latest album Freedom (reviewed in #144). With their gospel influences (their version of 'Jerusalem' is sure to bring shivers to even the most atheistic of spines) and tight backing band – electric guitars, keyboards and drum kit – this group champion a style of southern African singing often underrepresented in the secular sphere. Soweto Gospel Choir are a mixed choir, presenting a challenge for Spira, who altered her arrangements to accommodate female vocalists. As for filling out the vocal harmonies, she says "they did most of this themselves."
The oldest of five siblings, Spira says she "grew up in a busy household and collaboration has always come naturally to me." Out of this experience, she rates collaboration and teamwork highly not only for conflict resolution purposes, but for promoting cross-cultural unity – "after all, art can change government policy," – a message sadly still relevant to an arts crossover uniting African and European mediums.

INALA will play at the London's Royal Albert Hall on October 23