Monday, February 22, 2021
Stewart Lee interview: "Stand-up is a duet with the audience. It doesn't mean anything unless people are laughing. Or booing"
By Julian May
The comedian and writer tells Julian May about a childhood fascination with the past and the parallels between stand-up and the music he loves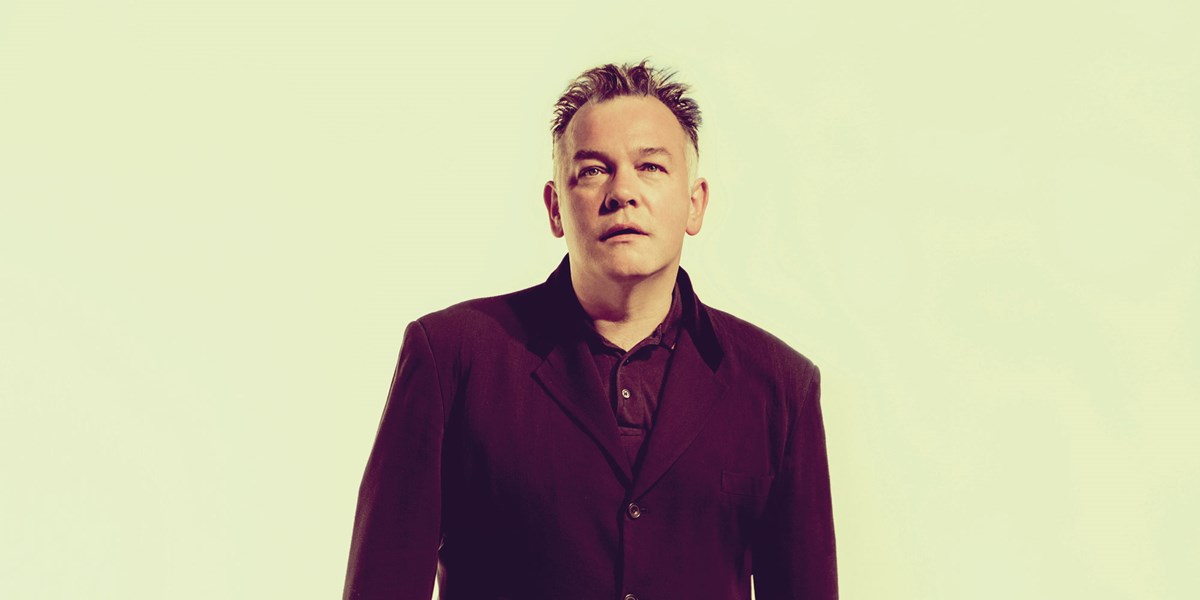 Stewart Lee (photo: Idil Sukan)
"When I was six," Stewart Lee remembers, "I was given a copy of Mysterious Britain by Janet and Colin Bord." It's a book about the ancient sites of Britain. "My gran brought me up and whenever we'd be going somewhere, I'd ask to stop because we were near the Rollright Stones or somewhere. And she'd say, 'Oh, Stewart, you and your old ruins.' People of her generation weren't interested. They were trying to escape the past."
Lee went to school with members of Napalm Death. Their grindcore music is as harsh and difficult as they are personally polite, charming and vegetarian. "I used to go orienteering with Napalm Death," Lee recalls. "Now you can get 'Orienteering with Napalm Death' T-shirts."
These two memories are key to understanding Lee's musical tastes and his work as a stand-up comedian and writer. He was half of the radio duo Lee and [Richard] Herring, wrote for BBC Radio 4's On the Hour and won Best Comedy Awards for his TV series Stewart Lee's Comedy Vehicle. He's a columnist and has written a novel and the libretto for the highly successful and controversial Jerry Springer: The Opera. His Content Provider tour was in full swing when COVID-19 hit in March.
Twenty-five years ago Lee found a couple of Shirley Collins LPs in a second-hand shop. He'd vaguely heard of her, so bought them. Since then he has become part of the movement for Collins' proper recognition, writing about her and helping to raise funds for the film The Ballad of Shirley Collins. Now the two are friends. "With folk music, I love the directness of the storytelling and the strength of the voices." At the end of Lee's chosen track, 'The Cruel Mother', she is condemned by the sons she has murdered to peculiar penances: seven years as a fish, as a bird and as the tongue in a warning bell. "In the really old songs, it's as if some mistake has happened on the way, in the telling. Things get misheard and jumbled. It's like something that's been photocopied too many times."
Lee recognises a similarity with stand-up. "You get to the end and the thrust of a whole bit has, over 200 performances, mutated. There's a totally different feeling to it. I like that about folk songs, that they are living. There's a dichotomy, a concern for authenticity, yet the songs change with travel. The collectors got a snapshot of what the songs were in 1900 or whenever, but they are always evolving."
When he was a student there were bands playing in the pubs of Oxford every night, so Lee went to gigs all the time. One double bill, The Ex and The Membranes (both still going) left a lasting impression. "The Ex were declaiming politics over a semi-improvised jazz punk racket. I came out feeling really inspired... For about a week afterwards I wanted to be a vegetarian and change the world." The pairing of The Ex, a Dutch anarcho-punk outfit with the great Ethio-jazz saxophonist, Getatchew Mekurya, is not as unlikely as it seems. "The Ex have been going to Ethiopia for years. They really engage with local musicians and their traditions, working out what common ground there is." Indeed, it was Mekurya who invited The Ex to record the album Moa Anbessa, from which Lee has chosen 'Ethiopia Hagere'. "It really works on this track – The Ex's big stompy music and that fantastic overblown sax."
Lee sees another parallel between the music he loves and comedy. "It helps with stand-up if you have an ear for music. It is about rhythms and textures," he says. "In free jazz they just need a little bit to hook you in, then they can go off and explore – so long as they get back to that bit that hooked you in the first place. That's the model for a good bit of stand-up."
Lee is a regular at the Edinburgh Festival and, to get away from it all, goes with his wife to sessions at the Captain's Bar. "Once we met this really nice American bloke. He told us he was doing a record of British traditional music. He was going round Britain joining in these sessions, to get the feel and not be a dilettante. He was really respectful to all the people playing." That was Jefferson Hamer, doing the groundwork for an album with Anaïs Mitchell, Child Ballads, from which Lee chose 'Willie of Winsbury'. "I think it's heart-stopping and such a great story." The king returns from prison in Spain to find his daughter Janet pregnant. He is going to hang her lover, Willie, but he can't bring himself to, because he is so beautiful. Instead, the king says Willie can marry his daughter and he'll make him lord of his lands. But Willie and Janet ride off together. "It has the politics of the common man's pride that a lot of folk music has. It's like a Thomas Hardy novel – except it's got a happy ending."
Lee first heard Ali Farka Touré on Andy Kershaw's radio show, then was amazed to see the Malian bluesman at the Jericho Tavern in Oxford. "Not so long ago the world seemed a much bigger place. World music really did seem as if it was from another world. You can feel what went over and formed the blues and rock'n'roll from Touré's playing, particularly the early stuff. 'Amandrai' is the track most like John Lee Hooker."
Lee's love of folk and experimental music meet in the work of violinist and composer Laura Cannell. He has chosen an instrumental collaboration with cellist Kate Ellis from her new album of musical responses to landscape, These Feral Lands. Cannell asked Lee to write some words for it. Born in Shropshire, he was adopted and grew up in Solihull. This displacement led to an interest in places he is connected to by birth, but with which he has no emotional ties. So he drew on folk tales from places such as Wellington and Wrekin Hill. With the help of his son he recorded his rather mysterious fragments at home before sending them to Cannell, who then mixed them into her music. On one, 'Black Shuck', about a demon dog, Lee growls alarmingly. "I was trying to sound like Captain Beefheart telling an English folk tale. My son was really embarrassed. He'd turn on the recording machine and run off."
Since he was 20, Lee has spent most evenings working. He's found it difficult to adjust to the restrictions imposed by COVID-19. "It's surprising how addicted you get to the trauma. Stand-up is a duet with the audience. It doesn't mean anything unless people are laughing. Or booing." What, then, is this restless, curious and creatively driven man up to? "I'm working on a book, a gazetteer of English folk tales, retelling the stories but also how to get to the place, and where there's a nice local pub." He has also made a documentary with Michael Cummings, about Robert Lloyd and Birmingham post-punk band The Nightingales. King Rocker is on Sky Arts and, as soon as Lee's allowed, well, there are still the final 50 dates of his Content Provider tour.
This article originally appeared in the January/February 2021 issue of Songlines and Stewart Lee's chosen tracks were included on a free cover-CD with the issue (buy back issues of the magazine). Never miss an issue of Songlines magazine – subscribe today