Tuesday, August 10, 2021
Suka | Musical Instrument Guide (with Maria Pomianowska)
Doyenne of the Polish knee-fiddle, Maria Pomianowska, speaks to Simon Broughton about evolving her instrument's repertoire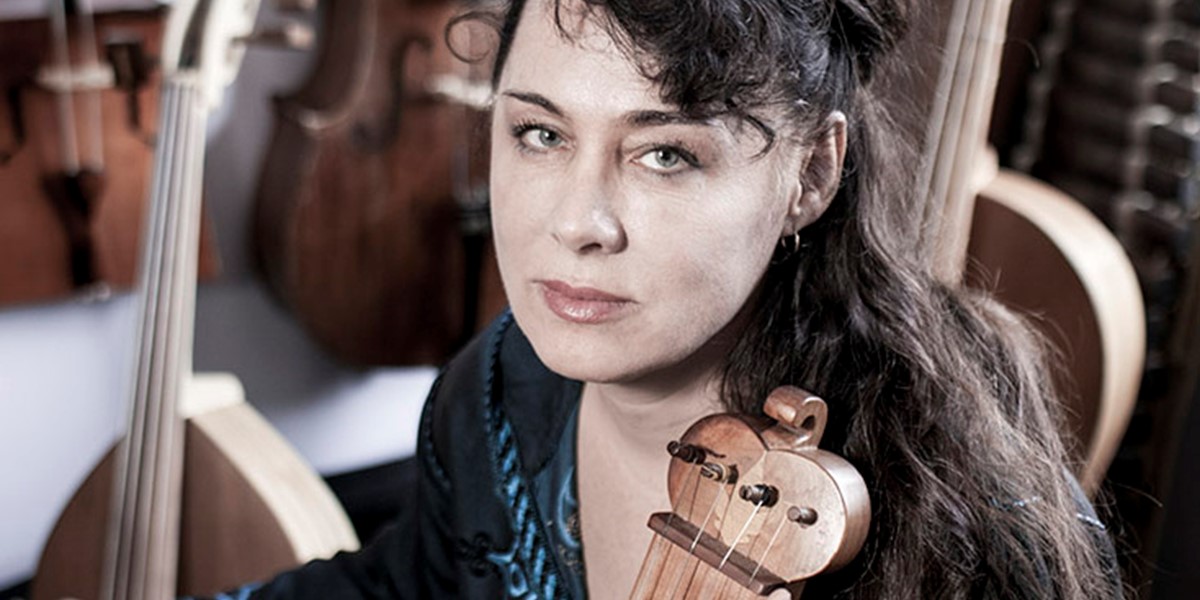 Maria Pomianowska has revived the suka, the Polish knee-fiddle, and created new repertoire to play on it. "Nobody knows exactly what it sounded like," she says, "and, anyway, now is a different time to 100 years ago, and we need a new language for the instrument," she says. 
Pomianowska graduated as a cellist from the Warsaw Conservatory, but was interested in bowed instruments from all over the world. She spent ten years playing Indian sarangi, studying in India with Sabri Khan and Ram Narayan. She needed to learn the 'fingernail technique', which means stopping the strings by pressing them with the fingernails rather than the fingertips, as on the cello. 
In 1993, she was preparing for a Warsaw concert called Magic of the Bow when the bridge of her Mongolian horsehead fiddle (morin huur) broke. She urgently needed it repaired for her performance the following day. An instrument maker, Andrzej Kuczkowski, was recommended, who fixed the morin huur. The luthier asked her if she knew about the fingernail technique fiddles that used to be played in Poland. Pomianowska had heard about them, but knew little. This exchange proved to be a pivotal and life-changing moment. "Kuczkowski wanted to recreate the instrument and was looking for someone to play it."
There are tantalising bits of evidence about the suka: a 16th-century written account by a German composer, Martin Agricola, describes Polnische Geigen (Polish violins) with the knee-position and played with the fingers between the strings; a watercolour by Wojciech Gerson from 1895, when the instrument was already declining in use, shows it from two angles (pictured below); while interviews by musicologists Jadwiga and Marian Sobieski with old players after World War II recall episodes of suka playing at the turn of the 20th century.
Pomianowska's own first suka dates from 1994. It's the instrument she's used for 25 years. She started using viola tuning on its four strings, but subsequently decided a higher violin tuning worked better for a solo instrument. "People are fascinated by the suka," she says, "but then they ask me to play Vivaldi, which I can do, but why? It's useless. Suka is suka, and I'm looking for the best techniques on the instrument."
Pomianowska has led a revival of the instrument in Poland. It's now included in several groups, including the Warsaw Village Band and her four-piece ensemble, who released The Voice of Suka (a Top of the World review in the April 2017 issue, #126). She's now recorded her first 'solo' suka album, Sukotherapy, and uses it to show off tunes she's picked up from around the world. One of the most interesting tracks is 'Polish Folk Song 'My Mom'', a Polish tune during which she duets with sarangi player Shaheen Parvez. 
In 2015, Pomianowska did a tour of India and played suka for her first sarangi teacher Sabri Khan, who was delighted to see what the sarangi had recreated in Polish culture. Now she's got composers writing for the instrument, but says it's important to recognise what it can and can't do. With fingernail technique, it's hopeless for double-stopping which is easy on violin or cello, but Pomianowska says, "the suka belongs more to the melodic system of melody and ornamentation, like the sarangi or kamancheh, rather than a Western harmonic one. The suka is my guide and she shows me what sounds best."
Read the review of Sukotherapy by the Maria Pomianowska Project in the Songlines Reviews Database
This article originally appeared in the July 2021 issue of Songlines. Never miss an issue – subscribe today