Monday, November 4, 2019
Taraf de Impex: "it's exciting to be doing this. Fresh. A new way for Romanians to look at making music"
Garth Cartwright travels to Bucharest to preview the revitalised and reformed Romanian Gypsy band, Taraf de Haidouks, who are making their UK debut as Taraf de Caliu, alongside Impex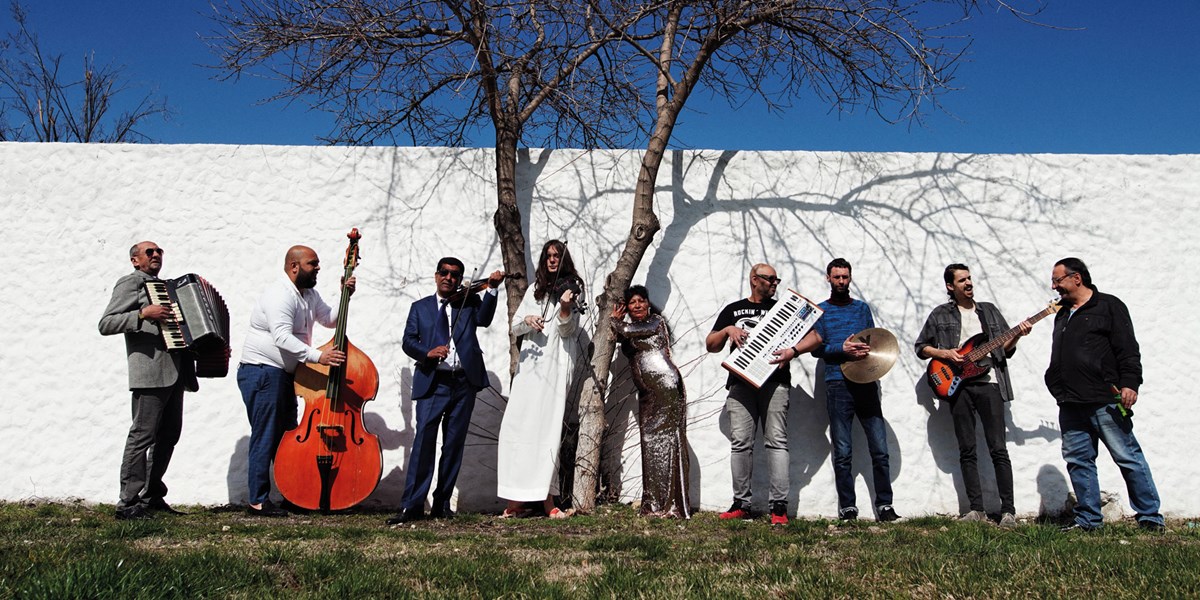 Third from left: Taraf de Haidouk's founding member Gheorghe 'Caliu' Anghel next to Impex's fiddler, Andrei Dinescu
My first visit to Romania was as winter took hold in 1992, just three years after the execution of their communist dictator Nicolae Ceauşescu. Back then the nation appeared frozen in time: the infrastructure was archaic, food and accommodation were extremely difficult to find, while packs of dogs roamed the Bucharest streets. Everything appeared broken and raw. Yet the people were warm and welcoming and I knew I would return. I've since done so many times.
Today, Bucharest is a city largely transformed – buildings have been restored, the dogs dealt with and chic bars, cafés and restaurants abound. But it remains a divided city, the contrast between the haves and the have nots being far more extreme than in those harsh years after the revolution. Locals express extreme contempt for their politicians (yes, just like in the UK) and millions of citizens have upped and moved to Western EU nations in search of better paying work and greater opportunities.
Culturally, Romania has shifted from a nation burdened by references to Dracula and orphanages to a place producing remarkable feature films alongside some of the most potent music made in Europe post-1989. When people make mention of 'Gypsy music' or 'Balkan brass/beats,' there is a good chance they are referencing Romanian music. And the musicians who introduced the world to such were a remarkable ensemble from the impoverished village of Clejani, some 60km west of Bucharest.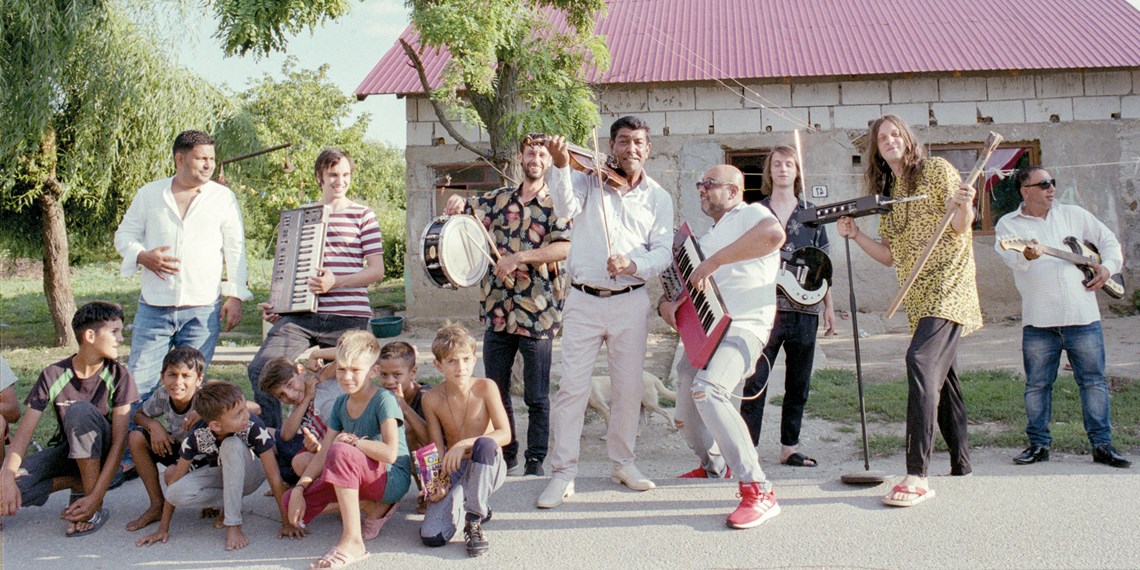 Taraf de Haidouks – literally Band of Outlaws – consisted of a dozen or so musicians, ranging from toothless pensioners to teenagers, all of whom had learned their trade from their fathers. Clejani was a lăutari village – lăutari being the honorary title given to exceptional Romanian Gypsy musicians – and, when field recordings made here in 1986 by Romanian musicologist Speranța Radulescu and her Swiss colleague Laurent Aubert were released by the French state radio Ocora label (Roumanie – Musique des Tsiganes de Valachia), they captivated a young Belgian, Stéphane Karo. He worked in Brussels booking concerts but the Ocora album's eerie majesty sent him to Romania in search of these master musicians. It was the dying days of communism and the paranoid dictator Ceauşescu had banned maps, thus Karo wandered across Wallachia, enquiring as to a Gypsy musician village. Stumbling into Clejani he discovered musical treasure beyond his wildest dreams and determined to bring these lăutari to Belgium.
Back in Brussels, upon hearing of Ceauşescu's fall, Karo rushed to Clejani. There he assembled the band he named Taraf de Haidouks – taraf is the Romanian word, of Arabic origin, for a band; haidouks are Romania's romanticised outlaws (think Dick Turpin). Taraf stunned Western audiences; they were virtuoso musicians rooted in ancient traditions who were both extremely entertaining and, in their nonchalance, very cool. From rural poverty to releasing acclaimed albums on Crammed Discs, appearing in feature films, headlining festivals and playing Johnny Depp's private parties, Taraf became the cognoscenti's choice. Their musical finesse found Yehudi Menuhin and Kronos Quartet embracing them while their success gave Balkan music international standing.
I first travelled to Clejani, accompanied by photographer Tim Hetherington, in 1998. Another time I attended the recording of Taraf's live album, Band of Gypsies. These were great times and Karo played ringmaster throughout. If the years 1990 to 2003 were gilded with success after success, Karo began to struggle when Taraf's veterans began dying. He employed younger Clejani musicians but it was never the same and their latter albums lacked focus. Cancer carried Karo away in November 2016, aged 56. His widow inherited Taraf's name and the management, but the band soon splintered.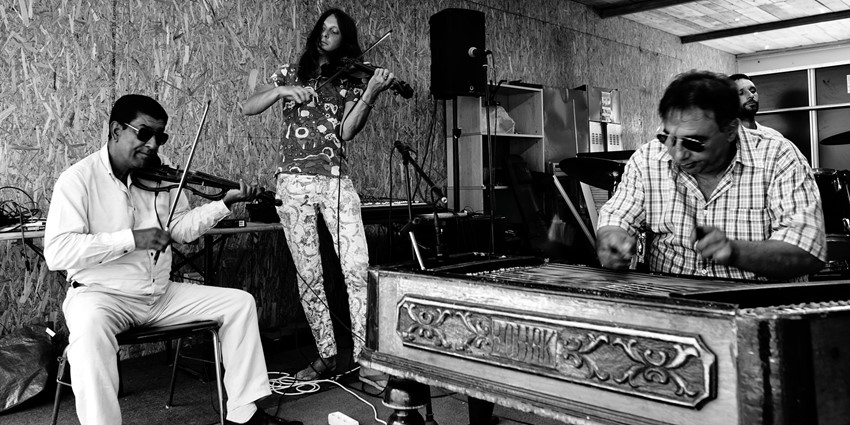 Hence my return to Bucharest in August to witness what will be the UK preview for Taraf de Caliu. A Taraf member since day one, Gheorghe 'Caliu' Anghel was among their younger musicians, his bright smile and fast, flashy violin work a Taraf hallmark. Taraf de Caliu feature his son and fellow violinist Robert Gheorghe (who played in the Taraf's last ensemble), Ionică Tănase on cimbalom and Marin Manole 'Marius' on accordion (both formerly with Taraf de Haidouks). There are several other members but on a hot August night, only Caliu, Marin and Ionică are attending a public rehearsal with Impex, a young Romanian rock/electro band. This Caliu/Impex fusion will debut (as Taraf de Impex) at the Electric Brixton, London in a double bill with Fanfare Ciocărlia, the northern Romanian Gypsy brass band, as part of Europalia 2019, the bi-annual arts festival that focuses on Romania this year, offering a remarkable array of films, music and visual arts across autumn and winter. The band will then play in Brussels.
The Caliu/Impex rehearsal takes place in a garage (with parked cars!) and, upon arrival, I walk up to Caliu, extend my hand and say, "Clejani. Stéphane." He pumps my hand and grins broadly. We engage in one of those animated, gestural dialogues you do when not speaking the other's language even if I doubt he truly remembers me. Andrei Dinescu, the violinist and singer with Impex, speaks fluent English and notes how Romania is full of musicians but the Caliu/Impex collaboration is, to his knowledge, the first time a band of Romanians and Gypsies have come together to play. "There are a lot of differences – white and black, city and country, young and old – so it's been quite a learning curve," says Dinescu. "Obviously, us Romanian musicians have so much to learn from Taraf because they're remarkable. What we can share with them is our understanding of how music can be made today and a fresh approach." One Impex member is absent but drafted in is Jerry Boaca, a Gypsy keyboardist who plays the Oriental electronic flavours now heard in manele (Romanian Gypsy pop) and tallava (Kosovar Gypsy pop).
The nine musicians gathered begin playing: the sound is fierce, powerful; a Taraf number I recognise is transformed by drums, keyboards and electric guitar. Caliu appears emboldened by the rush of electricity behind him and plays with gusto, performing various violin tricks that once featured in Taraf's repertoire, forever the demon fiddler. Dinescu follows, his own violin playing possessing a rough intensity likely shaped by a youth spent playing in punk bands, Boaca's keyboards offer Asian flavours, while Ionică and Marin both listen for gaps so to add their accordion and cimbalom. Drummer Eugen Imecs hits the skins with a force that punches the sound out. Raw power? This ensemble has it in spades.
'How will traditional Gypsy music develop after the death of the old lăutari?' Marta Bergman asked in the sleeve notes of Taraf's third album Dumbala Dumba in 1998. 'We are the privileged spectators of a magic moment in time when competition between young styles provides the stimulus, when both young and old vie with each other to show off their art and virtuosity.' Twenty years later, that seems to be what's happening.
Taking a break, Imecs emphasises that it's still early days. "I'd like us to tackle the Dawn Penn reggae song 'You Don't Love Me (No, No, No)'... I like to think it would work well as a Romanian electro-Gypsy-reggae fusion." He laughs and adds, "it's exciting to be doing this. Fresh. A new way for Romanians to look at making music. We've always had great Gypsy musicians but they're always kept separate. Let's work together!"
Next I meet Larisa Perde, a young Romanian woman who is the co-founder of Vinyl, Rum, Tapas & Wine – the record label Taraf de Caliu are now signed to. Perde explains that five years ago she set up Vinyl, Rum, Tapas & Wine as a DJ event along with Vlad Bodea and, as it grew in popularity around Romania, they developed parties, festival spots, an internet radio show and a record label. Perde had come in contact with the lăutari musicians of Clejani when doing PR for Costel Trompetistu, a veteran Gypsy trumpeter, and she soon began fielding requests to book Caliu for weddings, parties and festivals. With Taraf de Haidouks in disarray following Karo's death, he leapt at the opportunity. Ironically, Haidouks were famous everywhere except for Romania – with Perde as manager, Taraf de Caliu are now playing regularly and building a Romanian following. Vinyl, Rum, Tapas & Wine will be releasing an EP by Caliu in the autumn with plans for an album in 2020. And a Taraf de Impex recording? "Why not?" she says with a grin.
The next evening Taraf de Caliu have been booked to play a corporate event in the Palace of the People. Yes, the world's second largest building that Ceauşescu, inspired by a state visit to North Korea, insisted be built. This monumental folly involved the demolition of Bucharest's historic quarter and left a white elephant only a deluded narcissist could admire. The Palace has, I can report, no future as a concert venue as the huge room offers dreadful acoustics. Playing as a six-piece – two violin, two double bass, accordion, cimbalom – with four different vocalists taking their turns on the mic, the new Taraf are dynamic and get the Romanians in the audience up and dancing a hora (circle dance).
What would Ceauşescu make of his palace hosting a big Gypsy party? One can only smile at the thought. Although smiling is hard when the sound of duelling violins is loud and shrill. I leave after an hour, ears ringing, happy to know that Taraf continue, different yet essentially the same. I'm also very much looking forward to Taraf de Impex rocking Brixton – now that should be a night to remember!
Taraf de Impex & Fanfare Ciocărlia play at Electric Brixton, London on November 20 and at Ancienne Belgique in Brussels on November 21 as part of the Europalia Arts Festival Romania, see europalia.eu for more details
This article originally appeared in the November 2019 issue of Songlines. Never miss an issue – subscribe today!