Tuesday, August 3, 2021
Ten Album Covers That Changed World Music
By Chris Moss
Chris Moss selects ten album covers that changed the world music scene, featuring Buena Vista Social Club, Fela Kuti and Nusrat Fateh Ali Khan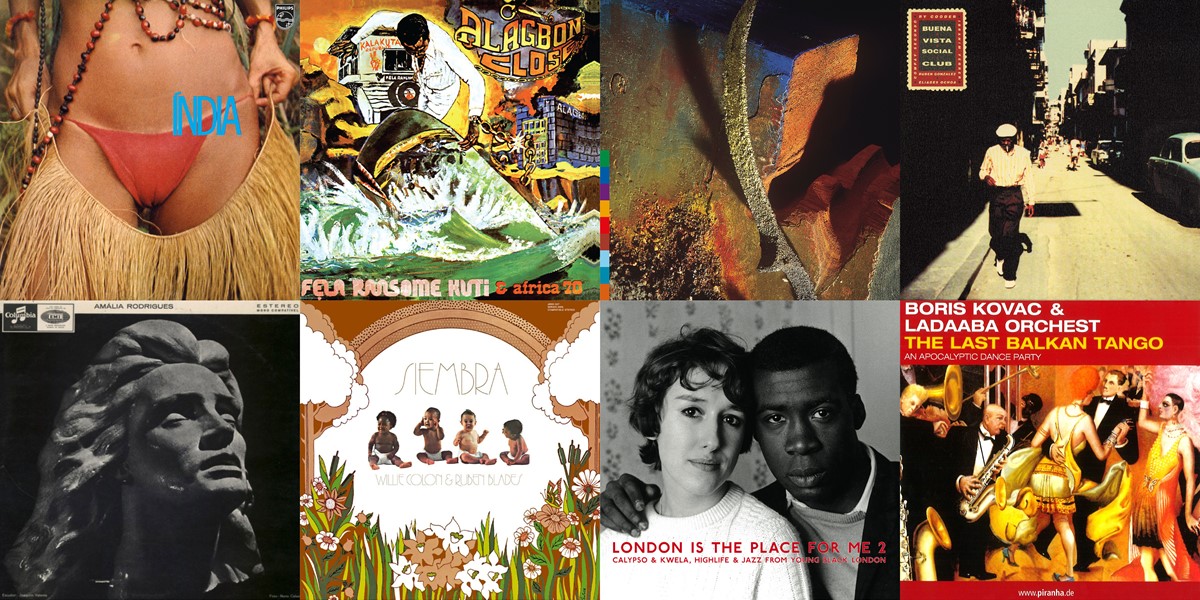 Video didn't kill the radio star, but digital has annihilated the album cover. Cover art has dwindled from the gorgeous gatefolds, informative inserts and free posters to the low-res jpegs and pngs of Spotify and iTunes. With record shops dead or, at best 'artisanal,' if you want to riffle through seductive sleeves, you're best off checking out Discogs. From the 60s, labels around the world shifted from cheesy mugshots to more thoughtful and creative visual ideas. Abstract, allusive and daring compositions by concept-driven artists and designers were allied to bold fonts and provocative titles to give the record buyer a complete artistic product. Since music came in many genres, so should the art that enveloped it.
Influences came from seminal work done for rock and pop majors (which had the budgets to pay celebrated artists), film posters and the wider art and design world, while musicians often got involved in their own brand. Some album covers displayed agit-prop intentions, challenging the establishment and received ideas about ethnicity, gender and the music itself. As buyers became more eclectic in their tastes and sophisticated in their expectations, European and Latin American labels in particular devised whole catalogues of stylish-looking releases to show they, too, had ideologies and attitude. A list of the best could easily have been 100 albums long, but I've chosen ten iconic and original covers to tell a slice of the story.
---
1.
Amália Rodrigues – Amália Rodrigues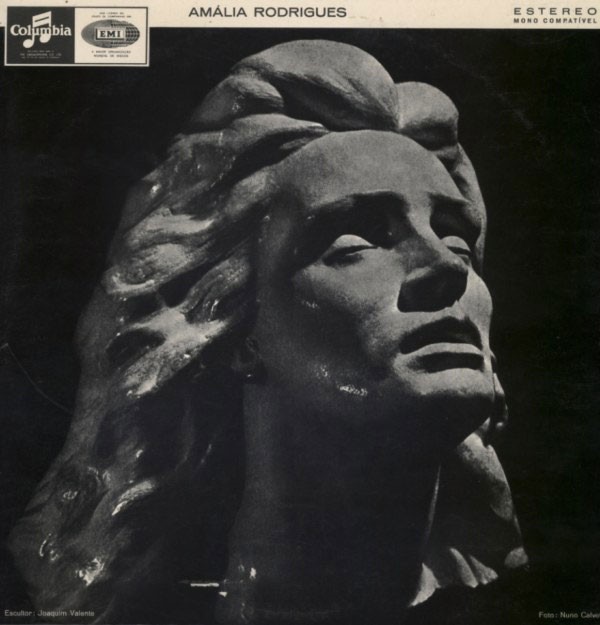 (Columbia, 1962)
A twist on the starry head shot, this monochrome image of Amália – looking, as ever, impassioned, committed, pained – has her head and shoulders decapitated and fixed in stone. The effect is to Hellenise her image and cement (or marble-ise) her status as the 'Raihna do Fado,' and also to subvert the warmth and humanity of her emotive performances. Fado has, after all, a steely, stoical quality, in that it dramatises saudade – longing and needing – and turns anguish into an artistic pose. Nicknamed Busto by its many admirers, this superb disc foretells in Greco-Roman iconography its future status as a classic.
---
2.
Astor Piazzolla y su Nuevo Octeto – Tango Contemporáneo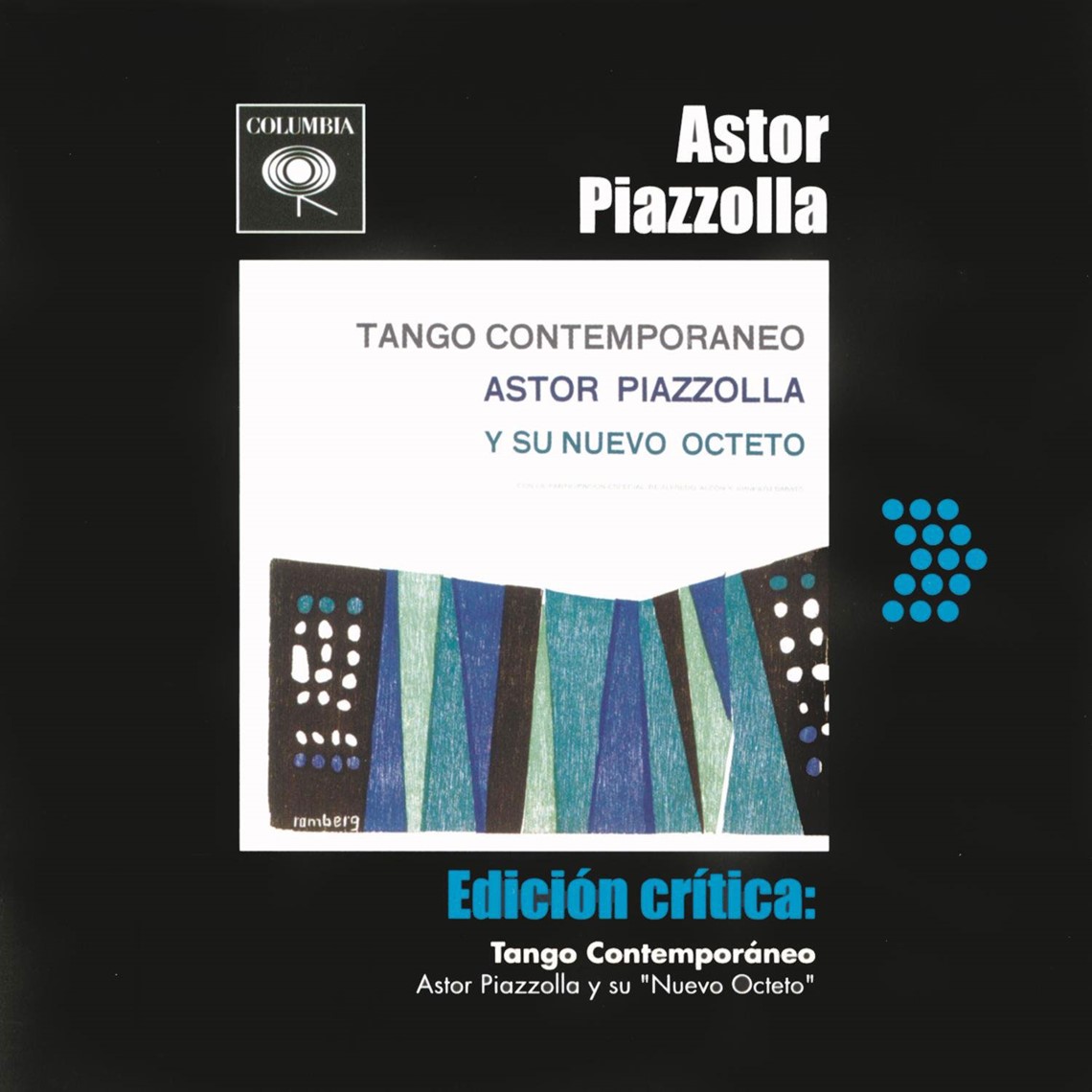 (CBS, 1963)
The metropolis has produced most of the great artistic revolutions of the past century; tango is the definitive folk music of the city – Buenos Aires and Montevideo, to be precise. This pared down cover, for a record of experimental nuevo tango exercises, including a gloomy six-and-a-half minute requiem and Ernesto Sabato reading from his novel Of Heroes and Tombs, features blue and black shards that represent a bandoneón (button accordion) but look like the stained glass in a modernist cathedral – and also somewhat like urban high-rises, bland and anonymous. There's no street corner scene, romantic couple, fedora hats or other clichés; the cover makes clear, this is art-tango for discerning listeners, not dancers.
---
3.
Gal Costa – Índia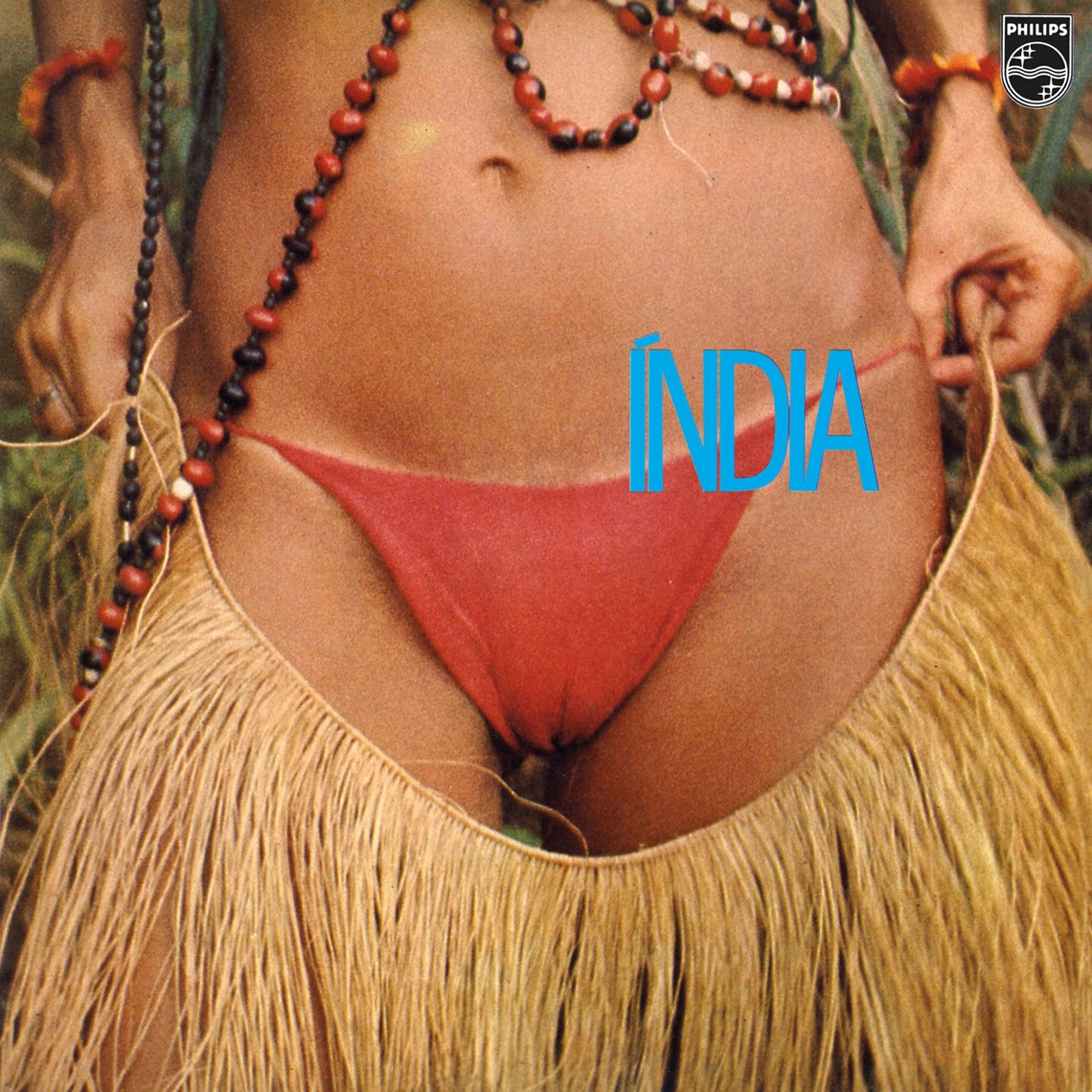 (Phillips, 1973)
A cover art powerhouse, Brazilian labels from the 50s carefully curated styles matched to bossa nova, tropicália, rock and other local scenes. Gal Costa's Índia was banned by the military government for its depiction of the singer's camel toe, revealed to the world as her grass skirt slips down. 'Índia… your pink lips, smiling at me,' she purrs on the title-track. There's nothing like intelligent, sexy humour for getting up the hairy noses of generals. The back cover has Costa in two further semi-undressed poses, adorned with indigenous beads and feathers; gatefold shots show her performing. Provocative on several levels, the cover marked her musical transition from samba and bossa to funk-driven, mellow MPB. The censored release came wrapped in blue plastic; it's now a collector's item. The photos were taken by Antonio Guerreiro; Waly Salomão was art director. Mr Bongo re-released the album in its original form in 2017.
---
4.
Fela Ransome Kuti & Africa 70 – Alagbon Close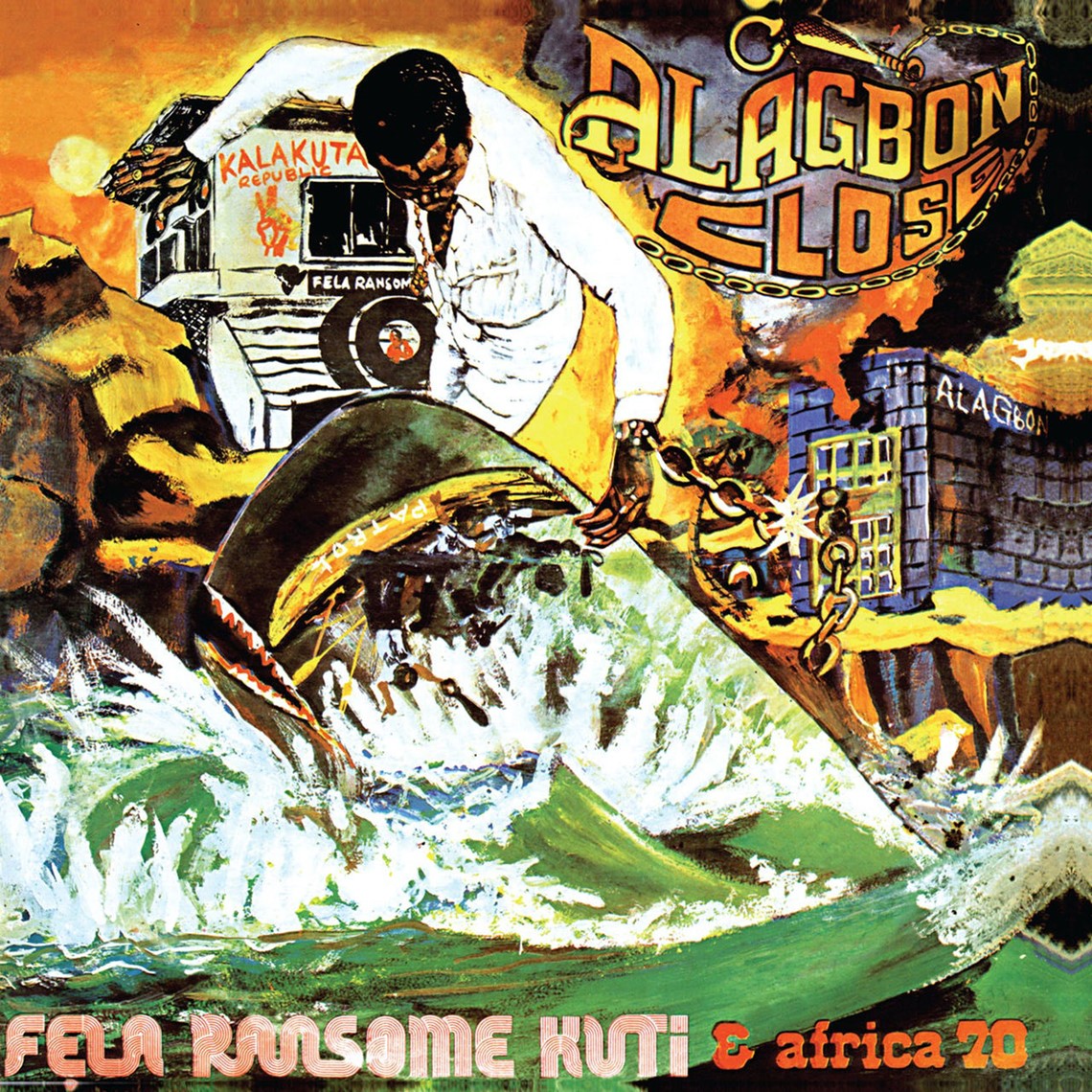 (Editions Makossa, 1974)
Between 1974 and 2014, Lemi Ghariokwu did 26 covers for Fela Kuti. His colourful, chaotic collages – which echo bill-posters he did for Bruce Lee films – mirror the highly-political content of the songs. Alagbon Close, their first collaboration, shows Fela's house, the Kalakuta Republic, which had been raided a few weeks before the pair met. The singer had been attacked and was hospitalised with skull injuries. Alagbon Close was the street where the police HQ was located. Here it is shown in flames, and a patrol boat capsizes, while Fela breaks off his chains to dance. All Ghariokwu's covers are worthy of close study; he's also done work for records by Bob Marley, Miriam Makeba and Lucky Dube.
---
5.
Various Artists – Sholay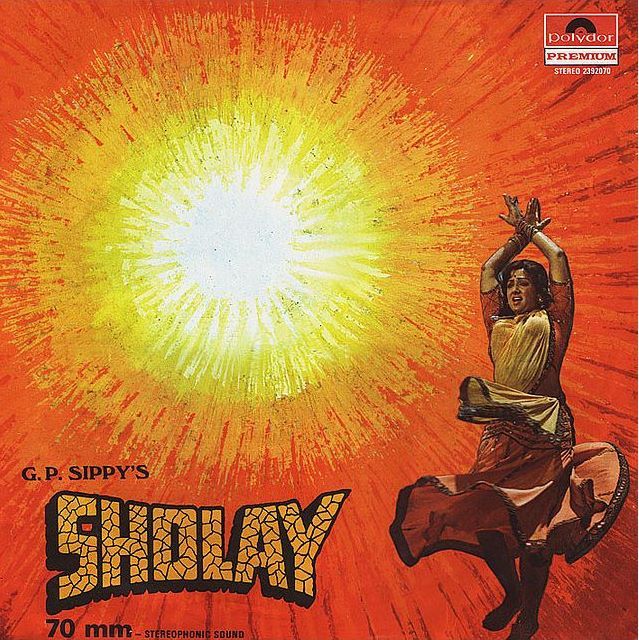 (Polydor, 1975)
Ramesh Sippy's action-adventure film – the first so-called 'Curry Western' – broke numerous box-office records and is considered a classic inside and outside India. Most Bollywood soundtrack album covers are an artistic extension of the coded Hindi dance moves, melodramatic plots (and musical numbers), lurid colour schemes, opera-style motifs and comedic qualities of the films they represent. The gatefold for Sholay's soundtrack – produced by RD Burman – shares key moments of the plot in stills, though the cover's flaming sun and Hema Malini channelling terror and a heaven-seeking mudra suggest it's about form as much as content.
---
6.
Willie Colón & Rubén Blades – Siembra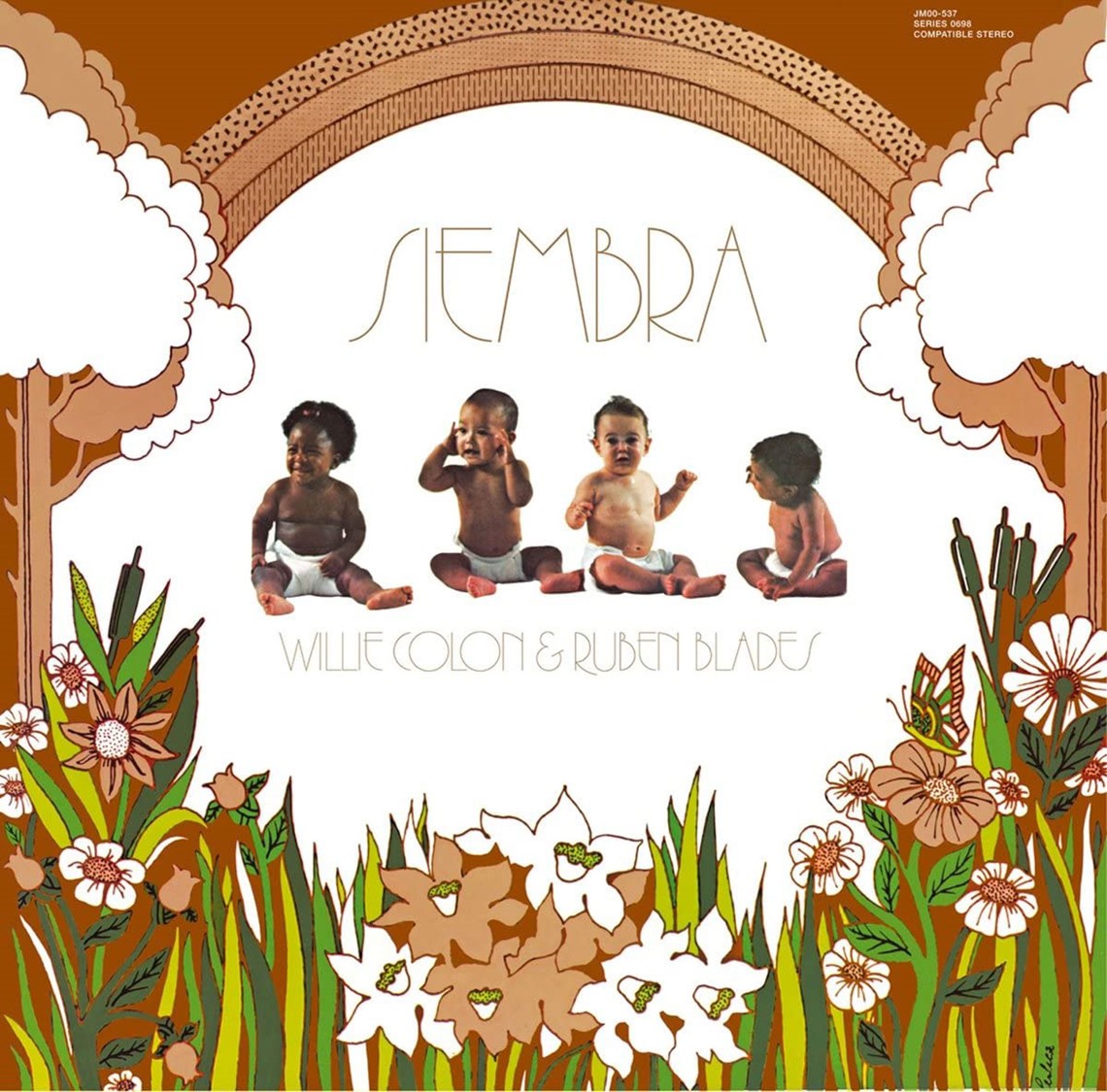 (Fania, 1978)
The creation of Fania Records in 1963 gave Latin American music a powerful base in New York City. Co-founder Johnny Pacheco was born in the Dominican Republic and the sleeve designs – like Nuyorican salsa – were proudly and assertively Latino, but also inflected by global trends. Pacheco's label sidekick, lawyer Jerry Masucci, thought the album would end Colón's blooming career and nip that of rising star Blades in the bud. But Siembra was a huge hit. Unlike other Fania productions, the cover, by Irene Perlice, accentuates the title – siembra means sowing – instead of the artists' names. Baby boys and girls of mixed race are the seeds of the future, framed by a softly psychedelic rainbow, flowers and cloud-like trees.
---
7.
Nusrat Fateh Ali Khan – Mustt Mustt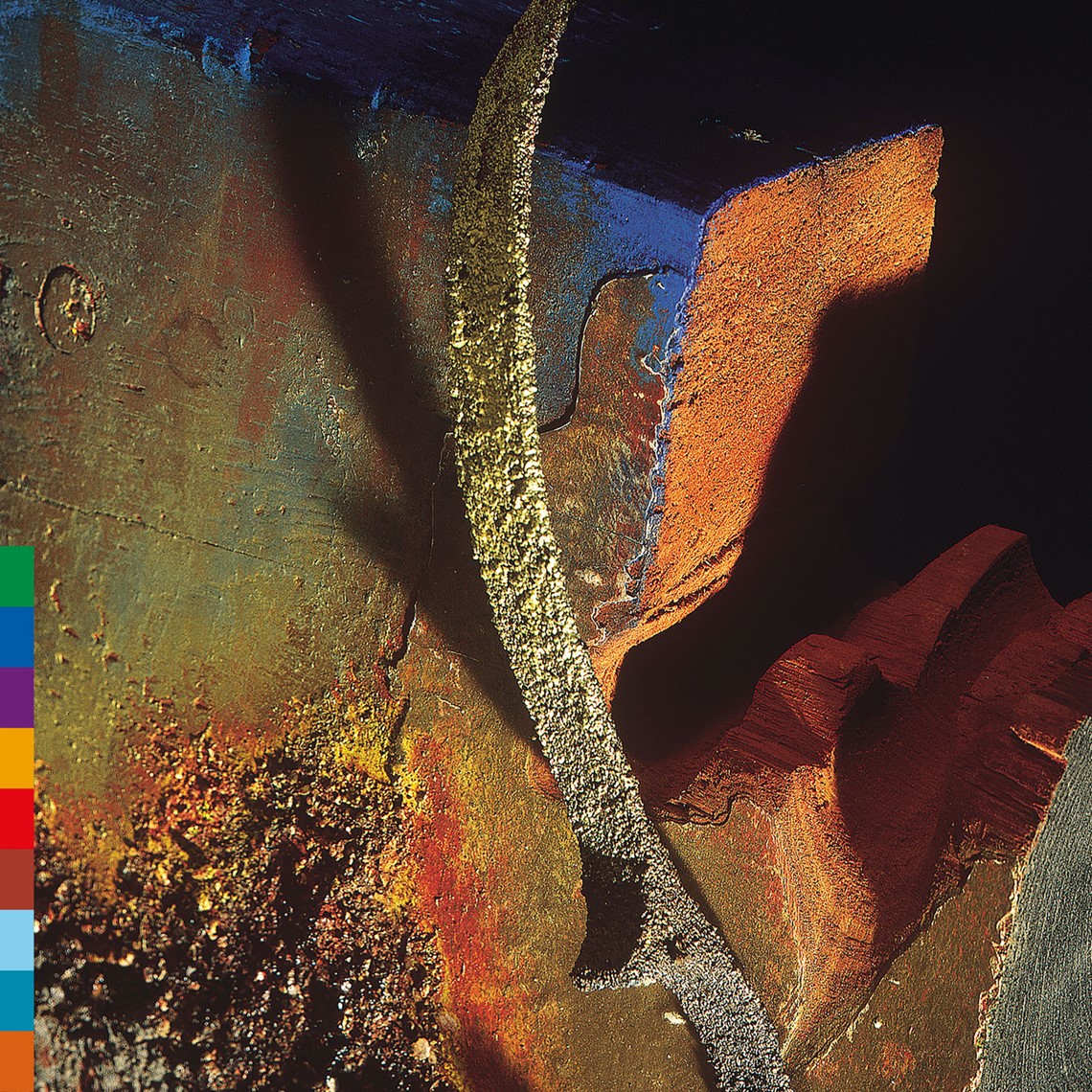 (Real World, 1990)
There's a long visual history of ethnicity being given the National Geographic/tourist spectacle treatment. When did you ever see a sitar silhouetted like Hendrix's axe? Real World, in their carefully styled covers, have largely managed to avoid clichés, while establishing a distinctive house style – overseen by Garry Mouat and Malcolm Garrett, working closely with Peter Gabriel. For this early release, Russell Mills' image of a curved metal rod – a scythe, a cutlass, a sliver of moon? – against a chipped, cracked stone is poetical and suggestive of a fusion of something antique with a modern gaze, like the album's qawwali songs and vocal flights. Of his work with producer Michael Brook, Nusrat said 'we update qawwali with the times.'
---
8.
Various Artists – Buena Vista Social Club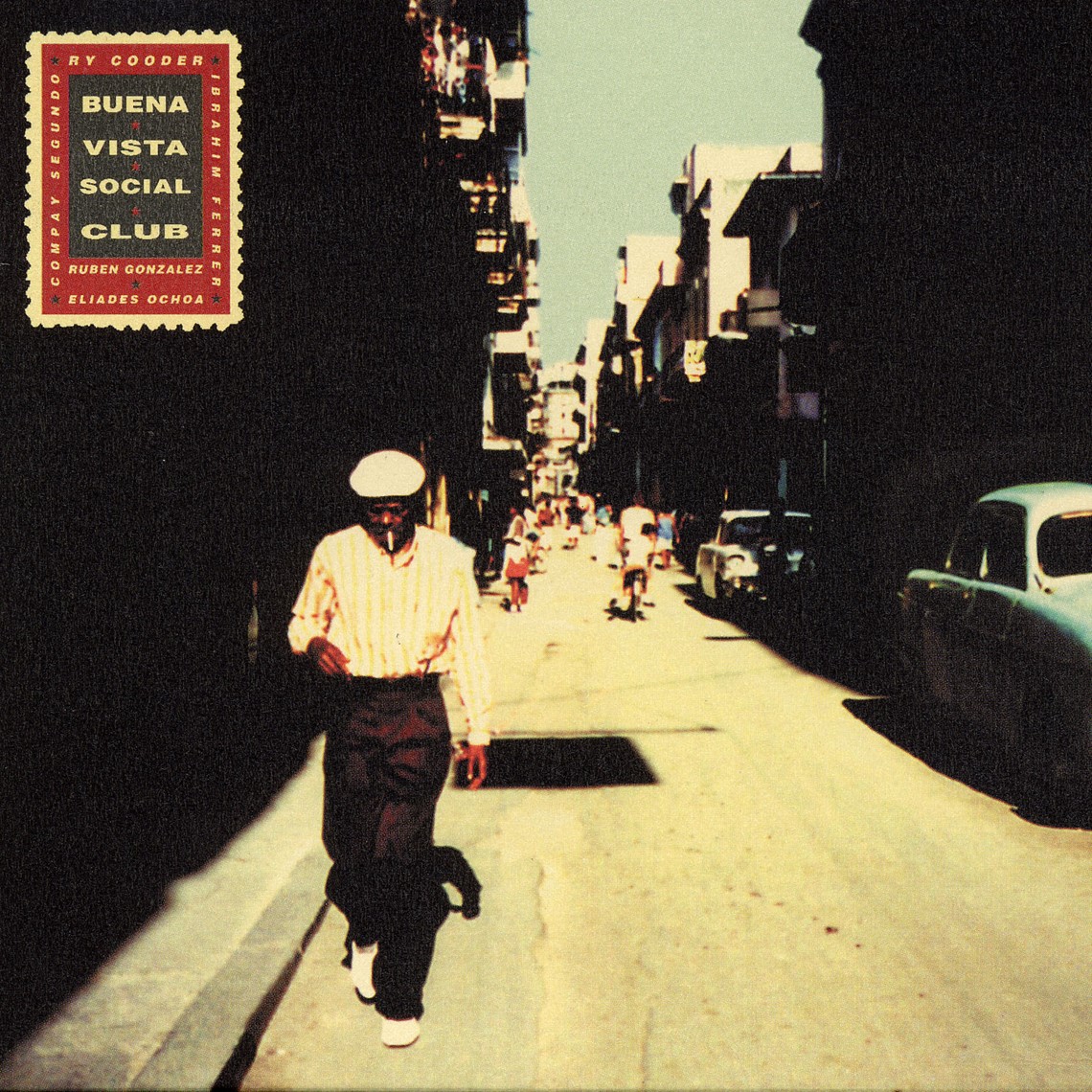 (World Circuit, 1997)
Susan Titelman's highly saturated photograph of Ibrahim Ferrer strolling along puffing on a cigarette (and not a puro) was as important as the opening bars of 'Chan Chan' in capturing new audiences for Cuban music. The tropical sunshine, vintage American autos and street life were familiar to those who had holidayed in Havana, but for most people this was a first window into Cuban cool: urban, modern, effortlessly stylish and bridging the pre- and post-Castro worlds, as did the musicians and songs on BVSC. With a 47-page booklet and well-made sleeve, BVSC was a classy end-product for a music scene left begging in hotel basements by the Communist state.
---
9.
Boris Kovač & LaDaABa Orchest – The Last Balkan Tango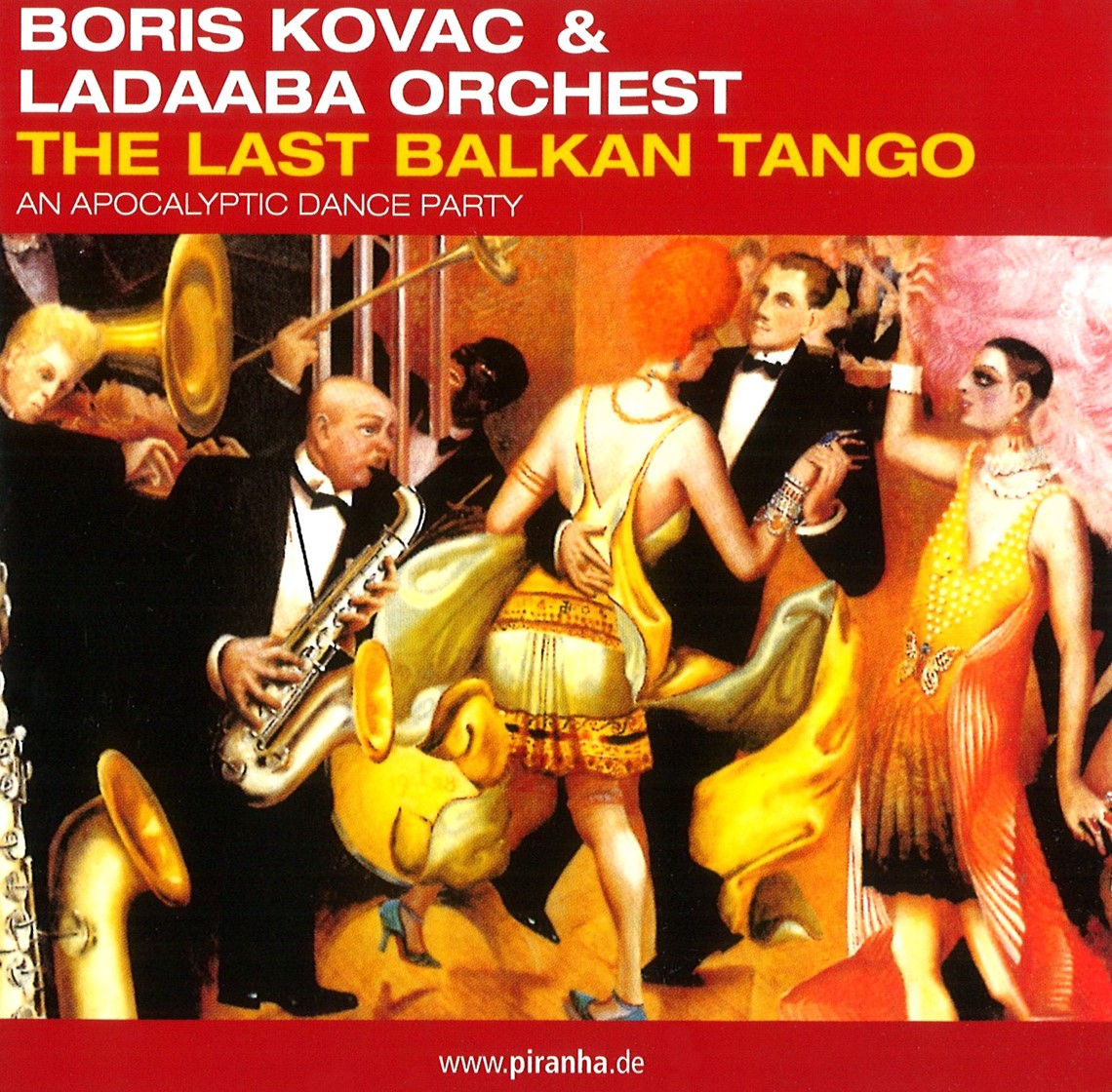 (Piranha, 2001)
Serbian composer and musician Boris Kovač saw tango, long popular in the Balkans, as a metaphor for the brutal wars that tore Yugoslavia apart in the 1990s. Piranha's choice of the central scene from Otto Dix's Großstadt triptych endows Kovač and his La Danza Apocalypsa Balcanica band with Weimar glamour and artistic kudos, but it's also an image in keeping with the transgressive, cosmopolitan, rakija-fuelled spirit of the music. Piranha's house style from 2000-2009, featuring wide colour bars, made their records look serious, archivable and collectible, and gave the label a brand identity.
---
10.
Various Artists – London is the Place for Me, Vol 2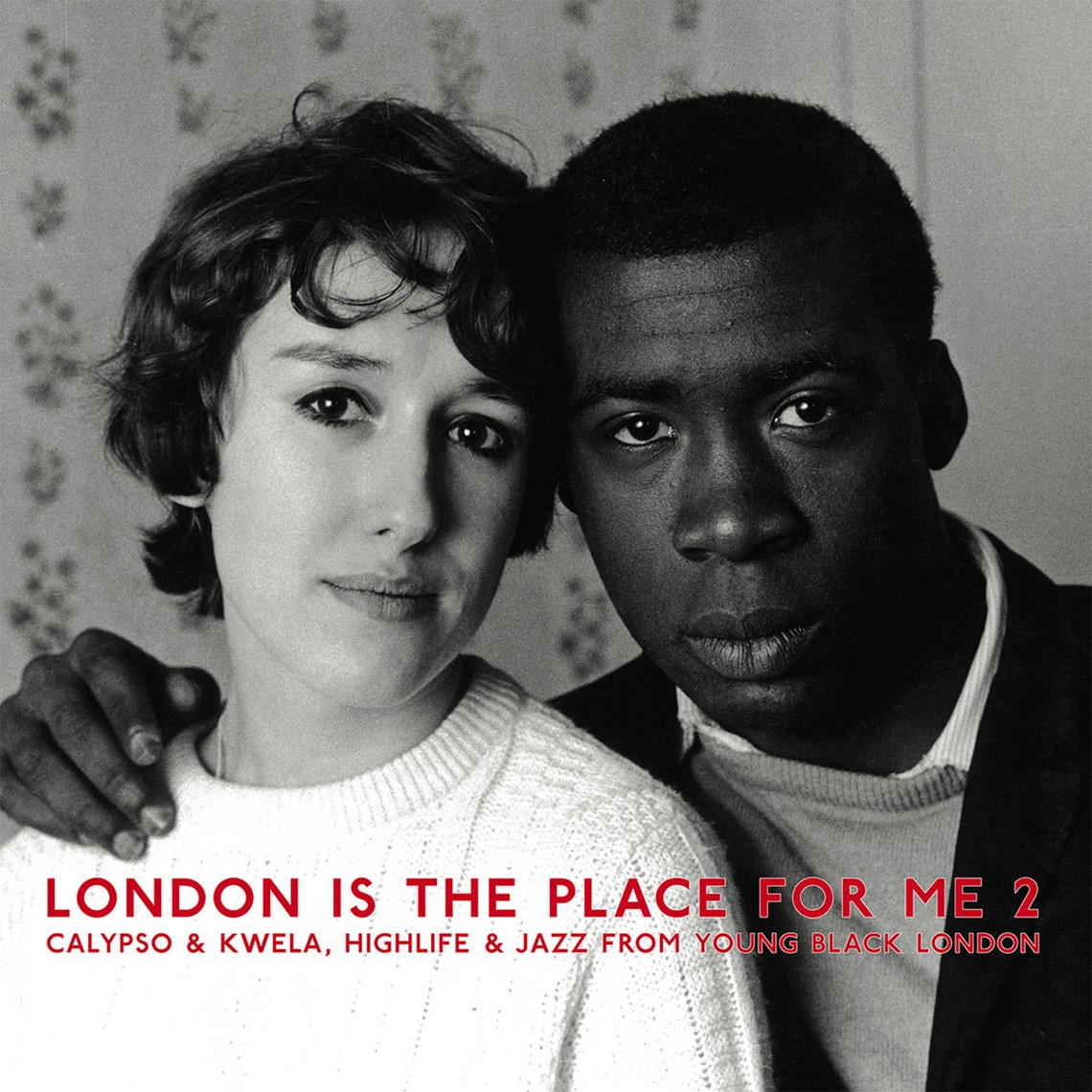 (Honest Jon's, 2005)
'Retromania' was the suggestive term coined by rock and pop writer Simon Reynolds for the current state of algorithm-powered music consumption. We look back. We repackage. We mine past tropes, tunes and imagery. Honest Jon's, founded in 2002, has unearthed plenty of fine forgotten music. Its eight-LP London is the Place for Me series celebrates Windrush-era black calypso, mento, highlife and steel band, and the vinyl and CDs feature covers ranging from a surly copper to chilled domestic scenes to Lord Kitchener and band on stage. This quietly lyrical image of a young couple defines the gentle, romantic side of a convulsive era.
---
This article originally appeared in the May 2021 issue of Songlines magazine. Never miss an issue – subscribe today