Tuesday, February 25, 2020
The Rough Guide to World Music: Chile
By Jan Fairley
Jan Fairley looks at the history and legacy of nueva canción – a music rooted in the guitar traditions of the troubadour that have played a part in Latin America's political and cultural struggles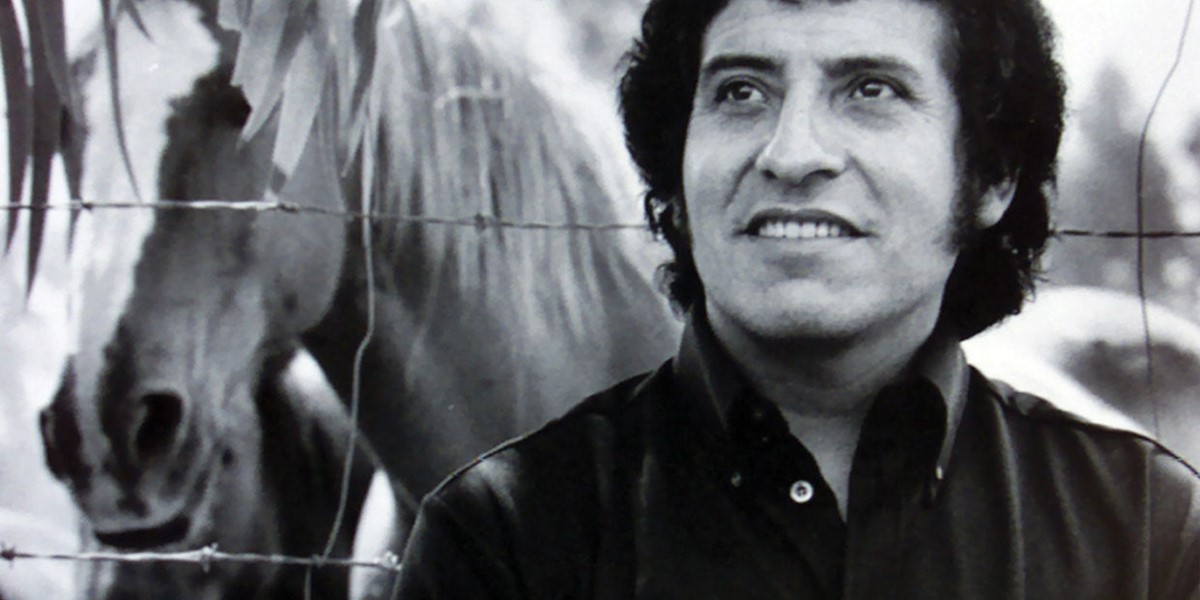 Victor Jara: took nueva canción onto a world stage
(Note that this Rough Guide to World Music article has not been updated since it was originally published. To keep up-to-date with the best new music from around the world, subscribe to Songlines magazine.) 
Nueva canción (new song) developed in the 1960s in Chile, Argentina and Uruguay, and also Cuba where it is known as nueva trova. A music rooted in the guitar traditions of the troubadour, the songs could be love lyric or chronicle, lament or call to action, and, as such, they have played a part in Latin America's political and cultural struggles. In Chile, the great singer-songwriter Victor Jara was murdered for his art by Pinochet's thugs, while groups like Inti Illimani were forced into exile. In Argentina, too, the singers Atahualpa Yupanqui and Mercedes Sosa both suffered arrest by military governments. Jan Fairley looks at the history and legacy of this music of 'guitar as gun'
Latin America's revolutionary politics have found expression in many of the continent's musics, but never more directly than in nueva canción. This 'new song' emerged at the end of the 1960s in Argentina and Chile, and over the next three decades it fulfilled an important role in countries from Uruguay to Nicaragua, and (in a different relationship to government) across the Caribbean in Cuba. It was brought to international attention, above all, through the lyrical songs of Chilean theatre director and singer-songwriter Víctor Jara, who was murdered by the military in Chile during the 1973 coup d'etat.
Nueva canción spans a period of over thirty years, from the early 1960s, when Latin singers and songwriters became part of the political struggle to bring about change and reform. As a result of their activities, many of their number were arrested or forced into exile by dictatorships which through murder, torture and disappearance wiped out so much of a generation. The sense of a movement grew as the musicians involved met one another at festivals in Cuba, Nicaragua, Peru, Mexico, Argentina and Brazil, visited each other's countries, and occasionally sang each other's songs.
The 1960s was a time of politics and idealism in South America – far more so than in Europe or North America. There was a stark challenge presented by the continent's obvious inequalities, its inherited power and wealth, its corrupt regimes, and by the denial of literacy and education to much of the population. It is within this context that nueva canción singers and writers must be understood. With voice and guitar, they composed songs of their own hopes and experiences in places where many of those involved in struggles for change regularly met and socialised.
It is a music that is now, in some ways, out of time: the revolutionary past, the 1960s rhetoric of guitar as gun and song as bullet. Yet the songs – poems written to be performed – are classic expressions of the years of hope and struggle for change, and their beauty and truth nurtured those suffering under dictatorship or forced into exile. They are still known by heart by audiences throughout the continent and its exile communities.
Nueva canción was an expression of politics in its widest sense. It was not 'protest song' as such. The musicians involved were not card-carrying members of any international organisation and were often independent of political parties, although in the early 1970s the Chilean musicians were closely linked with the Popular Unity government of Salvador Allende – the first socialist president and government to be legitimately elected through the ballot box.
What linked these and other musicians of the movement was an ethical stance – a commitment to improve conditions for the majority of people in Latin America. To that end they sang not only in concerts and clubs but in factories, in shanty towns, community centres and at political meetings and street demonstrations. People in protest the world over have echoed the Chilean street anthems "El Pueblo Unido Jamás Sera Vencido" (The People United Will Never Be Defeated) and "Venceremos" (We Will Win).
Atahualpa Yupanqui and Violeta Parra
The roots of the nueva canción movement lie in the work of two key figures, whose music bridged rural and urban life and culture in the 1940s and 50s: the Argentine Atahualpa Yupanqui (1908–1992) and the Chilean Violeta Parra (1917–1967). Each had a passionate interest in their nation's rural musical traditions, which shared an Iberian and Amerindian sensibility.
Atahualpa Yupanqui, born Hector Roberto Chavero, adopted as a political statement the name of one of the last Incas. He spent much of his early life travelling around Argentina, collecting popular songs from itinerant payadores (improvising poets) and folk singers in rural areas. He wrote his first song, "Caminito del indio"' (The Path of the Indian), in 1926, and during a long career introduced a new integrity – and a distinguished playing style – to Argentine folk music. He also introduced an assertive political outlook – his most famous song is "¡Basta ya!" (Enough Already! – that the Yankee tells us what to do) – and was forced into exile in 1932 and 1949, and again in 1967, at which point he moved permanently to Paris.
It was Paris that had welcomed Yupanqui before, in 1950, when he played in Left Bank clubs and, with his stark, intense style, won the admiration of Edith Piaf. In Paris, too, he met and shared stages with Violeta Parra, whose own career in Chile had mirrored his own. Like Yupanqui, Parra travelled extensively, singing with and collecting songs from old payadores – rural, popular poets – and preserved and popularised them through radio broadcasts and records. She also composed new material based on these rural song traditions, creating a model and repertoire for what became nueva canción. Her songs celebrated the rural and regional, the music of the peasant, the land-worker and the marginalised migrant.
Musically, Parra was a pioneer in the use of Andean or Amerindian instruments – the armadillo-shelled charango, the quena (bamboo flute) and panpipes, and in her enthusiasm for the French chanson tradition. She spent time in Paris in the 1960s with her children Angel and Isabel, where they met Yupanqui, Piaf and the flautist Gilbert Favre, who was to found the influential Andean band, Los Jairas, and with whom Violeta fell in love. Returning to Buenos Aires, she performed in a tent in the district of La Reina, which came to be called the Carpa de La Reina (The Queen's Tent). However, with a long history of depression, she committed suicide in 1967.
Parra left behind a legacy of exquisite songs, many of them with a wry sense of humour, including the unparalleled "Gracias a la vida" (Thanks to life), later covered by Joan Baez and a host of others. Even her love songs seem informed by an awareness of poverty and injustice, while direct pieces like "¿Que dira el Santo Padre?" (What does the Sainted Pope Say?) highlighted the Church's responsibility to take action. As Parra wrote (in the décima form she often used in her songs) in her autobiography:
I sing to the Chilean people
if I have something to say
I don't take up the guitar
to win applause
I sing of the difference there is
between what is certain
and what is false
otherwise I don't sing.
The Movement Takes Off
Nueva canción emerged as a real force in the mid-1960s when various governments on the continent were trying to effect democratic social change. The search for a Latin American cultural identity became a spontaneous part of this wider struggle for self-determination, and music was a part of the process.
The first crystallisation of a nueva canción ideal emerged in Argentina in 1962 at a meeting of the Journalists' Circle, where singers and poets, among them the Argentinian Mercedes Sosa, unveiled the 'nuevo canciónero' – a musical manifesto which aimed to respond to "new agreements and chords in the air", to re-evaluate indigenous song forms and to be the voice of poor and marginal Argentineans. Sosa was a key singer for the movement. Unusually, she was not a writer, but instead a superb interpreter of canción from across the continent. Her coverage of the songs of other great Latin musicians brought the work of singers such as Violeta Parra, the Cuban Silvio Rodríguez, and the Brazilian Milton Nascimento to a new public.
At the same time as Sosa was establishing a canción movement in Buenos Aires, a crucial folk club was opening in Chile. This was the legendary (and now re-opened) crucible of nueva canción, the Peña de los Parra, which Angel and Isabel Parra, inspired by the Paris chanson nightclubs, opened in downtown Santiago in 1965. Among the regular singer-songwriters performing here were Víctor Jara and Patricio Manns. Their audiences, in the politically charged and optimistic period prior to the election of Allende's government, were enthusiastic activists and fellow musicians.
Victor Jara
The great singer-songwriter and theatre director Víctor Jara took nueva canción onto a world stage. His songs – and his life – continue to reverberate, and his work has been recorded by rock singers like Sting, Bruce Springsteen, Peter Gabriel and Jackson Brown, and (memorably) by the British singer Robert Wyatt. All have been moved by Jara's story and inspired by his example.
Jara was born into a rural family who came to live in a shanty-town on the barren outskirts of Santiago when Víctor's father died; he was just eleven. His mother sang as a cantora for births, marriages and deaths, keeping her family alive by running a food-stall in the main Santiago market. It was from his mother and her work that Jara gained his intuitive knowledge of Chilean guitar and singing styles.
He began performing his songs in the early 1960s and from the beginning caused a furore. During the government of Eduardo Frei, for example, his playful version of a traditional piece, "La Beata" – a send-up of the desires of a nun – was banned, as was his accusatory "Preguntas por Puerto Montt" (You ask for Puerto Montt), which accused the Minister of the Interior of the massacre of poor landless peasants in the South of Chile. Working with Isabel Parra and the group Huamari, Jara went on to create a sequence of songs called "La Población", based on the history and life of Santiago's shanty-town communities. His great gift was a deceptively simple and direct style applied to whatever he did.
One of his best-loved songs, "Te recuerdo Amanda" (I remember you Amanda), is a good example of the simplicity of his craft. A hauntingly understated love song, it tells the story of a girl who goes to meet her man Manuel at the factory gates; he never appears because of an 'accident' and Amanda waits in vain. In many of his songs, Jara subtly interwove allusions to his own life with the experiences of other ordinary people – Amanda and Manuel were the names of his parents.
Jara's influence was immense, both on nueva canción singers and the Andean-oriented groups like Inti Illimani and Quilapayún, whom he worked with often, encouraging them to forge their own new performance styles. Enormously popular and fun-loving, he was nevertheless clear about his role as a singer: "The authentic revolutionary should be behind the guitar, so that the guitar becomes an instrument of struggle, so that it can also shoot like a gun." As he sang in 1972 in his song "Manifiesto", a tender serenade which with hindsight has been seen as his testimony, "I don't sing just for love of singing, but for the statements made by my guitar, honest, its heart of earth, like the dove it goes flying ... Song sung by a man who will die singing, truthfully singing his song."
Like many Chilean musicians, Jara was deeply involved with the Popular Unity government of Salvador Allende, who following his election in 1970 had appeared on an open-air stage in Santiago surrounded by musicians under a banner saying "There can be no revolution without song". Three years later, on September 11, 1973 – along with hundreds of others who had legitimately supported the government – Jara was arrested by the military and taken to the same downtown stadium in which he had won the First Festival of New Chilean Song. Tortured, his hands and wrists broken, riddled with machine-gun bullets, his body was dumped with five others alongside a wall of the Metropolitan Cemetery; his face was later recognised amongst a pile of unidentified bodies in one of the Santiago mortuaries by a worker.
Jara left behind him a song composed during the final hours of his life, written down and remembered by those who were with him at the end, called as a poem of testimony "Estadio Chile" (Chile Stadium). It was later set a cappella to music as "Ay canto, que mal me sales", by his friend and colleague Isabel Parra.
Exiles and Andean Sounds
After Pinochet's coup d'etat anything remotely associated with the Allende government and its values came under censorship, including books and records, whose possession could be cause for arrest. The junta issued warnings to musicians and folklorists that it would be unwise for them to play nueva canción, or indeed any of the Andean instruments associated with its sound – charangas, panpipes and quenas.
It was not exactly a banning but was menacing enough to force the scene well underground – and abroad, where many Chilean musicians lived out the junta years in exile. Their numbers included the groups Inti Illimani and Quilapayún and later Illapu, Sergio Ortega, Patricio Manns, Isabel and Angel Parra, and Patricio Castillo. They were not the only Latin Americans forced from their country. Other musician exiles of the 1970s included Brazilian MPB singers Chico Buarque, Caetano Veloso and Gilberto Gil; Uruguay's nueva canción singer Daniel Viglietti; and Argentina's Mercedes Sosa.
In Chile, the first acts of musical defiance took place behind church walls, where a group of musicians who called themselves Barroco Andino started to play Baroque music with Andean instruments within months of the coup.
It was a brave act, for the use of Andean or Amerindian instruments and culture was instinctively linked with the nueva canción movement. Chilean groups like Quilapayún and Inti Illimani wore the traditional ponchos of the peasant and played Andean instruments such as panpipes, bamboo flutes and the charango, and the maracas and shakers of Central America and the Caribbean. That these were the instruments of the communities who had managed somehow to survive slavery, resist colonialism and its aftermath had a powerful symbolism. Both 'los Intis' and 'los Quilas', as they became familiarly known, worked closely with Víctor Jara and also with popular classical composers Sergio Ortega and Luís Advis.
In 1973 the two groups travelled to Europe as official cultural ambassadors of the Allende government, actively seeking support from governments in Europe at a time when the country was beseiged economically by a US blockade, and undermined by CIA activity. On September 11, when General Pinochet led the coup d'etat in which Salvador Allende died, the Intis were in Italy and the Quilas in France. For the Intis the tour ("the longest in history", as the Intis joke) turned into a fifteen-year and fifty-four days European exile for the group, an exile which put nueva canción and Amerindian music firmly on Europe's agenda of Latin American music.
The Intis and Quilas were the heart and soul of a worldwide Chilean (and Latin American) solidarity movement, performing almost daily for the first ten years. Both groups also recorded albums of new songs, the Intis becoming increasingly influenced by their many years in Italy, creating such beautiful songs of exile as "Vuelvo", with key singer-songwriter and musician Patricio Manns.
The impact of their high profile campaigning against the military meant that the Intis were turned back on the airport tarmac long after politicians and trade union leaders were repatriated. They eventually returned on 18 September, 1988, Chile's National Day, the day of one of the biggest meetings of supporters of the 'No' vote to the plebicite called by Pinochet to determine whether he should stay in office. Going straight from the airport to sing on a huge open-air stage and to dance the traditional cueca (Chile's National Day dance), the group's homecoming was an emotional and timely one. In 1998, after ten years of re-building their lives, making music and supporting various projects, including the Víctor Jara Foundation, the group's personnel, almost unchanged since 1967, is now adapting to the amicable departure of Max Berrú and Jose Séves to pursue other projects.
The Andean instruments and rhythms used by Quilapayún (who disbanded in the 1980s) and Inti Illimani have been skilfully used by many other groups whose music is equally interesting – groups like Illapu, who remained popular throughout the 1980s (with a number of years in forced exile) and into the 1990s.
Future and Legacy
Times have changed in Chile and in Latin America generally, with revolutionary governments no longer in power, and democracy restored after dictatorships throughout most of the continent. The nueva canción movement, tied to an era of ideals and struggle, and the years of survival under dictatorship, might seem to have lost its relevance.
Its musicians have for the most part moved on to more individual concerns in their (always poetic) songwriting. But the nueva canción form, the inspiration of the song as message, and the rediscovery of Andean music and instruments, continues to have resonance and influence. Among a new generations of singers inspired by the history of new song are Carlos Varela in Cuba and the Bolivian singer, Emma Junaro.
In the 1980s and '90s, Junaro reinvented nueva canción as canto nuevo, with a light, jazzy feel to the music, and a clear, lyrical voice. She has, notably, covered the songs of Bolivian poet and criollo singer, Matilde Casazola. These weave Amerindian beliefs into a musical framework resonant of the sounds of southern Bolivia, using tunes associated with the country music of the gaucho and migrant communities. Junaro is usually accompanied by Uruguayan guitarist Fernando Cabrera whose sensibility evokes both the pioneering work of earlier Argentinian musician Atahualpa Yupanqui, as well as classical and jazz tones.
And there will be others. For Latin America, nueva canción is not only music but history.