Tuesday, July 17, 2018
The Rough Guide to World Music: Ethiopia
Explore the land of wax and gold, a country full of fascinating music, in this complete guide by Francis Falceto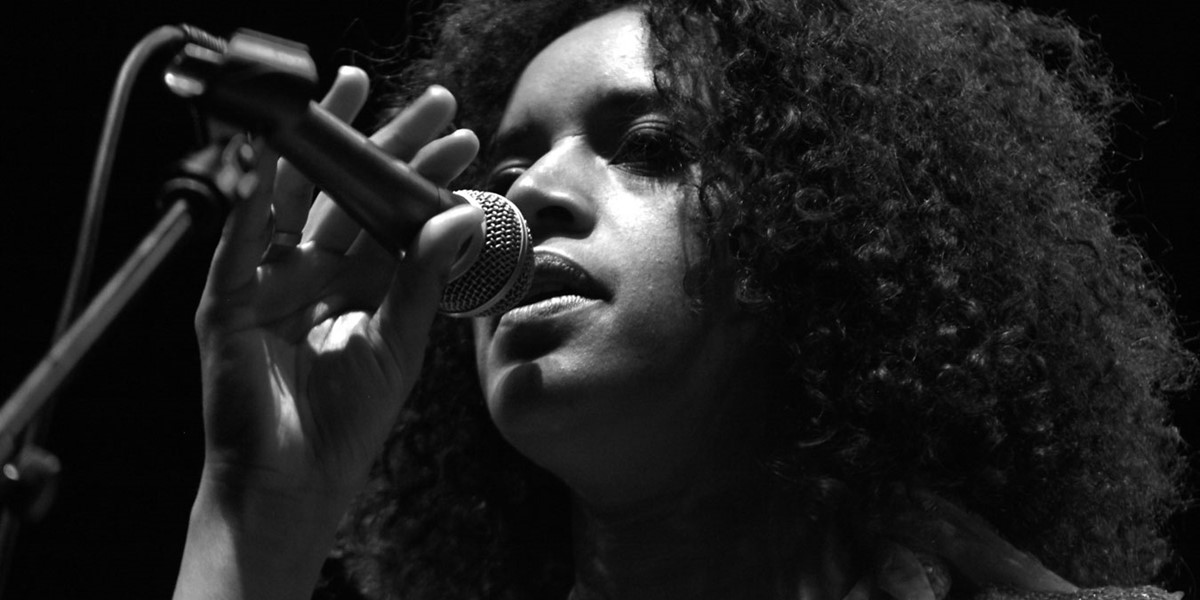 Gigi (photo: Jak Kilby)
Note that this Rough Guide to World Music article has not been updated since it was originally published. To keep up-to-date with the best new music from around the world, subscribe to Songlines magazine. 
Ethiopia is one of Africa's most fascinating countries, musically and in every other respect, and is once again open and welcoming to foreign visitors. An ancient mountain kingdom, it has expanded considerably in the last two hundred years, but it remains Christian at its Amharic heart (the Amhara are the dominant language group, powerful in trade and government). Long-time aficionado Francis Falceto tours the land of Ras Tafari and double entendre and offers suggestions for listening and buying in situ.


Introduction
Before a brand-new Addis Ababa airport was recently inaugurated, as you got off the plane at the former airport, you were greeted by a sign that read: "Welcome to Ethiopia, Centre of Active Recreation and Relaxation". It was a sentiment sublime in its optimism, but perhaps no more or less true than all of the disaster-laden clichés that have been the currency of Ethiopian reportage for the last two or three decades. With the new millennium, the ancient land of Ethiopia could just be in line for rehabilitation. The recent war with Eritrea (1998-2000) and ongoing dispute about a border (dis)agreement that still sporadically simmers into conflict continue to cast a pall, but the country has come a long way since it shed its Stalinist dictatorship in 1991 and brought to an end thirty disastrous years of civil war.
The civil war – and Mengistu's seventeen years of dictatorship (1974–1991) – have had a profound effect on Ethiopia's cultural and musical life. For most of the Mengistu years, a continuous curfew deprived a whole generation of Ethiopians of any kind of nightlife. To these restrictions was added a censorship of nightmarish pedantry that picked through song lyrics before recording sessions could be licensed, and put overseas visitors through painstaking inspections of locally bought cassettes before allowing them to leave the country. Little surprise then, that those musicians who could emigrate did so, opting for a precarious exile in the US, Sudan, Saudi Arabia or Europe. Their number included Girma Beyene, Teshome Meteku, Muluken Mellesse, Getatchew Kassa, Menelik Wossenatchew, Aster Aweke, Ephrem Tamru, Kuku Sebsebe, the producer Amha Eshete … a roll-call of the leading artists of the day.
All this has changed, and in the middle of the noughties, music feels omnipresent in Addis Ababa, the capital, honking out of battered tape decks in buses and taxis, drifting from stores and markets and pumped out loud at the innumerable little restaurants (tedjbets or bunnabets), guesthouses and semi-private drinking parlours. These nerve-centres of national vitality were always abuzz throughout the years of dictatorship, and they too have multiplied since its demise.


Trad/Mod and the Golden Age
Traditional music forms the basis of all Ethiopian styles. Even the most famous modern singing stars like Tlahoun Gessesse or Mahmoud Ahmed have two repertoires, one modern, the other rooted in tradition. Ethiopians buy modern and traditional cassettes with equal enthusiasm, and the modernity in question is essentially that of the "modern" Western instruments which have been introduced.
The first Western imports were brass bands, brought in by the military under Haile Selassie. Performers tried out their instruments on traditional material and by the late 1940s there were full orchestras to accompany fashionable singers. The first among them were the Imperial Bodyguard Band, the Army Band, the Police Band, the Municipality Band and the Haile Selassie Theatre Band, trained initially by European ­professionals, often Armenians, but gradually private orchestras were formed.
The special characteristic of Ethiopian music is the use of a five-note, pentatonic scale with large intervals between some of the notes, giving an unresolved feeling to the music, like waiting for a stone to hit the bottom of a well and not hearing it. These modes create an intensity of performance not unlike soul music – especially in the hands of a singer like the Miami-based exile Aster Aweke. The limping asymmetrical rhythm of much of the music is also highly characteristic.
Shopping around for cassettes and CDs, you can occasionally come across the odd back-street shop full of old 45s from the 1970s. A good bunch of the recordings of the 1960s and 70s pioneers are worth getting hold of. Premier league names include Tlahoun Gessesse, Bezunesh Bekele, Hirut Bekele (no relation), Mahmoud Ahmed, Ali Birra, Alemayehu Eshete, Muluken Mellesse and Ayalew Mesfin. Try to get your hands on the five Ethiopian Hit Parade LPs, extraordinary compilations which comprise, apart from the stars mentioned, forgotten meteors like Seifu Yohannes, Teshome Meteku, Tebereh Tesfahunegn or Tewolde Redda. Old vinyls of traditional musicians like Kassa Tessema, Mary Armede, Ketema Makonnen and Asnaketch Worku are also pure gems to dig for.
Instrumental music also has its key figure in the shape of Mulatu Astatqé, promoter and sole exponent of Ethio-jazz and the king of arrangers through this golden, pre-revolutionary age. Jim Jarmusch's movie Broken Flowers (2005) used Mulatu's music extensively on its soundtrack, giving it worldwide exposure. Another superb figure, though seemingly forgotten these days, was Getachew Mekurya, a brilliant saxophone and clarinet player, and an innocent precursor of Albert Ayler and Archie Shepp.
The main body of Ethiopian records was produced in just one decade, from 1969-1978, when some five hundred singles and just thirty LPs were released. Pressed first in India, then in Lebanon, Greece and finally Kenya, up to three thousand copies were produced for big hits – serious numbers at the time. These collectors' items represent the golden age of Ethiopian music, and are now mostly available in the Éthiopiques CD series (Buda Musique). By the end of this period, with the advent of a local cassette industry, there were tape pressings of 20–30,000, while the biggest hits sold more than 100,000.
It used to be possible to find cassette copies of these old standards, but since 2004 new regulations about copyright and repression of piracy have limited these facilities. A lot remains to be done to effectively protect Ethiopian musicians' rights.


Wax and Gold
During the dark years of the dictatorship in the 1980s, the cassette industry continued, and new singers emerged besides the veteran artists. Most stayed in the country, as it had become virtually impossible to emigrate. The top local stars of the decade included Ephrem Tamru, Aster Aweke, Kuku Sebsebe, Netsanet Mellesse, Teshome Wolde and Amelmal Abate, who shared three professional orchestras for recording sessions: the Wallias Band, the Roha Band and the Ethio Stars.
From 1985 on, one figure emerged forcefully: the singer Neway Debebe became an idol, bringing a freshness reminiscent of the vocal prowess of the early Tlahoun Gessesse. Alongside a generation of young singers, Debebe renewed interest in the poetic style of sem-enna-werq (wax and gold), an old tradition of double entendre to fool the censors, or at least enable them to turn a blind eye without incurring the wrath of the military chiefs.
Wax and gold meanings were expressed through apparently innocuous love songs. Here, for instance, is "Altchalkoum" (Can't Stand Any More), created by Tlahoun Gessesse on the eve of an abortive coup against Haile Selassie (it was performed by him with the backing of The Imperial Bodyguard Band, implicated in the coup attempt). Fooling nobody, it was quickly banned – and was banned again by Mengistu:
How long are you going to make me suffer?
I can't take any more, I've had enough.
I'm up to here with it,
I'm more than up to here.
I can't take any more,
How can I put up with it?
I can't put up with your torments
I don't know what more I can do.


New Styles
In the early years of the new millennium, with the establishment of a fragile democracy and the return of freedom of expression, it's not unreasonable to hope for a creative renewal for Ethiopian music: less of the one-two beat immediately danceable stuff, and a renewal of inspiration from the old style, rhythmically formidable tchik-tchik-ka, with its unfettered lyrics, controlled synthesizers and supreme horn sections. New talents are already jostling in an exciting field – Fikreaddis Nekatibeb, Tigist Bekele, Tsedenia Gebre-Markos, to name but three. And Afrosound, the Express Band, the Medina Band are waiting in the wings.
Don't expect too much from Ethiopian reggae. It really didn't exist until the recent fame of Teddy Afro, following in the footsteps of Alpha Blondy or Lucky Dube. It's true the word "rastafari" comes from Ras Tafari Makonnen, the title and surname of Haile Selassie, the last emperor of Ethiopia, but rasta fetishism has no special meaning in Ethiopia, despite the admiration for Bob Marley common to the whole of Africa. There is a community of Jamaican rastas at Sheshemene, 200km south from Addis Ababa, but they're viewed as an imported phenomenon. Nor is there any discernible relationship between Ethiopian music and reggae. At a pinch, the unusual beat of neighbouring Eritrea bears some comparison, but there's really no genuine historical or musical link, as this part of the world has never fuelled the African diaspora.


Live in Addis: Azmaris
It is a matter of fact that the modern music scene in Addis Ababa is very weak nowadays. It cannot be compared to the golden age of the 1960s and early 70s. Nightclubs tend to imitate Western trends and you will find very little Ethiopian music in them. The Coffee House (Egyptian embassy area) is an exception, hosting the most interesting jam sessions to be heard in town. Also try the Imperial Hotel.
But the most interesting phenomenon for fans of Ethiopian music remains the incredible flowering of azmaribets (hole-in-the-wall clubs). They're to be found absolutely everywhere and you can just look in to see if you like the atmosphere. Apart from a dozen or so main roads, the streets of Addis have neither names nor street numbers, and to give directions people refer to a district, then to a handy point of reference, like the post office, a pharmacy, a garage or an embassy. It's difficult, therefore, to be precise about addresses: but the taxi drivers know nearly all the music places (book a taxi for the whole evening). As Ethiopians are absolute strangers to even the music of the rest of Africa, they're invariably amazed when foreigners show interest in their music. You can be sure you'll be adopted and guided and introduced to all the best sounds and experiences.
You'll meet all sorts of musicians in azmaribets – players of krar (lyre), masenqo (one-string fiddle), washnit (flute), and kebero (percussion), even accordionists. These musicians are azmaris, equivalent to the griots of West Africa or the wandering taraf musicians of Romania, privileged carriers of popular music, mediators of collective memory. They have an ambivalent reputation among Ethiopians – a mix of suspicion of their bohemian life and respect for the power of the word.
Azmaris depend on tips – given to sing what one feels deep down, be it sadness, nostalgia, praises or veiled criticism. As such, they had a particularly hard time during the dictatorship. But since the end of Mengistu, they – and the azmaribets – have had a spectacular return. The clubs sprang up throughout the capital, with concentrations in the areas of Kazentchis and Yohannès Sefer (also called Datsun Sefer because local bar-owners were the first to swan about in Japanese cars). A whole new generation of talented, non-conformist, sarcastic azmaris burst upon the scene. Most arrived in the capital for the first time from their distant provinces, and the style of this new wave became known as bolel – literally "car exhaust fumes", the putt-putt-putt of jabbering and nonsense. Bolel is a mix of azmari traditions (praise or sarcasm at will, depending on the tip) and of modern urban culture (the country/city divide, TV, international references). For good examples of azmari musicians at work, try Éthiopiques 2 and especially Éthiopiques 18.
In the Kazentchis area, you will meet the greatest Ethiopian voices and characters of bolel: Abbebe Fekade, Iyerusalem Dubale and her sisters Yeshimebet, Enana and Bertukane, Betsat Seyoum, Adaneh & Malefya Teka, Tedje, Mimi, Tigist Assefa, Mandelbosh "Assabelew" Dibo, to name a few of the hippest. In Yohannès Sefer, you'll find musicians in every house on the street. Etenesh Wassie is the queen of this area, the blues herself. Also pay a visit to Gennet Masresha and her son Essoubalew Adugna, who is becoming the best masenqo player in town.
Whether you find the atmosphere in your azmaribet bluesy or not, the alcohol flows freely and the atmosphere gets very hot, very quickly. Better put on your seat belt when they unleash the eskista – a dance style in which the shaking of shoulders and chests would melt a statue. Heywet Demissie (who performs at Yewoddal, the successful cabaret of Adaneh and Malefya Teka) and Yèshiwork (in her own cabaret in Kazentchis) are among the most impressive eskista dancers.


Future Shock
Ethiopian musicians are still in many ways reeling from the effects of the changes since the flight of Mengistu and the onset of democracy in 1991. The end of the civil war resulted in a new country on their northern border – Eritrea – and the first taste of personal freedom for a whole generation. Travel is much easier than before, so musicians and bands are able to play and record overseas (and return without a problem), and the opportunity to listen to other African and European music is beginning to have an effect on their own.
Contemporary bands are also influenced in the same direction by the demands of Addis Ababa teenage culture, keen to make up for lost exposure to global youth fashions over the last two decades. Western music, reggae, rap and the sounds of Kenya and Congo (Zaire) are all increasingly popular.
As musician Abiyou Solomon (of Abyssinia Band) remarked: 'We don't exactly want to be westernized – we're just trying to produce music of equal quality to the rest of the world. We're working hard to make the sound richer and change the traditional arrangements a bit to make them more modern.' They are now experimenting with bubbling guitar tunes and writing songs in the seven-tone Western rather than the traditional pentatonic scale. Ironically, of course, it's pentatonic, polyphonic music that the global audience is really attracted to. If Abyssinia Band and their like can bridge the divide, that would be some success to sing about. But in the meantime, Abiyou has settled in Washington, DC.
The Broken Flowers soundtrack and the recent response from non-Ethiopian artists inspired by Ethiopian music (Either/Orchestra from Boston, Susheela Raman from UK/India, The Ex from Amsterdam, The Kronos Quartet from California and Yasuaki Shimizu from Japan) have done much to promote Ethiopian music abroad, to the great astonishment of Ethiopians themselves. This surprising phenomenon is changing the terms of the challenge: the future of Ethiopian music is no longer in the hands of Ethiopian artists only, which is a source of controversy as well as hope in Ethiopian communities.


Ali Tango
Every taxi driver in Addis knows the location of Tango Music and Video Shop, in the heart of the Piazza, the base of Ali "Ali Tango" Kaifa, who has played an essential role in the Ethiopian music scene over the last quarter-century. The shop is now managed by his son Adil Kaifa.
A smart talent scout and an inventive producer, Ali Tango pioneered the cassette industry after having produced some fifty records, including cult classics like Mahmoud Ahmed's "Ere Mela Mela", Muluken Mellesse's "Jemeregne", Alemayehu Eshete's "Wededkuh Afkerkush" and Ayalew Mesfin's "Gunfan". He also "discovered" Aster Aweke, Amelmal Abate, Neway Debebe and, most recently, the teenage singer Hebiste Tiruneh, the first great success of the post-­dictatorship era. An enthusiast for technology, Ali Tango was the first to use digital recording equipment and he has opened a private studio – a high-performance set-up, even if it's not up to European standards.
The respected and envied godfather of a passionate industry, Ali Tango has always defended the freedom of expression of singers and independent orchestras – sometimes with great cunning during the dictatorship. He enthuses over all the regional rhythms of Ethiopia – Gurague, Tigrinya, Gondar, Kotu, Oromo – and even takes an interest in Yemenite and Somali music – a rather unusual path in such a culturally self-­sufficient country.


The Harp of King David
Humming, buzzing and generally sounding like it comes from the centre of the earth is the Ethiopian harp known as the begena, aka The Harp of King David. Looking like a cross between a harp and a lyre, its strange and unique tone sounds not unlike an old analogue synthesizer. It is clearly a very ancient instrument, if not quite as old as its nickname, conjuring up Old Testament era origins, suggests. Formerly played by the members of the nobility (both men and women, including emperors), it is primarily a religious instrument these days, and is used to accompany psalms during Orthodox Christian celebrations.
Since the end of the Mengistu dictatorship, which suppressed religious practice, the begena has been slowly making its way back into the national consciousness. Alemu Aga is one of the foremost contemporary exponents of this sacred instrument, and performs regularly at home as well as in venues round the world. He has been teaching it privately for the last three decades. 'When I was a child of twelve years, I had lessons', he tells me in his soft tones. 'What made it easy was that the teacher was our neighbour. Especially on Sundays, we go to church and the teacher, he goes there to play and I carry the instrument for him. He plays first, then I follow and this is how I started.'
The begena itself is striking to look at. Standing on average about 4ft high, the base is a hollowed-out box, covered with either cow or sheep hide. Attached to the box is the zegba wood frame, often ornately carved with Coptic designs. Its ten strings, made of sheep intestine, are stretched between the box and the frame, and tuned to a pentatonic scale by a series of pegs on one end, and small hoops of leather on the other. The hoops allow the strings to lightly touch the bridge, creating the unique "buzz" peculiar to the begena. The strings are plucked or strummed with a horn plectrum.
'This instrument it has a special power,' says Alemu. 'When people listen, it will make them concentrate to keep quiet and listen attentively. For us it is food of the thought, you know.'
Certainly anybody who has heard the begena first-hand can attest to its strange meditative pull. In Belgium, where I first met Alemu, a lively crowd of expats quickly went quiet as he began his recital.
As for the King David reference, the Bible itself offers some clues. Ethiopia has oft-forgotten links with Judaism: 'The Queen of Sheba, who was a famous queen of Ethiopia, she heard about the wisdom of Solomon (son of King David)', explains Alemu. 'She went to visit him, and she stayed there for some time. (When) she came back, she gave birth to a child who became Menelik the First (the first emperor of Ethiopia, from which the royal family is said to be descended). He went also to visit his father. When he returned, it is believed that this instrument came to Ethiopia at that time.' Whether this tale is apocryphal or not, you are warmly recommended to seek out recordings of this most ancient of instruments. They seem to take you back to the roots of music itself.