Tuesday, July 17, 2018
The Rough Guide to World Music: Indian Ocean
A lightness of touch seems to be common in the music found in tropical islands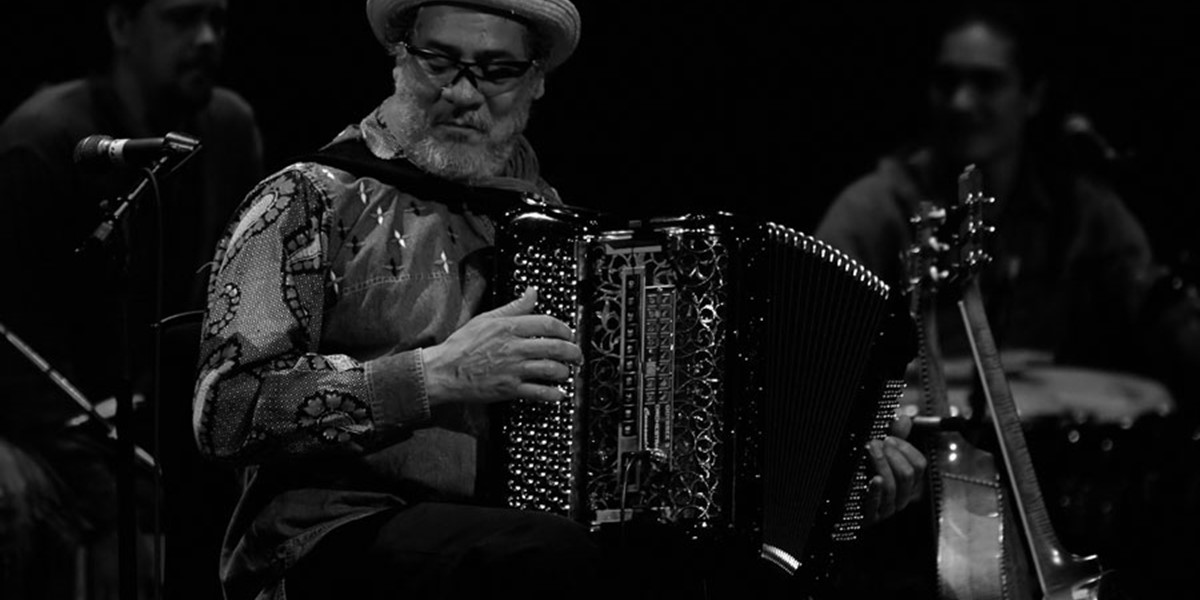 René Lacaille – the séga sound of La Réunion (Philip Ryalls/Redferns)
Note that this Rough Guide to World Music article has not been updated since it was originally published. To keep up-to-date with the best new music from around the world, subscribe to Songlines magazine. 
The music of tropical islands often seems to have a lightness of touch compared with mainland forms. Unselfconscious borrowings, sometimes dating back centuries, and disparate influences which have at one time or another been cast ashore create accessible creole blends, full of common musical denominators and no longer so firmly rooted in their original soil. Nowhere is this more the case than in the western Indian Ocean, as Graeme Ewens, Alain Courbis and Werner Graebner discover.


Introduction
The Indian Ocean washes the coasts of three continents. In its western half, the monsoon winds once blew the sailing dhows in a back-and-forth pattern that took them from East African coastal waters to the Gulf, on to India and beyond, and then back again. The old trading routes have made connections between many varied cultures, and on the thinly dispersed islands descendants of African, Arabic, Indian, Polynesian, Far Eastern and European forebears have lived for centuries with differing degrees of cooperation and assimilation.


The Comoros
The tiny Comoros Islands lie between the north coast of Madagascar and the mainland. As with their dominant neighbour, the former colonial language is French, and one of the islands, Mayotte, remains an outpost of France. There is a huge Malagasy influence but the dominant cultural millieu, especially of the poorer people, is closer to the Swahili world of East Africa.
Twarab – similar to the taarab of Zanzibar – is the most popular music on the islands, and especially on Grand Comoro. It differs from the classic Swahili music in having more Western instrumentation in place of the Arabic flavours of qanun and violin, resulting in a funkier and very dance-driven sound. The leading groups on Grand Comoro are Sambeco and Belle Lumière, electric ensembles who use keyboards, guitar, drums and percussion. Like most of the local groups, they are run and backed by village youth associations, and play mainly at weddings, occasionally in a concert setting. Mohamed Hassan was a local star in the 1950s and 60s, and was, unusually, a professional musician. He sang and played oud – twarab at this stage was still based on oud and violin – with local msondo drum and tambourine at Comorian weddings as far away as Madagascar.
Twarab is also a strong force on the island of Anjouan, especially in Mutsamudu, its largest town. Saif el-Watwan, founded in the 1950s, is the most prominent orchestra. For a long time it was led by singer, oud and violin player Said Omar Foidjou, accompanied by accordion and percussion. More recently the group has introduced electric guitars, keyboards and drum machines. A special feature of twarab in Mutsamudu is the existence of a number of all-female orchestras. Best known is Mahabouba el-Watwani, which was founded in the 1960s and has similarly adjusted its instrumental line-up over the years, most recently using small Casio organs, bass guitar, drumkit and congas.
On Anjouan and Moheli, a favourite type of musical entertainment is topical songs accompanied on the gabusi (a lute related to the Yemenite qanbus). Boina Riziki, from the Mohelian town of Fomboni, is considered to be the best gabusi player on the islands. He performs with Soubi, who plays the ndzendze, a box-shaped instrument that he derived from the Malagasy marovany. Their music is situated somewhere between Zanzibar taarab and Malagasy, the latter most evident in the vocal harmonies. Papa l'Amour and Bawurera are Anjouan's favourite gabusi-based groups.
The main rhythm of gabusi derives from the mgodro (possession) dance. Domoni town is famous for adapting mgodro, and the female wadaha dance, into an electric band consisting of two or three guitars, bass guitar, drum set and percussion. Asmine Bande are the oldest of these groups, and Super Band Ulanga and Mahabou are more recent ones.
Two Comoros musicians who fuse local traditions and international styles are Maalesh and Salim Ali Amir. Salim Amir leans heavily on studio production, playing all instruments himself and creatively mixing local rhythms and melodies with those of reggae, zouk or soukous. Maalesh's is a more subtle synthesis: accompanied by just one or two acoustic guitars and quiet percussion, his songs evoke local ngoma melodies and qasida chanting, and incorporate musical influences picked up during his time working on the Kenya coast and in Saudi Arabia.
Over the past three decades, many Comorians have migrated to France, and there are large communities in Marseille, Lyon and the Paris area. The first Comorian artist based in France to leave a mark was the dreadlocked singer-guitarist Abou Chihabi, who composed the first Comoros national anthem in 1976, but had to flee two years later following a coup. He plays a style of music known as variété – an upbeat sound featuring horns, keyboards and electric bass – that is popular mainly among the Francophone middle class, at home and in France. Chebli is a younger singer who migrated to Marseille and then to Paris; his second CD, recorded with a top crop of musicians from Congo, Cameroon and the Antilles, reflects the metropolitan experience. The lyrics and song topics are still Comorian, but the music betrays a more Francophone consciousness. Mikidache and Baco provide more local cues on their releases by featuring the Comorian gabus, the Malagasy valiha and a number of local percussion instruments. But these references quickly dissolve into a more orthodox mainstream type of pop. A stronger roots sound is presented by M'toro Chamou, another young singer-guitarist from Mayotte now living in France.


Mauritius
Further out in the Indian Ocean, this former French and British colony of over one million inhabitants has yet to make much of a mark on the musical map.
Séga is the most popular musical form, common to both the major population groups – Indian (about two-thirds) and Creole (one-third), descended from slaves. The style evolved out of old European dances such as the polka or quadrille and uses 6/8 rhythms. It is performed by drums (commonly the ravanne) and voices. The master in this style was Ti Frère, who was popular in the 1950s and 60s.
At the end of the 1970s séga became a political medium, with artists like Lélou Menwar, Bam Cuttayen, Nitish and Ram Joganah, Grup Latanié and Soley Ruz singing on behalf of the poor. A lighter form of séga was, however, still being performed at local dance parties on electric instruments.
A blend of séga and reggae called seggae appeared in the late 1980s and early 90s with very popular groups including Racinetatane and Ras Natty Baby and the Natty Rebels, who sold up to 75,000 cassettes of their major albums. Racinetatane's lead singer Kaya died in police custody in 1999 – an event that sparked three days of rioting between the Creole and Indian populations.
Modern séga remains very popular; the bestselling band in recent years is Cassiya, formed in 1988 but still going strong. In the last few years, music from Bollywood films has also taken off and groups like Bhojpuri Boys have become very successful. Ragga and a new style called seggaemuffin are also favourites among young people.


La Réunion
The smaller island of La Réunion (2512 square km, with 750,000 inhabitants), which lies between Madagascar and Mauritius, is a département of France (like Martinique and Guadeloupe) and a popular holiday destination for well-off French visitors. Regular international music festivals such as Sakifo, Artkenciel and Manapany celebrate francophonie as much as local culture. The population is a unique blend of people who have arrrived since the end of seventeenth century from Africa, India, China, Europe, Madagascar and the Comoros. All cultures and religions co-exist in relative harmony, and people prefer to call themselves "Creole" rather than any name indicating their origins.
The two main Creole musics are séga and maloya, a closely related form based on African roots, with percussion and vocals. Maloya was once in danger of disappearing along with other oral traditions, since it was for many years almost forbidden because of its association with the local communist party (PCR), who used it as a symbol in their fight for the island's autonomy. In 1981, when France was led by socialist president François Mitterrand, the PCR gave up that fight and joined the French government. Private radio stations were reintroduced and the Réunionese rediscovered maloya as it became free from political associations.
Today maloya and séga are no longer in danger, and there has been a real musical explosion since the end of the 1990s. Between 250 and 300 albums are produced on the island every year, more than half in these two styles. Sadly, during 2004 and 2005 some great figures of the elder generation died – the four great maloya luminaries Lo Rwa Kaf, Granmoun Lélé (see box overleaf), Granmoun Bébé and Granmoun Baba, as well as Maxime Laope, one of the greatest séga singers.
Firmin Viry is now the eldest living maloya singer and he is honoured every December 20 – the anniversary of the abolition of slavery – when many kabars (traditional outdoor parties with maloya players) are organized. He plays the symbolic instrument of maloya, the kayamb, a kind of shaker made of sugarcane flower stems filled with seeds. A big bass drum (rouleur), the musical bow or bob (like a Brazilian berimbau), triangle and female chorus singers complete the sound of this Réunionese blues with its roots in slavery. The other great master of maloya is Danyèl Waro. A staunch advocate of Creole culture and language, his concerts are always very generous and impressive.
Since Granmoun Lélé's death, his family have tried to keep his spirit alive through La Troupe Lélé. And a new generation of traditional maloya groups including Kiltir, Destyn, El Diablo, Kozman Ti Dalon and Lindigo have been inspired by his colourful shows and powerful blend of percussion with African, Indian and Malagasy roots. Among younger groups more influenced by Firmin Viry, the most notable are Melanz Nasyon and Ras Mêlé. In the last few years some very strong female personalities have appeared on the maloya scene. The two most successful are Christine Salem (from Salem Tradition) and Nathalie Natiembé.
Séga hasn't had much impact beyond local dance halls since the 1960s, when electric instruments were introduced. However, there are some artists – such as Pat'Jaune and René Lacaille – who have returned successfully to the traditional acoustic instrumentation.


The Seychelles
The Seychelles, a frail independent archipelago of 115 islands, is a former French and British colony situated a thousand miles off the East African coast. The 80,000 inhabitants live mostly on the three main islands of Mahé, Praslin and La Digue. Their musical identity is quite endangered as most artists have to play international hits for tourists in big luxury resorts to make a living.
In their very short history – they were discovered just over two hundred years ago – the Seychelles have, like Mauritius and Réunion, received people from Africa, the Indian Ocean and Europe. This is naturally reflected in their music.
The moutia comes from the African heritage of former slaves and is close to Réunionese maloya or Mauritian séga, with only drums and voices. It used to be danced on the beach around a fire after a hard day's work. As in the neighbouring islands, the most popular music is séga, accompanied by a very festive and suggestive way of dancing. The most famous artists are currently Patrick Victor, David Philoé and Jean-Marc Volcy.
Jenny de Letourdie is one of the most beautiful voices currently performing romances de l'ancienne France – a kind of love song of European influence – as well as a traditional music and dance form called kamtolé, directly inspired by old schottische, vals and contredanse. A group called Latroup Kiltirel Nasyonal Sesel presents a very good show featuring all these traditional musics and dances. The musicologist David André and accordion player John Vital are some of the leading figures in these styles. Younger musicians have been mixing their cultural roots with more modern styles like reggae, rock, French songs and American country music. One of the most popular and professional is Ralf, a very expressive songwriter.