Friday, November 27, 2020
Top 10 Albums of 2020
Here are 10 of our favourite albums from the past 12 months, including releases from Sam Lee, Cocanha, Afel Bocoum, Siti Muharam, Damir Imamović and more...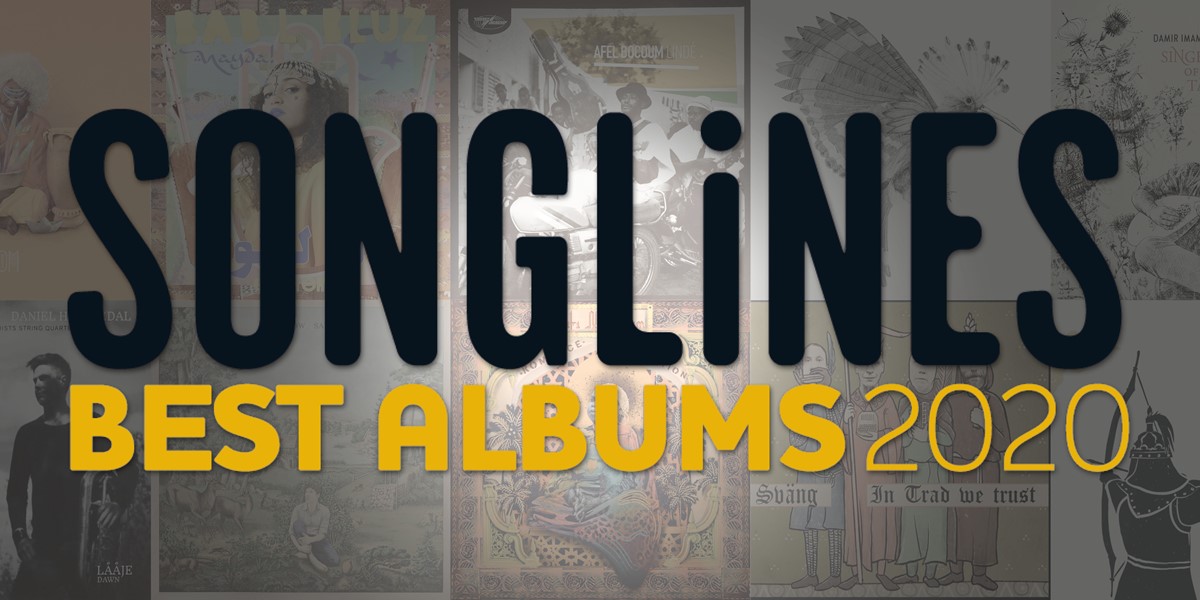 Editor Jo Frost and Editor-in-chief Simon Broughton have chosen their 10 favourite albums from 2020 and you will be able to read their personal responses to each of these albums in Songlines #164. Below are the 10 albums accompanied by their original reviews. To enjoy Songlines reviews wherever you are, consider subscribing to the Songlines Reviews Database

Ayom
Ayom
Amplifica Records
There is always something rather inspiring about someone willing to take destiny into their own hands. That's clearly the case here – just listen to 'Ayom Manifesto', one of several standout tracks on this debut, where Jabu Morales sings about her freedom as a woman to do as she pleases and search out anywhere that accepts her for who she is (Morales left her Brazilian home in Minas Gerais and resettled in Barcelona in 2011). The same song also perfectly encapsulates this project, born out of the fortunate meeting between Morales – a singer and percussionist faithful to Candomblé and Afro-Brazilian rhythms – and Italian accordionist Alberto Becucci.
Ayom are obviously rooted in Brazilian culture, but defiantly ignore borders. During 'Ayom Manifesto' Morales sounds like Leyla McCalla, but if she had been born in Brazil; 'Cravo e Menta' adopts carimbó elements and melds them perfectly with cumbia; 'Cachaça e Macarrão' is a twisted baião the way Hermeto Pascoal might address it and 'Baile das Catitas' is a deft dose of forró rock'n'roll. The exotic mixture all adds up, as Morales and Becucci are joined by musicians from Angola, Greece and Italy, building on the bedrock of Brazilian musical vibrancy. This is Brazil as seen and heard from abroad. And the view is truly charming. Gonçalo Frota
★



Bab L' Bluz
Nayda!
Real World
Nayda, or 'waking up,' was the word given to the alternative music scene 2000s in the wake of the Arab Spring. Performed in the local Arabic dialect mainstream Moroccan art using slang and experimental music styles to address highly controversial themes.
Bab L'Bluz, a Moroccan-French quartet fronted by lead vocalist and gimbri player Yousra Mansour, fully embodies this spirit on their debut album Nayda!, an explosive fusion of psychedelic Moroccan Gnawa music with blues, rock, funk and dub. Breaking from the male-dominated tradition, Mansour sings, ululates, and fires riffs from her awicha (a small gimbri), powerfully denouncing the corruption of government officials and celebrating the transcendental nature of love.
Without being fusion music, Nayda! maintains a wealth of styles. 'Ila Mata' has a dub-like trance to it, 'El Gamra' almost descends into rap at the end of the song, and 'Glibi' features a gimbri riff halfway-through that sounds as though plucked from a country-blues track. 'Welcome to the truth that can be told without any fear,' Mansour sings in Darija on the opener, 'Gnawa Beat', and sure enough, this is fearlessly rebellious music, an electrifyingly modern take on a traditional style. Asher Breuer-Weil
★



Afel Bocoum
Lindé
World Circuit
After years of playing with Ali Farka Touré, Afel Bocoum seemed well placed to take over the great man's mantle on Ali Farka's death in 2006. Perhaps only lack of ambition held him back.
"Everybody seemed to be releasing albums, so it was like, 'why not?'," he said self-deprecatingly of his solo debut, Alkibar (World Circuit, 1999). There followed a couple of further solo albums on the Contre-Jour label, but he seemed happier as collaborator than bandleader.
Lindé proves that under the direction of a strong producer, Bocoum can be a potent frontman. Here he has two such figures to guide him and the combination of Nick Gold's immersion in traditional music and Damon Albarn's restless adventurism is a winning one, resulting in a record steeped in Songhai heritage with traditional instruments and call-and-response vocals to the fore, but with exquisite embellishments. On 'Bombolo Liilo' kora and the trombone of the Skatalites' Vin Gordon dance an irresistible pas de deux. 'Avion' is a pan-African excursion on which Congolese soukous meets Malian tradition and Afrobeat. Elsewhere there are psych guitars, the violin of Joan as Police Woman snakes around the haunting sound of the single-string njarka (fiddle) and the powerhouse drumming of the late Tony Allen joins the calabashes in a clattering symphony of syncopated rhythm. Masterful. Nigel Williamson
★



Cocanha
Puput
Pagans
By singing in the ancient French regional Occitan language accompanied mainly by bodily percussion, this all-female vocal group will inevitably draw comparisons with their compatriots San Salvador. In fact, on this recording, the trio (now a duo) manage to sound at times like a micro version of Le Mystère des Voix Bulgares. Their extraordinary polyphonic harmonies sound as exotic as the summer's avian visitor from Africa that lends its Occitan name to the album's title: the crested hoopoe. Founding members Caroline Dufau and Lila Fraysse (the current line-up) see the bird as a symbolic 'subversive force' to confront social norms and a prevalent misogyny. Their radical agenda finds a suitable metaphor in their defiant use of a nearly bygone language. Like San Salvador, they play with its words and regenerate with their exuberance a music rooted in folkloric traditions (take, for example, their use on 'Suu Camin De Sent Jacques' and several other tracks featuring the antique tambourin à cordes, sounding like a hammered dulcimer). Cocanha's second album is beautifully produced and artfully sequenced, but it's the energy and passion above all – typified by the whoops and cries, handclaps and foot-stomping – that bind these 13 diverse numbers together into a thrilling and surprisingly contemporary release. Mark Sampson
★



Damir Imamović
Singer of Tales
Wrasse
The sevdah of the western Balkans, especially associated with Bosnia and Herzegovina occupies a space between folk and art music, flexible and mutable, yet artistically and technically challenging for its performers. It is a palimpsest of imperial power: five hundred years of Ottoman rule overwriting but not obscuring village melodies with courtly maqams and the drone and chime of the saz, then Austria-Hungary bringing tonal harmony along with the railway. The wars of the 1990s brought ethnic fragmentation, set against a reclamation and revival of sevdah as symbolising a shared culture. There is another side to the music. Much of its lyrical imagery is framed around clandestine love, shuttered in seclusion, and sevdah has come to stand as a music of resistance for a new, marginalised, generation.
Of this generation of singers Damir Imamović has the most scholarly approach, tracing the music to brothels and opium dens as much as the perfumed rose garden of popular imagination, but he is also a masterful performer with a powerful yet sensitive baritone voice. Joined on this album by colleagues on contrabass, Turkish kemenche and violin, this powerful reimagination of classics alongside originals is one of the finest works Bosnia has produced this century. Kim Burton
★



Khusugtun
Jangar
Buda
From the first duo of highly impressive throat singing and the opening riff of the morin huur (horse head fiddle) you know you are in for a thrill. Each of the 11 tightly structured suite-like tracks, showcase the exceptional skill of the six musicians in Khusugtun. This includes incorporating throat singing with Western style harmony as developed by their leader Ariunbold Dashdorj. The title-track is inspired by the lengthy epic of the same name, however its structure is totally unlike the bards' recitation of old. A narrated introduction is followed by a short extract of the epic sung in a compressed voiced shakhaa then the kharkhiraa undertone style. An abrupt time signature change to 3/4 announces the group chanting 'Geser Khan', the hero of another epic. On the elongated chant of 'Khan' you hear the rich multi-timbral blend of throat singing textures with some clear high overtones of isgeree khöömii piercing through. Part four features the recently revived numan huur (mouth bow), quickly followed by exceptional morin huur playing and finally ending with an anthem-like refrain. It is almost prog-folk without the smooth segues. This is a great CD by Khusugtun. Michael Ormiston
★



Sam Lee
Old Wow
Cooking Vinyl
'The old wow never wears thin,' Sam Lee sings in 'The Garden of England', the opening track of his prodigiously ambitious third album. It is a fitting beginning, a radical reworking of 'The Seeds of Love'. This was the first song collected by Cecil Sharp from, wonderfully, a gardener called, even more wonderfully, John England, and which kick-started the folk revival of the early 20th century. The title came to Lee when, walking in the wilds of Scotland, a buzzard swooped and screamed just above his head, giving him a sudden sense of wonder and connection with the natural world. Lee uses the term 'old wow' to describe this enlightening realisation – what the religious (and James Joyce) call an epiphany. Lee's epiphany also describes, he says, 'those experiences which exist beyond the natural realm which are often described in our folk songs.'
Old Wow explores this in an album of three sections. The first, Heart, comprises four very different songs – 'The Garden of England', which speaks of the cycle of life, decay and renewal; followed by the spiritual 'Lay This Body Down', 'The Moon Shines Bright' and 'Soul Cake', fusing a song sung on All Souls' Day with 'Green Grow the Rushes'. Next comes Hearth, with that great song of the prodigal father, 'Spencer the Rover', followed by 'Jasper Sea' in which a father and son are drowned, and 'Sweet Sixteen', recounting a teenage pregnancy and abandonment (it isn't so sweet after all). It suggests that the hearth as somewhere safe and warm is not always obtainable. In the third section, Earth, Lee sings of the fragility of that which bestows such an epiphany. 'Turtle Dove' is a lovely song in which the bird is a symbol of love and parting. Since 1995 the UK turtle dove population has plummeted by 94%, so Lee is also singing about that. 'Worthy Wood' is a lullaby. These are often double-edged ('when the bough breaks the cradle will fall…') and Lee sings this as a troubled contemplation of the world the little one will inherit.
Old Wow is produced by Bernard Butler, who weaves wonderful soundscapes – with Matthew Barley's cello, Caoimhín Ó Raghallaigh's Hardanger d'amore, the voice of Elizabeth Fraser, Misha Mullov-Abbado's bass and percussion – and Lee wanders around these, as he might in the wilds of Scotland. He rambles a bit slowly, but sometimes Old Wow swoops down and suddenly everything becomes intense and clear. Julian May
★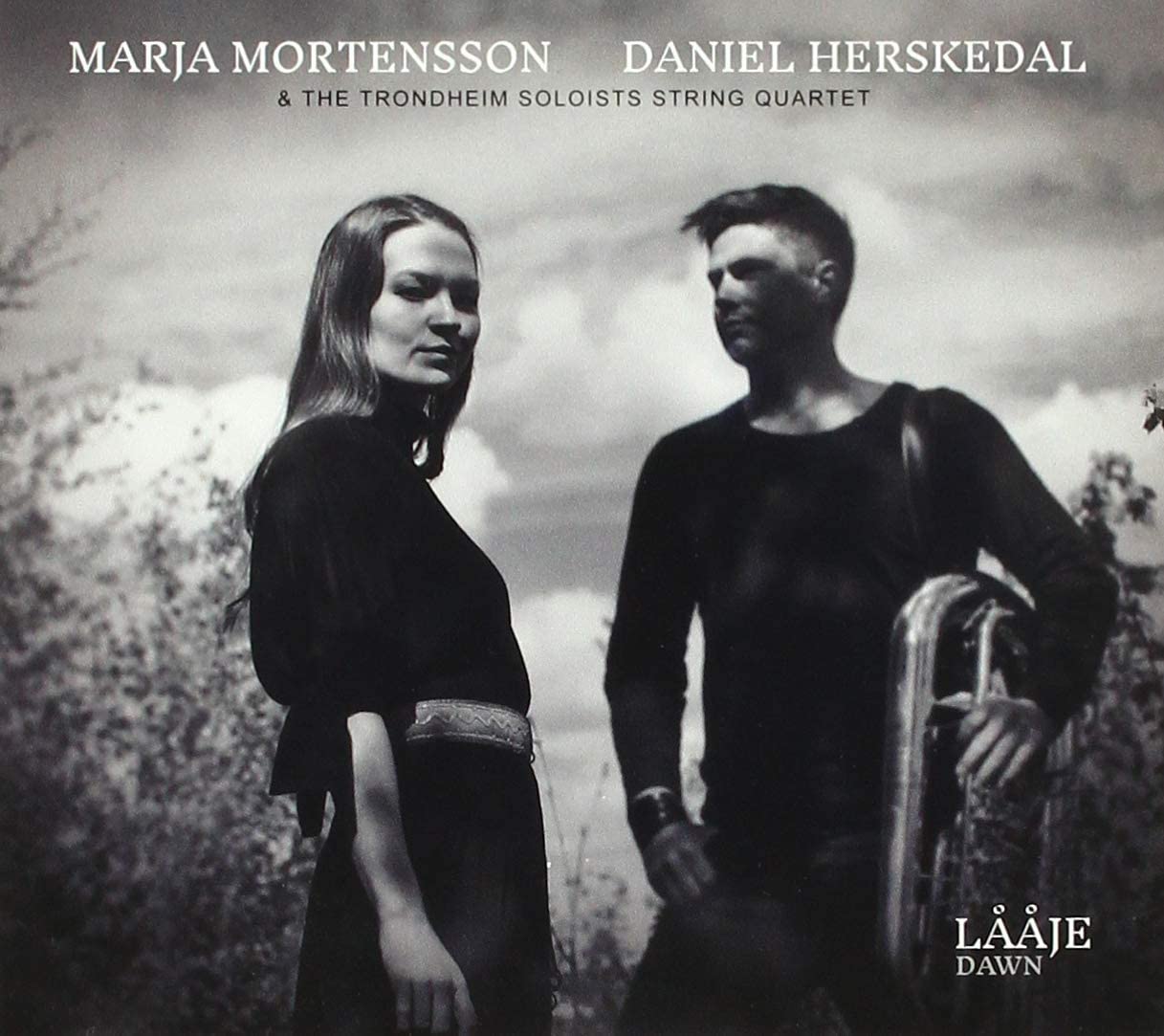 Marja Mortensson & Daniel Herskedal
Lååje (Dawn)
Vuelie
Marja Mortensson – winner of a Spellemannprisen (the Norwegian Grammy Award) in 2018 – writes 'we could only ever become more knowledgeable about the past, whereas the future still remains unclear.' The 24-year-old South Sámi joiker grew up in the reindeer herding community of Svahken Sïjte in Norway's Hedmark Count. She holds her past close.
In collaboration with tuba and bass trumpet player and composer Daniel Herskedal, she has created an arresting statement of tradition and our connection with our natural environment that draws on the past to speak about the most urgent questions of our future on this planet. On seven of the tracks, the duo are joined by the Trondheim Soloists String Quartet.
Joiking has a shape-shifting quality. The singer is said to take on the identity and voice of an animal or place. In this case, two songs joiked in 1911 by Kristina Johansson evoke 'Tjájhnie – The Woodpecker' and 'Riäksage – The Ptarmigan'. Elsewhere, Mortensson confronts ideas of progress and climate change in self-penned songs 'Gubpede Böötim – Where Did I Come From?' and 'Årrode Våårege – Be Cautious'. And all the while, in the shadows stands Frode Fjellheim, celebrated South Sámi musician, producer and founder of the Vuelie label. Nathaniel Handy
★



Siti Muharam
Siti of Unguja
OnTheCorner
Siti Muharam is the great-granddaughter of Siti Binti Saad, the woman who turned taarab from the inaccessible music of the sultan's palace into the people's sound of Zanzibar. It's a great legacy to shoulder, and with this debut, Siti Muharam more than rises to the occasion.
Her voice occupies the same territory as a Bollywood diva or Billie Holiday; with that same easy but powerful grace. The rest of the ensemble is just as intoxicating, and together they take taarab to another level. They look back to its origins and maintain a real vintage feel while lighting a path for potential new directions for the style. The addition of bass clarinet and double bass lend a noir-jazz slinkiness and alongside the subtlest of electronics, the feeling is of traditional music finding a comfortable home in the year 2020, rather than any self-conscious 'fusion.'
Siti Muharam and her group are in command of a music that's both stately and spicy, and in continuing a great taarab lineage, they've made something very special. Once I'd listened to Siti of Unguja, I was already excited to listen to it again. Jim Hickson
★



Sväng
In Trad We Trust
Galileo
This irrepressible Finnish harmonica quartet has delighted and astonished us for 17 years, producing eight albums ranging music from Sibelius and Chopin to tango, Baltic and bluegrass, and entertaining us with the brilliance of their live concerts. Behind their outrageous virtuosity, navigating different sizes of harmonica, are four supremely gifted composers and arrangers. Their latest release pays homage to what they call their 'spiritual home,' Finnish folk music: ancient runo songs, the kantele and jouhikko traditions and the great fiddle heritage. It's a risk to take tunes widely known throughout Finland. 'Kirkonkellot ja Maanitus' is a kantele tune based on the sound of church bells, but its cascading rhythms come alive in Sväng's arrangement achieved by throwing motifs around like a 'ball game' they say, while the 'Peltoniemen Hintriikin Surumarssi' (Funeral March of Hintriiki Peltoniemi), a melancholy meditation on the departure of a respected fiddler, reveals something less solitary than the original, more reminiscent of the changing colours of a church organ. But we love them too for their zany fairground-like adventures, and who wouldn't want to join them in the set of quadrilles that end the album, 'Katrillia, Pilkkua ja Wappua', tunes leaving us giddy and breathless. In Sväng we trust. Always. Fiona Talkington