Thursday, January 2, 2020
Youssou N'Dour | My World: "Africa has no cultural frontiers, it mixes genres effortlessly. That's the future for me"
By Daniel Brown
Having recently turned 60, the Senegalese star is taking stock and looking to the future, as reflected in his My World playlist. He talks to Daniel Brown about his choices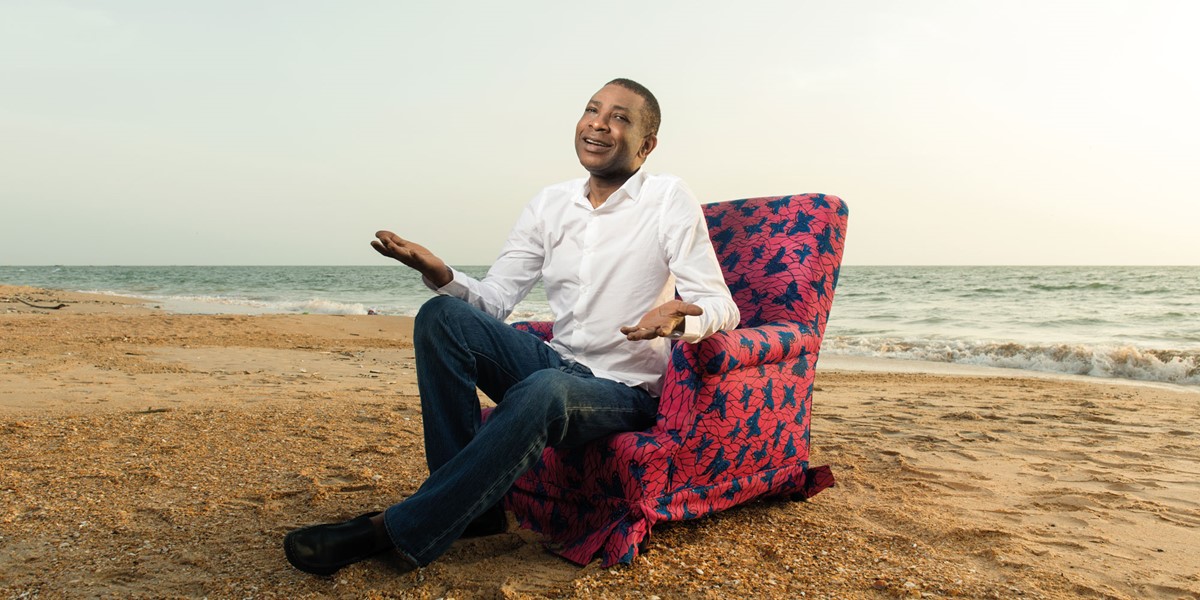 Youssou N'Dour (photo: Youri Lenquette)
Senegalese musician, entrepreneur and statesman Youssou N'Dour loves nothing more than to quote his recently deceased compatriot, the caliph-general Cheikh Ahmed Tidiane Sy: 'It's good to resemble one's father, but it's better to resemble one's era.' Intriguingly, Youssou appears to have juggled both over 48 years in music, melding his own heritage-drenched career with the development of Senegalese talents he has helped to nurture. Take Daara J, one of his choices for his playlist. "I immediately saw their international potential," he says. "Those rappers represented a conscientious generation with a positive message and I knew they would appeal to a global audience. They had already won over the youth of Dakar's popular neighbourhoods and I loved their optimistic spirit. The song 'Bayi Yoon' is a beautiful one; it talks about the dangers of erring on the wrong side of life and knowing how to return to your rightful path."
The music icon is talking from Lyon where he has been invited to the Global Fund conference to lobby for more research against AIDS, tuberculosis and malaria. The man fRoots magazine named 'African Artist of the Century' in 1999 both honoured and updated his own heritage in History. His most recent album (reviewed in #149) celebrates a career that yanks traditional mbalax sounds into the 20th century by seamlessly mixing tama and sabar percussions with Cuban and Western pop, largely thanks to an ageless voice with an impressive range.
Youssou's determination to buck his father's authority – and the difficulties inherent to being the eldest of 13 children – and to devote himself to a music career explains in part another of his choices, Maabo. This husband-and-wife duo features Mia and NFU (No-Face Undacova), crooners behind a concept called Jolofbeats. The latter started his career behind a mask to hide his identity from a father whose conservative beliefs excluded forays into the music world. "Many young musicians start out with fear in their hearts because the profession is still looked down on," says Youssou. "That was my case. But NFU proved stronger than these social pressures. His is a story of a beautiful union with Mia, which is very much celebrated in Senegal." The song 'Yako Waral' celebrates the elegance and harmony of one of the country's most glamorous couples. It's a song awash in synthesizers and vocoders where NFU has traded in his mask for sunglasses and the couple breathe domestic bliss: "They are a true mix of tradition and modern pop," comments Youssou. "But behind this song, there is a love story between a man from the Peul community of Dahra Djolof and a woman harking from Tambacounda, the Mande region near Mali. Communal differences are no barriers to commercial success in Senegal."
Dip Doundou Guiss has enjoyed an even more impressive ascension. The 28-year-old has become the nation's biggest rap sensation, racking up 11 million YouTube views, a plethora of national awards and record sales for songs like 'Sama Dome'. "Dip's really forged his destiny and continues to surprise me with his ability to manage his own image. 'Sama Dome' begins as a true history lesson on his Mandiakou community and expands to share a universal lesson on tolerance and pride in his cultural heritage." Dip (pronounced 'Deep') is part of the country's Christian minority and his texts are philosophical excursions into the ability of Senegal's diverse population to cohabitate with no communal tensions. "Dip has blazed a path for much of our country's youth. They look up to him and he's been exemplary as a role model."
One of the few living African artists Youssou looks up to himself is Salif Keita. "He is one of the greatest singers in the world. I had no trouble choosing him for my top five, the problem was choosing one from the 160 songs he's recorded!" Youssou plumped for 'Soro', from Salif's debut album of the same name. The 1987 LP was born of the collaboration between the Malian griot and legendary Senegalese producer Ibrahima Sylla and featured a savvy mix of Afro-pop and Mande acoustics. "This album made me proud to be African," notes Youssou quietly. "There's such a respect for the sources that fed his music. Salif's voice just soars over a kind of tapestry of what his heritage offers." Yet Youssou is convinced 'Soro' was also ahead of its time: "Those synthetic keyboards by (French arranger) Jean-Philippe Rykiel, the programmed drums, the powerful female vocals behind Salif's dizzying range… wow! He made it all seem so simple." Ten years Youssou's senior, Salif continues to mark the world, both through his music and his social engagement. "Salif understood very early on that he had the stature to change people's attitudes. His fight for the rights of Africa's albino community was also an inspiration for me."
As far as engagement goes, however, few Africans have bettered Youssou in terms of social, cultural and political diversification. Outside his well-publicised political engagements as president Macky Sall's personal advisor, he continues to head Birima, a microcredit company he founded in 2008. His Youssou N'Dour Foundation remains devoted to encouraging 'civic duty' in the fields of education, health, the environment and helping the homeless get off the streets. The singer's holding company Groupe Futurs Médias (GFM), meanwhile, remains one of West Africa's biggest media empires, with its daily newspaper L'Observateur, RFM radio station and Télé Futurs Médias TV. Youssou also controls the country's primary music production channels, including several recording studios in Dakar and the popular Thiossane nightclub. Juggling all this after hitting 60 has not been the easiest of tasks and has meant Youssou delegates many of these activities to his son Birane. "I'm turning my attention to preparing a world tour for 2020. It's something of a symbolic tour to mark my 60 years."
Taking stock is something the father of eight has been doing a lot of lately. History was his fifth album in four years and arguably his most contemplative to date. It includes a moving homage to friend and arranger, the bassist Habib Faye, a year after he passed away. But it also looks to the future and sets up endless trails to explore during his world tour. Which brings us to his final playlist choice, 'Dear Ribane', by the South African duo Okzharp & Manthe Ribane. This is an oddly meditative tune that subtly mixes local rhythms and grime music. "It was important for me to show just how much of a global crossroads South Africa has become. I've travelled so much and I welcome fellow travellers like Gervase Gordon [aka Okzharp] and Manthe Ribane who are behind this song. They are based in London but they have not forgotten the land they grew up in, nor the kwaito, gwara gwara and pantsula that was part of their artistic make-up. I find it audacious, it shows that Africa has no cultural frontiers, it mixes genres effortlessly. That's the future for me."
This article originally appeared in the December 2019 issue of Songlines and the tracks from Youssou N'Dour's playlist were included on a free cover-CD with the issue. Never miss another issue of Songlines - subscribe today!