Wednesday, December 4, 2019
A world of jazz and beyond at Poland's Jazztopad
As jazz festivals around the world start to embrace international sounds, Martin Longley got to grips with the eclectic line-up of the Jazztopad festival in Wrocław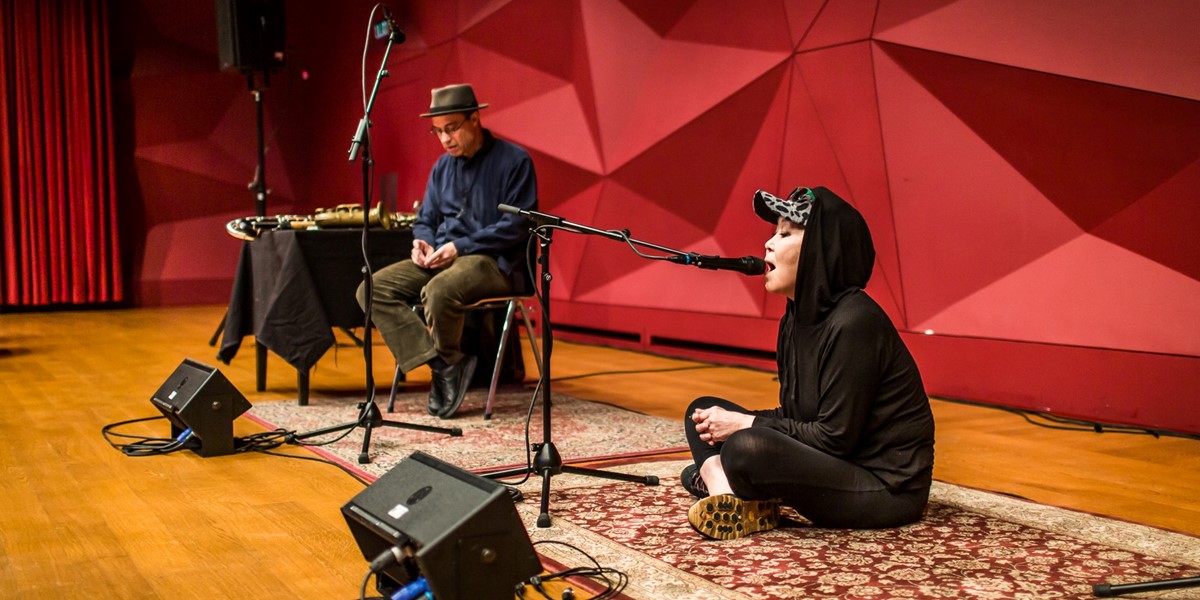 Ned Rothenberg and Sainkho Namtchylak © Sławek Przerwa
Jazztopad
National Forum for Music
Wrocław, Poland
November 19-24 2019
An increasing number of ostensible jazz festivals are presenting acts that will tempt most Songlines readers. Jazztopad is derived from Listopad, the Polish word for November, and sprawls over 10 days in the western city of Wrocław. Most of its shows happen in the National Forum for Music, a vast new building that opened in 2015, its heart being a large concert space, with the more intimate Red Hall, down in the bowels, below ground level.
The festival's final weekend presented two major artists in the concert hall, with the Panamanian pianist Danilo Pérez debuting his new Global Messengers troupe, and the Tunisian oud master Anouar Brahem leading his quartet through one of their key albums.
With Pérez, it's not easy to place the background of his new music, as the band contains players from diverse zones. His own Central American inclination forms a basis for compositions that skirt around Arabic, Greek and South American sounds, incorporating elements from those lands, but shaping the whole into a hybrid styling from this UNESCO Artist for Peace. There's a Greek laouto (lute) player, Vasilis Kostas, a pair of Palestinians on cello (Naseem Alatrash) and percussion (Tareq Rantisi), and Layth Sidiq, an Iraqi violinist who grew up in Jordan. A prominent presence, zig-zagging on top of all these, is stateside singer Farayi Malek, who was sometimes joined in the navigation of her complex lines by Sidiq.
The centrepiece was a new suite by Pérez called Fronteras, but the set opened up with a clutch of single songs. 'The Wall' was explicitly anti-Trump, and indeed this entire band's global unity concept is a direct response to the present woes of the USA and beyond. Pérez generously highlighted the skills of each band member, with framed solos or duos that allowed the Messengers to fully express themselves. Kostas took a long laouto solo, then Rantisi turned to his cajon as Malek executed a precision vocal run during 'Expedition'.
Once Frontera began, the lead vocals became a touch too bland, during a slow first section, but then the piece broke down into instrumental phases, for violin and then darbuka drum. Sometimes the fusions took on the feel of an exotica session, like some 1950s Orientalist Hollywood epic, but Pérez had a knack for inserting his stormy, rolling and unpredictable solos in between the more sculpted band sequences. It's as if he was acting as a rogue influence within his own work.
The next night, Anouar Brahem displayed a much subtler musical sense, or at least quieter, his repertoire from 2009's ECM album, The Astounding Eyes of Rita, sounding more straightforwardly arrived from one region. The quartet (reunited from the album sessions) rarely rose above a low level of introverted expression, keeping the volume and dynamics on a disciplined leash, only gradually tensing very slowly, as what seemed like a long performance took on a faint smoulder. Lovers of Arabic music in a more percussive and emotionally fraught mode were doubtless disappointed, though the bass clarinet of Klaus Gesing was a boon, in terms of gently ruffling the placid surface.
Another world of soft sonics was unveiled a few days earlier, in the smaller Red Hall, when Tuvan singer Sainkho Namtchylak and US reedsman Ned Rothenberg offered a set of meditational improvisation, performed in almost complete darkness, and introduced by a professional beanbag coach. Folks could invent their own manifestation of meditation, as the duo created sounds that were not necessarily relaxed in nature. This was proof that a suspended trance altered state could be attained without the aid of an expected new age soundtrack, as tiny white twinkle-star ceiling lights were exaggerated in the darkness, and our eyes began to adapt to the very, very soft single glow directed at the performers from above. Rothenberg explored the tonalities of shakuhachi, soprano saxophone and bass clarinet, while Namtchylak formed multiphonic groans in her throat, frightening the children with glottal outbreaks and controlled drones, sometimes vocalising simultaneously with a jaw harp. Such bi-tonal depth held a magical quality, snapped into 'reality' by the raising of the lights, for an encore where we could actually discern the performers.