Tuesday, November 13, 2018
Angélique Kidjo and Ibrahim Maalouf perform 'The Queen of Sheba' - review
By  Colin May
Angélique Kidjo and Ibrahim Maalouf perform a special show with the Nice Philharmonic Orchestra for C'est pas Classique festival in Nice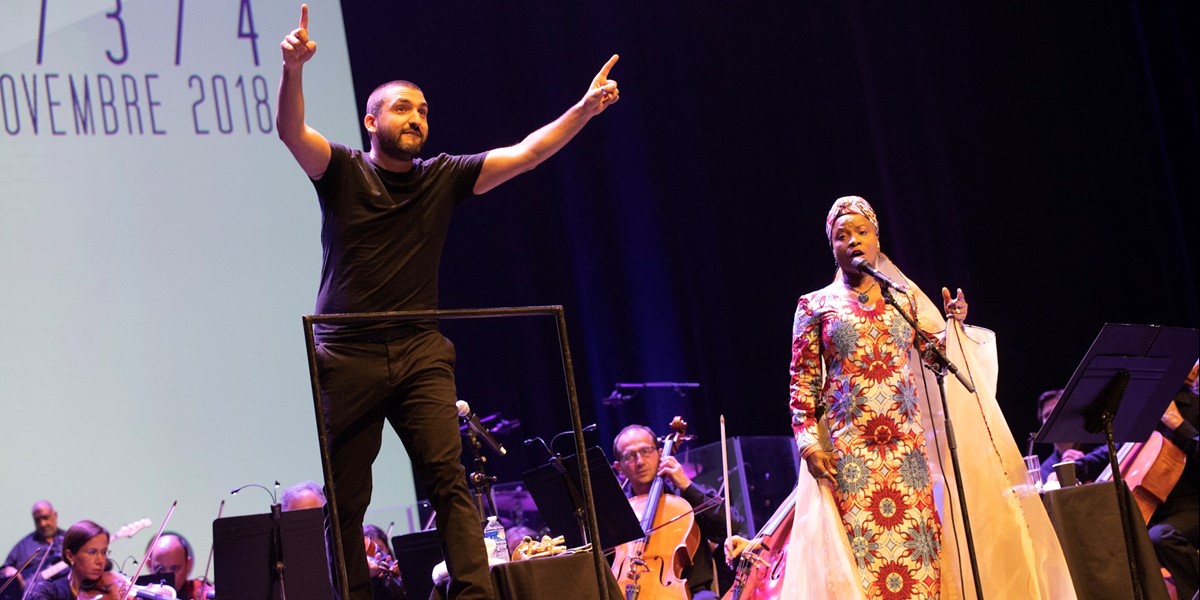 ©departement06
Angélique Kidjo and Ibrahim Maalouf with the Orchestre Philharmonique de Nice
C'est pas Classique festival
Acropolis Palais, Nice 
3 November 2018
This wasn't so much a gig as an event, a compelling genre defying blend of the symphonic, of 'world music' and of jazz-rock musical theatre, and one in which the audience played a full part. 
Recent Songlines Music Awards winner, singer and activist Angélique Kidjo wrote the lyrics and award winning Lebanese French trumpeter and composer Ibrahim Maalouf composed and arranged the music. 
Kidjo looked magnificent, resplendent in a glittering headdress and dress-cum-robe with a diaphanous yellow golden train. She was totally convincing as Sheba, challenging King Solomon to prove his wisdom by solving seven riddles to show that he was worthy of her. Head held high as she sang, her voice soared over the massed strings and the double basses of the Orchestre Philhamonique de Nice, about 50 players in total, and the members of Ibrahim Maalouf's own band who were part of the orchestra for much of the performance.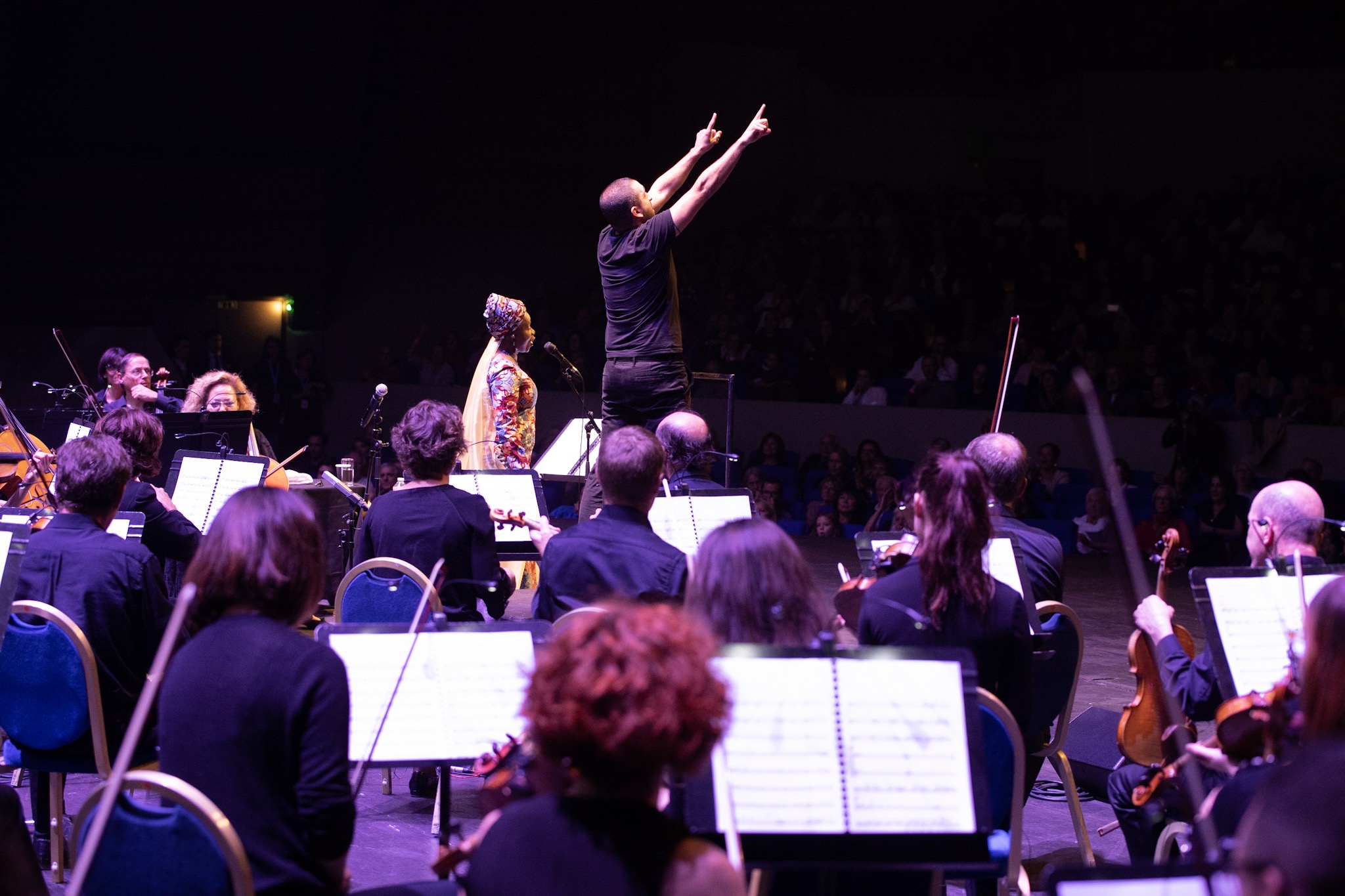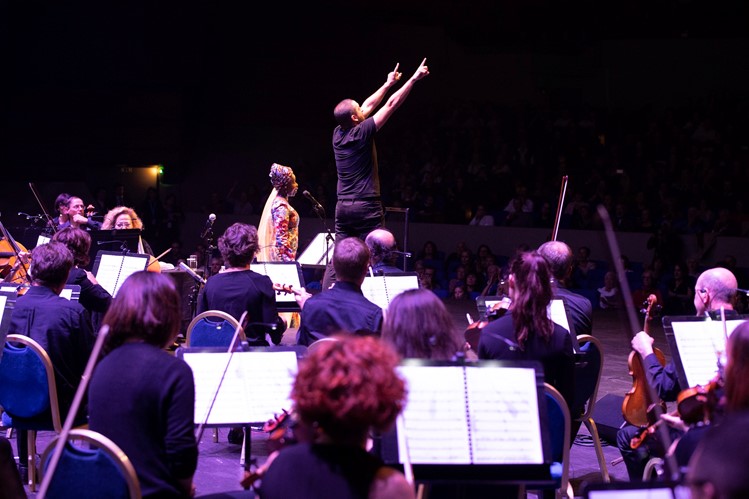 ©departement06
In their midst Maalouf, dressed in black and wearing white trainers, often abandoned the podium to stride around the stage and through the orchestra. Sometimes he just sat at the back while managing it all, directing everybody - including the 2,500-strong audience members themselves, whom he got to be the chorus, their singing and clapping filling the cavernous space. 
The Queen of Sheba was one of the headline concerts of the 14th C'est pas Classique (It's not Classical) festival put on by the départment of Alpes-Maritimes, a weekend with over 600 artists and 60 free events in different styles of music, all under one roof and aimed at all generations from the 0-3 years age bracket upwards.
It was a compelling performance in which Kidjo's expressive hands were as important as her singing in creating a queen who was not only proud and powerful, but vulnerable too. Maalouf's music integrated African, Middle Eastern, European and Latin influences into a satisfying whole, while at the same time retaining their distinctiveness.
This was only the fifth time Kidjo and Maalouf had performed the show, each time with a different classical orchestra. The music is a challenge for classical players as the rhythms, which are crucial to the whole piece, are not part of the usual classical repertoire. Tonight's orchestra, the Nice philharmonic, 'got' the non classical rhythms though, the first violin tapping both feet and bouncing in his chair.
There were thunderous chords, lush violins and reflective, intimate passages, and members of Maalouf's band stepped out from being part of the orchestra to solo. Bass guitarist Thierry Fanfant was very creative and Marcos Lopez's African percussion brought the house down. Maalouf himself drew from all his various musical experiences including his classical career in a trumpet solo that was rich in beautifully shaped notes.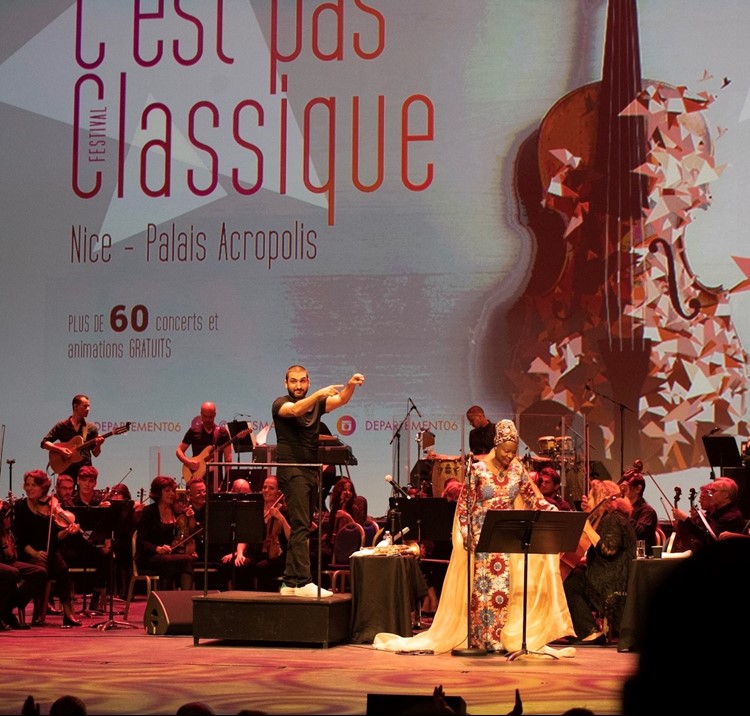 ©departement06
The Queen of Sheba has a message which Kidjo said is "a message of peace, of dialogue between people to live together, which was the most important thing between the Middle East and the African queen." But the show is primarily a party, and at the end 2,500 people were on their feet acclaiming Kidjo, Maalouf and his band, and the Nice philharmonic.
Recording has started, so the Queen of Sheba will soon become widely available. What would be even better though, would be if a UK festival or orchestra gave a UK audience a chance to experience it live.