Thursday, November 15, 2018
Belgrade Jazz Festival - review
The 34th edition of the Belgrade Jazz Festival featured Chucho Valdés, Miklós Lukács and Irina Karamarkovic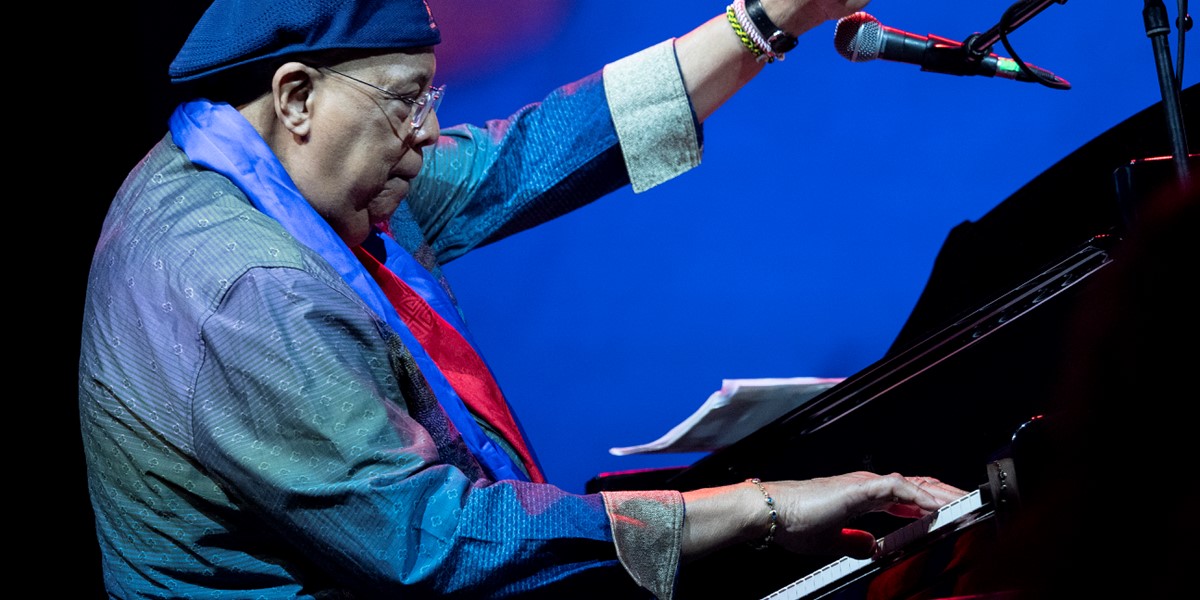 Chuco Valdés ©Tim Dickeson
Belgrade Jazz Festival
Kombank Dvorana/Dom Omladine, Belgrade, Serbia
26th-29th October 2018
As with many jazz festivals nowadays, this 34th Belgrade edition featured several acts that were eminently suited to a Songlines readership. Most of its performances took place in Dom Omladine (the Belgrade Youth Centre), but for two evenings the nearby concert hall of Kombank Dvorana was used. The master Cuban pianist Chucho Valdés appeared here with his Jazz Batá group, which featured a bassist and three percussionists. The band concept began with the Jazz Batá album, recorded in 1972, and now the 77-year-old Valdés is keeping it alive via his new album on the Mack Avenue label. The band members hail from Cuba's Guantánamo region, with batá player Dreiser Durruthy Bombalé stationed out front, also handling most of the leading vocals, and later, the wild dancing.
Valdés made his reputation as part of Irakere, a much larger outfit devoted to full-thrust Latin jazz, but Jazz Batá is a stripped-down, percussion-heavy quintet. The set opened impressionistically, with Yelsy Heredia bowing his upright bass and Valdés contributing flamboyant piano colourations. The band teased with brief outbreaks of rolling rhythms, gradually building, but repeatedly returning to a subtle and sophisticated base, the volume frequently dropped right down. Making grand gestures on the keys, Valdés was aiming for a classicist Cuban sound.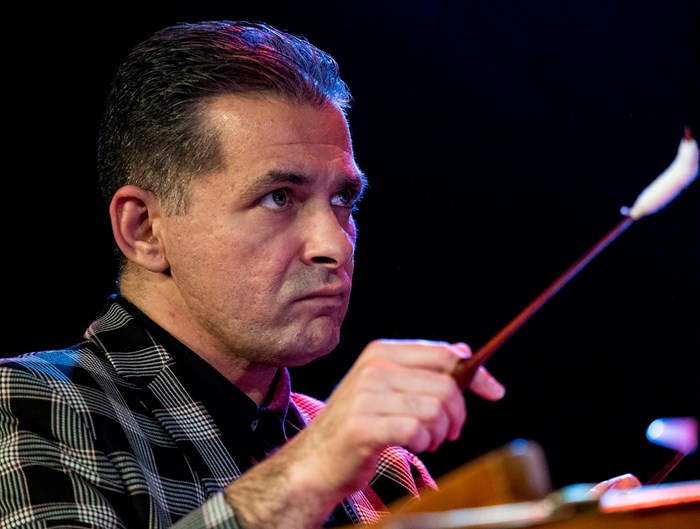 Miklos Lukacs ©Tim Dickeson
The batá drums originate in Yoruba tradition, from present-day Nigeria, but are integral to the santeria rituals of Cuba. Valdés was shocked to realise that this was now the 40th anniversary of when he first took to the stage with Irakere, and we were even more reminded of that band's powerful thrust. At this point, a hardcore call-and-response took off, and all of the teasing was finally rewarded, as the flavour briefly touched on US gospel and then West African vibrations. Valdés began to solo in a fashion that would be adored by NYC salsa fans, Bombalé began to scrape his ridged guiro, while Heredia downed his bass and all of the band metamorphosed into a complete percussion posse. Bombalé provided the ultimate climax by demonstrating his santeria ritual moves, writhing across the stage, and lashing his bandmates, each in turn, with his 'kerchief, then disappearing out into the audience, having leapt down from the stage.
Two nights earlier, in the informal upstairs room of Dom Omladine, the Hungarian cimbalom player Miklós Lukács led his Cimbiózis trio, subjecting traditional folk to the rigours of careening jazz improvisation. Following a brief introductory spiderwalk across the sensitively hammered strings of this ornately-carved, table-sized instrument, the bass and drums of György Orbán and István Baló piled in, and the heaviness encroached. Lukács scattered phrases with an aggressive deftness, but he also added some pure finger-scrapes too, temporarily downing his spatulas. Baló was a revelation, with brutal rock power and jazz complexity combined as he flashed around his kit, providing more than the expected number of fleeting drum solos. In his loud checked jacket, the leader bombarded his strings with hammering spatulas, but he was just as adept when entering sensitive, sparse interludes.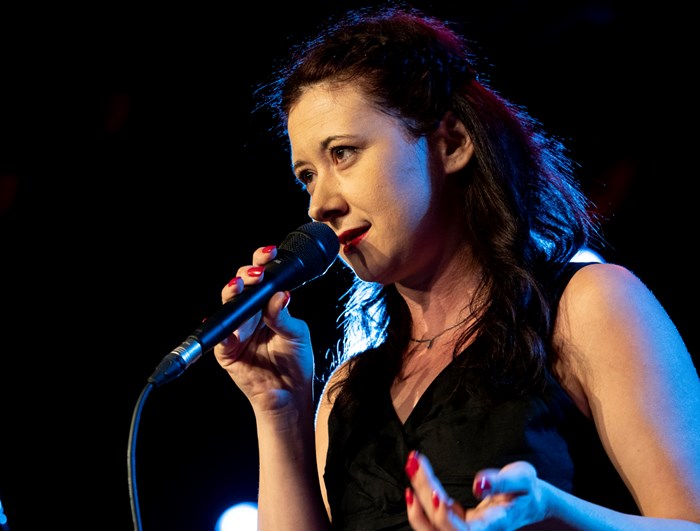 Irina Kamarkovič ©Tim Dickeson
The late upstairs show on the festival's final night is always dedicated to three native Serbian acts, and opening the session's run was singer Irina Karamarkovic. She learned her traditional song repertoire by listening to her mother when she was a youngster, and is now set on presenting such old songs in a jazz-ish setting. Studying, then working in Graz, she returned to her homeland, leading a quartet of piano, bass and drums. Sadly, even though Karamarkovic played first, this was still 10.30pm on a Monday, so even the legendarily partying Belgrade audience was already smaller than usual by this time. Anyway, this added to a focused, hushed attention as Karamarkovic captured the essence of tradition, surrounded by modernity, and highly evocative, even if your scribe's lack of Serbian was a handicap in terms of song explanations and lyric absorption. The quality was in the mournful tone, speckled with outbreaks of mysterious humour.