Tuesday, January 22, 2019
Ethiopia In Brussels: Mulatu Astatke & Black Flower review
Ethio-Jazz pioneer Mulatu Astatke played a retrospective set from his golden era on the opening night of the Brussels Jazz Festival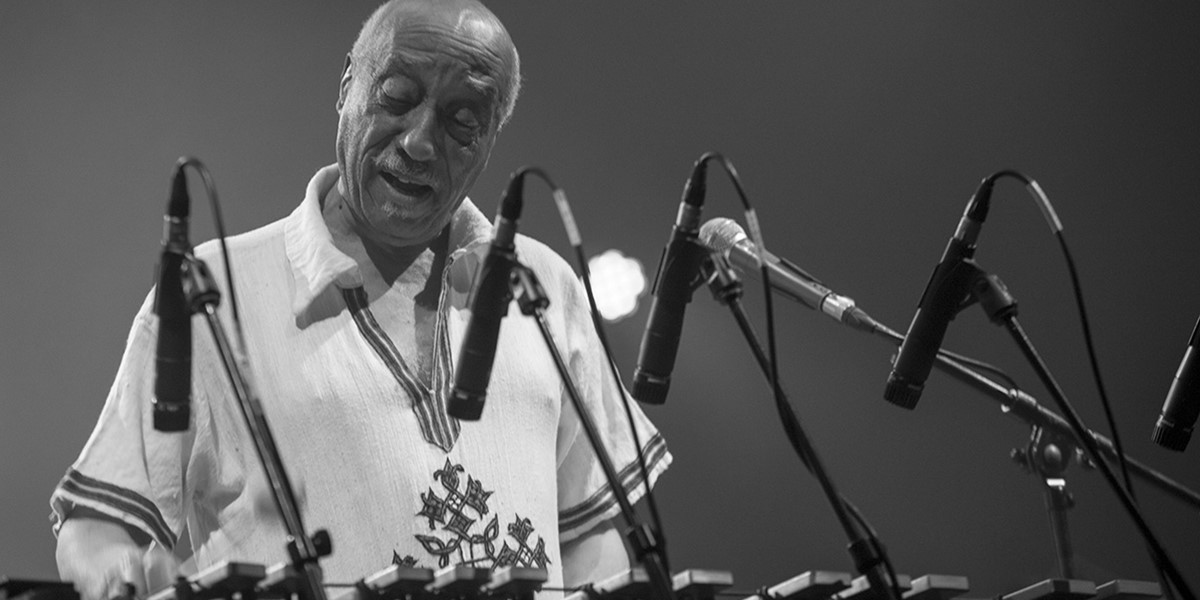 Mulatu Astatke ©Olivier Lestoquoit
Mulatu Astatke & Black Flower
Brussels Jazz Festival
Flagey, Brussels, Belgium
January 10 2019
The revered Ethiopian pioneer Mulatu Astatke opened up the 2019 Brussels Jazz Festival with a sold-out concert in the main studio of Flagey. This is an old 1930s Art Deco radio studio complex in the Ixelles area, just south of the city centre, saved from demolition in the late-90s, and lovingly preserved for its reopening as a cultural centre in 2002. 
The multi-instrumentalist Astatke mostly played vibraphone, but periodically moved to his substantial row of percussion (congas, bongos, timbales), and even played a few numbers at the keyboard. Astatke's regular band are largely based in the UK, featuring players well-known on the alternative jazz scene, such as Alexander Hawkins (piano) and John Edwards (bass).
This festival set looked back over his career since the late 60s and early 70s, when Astatke began to meld traditional Ethiopian folkloric scales with an American jazz vocabulary, forging a new musical form that nevertheless connected recognisable elements. Those early recordings have naturally taken on an added dimension, as looking back to that golden sonic era, an extra misting of time-stained mystery now overlays the whole output.
From the outset, the entire band emanated a concentrated energy, visibly inspired by their 75-year-old leader, who was himself imbued with the enthusiasm of a much younger artist. It's clear that Astatke encourages soloing spotlights for his players, as the emphasis switched from his own vibraphone to Richard Baker's percussion, or the trumpet/saxophone horn section of Shanti Jayasinha and James Arben, the latter being the band's musical arranger.
No fewer than five microphones were pointed down at Astatke's vibes, so it's no surprise he couldn't avoid hitting one during a particularly shimmering solo. Once done, he sauntered back to his cowbell and congas, providing rhythmic accents as Arben offered a tenor saxophone solo. Full-time percussionist Baker made an impact, going wild on his own congas and chekeré (gourd-shaker). During 'Yekermo Sew', one of Astatke's most famed songs, Danny Keane's cello added a fresh sonic slant, making an understated mood creep, as his leader soloed softly, followed by Jayasinha, steadily stoking, then spitting molten speckles.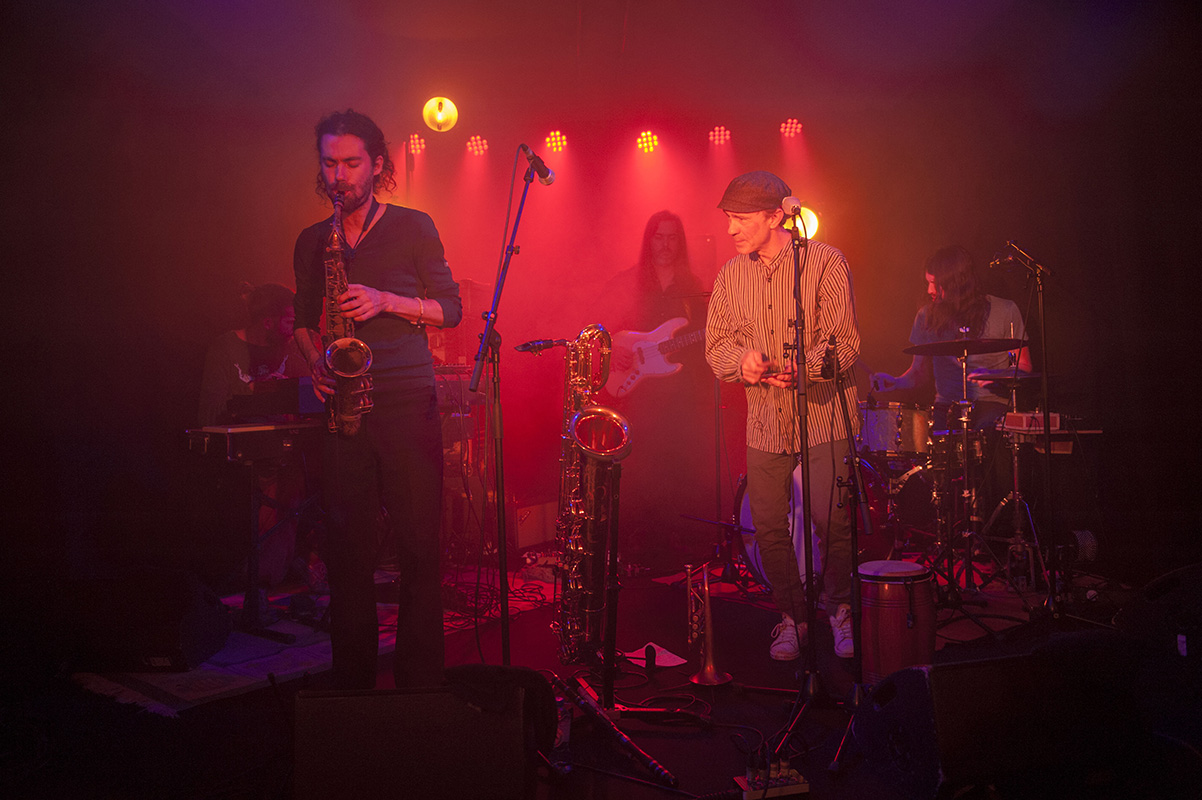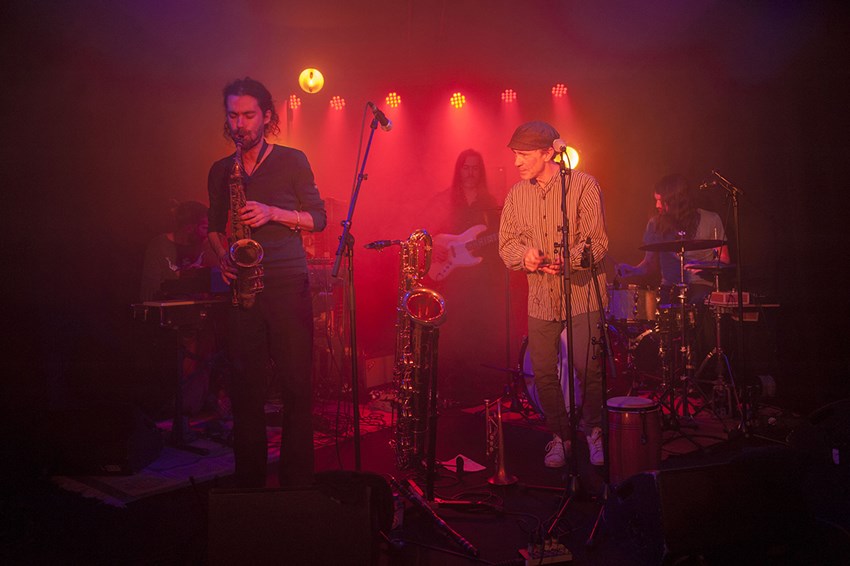 Our audience ears were pricked up all the time, as each new detail of the compositions was revealed, with adventurous piano and cello solos propelled by the rhythmic cutting of the percussion team. Astatke thwipped bongos with thin sticks, while Baker brought out his Moroccan Gnawa qaraqab (castanets). Astatke announced that he would whisk us from East Africa to West Africa, but went so far West that he sounded like he'd landed in Cuba. Edwards ripped out an extreme bass solo, full of striking and flailing freedoms, then Baker speed-rubbed his tama drum. This inspired set closed with 'Mulatu' itself, another prime cut, the leader on Wurlitzer keyboards, backed by flute and slide trumpet. All colours of this compelling palette were beautifully framed by the sound system, maintaining a constant flow of musical detail throughout these 90 minutes of aural seduction.
To top off an already magical evening, the Ethiopian musical fetishists Black Flower struck up in the foyer, straight after Astatke's set, leading a witching-hour session of accumulated hypnosis. The multi-instrumentalist Nathan Daems (from Gent) was artist-in-residence for the festival, and Black Flower have been his most prominent outlet for the last six years. They were the perfect choice for a late-night hang. A new album is imminent, and they broke their own rules by sneaky-peeking 'Early Days Of Space Travel Part Two', which was certainly evocative of its title. Daems was at his most powerful on baritone saxophone, while Wouter Haest struck, with crunchy clavinet splinters and misty organ flourishes. Drummer Simon Segers is one of Belgium's best, his powering circularity sympathetic to that of Can's Jaki Liebezeit. On the older, golden 'Bones', Daems played small wooden flute, and cornet player Jon Birdsong switched to a pair of conch-shells, large and small.
On the following two nights, Daems played on the same foyer stage with Javanese electro-exotica sampler Dijf Sanders, and then Echoes Of Zoo, a foursome who pushed Eastern mystery into a harsher rock-spike area, with prominent electric guitar mixing with Daems fast-slapping on a slim, small drum, when not making his accustomed saxophone and flute pursuits.