Monday, October 26, 2020
WOMEX 2020 Digital Showcases: Day Four, October 24
Simon Broughton checks into the last day of digital performances and enjoys the concerts of Hungarian bands with a real audience that took place in Budapest.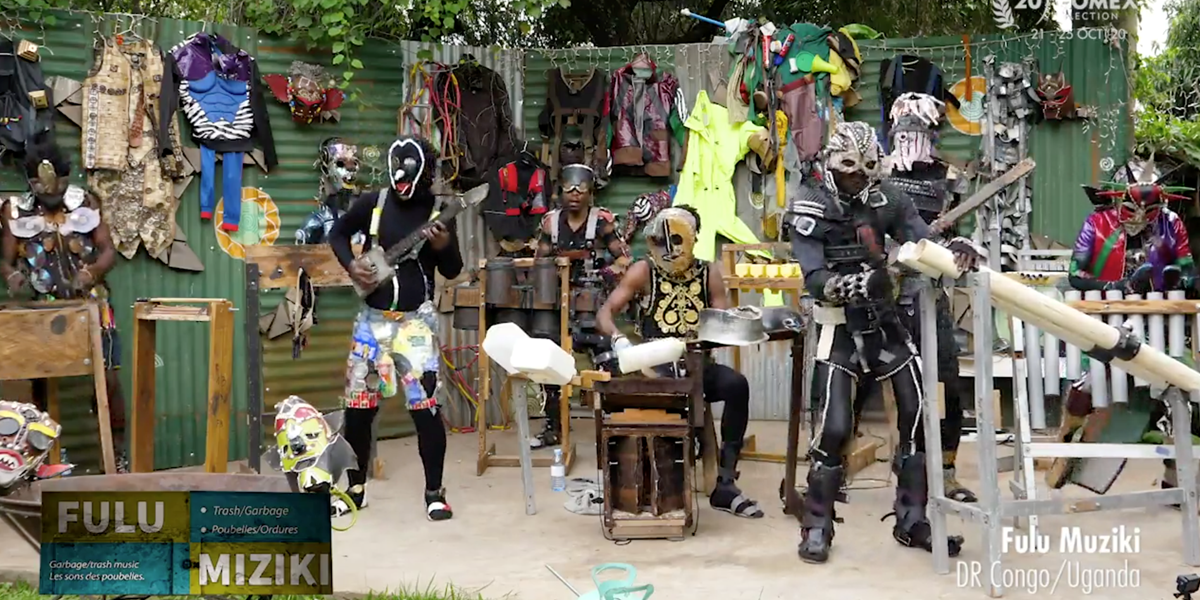 Several of the bands we've seen in the four days of virtual WOMEX have already featured in some way in Songlines - that's one of our jobs, to spot upcoming artists. But two of the most arresting groups on the fourth night of WOMEX were certainly new names to me. The first was an all-male group from Kinshasa in Congo and the final act on the bill, a female trio of singers and percussionists from Colombia.
Fulu Miziki from Kinshasa blow you away. Half a dozen guys in masks and Afro-futuristic costumes singing and playing specially constructed instruments from rubbish and recycled materials. There are improvised xylophones, plastic tubes, metal cans and plastic canisters that propel the music forward with the help of a bass guitar. The band started in 2003, but adopted the recycling idea in 2008. The music belongs very much in the Congotronics world of Konono No 1 and Kasai Allstars, but the group totally have their own identity. Filmed while they were stuck in Kampala, Uganda, the band had a stylish corrugated iron backdrop with masks and outfits from recycled materials referencing traditional costumes. The music is deeply African but the message is universal.
Ending the evening were La Perla – a female vocal and percussion trio from Colombia, clearly challenging the prevailing tradition of Latin American percussionists being overwhelmingly male. Their musical skills were evident and there was something refreshing about this music being performed by a provocative group of women keen to speak out about controversial issues. Their witchy song 'Bruja', had them heading somewhere spiritual with whistling and vocalised bird sounds alongside the percussion. Like the recycling Congolese, they are with the zeitgeist.
In between there were some more intimate sets working well as filmed performances. Scotland's Brìghde Chaimbeul, from Skye, brought up as a Gaelic speaker, was playing solo Scottish smallpipes. She began with what seemed like an introspective meditation, a slow opening of her soul – plangent and elegiac. She kept her eyes closed, which could make communication with an audience difficult, but it also felt like she was drawing you into her secret world.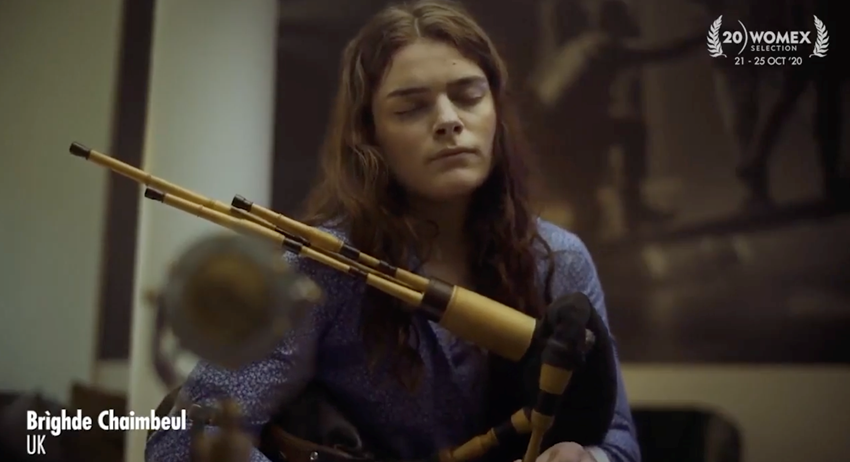 Another intimate set was that of Justin Adams & Mauro Durante – a perhaps surprising meeting of electric guitar with south Italian violin and tamburello (frame drum). Adams is a very versatile British guitarist, a long-time member of Robert Plant's band, as well as exploring more specialised projects like the wonderful Justin & Juldeh albums with Gambian musician Juldeh Camara. Mauro Durante is the leader of the excellent Italian pizzica band from Puglia, Canzoniere Grecanico Salentino. With Durante's elegant, but gentle, violin playing and Adam's pushy punk-inspired electric guitar, it's a curious combination, but one that perhaps opens up many possibilities through its originality.
On parallel 'stages' there have been performances of selected Hungarian bands in front of a live audience in MUPA, the Palace of Arts in Budapest. First of all it was great to see 'live' performances in front of a real audience. All four groups are good, Magos, Ötödik Évszak, Babra and Dalinda, but they raised the interesting question about traditional music in the 'world music' world of WOMEX, which was picked up in various online forums.
It's quite unusual for traditional music to feature at WOMEX as there is a reflex tendency to global soup. Maybe that's what works best, or what people think will work best at international festivals. The band Magos feature young musicians from the Hungarian dance house movement playing traditional music from one particular area of Transylvania, Székely Land, as far as I can tell. It is beautiful music, no fusions with funk or hip-hop, and they do it extremely well. Ötödik Évszak (Fifth Season) are a kind of fusion band, although I suspect most non-Hungarians will think it's traditional. While all the instruments are traditional, singer Izabella Caussanel comes from a mixed French and Hungarian background, and certainly French chanson creeps into the songs. Babra are a young group playing the music of the Serbian and Croatian communities in Hungary. Played on various plucked tamburas, it is fizzing and fun. Most interesting for me are Dalinda, three women who sing traditional Hungarian songs a capella in three parts. Hungarian music isn't polyphonic so in a small way it's groundbreaking. It's very Hungarian, but very new. I'm not so sure about the doo-wop bits, but earlier this year they were playing at Sur Jahan in India. So the word is already spreading. Like La Perla, they are compelling and refreshing to listen to. That's what counts.