Thursday, October 22, 2020
WOMEX 2020 Digital Showcases: Day One, October 21
Simon Broughton runs from one showcase to another without moving a muscle on the first night of WOMEX 2020 in nowhere land and picks some highlights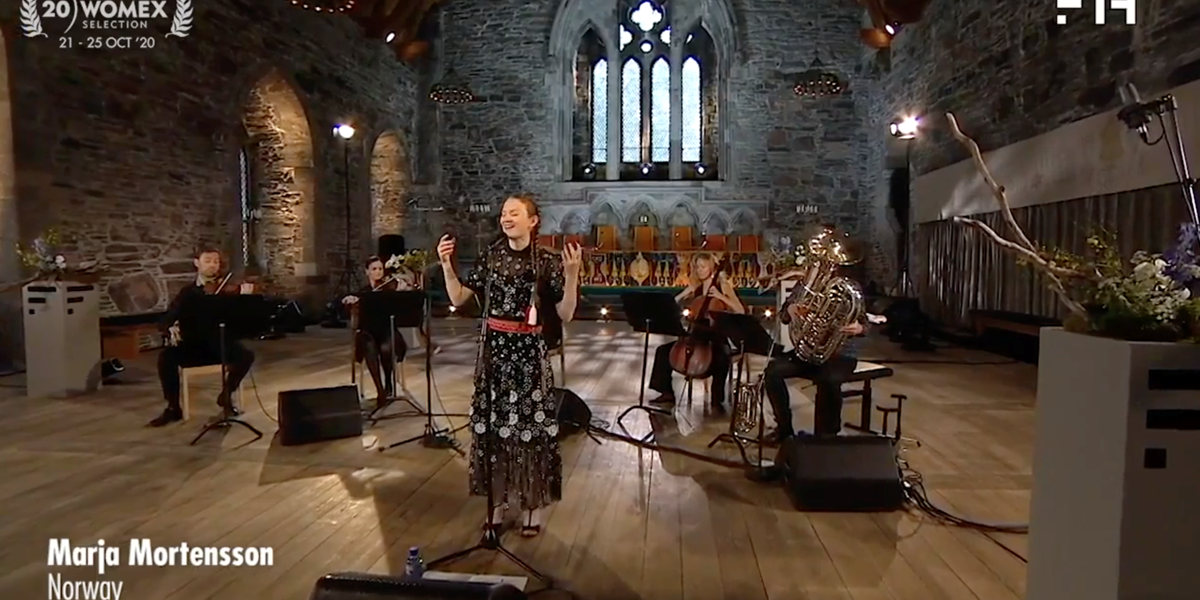 It would be great to just concentrate on the music of these showcases, but being digital performances, inevitably the filming also makes a difference. I love the music of Colombia's La Mambanegra, who released a great album in 2017 and gave a stunning WOMAD performance. But their video gave me a headache – fast cuts, lots of pixels and snatched moves. True, Cali salsa is famous for its pace, but the music has the rhythms, you don't need to cut every two seconds as well. Nevertheless, they really made you believe they were in front of a live crowd, not just a virtual one.
It was a relief then to get to the video of the Coşkun Karademir Quartet from Turkey. They made a wonderful Top of the World album with Iranian singer Mahsa Vahdat in 2018 and their instrumental set was beautiful. It's chamber music for a concert hall, not for dancing like La Mambanegra. Karademir plays the bağlama, a type of saz, and he's joined by reedy duduk, cello and drums. Elegant music with lovely textures and sonorities and sympathetically filmed.
Kutumba are a sextet drawing on traditions from the many cultures across Nepal. They feature several local instruments – a wonderful range of drums, plucked lutes and the bowed Nepali sarangi of Kiran Nepali who is featured in the current issue of Songlines. I think they do a great job taking Nepali traditions, too little known, to the wider world and they have a powerful impact on stage.
A customised version of the Nepali sarangi and also the Turkish bağlama, both appear in Širom, from Slovenia, playing what they call 'imaginary folk music.' They have adapted various folk instruments and have created instruments of their own. The music is minimalist, slowly developing and intriguing. On screen and also on stage – I saw them at Budapest Ritmo in 2019 – there are a lot of microphones and ironmongery, which rather get in the way.
Tȩgie Chłopy are one of the best new bands from the revival of traditional music in Poland. They play music of the Kielce region of central Poland learned from veteran musicians, although sadly none of them were present in the WOMEX film. The eight-piece group includes a female tuba player Maniucha Bikont. Lady tuba players are a rare thing, so that earns a bonus point. And Bikont is a powerful singer too.
The absolute highlight of the evening was the performance by Marja Mortensson, a Sámi singer from Norway (see feature in #155), with very professional filming in a church at the Bergen International Festival. It was a beautiful acoustic with wonderful close-up shots of Mortensson as well as tuba and violin, which are what you miss from most of the videos. The music is transporting, even though I don't understand a single word of the South Sámi language in which she sings. It's her voice, her movements and the way she totally blends into the classical string quartet and tuba arrangements that is so captivating. For me, she is an important name to watch.
What I'm looking forward to are the Budapest bands, who will really be performing live and, of course, that's what we're missing in these digital presentations.