Saturday, September 12, 2020
Obituary: Toots Hibbert (1942-2020)
The Jamaican reggae legend dies at the age of 77. Garth Carthwright reports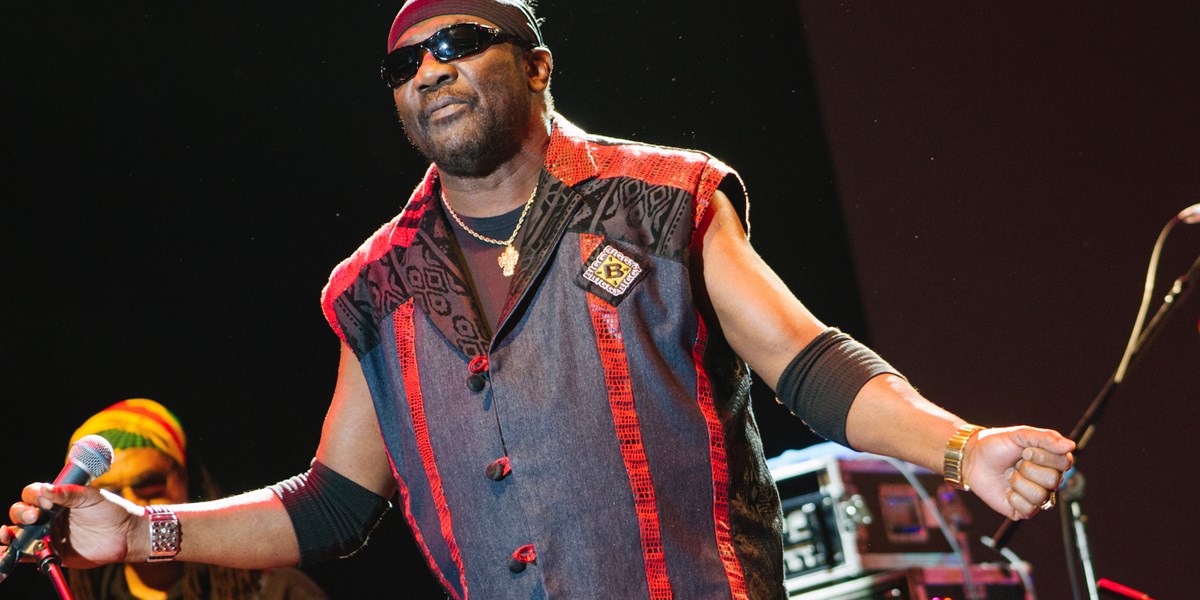 Toots & The Maytals at WOMAD 2017 ©Tom Askew-Miller
Frederick Nathaniel 'Toots' Hibbert, who has died at the age of 77, was one of Jamaican music's greatest artists. His energy and enthusiasm as a performer ensured he probably entertained more people than any other Caribbean musician over a career that lasted almost 60 years. Born the youngest of eight children to Seventh-day Adventist preachers, Hibbert grew up singing gospel in rural west Jamaica and, like many of his contemporaries, developed an enthusiasm for American R&B. Shifting to Kingston in the late 1950s, he worked as a barber, singing while he cut hair, and this lead to him forming a vocal trio with Henry Gordon and Nathaniel Mathias. Calling themselves The Maytals, the trio blended gospel fervour over the new ska rhythm, and soon became a local sensation, Hibbert's hoarse voice and high energy charging old hymns with new meaning. Inevitably, they were ripped off by Jamaican producers and a two year prison sentence (for possession of marijuana) meant Hibbert was silenced across the mid-1960s but, once freed, he demonstrated even greater fervour – '54-46 That's My Number', his song named after his cell, became an anthem – and The Maytals' 1968 hit, 'Do the Reggay' – ostensibly a celebration of a new dance – would go on to name the new, heavier, more conscious sound taking shape in Kingston.
By now Toots was not just a high-energy performer who employed all the tricks for working audiences that he had learned from his preacher parents, his original songs were striking and beginning to win international attention. In 1969 'Monkey Man', released in the UK on Trojan Records, would become both a minor hit single and a skinhead anthem (The Specials would revive it on their debut album). That same year saw The Maytals hit with 'Pressure Drop' – soon to feature in The Harder They Come, the stunning 1973 film about Kingston's reggae scene and would later be covered by The Clash.
Indeed, the late 60s and early 70s saw Hibbert at his most inspired, working with the Chinese Jamaican producer Leslie Kong for his Beverley label and a nucleus of gifted musicians – the Beverley All-Stars (Jackie Jackson, Winston Wright, Hux Brown, Rad Bryan, Paul Douglas and Winston Grennan) – alongside The Maytals' brilliant harmonising. Toots wrote and sang classic after classic. His style rarely varied, powerful, stomping anthems full of love and pride while noting just how difficult life could be for many of his fellow Jamaicans; Toots testified, his raw voice always carrying great conviction.
Chris Blackwell, the founder of Island Records, signed the trio (from now on known as Toots & the Maytals), releasing their superb Funky Kingston LP in 1972, introducing Toots to an international audience. This album arguably captures Toots at his most creative – he takes the John Denver song 'Country Roads' and The Kingsmen's 'Louie, Louie' and makes both brilliantly his own. The 1975 album Reggae Got Soul, produced by Joe Boyd, helped broaden The Maytals' appeal and both punk and two-tone audiences embraced him as a musical pioneer. This ensured that Hibbert stayed on the road (both co-founding members retired in the 1980s and Toots' daughters became his backing vocalists), playing hundreds of concerts a year until he was hit in the head by a glass bottle while performing at the River Rock Festival in Richmond, Virginia, in 2013. On hiatus again until 2016, Hibbert returned, as energetic as ever. His occasional albums – one made in Memphis with R&B musicians, another with famous rock musicians – over the past 40 years have proved uninspired but Toots never disappointed audiences: even if his shows were just a run through his greatest hits they remained entertaining.