Monday, January 28, 2019
Oliver Mtukudzi dies aged 66
From the oppressive days of white minority rule, through the liberation war and the challenges of independence that followed, his music uplifted and inspired his people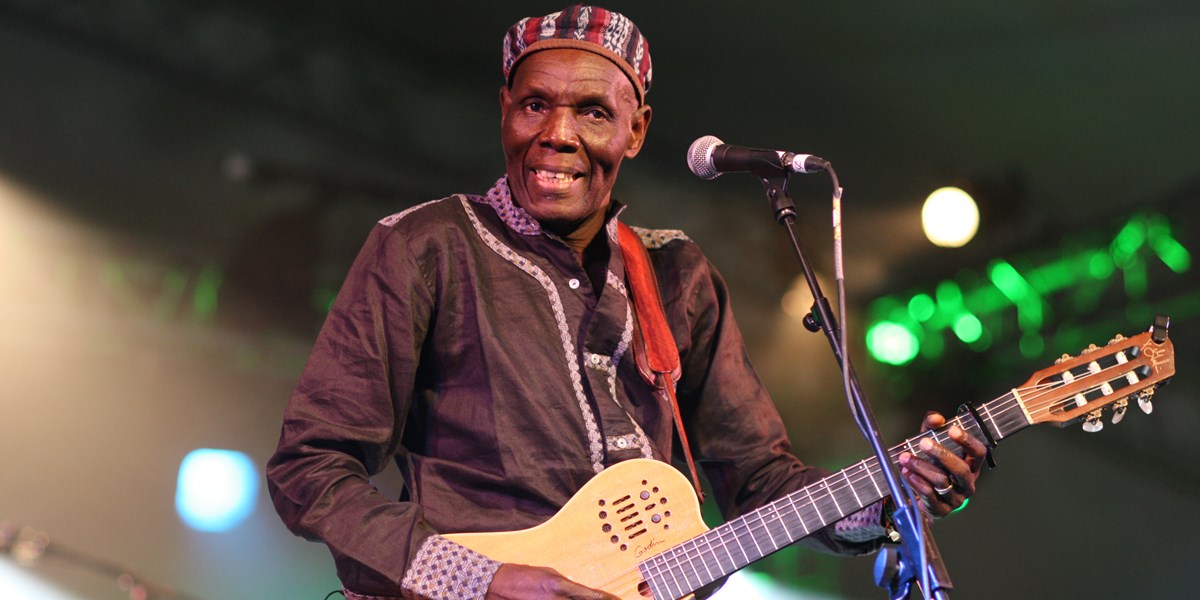 ©Philip Ryalls
For more than 40 years the distinctive husky voice and ringing guitar-playing of Oliver Mtukudzi soundtracked Zimbabwean life. From the oppressive days of white minority rule, through the liberation war and the challenges of independence that followed, his music uplifted and inspired his people and, in time, made him a global ambassador for Zimbabwean culture on a world stage.
Over the course of more than 60 albums, his unique blend of global pop and traditional Zimbabwean and South African forms became a genre in its own right, known as 'Tuku music'.
"People couldn't place the music in any one particular style so they said let's just call it 'Tuku music,' he said.
He took a different course from Thomas Mapfumo, his friend, sometime critic and only rival as the greatest musician Zimbabwe has ever produced. While Mapfumo became an outspoken critic of Robert Mugabe's government and went into hiding, Mtukudzi continued to live in Zimbabwe, promoting tolerance and urging his countrymen to unite.
In 2015, Mapfumo, who played with Mtukudzi in the Wagon Wheels during the days of white rule, accused him of having been "bribed into silence".
He was deeply hurt by the accusation. It was true that he performed at events for Mugabe's ruling Zanu-PF party; but he also performed at the wedding – and later the funeral – of opposition leader Morgan Tsvangirai. "I am a musician and not a politician," he insisted. "When you are an artist, you must represent your people and I'm flying the flag for all Zimbabweans."
He sung about the big social issues and his 1999 song 'Todii' from his album Tuku Music played a vital part in the public health campaign around Zimbabwe's AIDS crisis. "The song was designed to trigger discussion, not provide a solution," he said. "It was full of questions that started making people talk about the disease and take the stigma away from it." The song's message prompted the United Nations to make him a UNICEF goodwill ambassador for HIV awareness.
Another song 'Neria,' was about the plight of a woman thrown into poverty when her husband died because tribal law did not allow her to inherit his property and became the signature song of a movie of the same name.
Although he shied away from overt political commentary, fans searched for hidden meaning. His songs 'Wasakara' (You Are Worn Out) and 'Bvuma,' (Accept That You Are Old), both released in the early 2000s, were interpreted as calls for Mugabe to stand aside.
Such coded messages had a long tradition dating back to the liberation war and beyond. "Artists were at risk because you couldn't talk anything freely," Tuku recalled. "But in our mother languages one word can have five meanings. So we delivered messages to the guerrillas in the bush in song because in Shona you could use different words and the regime couldn't decipher the messages."
Born on September 22 1952 in the Highfield township of Harare, then known as Salisbury, his parents wanted him to pursue his studies and his disapproving father destroyed his first, homemade guitar. When he bought another, he hid it at a friend's house.
In 1977 he joined the Wagon Wheels and had his first hit with 'Dzandimomotera,' which chronicled the struggles of ordinary black people under white rule. The following year he established the Black Spirits, the band which would back him for much of his career, and he celebrated Zimbabwe's independence in 1980 by recording a reggae version of the country's new national anthem, 'Ishe Komborera Africa' (God Bless Africa).
Although he dominated the Zimbawean scene in the 80s, it was not until the 90s that he became a world music star, performing at festivals around the globe.
His final album Hanya'Ga (Concern), was released shortly before his death. He described its songs as packed with "life lessons."
"Music unites," he said. "And music brings hope."