Tuesday, September 1, 2020
Pandit Jasraj obituary (1930-2020)
Pioneering Indian vocalist dies at his home in New Jersey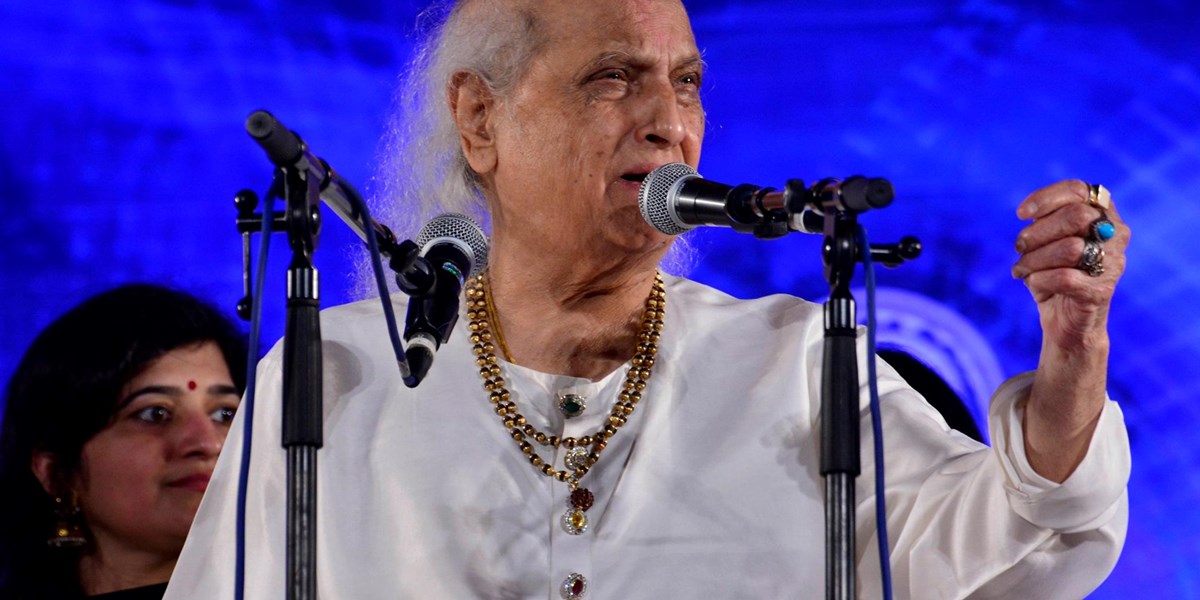 Jasraj at The Dover Lane Music Conference, photo courtesy of Soumik Kundu
Jasraj, who has died aged 90, was one of the finest of North Indian classical vocalists. Blessed with a sweet, lyrical tone, a range of three-and-a-half octaves, and extraordinary vocal agility, he was a master of the khyal form, but is best loved for his devotional singing. Most of his classical concerts would end with a bhajan (hymn) such as 'Om Namo Bhagawate Vasudevaya', and he almost single-handedly popularised the Haveli Sangeet style of songs dedicated to Krishna.
Pandit Jasraj, as he was respectfully known, was born in 1930 to a musical family in a Haryana village. His father, Pandit Motiram, and two older brothers, Maniram and Pratap Narayan, were vocalists in the then little-known Mewati gharana (tradition). Jasraj was only four when his father died suddenly, just after being appointed court musician to the Nizam of Hyderabad, the city in which Jasraj spent most of his childhood.
The desire to become a singer was sparked when he was six. On the way to school he liked to stop at a roadside eatery that played recordings of Begum Akhtar singing ghazals. Seeing how much the boy loved her singing, the owner would offer him food. 'I skipped attending school and spent all my time at the restaurant,' Jasraj recalled fondly. He trained initially in tabla, his brothers becoming his first gurus, and aged seven he was already playing with Maniram in concerts, but he tired of the supercilious attitude of other soloists towards accompanists, and at 14 switched to vocals after a dream in which Krishna told him to do so.
Jasraj began his new career singing duets with Maniram. In 1946 he moved to Calcutta, then India's leading city for classical musicians. He made his recital debut in 1952, and gave a monthly concert on All India Radio. He subsequently settled in Bombay. By the 70s he was a concert favourite nationwide, his warm personality much loved, and he began to tour overseas.
Spiritual awareness was central to his music. He often received musical compositions in his dreams. His performances of Haveli Sangeet followed the temple format in which he delivered a refrain in praise of Krishna that was repeated by devotees surrounding him on stage, inspiring a trance-like state. As a believer in reincarnation, he thought that death would not curtail his musical pilgrimage. "My relationship with God does not need the rigour of rituals,' he said. 'I reach Him through my music." In India's best syncretic spirit, Jasraj's devotional singing was not restricted to Hindu traditions. When he performed 'Mero Allah Meherban' in praise of Allah, he was singing to another form of the eternal.
He embraced innovation too, creating Jasrangi, a duet form in which a male and female vocalist perform different ragas simultaneously – a radical departure from Indian classical rules, and popular with audiences. He ran classes in cities around the north-eastern US and founded the Pandit Jasraj Institute. It was at his New Jersey home, where he had been caught during lockdown, that he died on August 17.
His disciples include the violinist Kala Ramnath and the vocalist Sanjeev Abhyankar. With his wife Madhura, daughter of the film director V Shantaram, he had one son, the composer Shaarang Dev, and a daughter, Durga Jasraj, a well-known TV personality in India. His nephews are Jatin and Lalit, writers of hugely successful Bollywood scores.
Hariprasad Chaurasia said recently that Jasraj's was 'a life lived entirely for music.' Last year the International Astronomical Union named a minor planet Panditjasraj after him. It orbits between Mars and Jupiter. Jasraj commented: '"The greatness of our music extends beyond the sky."
An obituary will appear in the November (#161) edition of Songlines.