Friday, July 31, 2020
Relief for Rajasthan's musicians
By Russ Slater
Jodhpur RIFF has set up a crisis appeal to help support Rajasthan's musicians as COVID-19 continues to take its toll.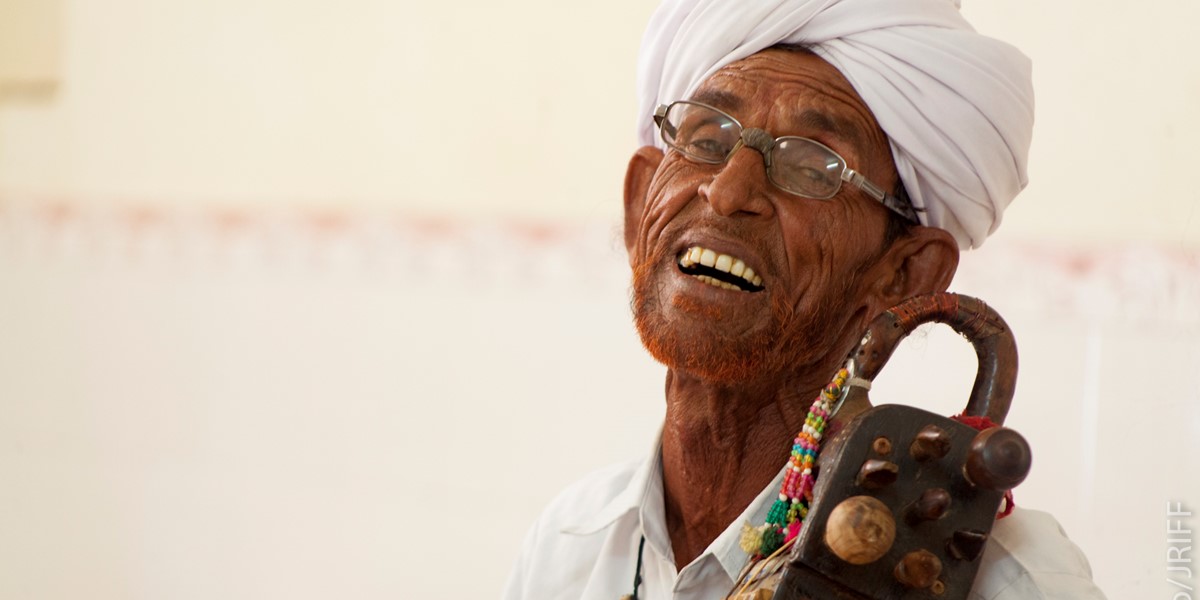 Rajasthani musician Kadar Khan Langa ©Oijo/Jodhpur RIFF
The fragile nature of those whose earnings are tangled up in informal economies and flexible working practices has been laid bare by the struggles of many Rajasthani musicians, and their families, during the pandemic. Their situation is being eased by Jodhpur RIFF, an international folk festival set in Mehrangarh Fort in Jodhpur, Rajasthan, who have set up a crisis appeal to provide food and aid to musicians at this unprecedented moment. These musicians would normally earn their living from performing at temples or at hotels during the tourist season, as well as for patrons, at concerts and weddings, and even for Bollywood movies or other prestigious events. When there was no other work, they would do manual labour. None of these options are currently available, nor will they be until October at the earliest, according to Jodhpur RIFF festival director, Divya Bhatia. "The lockdown has effectively brought a halt to this very fragile and traditional ecosystem," says Bhatia. "Rajasthan is India's primary tourist destination [along with Kerala and Goa], but that tourism has been nonexistent since March and will likely be a trickle for many months once the season begins in September, wages from the sector are still far away."
Musicians affected include Lakha Khan Manganiyar (who performed at the Edinburgh International Festival in 2011 and at last year's WOMEX); Bundu and Kadar Khan Langa (pictured); Sufi singers Kachara Khan and Sawan Khan; and Sumitra Das Goswami, Jumma Jogi  Mewati and Sardar Khan Langa from Dharohar Project (collaborators with Mumford & Sons and Laura Marling). Musician Sattar Khan Langa, who performs with Manganiyar Seduction, has been helping to co-ordinate food relief in the Badhnava Jagir and Badhnava Charnan villages in the Barmer district. He says: "I thank everyone for this project, which is a great help [to the Langa community] in these stressed times."
Some government aid has been made available, but only a slow-to-arrive basic food ration, which involves a bureaucratic registration process, something only a few musicians have completed. With more needing to be done, Jodhpur RIFF set up their donation-led Coronavirus Relief Project to provide emergency food packets to those most in need. At the time of writing the project had provided 1,135 emergency food packs to over 820 families in 40 villages across Rajasthan, as well as helping with the health care of 30 senior musicians. Their packs, which cost £8, include staples like potatoes, onions, lentils, oil, flour, salt, chillies and turmeric, and feed a family of 6-8 for a week.
Bhatia is anticipating that the scheme will need to run until October at the earliest. "Even as some companies open up as the lockdown eases, they are operating at 30% or lesser capacities and are offering little work and tiny wages," he says. "We imagine that things may improve for some musicians in October. But the quantum of work that will become available and the number of artists needing work is so disproportionate, it's going to take a long while before income from performing music returns."
You can support the Coronavirus Relief Project at www.jodhpurriff.org