Thursday, January 30, 2020
Songlines #155 (March 2020) is now on sale!
Taiko drumming, joik singing, Pilgrim Father voyaging and plenty more in the latest issue of Songlines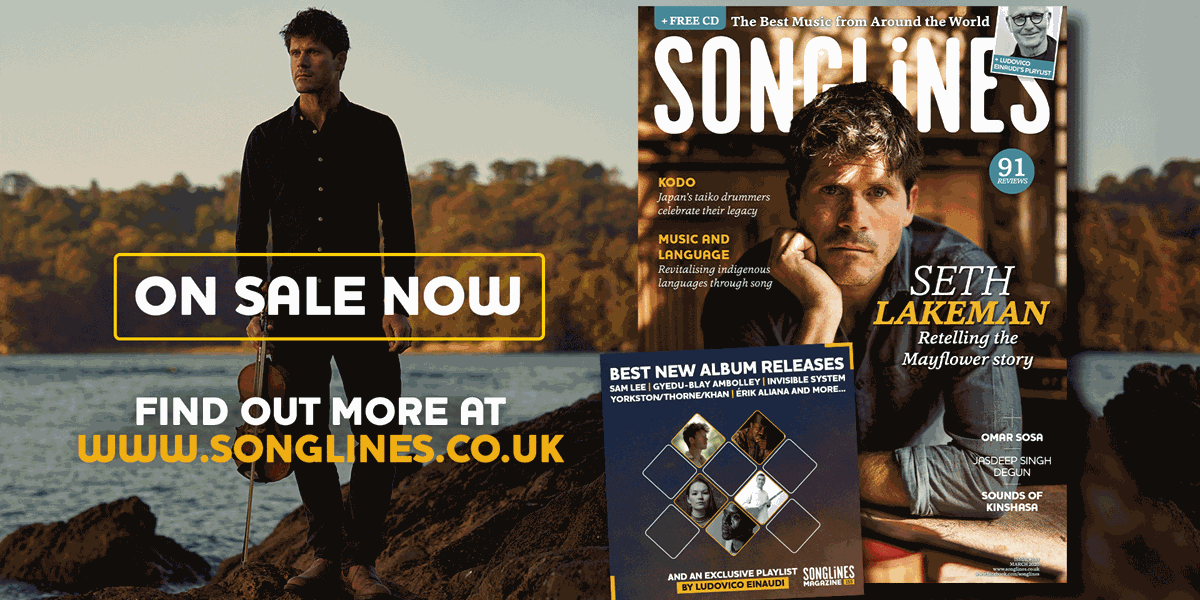 The March issue (#155) of Songlines is now on sale. Our cover star this issue is Devonian folk singer Seth Lakeman who talks about his Mayflower-inspired new project. We also feature Japan's premier taiko drumming group, Kodo, prior to their return to the UK. Other features include a piece on music's role in keeping indigenous languages alive; an interview with the Sámi singer Marja Mortensson; a Beginner's Guide to the Cuban composer, bandleader and pianist Omar Sosa, plus all the latest news, event listings and CD, book and world cinema reviews. As well as streaming excerpts from the Top of the World album, digital edition subscribers can download all 15 tracks which this issue includes Sam Lee, Yorkston/Thorne/Khan, Gyedu-Blay Ambolley and recent Grammy winner Michael Cleveland, plus an exclusive playlist by Italian composer Ludovico Einaudi, featuring music by Canzoniere Grecanico Salentino, Rokia Traoré, Taraf de Haidouks and others.
You can buy this issue via Amazon or subscribe and then receive future issues right to your door as soon as they're published. We also offer digital subscriptions that gives you access to every one of our 155 issues from the very beginning in 1999 and now to 2020… and beyond.