Thursday, December 17, 2020
Songlines #164 (January/February 2021) is out now!
Albums of the year revealed; singer Liraz on her Iranian roots; the young lions leading Afrobeats' infiltration of the mainstream; a Beginner's Guide to French troubadours Lo'Jo and more in the latest issue of Songlines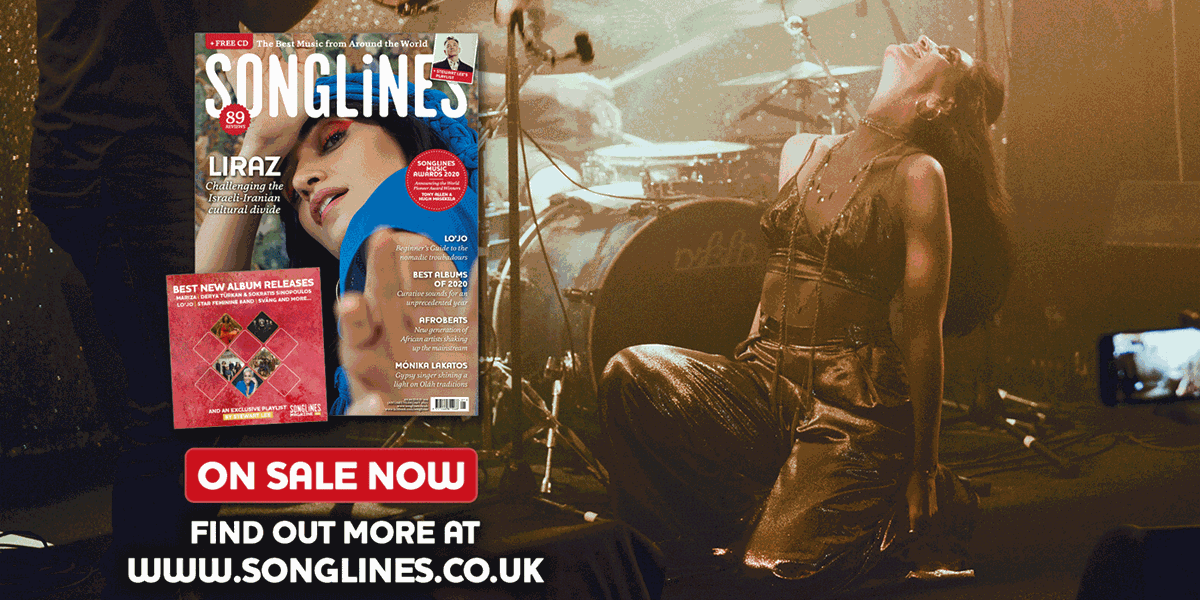 The January/February 2021 issue (#164) of Songlines is now on sale. This issue's cover star is Liraz, the Iranian-Israeli singer who talks about the covert recording of her latest album. We reveal our ten best albums of the year, plus the World Pioneer and Newcomer winners just announced at this year's online Songlines Music Awards ceremony. Other features include an interview with the Hungarian Gypsy singer Mónika Latakos; the young lions leading the Afrobeats takeover; an overview of Dub London, the Museum of London's current exhibition; a Beginner's Guide to the French troubadours Lo'Jo, plus all the latest news, online streamed concert reviews, CD, book and world cinema reviews.
The exclusive 15-track Top of the World album with this issue (available as a CD and download) includes Mariza, Sväng, Kiko Dinucci and Star Feminine Band, plus an exclusive playlist by comedian and writer Stewart Lee, featuring music by Shirley Collins, Ali Farka Touré with Ry Cooder and others.
You can buy this issue via Amazon or (even better!) subscribe to get this issue, and then future issues right to your door as soon as they're published. We also offer digital subscriptions that gives you access to every one of our 164 issues from 1999 to 2021... and beyond.