Wednesday, May 23, 2018
UK premiere of Akram Khan's XENOS comes to London
By Jo Frost
Sixteen years after the debut of Akram Khan's first full-length production (Kaash), the internationally renowned dancer and choreographer brings his latest production – and his final full-length performance as a dancer – to Sadler's Wells for its UK premiere next week.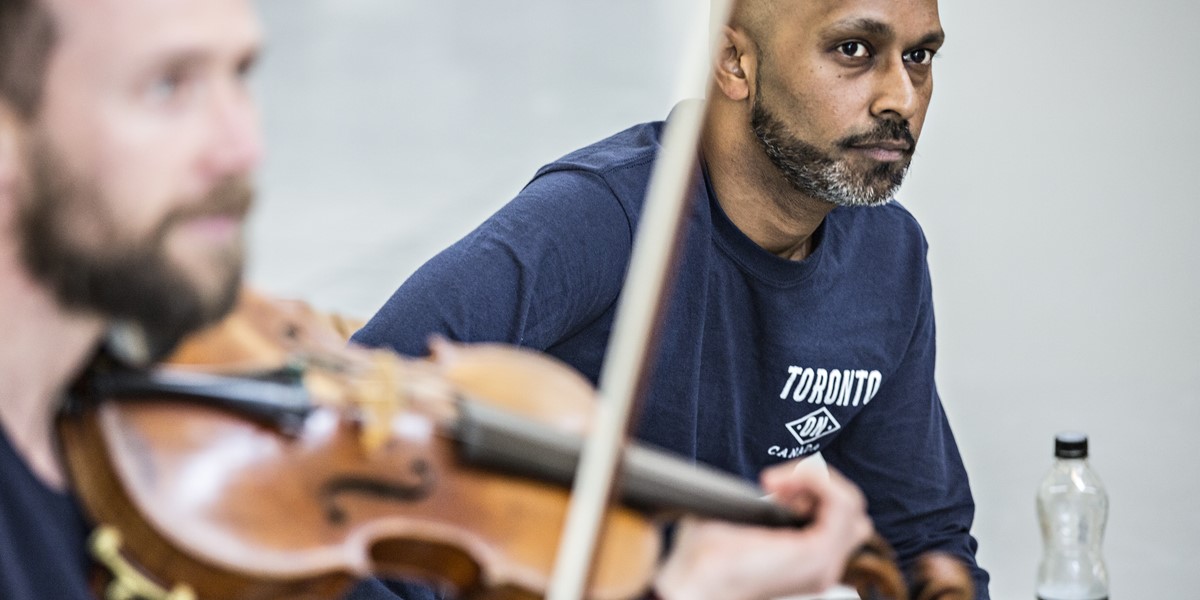 XENOS choreographer Akram Khan pictured with violinist Andrew Maddick ©Jean Louis Fernandez
The work, commissioned by 14-18 NOW – the UK arts programme commemorating the World War I centenary – is called XENOS (which translates as 'Foreigner') and the production, based on the myth of Prometheus, tells the story of a shell-shocked Indian soldier.
Khan has been a leading light in contemporary dance for the last 18 years and he's collaborated with numerous composers including Nitin Sawhney, Jocelyn Pook and Steve Reich. For this new production, he has joined forces with the Italian musician and composer, Vincenzo Lamagna, who previously worked with Khan on his reinterpretation of Giselle and Until the Lions (featured in #114).
"We've done a few pieces together," says Lamagna of his collaboration with Khan. "In general, we get together quite early on and talk about the concept, the story, the images, all sorts of things that don't really relate to music. It's a very wide conversation that involves the whole creative team and then I start to think about the music."
"For XENOS it was very clear that Akram wanted to use Indian classical music, something that has been a part of his career since the very beginning. I did a lot of research work with Akram and the two Indian musicians and we collected a lot of traditional Indian folk music."
The two Indian musicians to feature in XENOS include one of Khan's long-time collaborators, the percussionist BC Manjunath and Aditya Prakash on vocals. They'll be joined onstage by Nina Harries on bass, Andrew Maddick on violin and Tamar Osborn on baritone saxophone.
"I decided to go with a baritone sax instead of using a cello, as I always try to find an edge, to be out of my comfort zone, on the composition side of things," explains Lamagna. "I do like to try different sounds."
Lamagna was reluctant to reveal too much about the score prior to its premiere, but he did hint that it reflects the darkness and serious nature of the piece. Besides the Indian influences in the score, Lamagna also explored the tradition of British folk songs sung during World War I. He came across one particularly morbid song called 'Hanging on the Old Barbed Wire.' "The melody and the music sound extremely happy but the lyrics are grim," admits Lamagna. The song describes soldiers marching towards a battle, recounting how various higher ranking members of the army aren't to be found anywhere near the battle ground, then concludes that the privates are to be found 'hanging on the old barbed wire'. "As soon as I found this song, I wanted to transform it," says Lamagna. "You can recognize the melody a little bit but I wanted to bridge these worlds… The score follows a journey; it starts from the Indian classical world and then goes to a contemporary, abstract world and transforms itself into something completely different."
On discussing XENOS, Akram Khan said: 'My interest lies in both the mythological body and the technological body. I want to explore our connection with our past and our future, investigating specific questions that confront me more and more every day, such as how does 'myth' play a part in today's society? XENOS explores the central question at the heart of the myth – was Prometheus' gift the blessing or the curse of mankind? And at its centre is a colonial soldier, one of over 4 million men mobilised on behalf of the British empire. 1.5 million of these recruits were Indian, mostly peasant-warriors from North and North-Western India, and they fought and died in Europe, Africa and the Middle East. Many sepoys [Indian soldiers serving under British orders] were buried abroad, while those who returned home, often mutilated and traumatised, were estranged from their own histories, homelands, and countrymen, becoming xenoi. So, do we need to tell other people's stories just in case they vanish? Who are the 'other' people? Are stories of human journeys told and retold again and again, so we can eventually learn from our mistakes? Who are 'we', a collective or many individuals? What makes us human? Are we still human?'
DATES XENOS is at Sadler's Wells from May 29-June 9, box office: 020 7863 8000 or for tickets click here