Saturday, July 17, 2021
The Music of Ireland: A Rough Guide
By Geoff Wallis
Ireland's traditional music has some innate and elusive quality whose appeal has spread far beyond its shores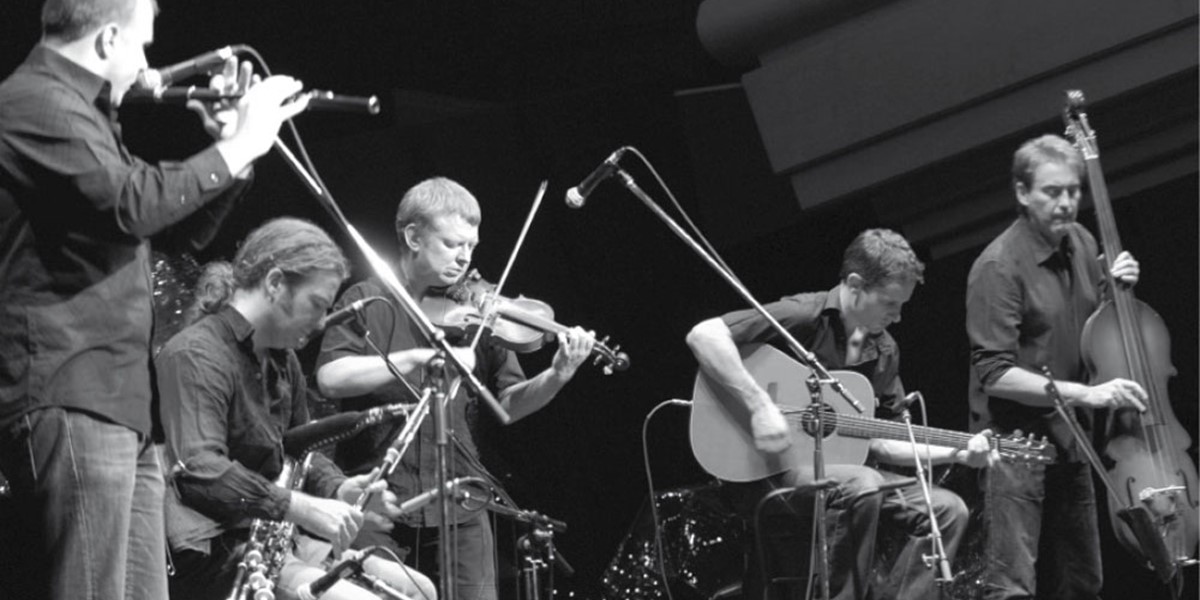 Lúnasa in Japan (photo: Lúnasa, 2006)
Fiddler Ben Lennon says it has to have "the nya", his fellow bowman Martin Hayes reckons it must possess draoícht ("enchantment"), while accordionist Brendan Begley believes it's the "only acceptable form of madness". No matter how it is defined, as Geoff Wallis reports, Ireland's traditional music has some innate and elusive quality whose appeal has spread far beyond its shores.
Note that this Rough Guide to World Music article has not been updated since it was originally published. To keep up-to-date with the best new music from around the world, subscribe to Songlines magazine. 


Introduction
Though often viewed through green-tinted glasses, especially by émigré communities, there is something intrinsically captivating about Irish music. Ireland was perhaps the first European country to be subject to musical tourism when, from the 1960s onwards, young musicians from other countries, especially France and Germany and later Japan, headed for places like Doolin in County Clare, West Cork, West Kerry and Donegal to catch a glimpse of a real living tradition in its natural habitat (and maybe learn a tune or two).
For one of the most stunning aspects of traditional Irish music is that it has survived relatively unscathed by the exigencies of poverty, famine and emigration as a fully living form. Comparatively untouched by academia and largely resisting commercial pressures, despite the global success of some of its exponents, the music essentially still belongs to the Irish people, in both urban and rural areas, at home and in communities abroad.


Dancing at the Crossroads
Just as many people believe that Guinness is brewed from the waters of the River Liffey, so there are others who suppose that Ireland's traditional music is inextricably linked to some preternatural "Celtic Twilight". In both cases, the truth is otherwise. Though some religious songs and other ballads can trace their origins to medieval times, the bulk of Ireland's traditional music was composed within the last three hundred years – and a substantial proportion dates from after the Great Famine of 1845–49.
Until relatively recent times, apart from the performance of solo airs and songs, the music has played second fiddle to dancing. In rural Irish communities the most popular form of entertainment until well into the twentieth century was the house dance, usually held in the kitchen of the largest house in the area, or the outdoor "crossroads" dance. The dances were either group dances, now known as "sets", based on quadrilles where two sets of two couples danced facing each other, or solo dances performed by the best dancers in the locality. Rural depopulation, Church interference, legislation, the commercial dance halls, the radio and the record player nearly killed the custom off altogether by the 1940s, though it lingered on a while in places like Clare, Connemara and Kerry.
In the early 1980s, however, there was a concerted effort to revive set dancing, though not the crossroads dances themselves. Increasing numbers of pubs and local centres made space available for dancers and a number of musicians, recognized as expert accompanists, became much sought after for the events. Although the dance tunes they use are the jigs, reels and hornpipes known to every traditional musician, playing for dancers requires special skills since during a dance it is the dancer and not the piper who calls the tune. The tunes are often played at a slower tempo than is usual at a session and the emphasis is placed firmly on the rhythm rather than on instrumental ornamentation.
It took a while longer for step-dancing to be accorded its own revival. This was famously instigated by the performance of a short piece of music, featuring the dancers Michael Flatley and Jean Butler plus a huge supporting step-dancing cast, during the interval of the 1994 Eurovision Song Contest. Composed by Bill Whelan, the music integrated Flamenco and Eastern European dance influences with Irish traditions. The dancers' electrifying performance brought immediate acclaim and, with Flatley as choreographer, Whelan set about expanding the piece into a full show called Riverdance. This featured singers, instrumental solos, and an eighty-strong chorus line of Irish dancers liberated from the constraining folk uniforms and rigid upper body posture of traditional dance as insisted upon by Comhaltas Ceoltóirí Éireann in its competitions. The expanded show first opened in Dublin in 1995, went on to London, and grew into three touring companies performing worldwide. Flatley went on to devise "Lord of the Dance" – a similar extravaganza with music written by the Irish composer Ronan Hardiman. While providing employment to a host of Irish musicians, the success of these two shows catalysed enormous interest in Irish music worldwide.
Ireland's economic boom during the 1990s – the rise of the "Celtic Tiger" – and its emergence as a fully fledged European state also ensured that many young musicians who might have emigrated in the past remained at home. While previous generations of city dwellers, especially those from rural areas, had rejected all trappings of a bucolic past, including traditional music, their children now had the confidence to undertake a process of rediscovery that coincided with increasing international interest in roots music. That process continues to breathe life into Ireland's music.


Pub Sessions and the Crack
For much of its life Ireland's traditional music has survived by being passed on from one person to another, whether from parent to child, teacher to pupil, musician to musician or singer to singer. In that sense it is an oral tradition and remains largely so despite the incursions of books, recorded and broadcasting media and the Internet.
One of the best ways to learn tunes is in the company of fellow musicians and, since it plays such a focal part in Irish life, the pub has become the venue for such transactions via the medium of the session. Indeed, other than concerts or social events, it's unlikely that the visitor will hear live traditional music in any venue other than the pub and the pub itself has become synonymous with purveyance of "crack" (ceol agus craic as many pubs advertise). The whole Irish pub session phenomenon has become a global commodity, to be found in almost any city you care to mention. The "crack", of course, can't be produced to order, but when good music, good company and drink combine in the right proportions then a sort of critical mass is achieved and crack ensues. If it is really there, then not only will the music be memorable and the musicians on form but those present reckon they have participated and not been mere spectators or consumers.
Pubs actually came into the traditional music picture in Ireland as late as the 1960s. Before then, traditional music was played in a domestic setting or at loosely organized community events. The first regular pub session, as we now know it, began not in Ireland at all but in London's Camden Town in 1947. The players were Irishmen, mostly from South Sligo, all traditional musicians, and immigrants working mainly in the building industry on the post-war reconstruction of London. Packed into lodging houses and living in a city for the first time, away from their families, they did not have access to the old ways of music-making. Pubs offered the opportunity to meet and play with other musicians with the informality required by players and listeners alike. This development had long-term implications for traditional music. It removed it from the domestic or community environment and further separated it from dancing, which was not allowed in most pubs. It also brought drink, publicans and ultimately the drinks industry into an influential relationship with traditional music.
Within a decade the pub session idea had spread to Ireland and by the 1960s there were Irish pubs that were synonymous with traditional music – O'Donoghue's of Merrion Row in Dublin being one of the best known (and still in business). At the Fleadh Cheoil, Ireland's annual festival of traditional music which began in 1952, pub sessions became a feature of the informal or fringe events around the organized concerts and competitions. As the Fleadh moved from town to town each year the practice spread and very quickly publicans realized the opportunity presented by the session.
In the summer, during or around local fleadhanna (festivals) or major events such as the Fleadh Cheoil or the Willie Clancy Summer School held in Miltown Malbay, Co. Clare, every July, you will also find all-inclusive sessions when large numbers of musicians congregate in one place. These sessions are still "the real thing" – spontaneous, unplanned gatherings, based only on a mutual desire to make music. These can be terrific occasions when it seems the music just couldn't get any better and no one is willing to put an end to it. Space in the pub is at a premium and such sessions can feature group playing, solo playing, singing in Irish and English or any combination of these: it all depends on who's in the company and where their musical bias lies. Singers may gang up and keep the musicians from playing or vice versa.
By contrast, little of what passes for traditional music in today's Irish pubs corresponds to an authentic session. This is not to say that good traditional music cannot be heard, for many excellent young and not so young traditional musicians earn their living in pubs, and in places like Donegal, especially, you can still find a great session erupting. However, the pub session is essentially a business driven by tourism and the drinks industry. The music may be viewed as just another facility, like large-screen TV or pool tables, and may well have to compete with them. Pub musicians, in fact, have always had to compete with noise and clatter and the ringing of tills and have developed a kind of pub repertoire as a result – amplification, a preponderance of reels played fast and loud, almost no traditional singing, and no unaccompanied singing. Fortunately, there are pubs which are exceptions to this rule.
The real session is by definition something that cannot be scheduled, so the pub which guarantees a session is in fact offering a formal traditional music gig, where at least one of the musicians is paid, expected to turn up at a certain time and finish at a certain time. In a real session, different conventions apply, usually none of the above. Where musicians frequent a pub because the owner is into the music they are not paid, but neither are they under any obligation to play or even to turn up. It's possible to arrive at a pub known for its sessions only to find that on this particular night no one is in a playing mood. The venues of sessions are as changeable as their personnel and the scene is in constant flux. A new landlord, a difference of opinion or too many crowds can force the musicians out to other meeting places.
At first sight, sessions may seem to be rambling, disorganized affairs, but they have an underlying order and etiquette. Musicians generally commandeer a corner of the pub as their sacred domain. They also reserve the right to invite selected non-playing friends to join them there. The session is not open to all comers, although it might look that way, and it's not done to join in without introduction; a newcomer will wait to be asked to play, and may well refuse if they consider the other musicians to be of a different standard to themselves.
Whereas the old style of dance accompaniment featured musicians playing just one tune at a time, nowadays the session is utterly dependent on sets. While nearly all Irish tunes conform to the same basic structure of two eight-bar sections or strains, each of which is played twice to make a 32-bar whole, then repeated from the top, in a session one tune is followed by another without any appreciable break. The change or "turn" in the tune is communicated through gesture – a nod or wink or movement of some kind.
However, the pub session as we know it today may well be in danger. Steep increases in the price of a pint and the implementation of a ban on smoking throughout the Republic's pubs, not forgetting a more rigid enforcement of drink-driving laws, has led to a decline in the number of punters heading for their local. As pub takings fall, landlords may well investigate more profitable alternatives to the session, while there has already been a small but significant revival in the house session in some western counties.


Ensemble Playing
Unsurprisingly, considering musicians spend so much time at sessions, ensemble playing is largely the norm in terms of public performance, but this was certainly not the case for most of Ireland's musical history. Before the appearance of céilí bands (groups formed specifically to accompany dancers) in Ireland from the 1920s onwards, the music was played unaccompanied. Usually a single fiddler, piper, flute-, whistle- or box-player or a pair of these played for the dancers. The single decorated melody line was the norm in playing as in singing, and the music had no rhythmic or harmonic accompaniment. However, Western ears are now attuned to playing and singing with a chordal backing, and over the past sixty years this has inevitably found its way into traditional playing and singing.
In the 1960s, two almost simultaneous currents emerged in Ireland which turned musicians increasingly towards the group format. One of the major successes of the 1950s folk revival in the US saw three brothers from Carrick-on-Suir, Co. Tipperary – Tom, Pat and Liam Clancy – join forces with the Armagh singer Tommy Makem to record several albums of boisterous ballads and rebel songs. When the band returned to Ireland that success was mirrored and resulted in a host of imitators forming their own groups in the wake of The Clancys and Makem, some even going so far as to sport the quartet's trademark Aran sweaters. Ireland's home-grown sensation of that time, The Dubliners, espoused a far more bohemian image, based on a hard-drinking, devil-may-care attitude and beards that would frighten children.
Meanwhile, the Cork-born composer Seán Ó Riada had hit upon his own form of ensemble playing while working as musical director of Dublin's Abbey Theatre. His concept involved one or two musicians first expressing the basic melody of a tune which would then be ornamented and explored by small groups of solo traditional instruments and the entire ensemble as a whole. He formed the group Ceoltóirí Chualann as a vehicle through which to explore his ideas. While Ó Riada also composed notable film scores, such as Mise Éire, his experiment proved immensely popular and reached even wider audiences when several members of the group first recorded as The Chieftains in 1963 and subsequently became the spearhead of the ensuing revival of Irish traditional music. The Chieftains continued to develop ensemble playing, but it was not until 1975 that the band decided to embark on a full-time career, becoming Ireland's best-known traditional group in the process.
By then, however, two perhaps more radical bands had emerged, Planxty and The Bothy Band (see box), who transformed the ensemble format into something far more accessible to the ears of Ireland's young musicians. Groups such as De Dannan, Stockton's Wing, Arcady, Patrick Street, Four Men and a Dog, Skylark, Déanta, Nomos and the hugely successful Altan (see box) and Dervish continued to explore and expand the group setting, while the current cream of the crop are Lúnasa, Téada, Beoga, Solas and Gráda.
Nowadays, too, many prominent solo musicians opt for the group format. Among the most notable is Sharon Shannon, a talented accordionist from County Clare whose technical agility has enabled her to embrace all manner of musical partnerships and blend Irish traditional tunes with a range of other genres, including reggae, Cajun, Scandinavian and North American material. Equally innovative are the lightning-quick Tipperary banjo player Gerry O'Connor, the expressive Galway fiddler Frankie Gavin and the uilleann piper Liam O'Flynn, all of whom have worked within a variety of group frameworks.
Many other musicians, however, prefer just a simple backing, perhaps a guitar or bouzouki, when playing gigs. This allows instrumentalists to highlight all their skills in ornamentation, decoration and embellishment, the very factors which continue to breathe life into traditional music. It's a kind of controlled extemporization in which the player recreates the tune with each performance. Technical mastery is necessary, of course, but the skill with which a musician decorates a tune is the measure of creative power, and often even accomplished players will play the settings of established master players, reproducing their particular phrasing, decorations and intonations.
A quieter but perhaps equally significant course has been charted over the past couple of decades by Mícheál Ó Súilleabháin, who has created a fusion of Irish traditional, classical and jazz music, developing a unique piano style. Ó Súilleabháin is also a significant figure in Irish music through his work at the pioneering Limerick University music department, which offers courses in traditional Irish music and has an associated World Music Centre.


Shamrock 'n' Roll
Since the 1960s Ireland has had an indigenous rock scene which at times owes little or nothing to traditional music. However, even a band like U2 – who once rejected traditional music as part of the repressiveness of Irish culture – have incorporated its strands in recent years. And London-Irish iconoclasts The Pogues emerged in the early 1980s playing a chaotic set of "Oirish" standards and rebel songs, bringing a punk energy to the Irish ballad. They were also blessed with one of the finest Irish songwriters of recent years, Shane MacGowan, who, in his subsequent solo career with The Popes, continues to capture the state of Irish exile in a series of raw pain-filled ballads.
In the early 1980s two of Irish music's greatest innovators, Dónal Lunny and Christy Moore, original members of Planxty, made a more radical attempt to fuse traditional and rock music with the launch of the band Moving Hearts. Their objective was to bring traditional music up to date by drawing on all the apparatus of rock, yet without compromising the folk element. It was a tall order, but they came as close as any Irish band has ever done, using rock and jazz to rethink the harmonic and rhythmic foundations of Irish music. Remarkably, the line-up was led by pipes and saxophone, with backing from bass and lead guitars, electric bouzouki, drums and percussion. Their gigs were feasts of music that seemed simultaneously both familiar and new, while the lyrics, unusually in (southern) Ireland, confronted political issues head on, with a commitment to the rights of the dispossessed – in Ireland and beyond. They lost momentum when Christy Moore departed for a solo career in 1982, and the band folded in 1985, but they had created a space for future Irish groups to follow, not least Lunny's own Coolfin, one of the foremost bands of the 1990s.
Current bands working in the traditional/rock borderlands include the Dublin group Kíla, who offer an eclectic, beguiling and danceable mélange of trad, rap and funk with vocals in Irish. The Irish-American band Solas, centred around the nucleus of multi-instrumentalist Seamus Egan and fiddler Winifred Horan, has become increasingly exploratory, using electric instruments and backing and all manner of studio techniques. Another Irish-American band, Black 47, led by Wexford singer Larry Kirwan, harness traditional tunes to self-composed lyrics via the medium of rock with considerable success.


The Sean-Nós Tradition
Songs in the Irish language are at the heart of the Irish tradition, weighted with significance as one of the few remaining links to the culture of Gaelic Ireland. The most important of them, and many of the oldest, form the repertoire of a style of singing known as sean-nós (literally "old style"). An unaccompanied singing form of great beauty and complexity, it is thought to derive from the bardic tradition which died out in the seventeenth century with the demise of the old Gaelic order, though most of its songs are believed to have been written between 1600 and 1850. Since the majority of these are love songs, parallels have been drawn with other European traditions dating back to medieval times, such as the French carole and rondel. A more controversial theory points to a shared maritime culture between the coastal fringes of western Europe and North Africa and directs attention to the similarities between sean-nós and the traditional songs and music of Moorish Spain and Morocco. Whatever the case, there's no doubting that the style is deeply rooted in the rhythms and intonations of the Irish language itself.
Each Gaeltacht (Irish-speaking area) has a slightly different sean-nós style, although there are songs common to all regional traditions, often known as the "big" songs. The songs of Connemara, for example, have elaborate melodies that lie within a small vocal range, whereas those of Donegal are more rhythmically regular and tend to feature less ornamentation. The sean-nós repertoire is made up of long songs which have an allusive and delicate poetic style. There are also many less complex songs, ballads, love songs, lullabies, children's songs, comic songs, and local songs of all sorts. In addition, most sean-nós singers have English-language songs in their repertoire, including ballads of great antiquity such as "Barbara Allen", as well as more recent compositions.
Sean-Nós makes heavy demands on both singer and listener. The former must have the skill to vary the interpretation of each verse by means of subtle changes in tempo, ornamentation, timbre and stress, while the latter needs to possess the knowledge and discrimination to fully appreciate the singer's efforts. The greatest sean-nós singers all possess the ability not just to utilize these techniques within the confines of their local singing style, but also to captivate their audience through their telling of a story. Such attributes were common to Connemara's Seosamh Ó hÉanaí (Joe Heaney), Seán 'ac Dhonncha, Máire Áine Ní Dhonnchadha, Waterford's Nioclás Tóibín, Darach Ó Catháin (born in Connemara, but brought up in Meath) and Róise Bean Mhic Grianna (from Arranmore Island, Donegal).
The songs' airs also form a significant part of the repertoire of traditional musicians, especially uilleann pipers, as well as often being the basis for songs in the English language. Less obvious, perhaps, is the influence of sean-nós on Irish rock music. In the 1970s the band Horslips deliberately incorporated airs into their own compositions, while the singer Pierce Turner has absorbed the intricacies of sean-nós songs into his own writing – his song "All Messed Up", for instance, draws upon the well-known "Seán Ó Dúibhir a' Ghleanna". Most recently, sean-nós has had an unlikely implosion with African and dance rhythms through the Afro-Celts, a fusion group which features the Cork singer Iarla Ó Lionáird.

The Tunes and the Collectors
Most instrumental Irish traditional music heard at sessions and concerts originated as dance music. It was the repertoire of the rural working people and was part of a communally expressed cultural life. Traditional music was played to accompany dancing at celebrations – usually in houses and barns or out of doors when weather permitted – including weddings, fairs, wakes and saint's day observances known as "patterns". For centuries it was the recreational and social expression of Irish people and it has not entirely died out in this form yet.
The most popular tune type in Ireland is the reel, closely followed by the jig (in a variety of forms and time signatures – the double jig, single jig, slip jig and slide) and, to a lesser extent, the hornpipe. Then there are barndances, flings, highlands and Germans (both variants of the Schottische) as well as tunes originating in Central and Eastern Europe such as waltzes, polkas and mazurkas. Add to these tunes formerly used to accompany long dances and set dances and a range of unclassifiable and special pieces (of which the best known is "The Foxchase", a piping tune imitating the hunt) and the overall repertoire is massive. In the 1980s the collector Breandán Breathnach estimated that this amounted to more than 7000 tunes, but that total has since been much augmented through the addition of newly composed melodies and the rediscovery of forgotten ones.
In addition there is also a group of instrumental pieces known as slow airs played without accompaniment. Most of them are laments or the melodies of songs, some of such antiquity that the words have been lost. The uilleann pipes (see instruments box) are particularly well suited to the performance of airs, as their plaintive tone and ability to perform complex ornaments cleanly allows them to approach the style of sean-nós singers. However, most good players, regardless of their instrument, will have a repertoire of airs.
The existence of such a vast body of music is almost entirely the result of periodic fears for its survival. The first actual printed anthology, John and William Neale's Collection of the Most Celebrated Irish Tunes, appeared in 1724, but, later that century, so great were concerns to preserve the last remnants of the Gaelic harp tradition that a festival was mounted in Belfast in 1792 and a young Edward Bunting charged with notating the melodies played by the harpers who attended. Enthused by the experience, Bunting subsequently toured various counties, meeting harpers and writing down their tunes, becoming in the process the original Irish field collector. His first collection of airs appeared in 1796 and others followed in 1809 and 1840.
Other notable nineteenth-century collections were published by Thomas Moore (Moore's Irish Melodies) and George Petrie, but, in terms of dance music, the daddy of them all is simply known as "the book". In 1903 Captain Francis O'Neill, then Chief Superintendent of the Chicago police and an émigré from County Cork, published Music of Ireland, consisting of 1850 tunes gleaned from Irish musicians in the US. Four years later he published "the book" itself, The Dance Music of Ireland, also known as "O'Neill's 1001". The work of the Chief, as he was known, remains of inestimable importance and ensured that many tunes were preserved. "The book" is still the first point of reference for many an aspiring musician.
Beginning in 1963, Breandán Breathnach published his Ceol Rince na hÉireann, four volumes of previously unpublished or unrecorded tunes that he had noted down from musicians. By then, however, another form of preservation – field recordings – were making their own impact. In the 1940s the uilleann piper Séamus Ennis was hired by the Irish Folklore Commission as a field collector, and his substantial findings were added to their archives. In 1947 he moved to Raidió Éireann and made numerous documentary programmes before teaming up with Brian George of the BBC in 1951 to undertake a vast collection scheme covering Ireland, England, Scotland and Wales. Others followed in Ennis's wake, including the Americans Alan Lomax, Diane Hamilton, Jean Ritchie and George Pickow, as well as another BBC employee, Peter Kennedy. The result was a vast collection of field recordings, many of which can be found at the focal point for Irish traditional music, Dublin's Irish Traditional Music Archive (ITMA). The ITMA also holds a wealth of commercial recordings and just about every single printed collection of tunes.
In recent years a number of musicians have taken advantage of the CD's relatively cheap production costs as a means of ensuring that rare and previously unpublished tunes are not lost from the collective repertoire. Notable examples include Brian McNamara's Leitrim recordings and Kevin Crehan's collection of his grandfather Junior's repertoire, as well as Garry Walsh's commercial release of Uncovered, whose tunes are so rare that even ITMA held no previous versions.

The 78rpm Era and the Sligo Fiddle Masters
Many of the tunes still popular today gained their currency from the enormous number of 78rpm records released in the US during the first half of the twentieth century. The presence of so many Irish immigrants in that country provided a ready market for the newly developing record companies and the fact that a significant proportion of those émigrés were musicians meant that there was no problem in supplying a demand for their product. At the same time these musicians were able to supplement their income by appearing on specialist Irish radio stations.
Amongst the early recording artists were the German-American accordionist John J. Kimmel who recorded from 1903 into the 1930s and influenced a host of budding musicians (though why he was attracted to Irish music still remains a mystery). In his wake came the concertina player William J. Mullaly, the flute player John McKenna and the piper Tom Ennis, but perhaps the most prominent were three fiddlers from South Sligo.
The oldest and most influential of these was Michael Coleman (1891–1945) from Killavil who arrived in the US in 1914 and began playing the dancehall and vaudeville circuits before making his first recordings in 1921, eventually releasing forty 78s for a variety of labels. Many of these found their way back to Ireland (brought home by returning migrants or sent as presents) and his smoothly rhythmic bowing and mellifluous ornamentation made him the most famous Irish musician of his time.
James Morrison (1893–1947) from Drumfin arrived in the US in 1918 after a spell working as a travelling teacher of Irish and dancing for the Gaelic League. He too first recorded in 1921 and released more than forty records either solo or in duet with musicians such as Ennis and McKenna or with his own band. Known as "The Professor", he taught many musicians in New York and his most famous pupil was Paddy Killoran (1903–65) from just outside Ballymote who went to the US in 1925. Apart from forming the hugely popular Pride of Erin Orchestra, Paddy ran a bar in the Bronx and began recording in the 1930s. Later he co-founded the Dublin Records label, one of the first to release Irish LPs.
The importance of these three fiddlers' recordings cannot be underestimated. Indeed, while some claim that the influence of the Sligo style of playing helped to undermine other regional styles and led to the dominance of one region's repertoire, there is no doubt that they played a significant role in keeping the music alive during the decades when Ireland's rural society was ravaged by emigration.

Enduring Influences: Planxty & The Bothy Band
The 1970s was an era of musical revolution in Ireland, and two bands were in the vanguard. The first was Planxty, which evolved from the recording of Christy Moore's second solo album, Prosperous. The singer/guitarist/bodhrán player had recruited his old school friend Dónal Lunny on bouzouki, who brought along his then duo partner Andy Irvine on mandola and harmonica, while uilleann piper Liam O'Flynn had been remembered from the sessions in the Kildare village which gave Moore's album its title. Their musical rapport was instant and a band was formed, taking its name from the title of an old type of tune composed for a patron and often associated with the harper Turlough Carolan.
Their unusual combination of instruments and Moore and Irvine's powerful songs brought immediate success and radically changed their audience's perception of the folk song tradition. An eponymous debut album in 1973 enhanced Planxty's reputation, which was boosted further by its successor, The Well Below the Valley, after which Lunny left. Moore soon followed and the group disbanded in 1975, though the original line-up reformed in 1979 with additional members and lasted a few further years.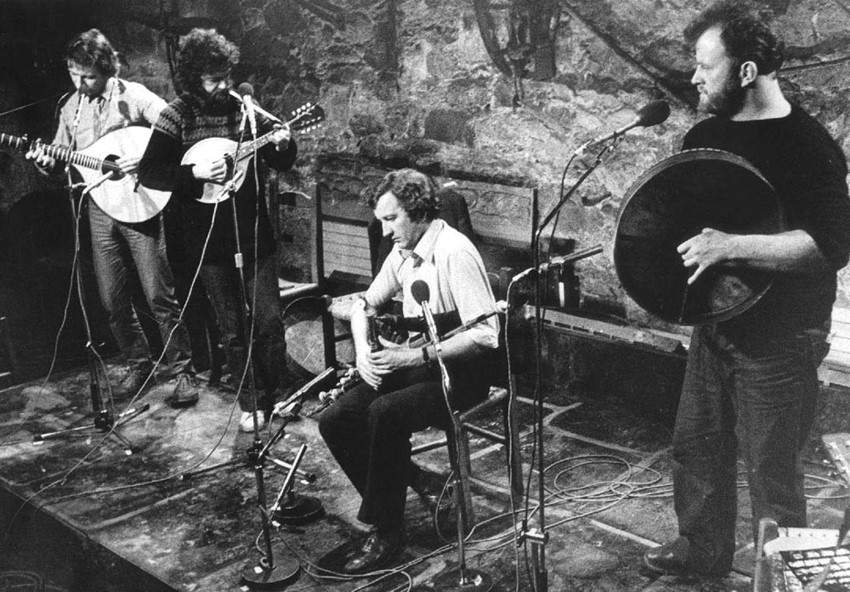 Ever since, the quartet has been fed "The Beatles Question", with interviewers enquiring when – never if – they would get back together. To much amazement and general joy they reunited in late 2003 and have since played a series of sell-out concerts including their first gigs in the UK for 25 years, as well as releasing a monstrously successful live album and DVD.
Dónal Lunny originally left Planxty to form The Bothy Band, which materialized from an ad hoc grouping called Seachtar ("seven people"). The band's members included Matt Molloy on flute, uilleann piper Paddy Keenan, singer and harpsichord/clavinet player Tríona Ní Dhomhnaill and her brother, singer/guitarist Mícheál Ó Domhnaill, plus fiddler Paddy Glackin (though he soon left, to be replaced by Tommy Peoples).
There was an innate wildness in the band's music, led by the trio of Peoples, Molloy and Keenan, whom Lunny has described as "like three horses racing across a field … the rhythm section was in tatters trying to keep up with them". This high-energy playing received a rapturous reception, as did the band's choice of songs, which were often drawn from the singers' familial roots in Donegal. In many ways, the band's self-titled 1975 debut set a template for contemporary bands such as Lúnasa and Danú, though there are many who reckon The Bothy Band has never been bettered.
The band itself underwent one further change of membership (Kevin Burke replacing Tommy Peoples) and recorded two more studio albums and a live set before playing its last gig at the 1979 Ballysodare festival. Like Planxty, all of its members have been vital forces in Irish music over the last thirty years, though, sadly, Mícheál Ó Domhnaill passed away in 2006.


Key Instruments and Players
Uilleann Pipes
"Seven years learning, seven years practising and seven years playing" is reputedly what it takes to master the uilleann pipes (pronounced "illun" or "ill-yun"). Perhaps the world's most technically sophisticated bagpipe, it is highly temperamental and difficult to master. The melody is played on a nine-holed chanter with a two-octave range. Air is supplied from a bag held under the left arm, itself fed by a bellows squeezed under the right elbow. As well as a set of three drones, the uilleann pipes have three regulators, which can be switched on and off to provide chords. In the hands of a master they can provide a sensitive backing for slow airs and an excitingly rhythmic springboard for dance music.
The pipes arrived in Ireland in the early eighteenth century and reached their present form in the 1870s. Taken up by members of the gentry, who became known as "gentlemen pipers", they were also beloved of the Irish Travellers, and two different approaches evolved, the restrained and delicate parlour style exemplified by the late Séamus Ennis, and the traveller style which, designed as it was to coax money from the pockets of visitors to country fairs, is highly ornamented and sometimes breathtakingly quick.
Some of the most acclaimed traditional musicians of the twentieth century have been pipers: Séamus Ennis, Willie Clancy and the brothers Johnny and Felix Doran. Today one of the country's foremost practitioners, Liam O'Flynn, has pushed forward the possibilities for piping, initially as a member of Planxty, and later through his association with classical composer Shaun Davey and poet Seamus Heaney. The whirlwind Paddy Keenan made his name with The Bothy Band, while other pipers of note include Cran's Ronan Browne, that superb player of slow airs Néillidh Mulligan and Brian McNamara, whose speciality is rare tunes from his native Leitrim.


Flutes and Whistles
The flute used in Irish music is of a simple wooden type, played mostly in a fairly low register with a quiet and confidential tone which means that it's not heard at its best in pub sessions. The master player of his generation is Matt Molloy from Roscommon, a member of The Chieftains. The most well-known of the Sligo players is Séamus Tansey, while Belfast has produced a slew of musicians, including the late Frankie Kennedy, Desi Wilkinson, Hammy Hamilton, Gary Hastings, Harry Bradley and Marcas Ó Murchú – The Boys of the Lough's Cathal McConnell was a major influence on virtually all of these players. Others to look out for include Dubliner Paul McGrattan, Catherine McEvoy, June McCormack and Kevin Crawford.
While anyone can get a note out of a tin whistle, it can take a long time to develop an embouchure capable of producing a flute tone, and so piper Finbar Furey introduced the low whistle, which takes the place of the flute when there is no proper flute player around. In the right hands – such as those of Packie Manus Byrne, Mary Bergin, Gavin Whelan or The Chieftains' Paddy Moloney – the whistle itself is no mean instrument, but it's also suitable for the beginner. If you're interested, make sure you get a D-whistle, as much Irish music is in this key.


Fiddles
The fiddle is popular all over Ireland and many areas still retain particular regional styles and repertoire. Donegal fiddle style is melodic but with lively bowing techniques, typified by the music of John Doherty, whereas the Sligo style, exemplified in the playing of the great Michael Coleman, is more elaborate and flamboyant. The Donegal repertoire inclines towards reels, flings, highlands and tunes with a Scots influence, while in the Kerry repertoire polkas, jigs and slides predominate. There are literally hundreds of fine fiddle players: Tommy Peoples, Kevin Burke, Gerry O'Connor, Liz Carroll, Frankie Gavin, Seán Keane, Paddy Glackin, Martin Hayes, Paul O'Shaughnessy and Matt Cranitch are but the tip of the iceberg, while Ciarán Ó Maonaigh, Malachy Bourke, Andy Morrow and Meabh O'Hare are just a few of the younger generation to look out for.

Accordions and Concertinas
The two-row button accordion is often found at a session, though the smaller one-row version, usually known as a melodeon in Ireland, has its devotees. The accordion gained enormous popularity in the 1950s and 60s through the playing of Paddy O'Brien, Joe Cooley and Joe Burke. Since then Jackie Daly, Máirtín O'Connor, Tony Mac Mahon, James Keane, Dermot Byrne, Jo Marsh and Brendan and Séamus Begley have taken the instrument to new heights, though Sharon Shannon is probably today's best-known accordionist. The undoubted king of the melodeon is Johnny Connolly from Connemara.
Also free reed, the concertina was a popular instrument in country houses in the last century, particularly in Clare, which produced some exemplary players such as the renowned Mrs Crotty. Mary Mac Namara, Josephine McCarthy and Noel Hill carry on the tradition of fine Clare concertina playing today. Micheál Ó Raghallaigh is an extraordinarily versatile concertina player, while Niall Vallely is one of the most innovative traditional players around on any instrument.

Banjo
Plucked with a plectrum, the four-string tenor banjo was popularized in Ireland by Barney McKenna of The Dubliners, who tunes his instrument to GDAE an octave below the fiddle. Rarely used as strummed accompaniment, the banjo is a melody instrument in Irish traditional music. Apart from Barney, its most influential exponent is Gerry O'Connor; other notable practitioners include Kevin Griffin, Kieran Hanrahan, Angelina Carberry and Darren Maloney.


Bouzouki, Mandolin and Guitar
At first sight it might seem odd to include the bouzouki on a list of traditional Irish instruments. Nevertheless, its light but piercing tone makes it eminently suitable both for melodies and for providing a restrained chordal backing within an ensemble or at a session, and since its introduction to the islands by Johnny Moynihan in the mid-1960s, and subsequent popularization by Dónal Lunny and Andy Irvine, it has taken firm root. In the process it has lost much of its original Greek form, and with its flat back the Irish bouzouki is really closer to a member of the mandolin family.
The mandolin itself is rarely seen at a session, though there are some notable players, including Paul Kelly and the US-based Mick Moloney, while Garry Ó Briain plays a larger version, the mandocello.
The guitar is still the most common accompaniment in traditional music and over the decades a traditional style has grown up around the instrument which is most often tuned to DADGAD. A guitarist of genius is Stephen Cooney whose blend of rhythm and syncopation rooted in the Kerry dance tradition has influenced many younger musicians. Other outstanding players include Arty McGlynn, Alec Finn, Donogh Hennessy, Tommy O'Sullivan and Garry Ó Briain.


Bodhrán
The bodhrán provokes more division in traditional music than any other instrument. One school of thought reckons that in the hands of a bad player it sounds "like a sack of spuds tipped down the stairs". Others argue that in skilful hands it adds sympathetic support to the innate rhythms of the dance tunes. The instrument itself is a frame drum usually made of goatskin and originally associated with "wren boys" who went out revelling ("hunting the wren") and playing music on St Stephen's Day (December 26). It looks like a large tambourine without jingles and can be played with a small wooden stick (a beater) or with the back of the hand or fingers.
Seán Ó Riada is generally credited with introducing the bodhrán to ensemble playing and today's best-known exponents include Johnny "Ringo" McDonagh, Dónal Lunny, Tommy Hayes, Jim Higgins, John Joe Kelly and Donnchadh Gough, while Christy Moore was one of the first to use the instrument to accompany his own singing.


Harp
There are references to harp playing in Ireland as early as the eighth century. Irish legend has it that the harp has magical powers and it has become symbolic of the country (as well as of Guinness!). The old Irish harpers were a musical elite, serving as court musicians to the Gaelic aristocracy, and had a close acquaintance with the court music of Baroque Europe. The hundred or so surviving tunes by the famed, blind eighteenth-century itinerant harper Turlough Carolan – which provide much of the repertoire for today's exponents, and is often heard in orchestral or chamber music settings – clearly reflect his regard for the Italian composer Corelli.
The harp these players used was brass-strung and played with the fingernails. Today's harpers play (with their fingertips) a chromatic, gut- or plastic-string version, which one of its best exponents, Máire Ní Chathasaigh, describes as "neo-Irish". Máire has been notably successful in adapting Irish dance music for the harp, drawing on her love for the piping tradition. Other outstanding players include Laoise Kelly and Michael Rooney.
Beware that there is also a bland, prissy harp tradition, associated with anodyne tourist versions of Ireland, and often heard at ersatz medieval banquets. About as traditional as green beer, it should be given a wide berth.