Tuesday, July 17, 2018
The Rough Guide to World Music: Mali
By Lucy Durán
Few African countries have contributed so many important artists to the World Music market: Salif Keita, Toumani Diabaté, Habib Koité, Kandia Kouyaté, Oumou Sangaré and the late Ali Farka Touré being but a few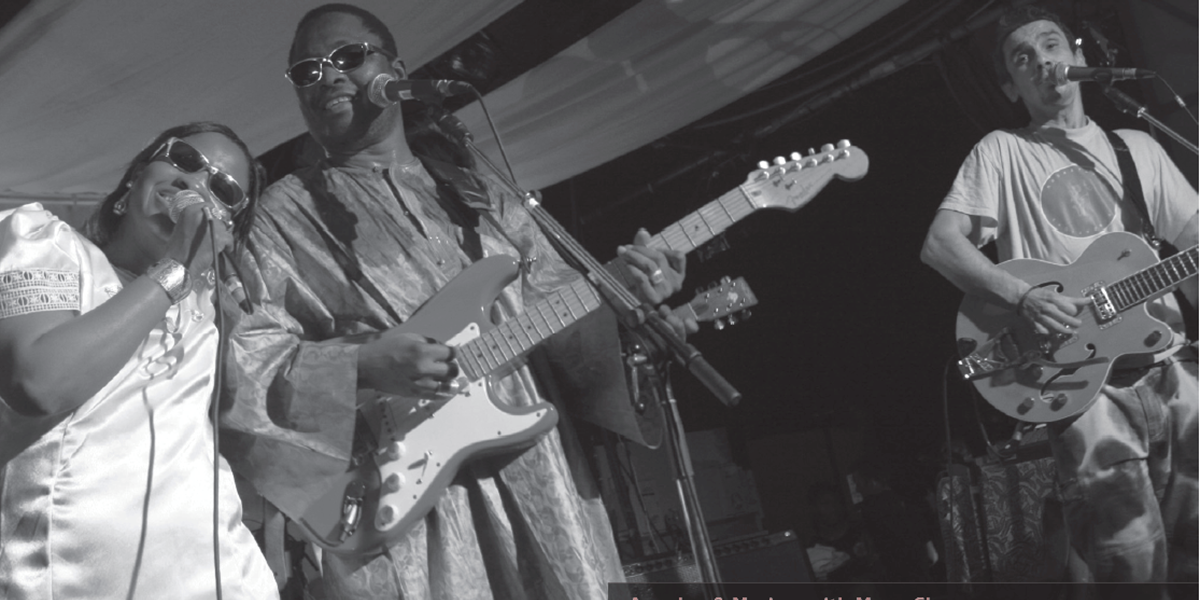 Note that this Rough Guide to World Music article has not been updated since it was originally published. To keep up-to-date with the best new music from around the world, subscribe to Songlines magazine. 
Introduction
Mali has an ancient musical culture, which owes much of its extraordinary wealth to the legacy of the Mande empire, founded nearly 800 years ago. Passed down by generations of jelis (the lineage of traditional musicians) – though not exclusively these days – this is essentially Africa's classical music. Lucy Duran returns to the source once more.


Touareg music 
Although some of its best-known practitioners, such as the Tartit Ensemble and Tinariwen, are based in Mali, the music of the Tamashek, or Touareg, tribes is covered in the Niger chapter.
Bamako, capital of Mali, is justly famous for its music. This dusty, sprawling, low-rise city, built along the banks of the Niger River, in a landlocked country with few natural resources, has a surprisingly vibrant music scene. Local sounds blare out from radio stations, recording studios, market stalls and ORTM (Mali's national TV station). Live groups perform throughout the week at hotels, restaurants, nightclubs, concert halls and impromptu outdoor venues. And then there are Bamako's famous Sundays, where the entire city becomes a riot of colour and rhythm.
Few African countries have contributed so many important artists to the World Music market: Salif Keita, Toumani Diabaté, Habib Koité, Kandia Kouyaté, Oumou Sangaré and the late Ali Farka Touré being but a few. Despite the high levels of unemployment, the poverty, dirt and traffic, the crowded living and the rising costs, Bamako remains one of West Africa's most endearing, peaceful and musical cities.


Music for Sundays
On their highly acclaimed 2004 album Dimanche à Bamako, Mali's award-winning Amadou & Mariam paid tribute to the Sundays of their beloved home town – "the day of weddings, of drumming, of the ngoni (small lute), of the voices of griots". Sunday is indeed the day of griots, or jelis as they are called in Bamana, one of the Mande languages (see below) and the main language of Mali apart from that of the French colonisers from whom the country gained independence in 1960. The jelis are hereditary musicians, praise singers and historians, who for centuries have dominated professional music in the region and have their own repertoire and musical instruments. While quite a few jelis have become established internationally, most of them operate on a purely local circuit, making a living by performing at events such as weddings and child-naming parties. Mali has endured different political regimes, and venues, styles and dance bands have come and gone, but these life-cycle events remain the hub of musical life. Sunday is traditionally the day civil weddings take place, the last stage of a long cycle of traditional and Islamic marriage rites.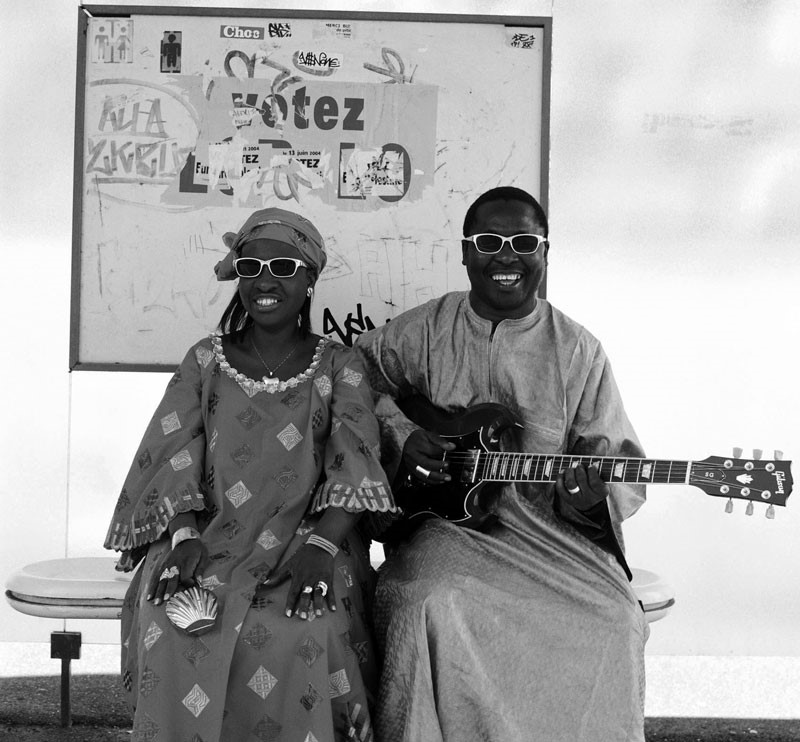 While the men of the family occupy themselves with official matters either in the mosque or the town hall, parties are organized by women for women. Take a stroll around Bamako on a Sunday, and you can see what Amadou & Mariam are singing about – the parties are impossible to miss. Held on the street just in front of the houses of newlyweds' families, they are a veritable feast for the ears and eyes. A tarpaulin awning gives shelter from the scorching sun (or rain during the summer months) and the musicians play through a giant sound system that turns a private affair into a concert for the entire neighbourhood.
More than anything else, weddings are a barometer of the current popular trends and fashions. With up to five hundred civil weddings on any given Sunday in Bamako, there may be as many as a thousand parties happening around the city (one for the bride's family and one for the groom's). The music of Bamako's weddings links the old jeli tradition with contemporary and global music in a highly creative way: no matter how "modern" it may sound, the music is regarded as "traditional" and is the bread and butter for many of Bamako's musicians.


Sumu and Sandiya
The demand for music at life-cycle events has been the lifeblood of local popular music. There are two types of ensemble. The sumu is the preferred ensemble for weddings. The sandiya, on the other hand, is more common at child-naming ceremonies; it does not require amplification, and is easier to organize at short notice. It creates a joyful atmosphere and in essence is more traditional than the sumu.
Many of the tunes in the standard traditional repertoire date back several hundred years, such as "Lamban" (a song in praise of the art of the jeli), "Sunjata" (telling the story of the heroic ruler Sunjata Keita), "Turamaghan" (in praise of one of Sunjata's generals) and "Bambougoudji" (about a nineteenth century prince of the Bamana kingdom in Segou, central Mali. These tunes have been played so often that they are more like blueprints for improvisation than fixed melodies – like jazz standards they are constantly updated with new interpretations, peppered with references to global rhythms and dazzling, virtuosic ornamentation. "Bajourou" is one of the most popular tunes at weddings. Its static harmonies and slow tempo provide a perfect framework for endless guitar improvisation. Another tune, "Diawoura" (also spelt "Jawura"), from Kita, with its uplifting dance rhythm and rolling melody, has been popular on the wedding circuit since the early 1980s. Some twentieth century love songs have become classics, however, such as "Jarabi" (also spelt "Diarabi"), which talks of the power of passionate love, and which advises youths to follow their hearts in their choice of marriage partner.
In Mande culture men traditionally play the musical instruments, while jelimuso (female jelis) are the chosen singers. This division of musical labour according to gender, as well as the preference for the female singing voice, holds true for almost all kinds of music in the region. Only the dance bands of the 1970s and 80s were all male, which is probably either a legacy of the Cubans in West Africa or perhaps because dance bands play at bars and nightclubs, considered inappropriate venues for women singers by Malian Islamic society.
During the 1980s, Mali's dance bands began to lose their public, broke up or resettled in Europe, while at home the focus shifted to female stars. Women were already popular as the lead singers of the Ensemble Instrumental National (EIN), Mali's national, state-sponsored orchestra founded shortly after independence, and in the 1980s many began solo careers. It is no accident that women have created some of the most popular tunes of the twentieth century jeli repertoire, such as "Jarabi". Though less known outside the country, they are the true stars of Bamako's local music scene, and are at the heart of its creativity.


Girl Power, Mali Style
If you watch television in Mali, you might almost think that music there was for women and by women only. The weekly music programme Top Étoiles features the public's favourite artists, most of whom are women; the singers perform to backing tapes, so the male instrumentalists are nowhere to be seen, giving the impression that this is an all-female affair. An interesting consequence of the predominance of the female voice is that many of their songs have concerned issues that affect women adversely, such as polygamy and arranged marriages. A striking example is Kandia Kouyaté's poignant "San Barana", a heartfelt plea for co-wives to respect each other, based on her own personal experiences. Songs about the problems women face in marriage are very popular at wedding parties. If the new bride is marrying a man who already has other wives, she may find solace in such songs.
Many famous and legendary female singers from the early days of independence onwards, such as Kandia Kouyaté, Tata Bambo Kouyaté, Fanta Damba, Fanta Sacko, Ami Koïta, Naïny Diabaté and Bako Dagnon became famous primarily at wedding parties. Kandia (see box overleaf) is firmly grounded in the Maninka tradition of her home town of Kita, one of the great centres of jeli music, and the birthplace of many of Mali's best musicians, including guitarist and bandleader Djelimady Tounkara, and balafonist Kélétigui Diabaté. Malian men will often say that the style of Malian women singers is supposed to be "traditional", but in practice, more and more are making daring inroads into popular and global styles, with varying degrees of success.
Ami Koïta is one of the great modernisers of the sumu or wedding music tradition. Born in Joliba, to the west of Bamako (as was Salif Keita), she was recruited into EIN. The group's members were recruited from around the country during Mali's Biennales festivals; they played for state occasions and festivals, and provided a showcase and training ground for many of Mali's great female singers. Ami Koïta's first solo recording was Wajan (1971). The title song was the direct inspiration for "Mandjou", which propelled Salif Keita and Les Ambassadeurs to international fame in 1978. This is an example of how the dance bands drew on the art of women singers.
Ami Koïta released a series of LPs and cassettes in the 1980s and early 1990s, with many songs dedicated to her main patron – a Senegalese businessman by the name of "Concorde" Gaye (so-called because he took so many Concorde planes), and who famously provided her with a new car every two years. Her music became increasingly contemporary-sounding, adding trumpet, saxophone, violin, synthesizer and drum machine to the usual jeli instrumentation. While some of her songs were in the Mande tradition, others were (controversially) influenced by Congolese soukous, zouk and even salsa, earning her the epithets jeli finesse (the sophisticated jeli) and jeli pachanga (from the Cuban 1960s dance rhythm called pachanga, which is how salsa is often referred to in Mali).
Tata Bambo Kouyaté is another of Mali's most important and influential singers of the first post-independence generation. She rose to fame in the early 1960s with her song "Bambo" (hence her nickname), about the popular new law of 1962 protecting the rights of women in marriage. Her husband and musical partner Modibo Kouyaté was the first to introduce the electric guitar into the previously all-acoustic sumu ensemble in the late 1980s, along with pedal effects. This modernized and transformed the sound of wedding music, bringing it ever closer to popular contemporary dance styles and confirming the central role of women singers in Malian popular culture.
Less well known abroad is Naïny Diabaté. Born and raised in Bamako, she was one of the very few women to perform occasionally with the Rail Band back in the early 1980s while still in her late teens.
The current star of the sumu scene is Babani Koné (born 1968). A charismatic singer, she first came to attention when she won the prize for best solo vocalist in Mali's 1984 Biennale festival. Since 2000, her popularity has verged on cult celebrity status. No jelimuso has ever had such a huge following, making her one of the most wealthy of Mali's female singers. When performing for a sumu, her style is quite traditional, but she has also recorded four albums aimed at the dancefloor, tinged with non-Malian rhythms like zouk, salsa and Congolese dance music. While her dance tracks, cluttered with synthesizers, animate local nightclubs, they do not sell well abroad – the gulf between how Bamako's women sound at the sumu, and how they are represented on CD, with a few notable exceptions, is considerable. As a consequence, the central importance of the jelimuso in contemporary Malian music, and the raw energy, beauty and passion of the sumu and sandiya parties, remain largely unknown by World Music fans.


Mande History
Why is it that one of Africa's poorest countries is so intensely musical? Much of this has to do with the fact that this part of Africa was the centre of several great empires dating back to the tenth century – a history that is preserved by Jelis. The Mande peoples are now spread across several West African countries, with substantial communities abroad as well, but their ancestral homeland is a relatively small region of savannah that straddles the border between upper Guinea and western Mali. It's an uneven triangle, each side of which is no more than 250km long, cutting through remote countryside, known as Manden. The people who trace their origins to this heartland call themselves Mandenkalu (or Mandekalou), that is, people of Manden. It's a name which has strong associations with history, music and the power of the word: the ability of master jelis to "make things happen" through their didactic and often esoteric lyrics.
This is the birthplace of the great emperor Sunjata Keita, who founded the Mali empire in around 1235. His personal jeli, Bala Faseke Kouyaté, who played the balafon (xylophone), was the ancestor of all the Kouyatés, who are regarded as the only true lineage of hereditary musicians. To this day, anyone by the name of Kouyaté is a jeli, whether or not they actually play an instrument or sing. Sunjata's rise to power is a story of love, betrayal, sorcery, battles and bravery, giving insight into the pre-colonial world of West Africa. Luckily, there are many recordings of "Sunjata", from the most traditional to swinging dance band versions. Two famous ones were recorded by the Rail Band in the early 1970s, featuring both Mory Kanté and Salif Keita as lead singers. The Kanté version in particular has been copied by many artists – which is somewhat ironic, since he belongs to the same lineage as that of Sunjata Keita's enemy, Sumaworo Kanté.


Mande's Hereditary Musicians
Traditionally, Mande society is stratified, and social rank is usually indicated by surname. First are the nobles or "freeborn" (horon), consisting of lineages such as Keita, Konaté and Traoré, descended from Sunjata Keita and his generals. In pre-colonial times, they were the patrons (jatigi) of the second social category: artisans called nyamakala, often described in the literature as a "caste". This relationship has survived into the twenty-first century, but the patrons are increasingly of different social backgrounds. In fact, some of the most famous are themselves artisans, such as the Jeli Babani Sissoko. The third level of Mande society, called jon, is composed of the descendants of former slaves or captives from wars. In the twentieth century this group has become largely integrated into other levels of society.
All the occupational professions have their own surnames. For example, the Kantés are blacksmiths (though many are also musicians), and the Kouyatés (variant spelling Koité, not to be confused with Koïta) are exclusively jelis. The surnames Diabaté (Jobarteh in English), Koné (a variant of Konté), Sissoko or Cissokho (with variants Suso in The Gambia, and Damba and Sakiliba for women), Kamissoko, Soumano, Dambelé, Tounkara and Sacko are also commonly though not exclusively found among jelis.
Until the end of the nineteenth century, when colonial rule put an end to traditional kingship, the jelis were attached to the courts of local kings (Mansa). They entertained and educated the nobility with their epic songs and stories. They guarded the knowledge of genealogies and the complex "praise names" attached to every surname. To a great extent they continue to perform these functions to this day. In the words of Toumani Diabaté, 'they are the needle that sews.'
The jelis guard their profession and knowledge with jealousy and some secrecy. Until recently it was difficult for a non-jeli to take up music as a profession, and in practice very few have done so. One of the best-known exceptions is Salif Keita.
"It's not easy to find a trustworthy person" is a constant refrain of Mande songs, reminding both jeli and patron of their duty of loyalty to each other. Those who consider themselves patrons rely heavily on the advice and diplomacy of their jeli. The presidents of Mali, Guinea, The Gambia and Senegal have had thousands of songs dedicated to them by jelis, who always find ways of criticizing and advising, as well as praising.


Jeli Languages and Instruments
There are several closely related Mande languages spoken in at least seven different West African countries. The major Mande languages are: Maninka, the language of the Manden heartland in western Mali and eastern Guinea; Bamana, spoken in central Mali, a legacy of the Bamana kingdom and Mali's second official language after French; and Mandinka, spoken in The Gambia, southern Senegal and Guinea-Bissau. Maninka and Bamana are quite close. Mandinka is the most different, being about as close to Bamana as Spanish is to Italian. The three terms are often used interchangeably by outsiders when talking about Mande music, but they have distinct musical styles and repertoires.
By far the best known of the traditional jeli instruments is the kora. As a type of instrument, it is unique to the Mandinka, although it shares some basic features with hunters' harps, such as the raised bridge and calabash resonator. Although some of the most famous kora players are from Mali, the kora itself is said to come originally from the Mandinka kingdom, which was based in present-day Guinea-Bissau and extended to Senegal and The Gambia. In Mali, there are two main families who play the kora: the Diabatés and the Sissokos, and they live side by side, having been given adjacent plots of land by Mali's first president, Modibo Keita. The two musicians who were given the land, Sidiki Diabaté and Djelimady Sissoko, were both in fact born in The Gambia, to parents who had settled there from Mali.
Sidiki Diabaté (c. 1922–96) was probably the most influential of all kora players in the twentieth century, in terms of developing a virtuoso solo style, and popularizing certain pieces in the repertoire such as "Kaira". His son Toumani Diabaté is probably the greatest living kora player, steeped in the jeli tradition but also at home in any number of other styles, from jazz to flamenco, without relying on any modifications such as pedals or extra strings, which other kora players such as the Senegalese musician Soriba Kouyaté exploit.
One of the oldest and most prestigious of the Mande jeli instruments is a lute with three to five strings, a resonator carved from a single piece of wood and a skin sound table. In Bamana and Maninka it is called ngoni (sometimes spelt koni or n'koni); in Mandinka, kontingo. West African slaves re-created it in the New World, as the banjo.The ngoni is the main instrument of the Bamana jelis of central Mali. Although it is not as popular and ubiquitous as the guitar, it remains a staple part of the sumu ensembles in Bamako, holding its own side by side with the electric guitar, thanks partly to amplification, and also to the influence of two brilliant players, Moriba Koïta and Bassekou Kouyaté.
Basekou Kouyaté is considered to be the leading ngoni player among the younger generation and has drawn on Koïta's style, extending it to include references to jazz, blues and flamenco. The third melody instrument of the jelis is the bala (better known as balafon), a kind of xylophone. It usually has between 18 and 21 keys cut from rosewood, suspended on a bamboo frame over gourd resonators of graduating sizes. The heartland of balafon playing is Guinea, though Mali has many notable players nonetheless. The most influential of them is Kélétigui Diabaté, who was born in Kita and served in many of Mali's first bands after independence, such as Orchestre Nationale A, playing several instruments including guitar, trombone, and violin. During the 1990s, he was a regular member of Toumani Diabaté's Symmetric Orchestra and then Salif Keita's band, and he currently performs with Habib Koité. Kélétigui devised the strategy of playing two balafons together, tuned a semitone apart, so that this fixed-pitch instrument could play a fully chromatic scale in a modern dance or jazz band – now standard practice among the new generation of Malian balafon players such as Lassana Diabaté.
Finally, there are three Mande drums: the tamani (talking drum); the djembe, a single-headed goblet drum with a high-pitched tone, played with both hands; and the dunun, a large double-headed cylindrical drum slung over the shoulder and played with a crooked stick in one hand, while the other hand strikes an iron bell with a ring.


Regional Styles and Repertoires
There are three main regional styles of Mande jeli music, corresponding roughly to the three main Mande languages. Maninka jeli music is the most widespread and influential. It has seven-note scales, and long, florid and virtuoso melodies that adapt well to harmonic arrangements. Many of the top performers of both Guinea and Mali, such as Salif Keita, Kassé Mady Diabaté, Kandia Kouyaté, Toumani Diabaté, Habib Koité and Sekouba Bambino Diabaté specialize in the Maninka style. It has been a major inspiration for the Rail Band, Les Ambassadeurs and Badema National.
The Bamana style of central Mali tends to be more static, with mostly five-note (pentatonic) melodies, in slow tempo. The preferred instrument is the large ngoni, and it is closer to the music of the northern desert regions, and thus the blues. Bamana jeli music is considered classical and prestigious. Recordings of the late, blind Bamana ngoni player and singer Banzoumana Sissoko, "the old lion" from Segou, are still broadcast on the radio on major holidays and important occasions.
One of the first to popularize the Bamana jeli style was the late Fanta Damba, a famous jelimuso star in the 1970s, originally from Segou. Babani Koné cites her as her biggest influence, and Senegalese superstar Youssou N'Dour, while still in his 20s, made a pilgrimage to Bamako to meet her after recording "Wareef", which was inspired by her song "Djadjiri". She was largely responsible for popularising the Bamana piece "Bajourou". Mah Damba and the late Hawa Dramé are other well-known female exponents of Bamana music.
Bamana folk music has strong, driving dance rhythms, so it's hardly surprising that it has been adapted for the dancefloor, for example in the music of the singer Abdoulaye Diabaté, from Koutiala in the southeast. Though not well known outside Mali, he is particularly admired for his outspoken lyrics criticizing aspects of modern society.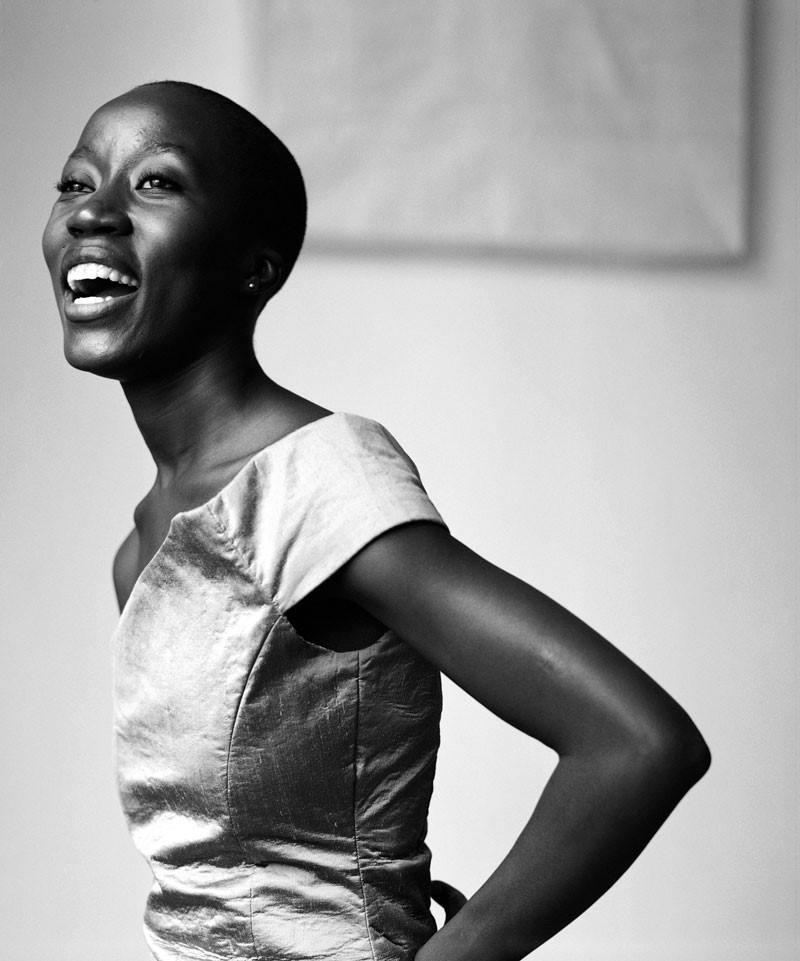 Another singer who performs mainly within a Bamana style is Mali's highly acclaimed young singer-songwriter Rokia Traoré, though she also brings in many non-traditional elements as well. She does not come from a traditional musical background, which gives her the freedom to experiment, and she has become an iconic performer on the World Music scene as well as at home. She points out that the Bamana tradition is extremely diverse, covering jeli and non-jeli traditions, including the highly rhythmic dance music of the balani (two large interlocking pentatonic balafons) and the expressive bara line dance performed by women.
Habib Koité goes way beyond the confines of his own native jeli tradition from Kayes in the north-west of the country, borrowing songs from many different ethnic traditions around Mali including the Bamana and the hunters of the south (as on "Maya"). He often asks, 'Why borrow from global styles, when we have a whole world of different kinds of music within our own country?'
Another musician who draws mainly on the non-jeli Bamana style, mixing it with a raw electric blues sound, is singer-guitarist Lobi Traoré, a regular performer on the bar circuit of Bamako's vibrant nightclub scene. The music of Amadou & Mariam, although venturing boldly into the world of French rock and pop, is nevertheless profoundly based in their own Bamana culture. Both musicians originally hail from Bougouni, on the border with the Wasulu region, and this is evident in their strong rhythms and pentatonic melodies. An excellent example is their track "Coulibaly", which honours the royal lineage of Segou.


Dance Bands and Cultural Authenticity
The modernization of music in Mali dates back to the 1950s with the creation of regional orchestras who played foxtrots, waltzes and tangos for colonial administrators and their families. Mali's first president, Modibo Keita (1960–68), followed the example of neighbouring Guinea, with its policy of "cultural authenticity", and initiated the annual "Semaines de la Jeunesse" youth festival, in which regional bands and artists competed with each other for national recognition. He founded the Orchestre Nationale A, Mali's first national electric dance band. Led by Kélétigui Diabaté on guitar and Tidiané Koné on sax, it had a standard Latin/jazz line-up, although the strong presence of guitar, drawing on Mande styles, gave this band a distinctive local flavour, which was to become the model for future dance bands.
President Keita also founded the Ensemble Instrumental National (EIN). In its hey-day, the EIN had up to forty members, and was a power-house of musical performance, playing an important role in keeping alive traditions.
In Bamako, an orchestra was founded for each section of the capital. The most popular of these district bands was Pioneer Jazz of Missira. Djelimady Tounkara (later to become the lead guitarist of the Rail Band) was a member of Pioneer Jazz in the early 1960s, and this was his first experience away from purely traditional Mande music. 'At that time our bands weren't using folklore, just Latin American music, some jazz and some rock,' he said. 'I especially liked Chuck Berry and I tried to imitate his style.'
Throughout the 1960s, the biggest outside influence on Malian popular music, as in the rest of Francophone Africa, was Cuban dance music. Even when dance bands performed Mande tunes they were almost invariably given Latin arrangements, and Latin music continues to have a following even today; every weekend, the group Tarras performs Cuban-style music at nightclubs in central Bamako. Salif Keita's biggest hit of the 1970s, "Mandjou", has a clear Latin tinge, though was actually based on a jeli praise song, originally composed by Ami Koïta. In an interview for BBC Television in 1989 Salif remarked: 'I consider it a duty for all Malians to love Cuban music, because it's through Cuban music that we were introduced to modern instruments.'
Mali's second president Moussa Traoré, who came to power following a military coup in 1968, further encouraged cultural authenticity. Following the example of neighbouring Guinea, Traoré initiated the influential Biennale Festival in 1970. Thus the search for a more traditional idiom began. Gone were the imitation Cuban costumes, now replaced by tunics of tie-dyed damask or bogolan, the patterned mud-dyed cloth of the Bamana.
Many of the country's most celebrated artists were first "discovered" at the Biennale festivals, such as singer Nahawa Doumbia and Super Biton de Segou, who won first prize at the first Biennale in 1970 and then again in 1972. Their Bamana rhythms translated powerfully onto guitars and horns, creating a new style.


The Rail Band vs Les Ambassadeurs
Tidiané Koné was another of the major figures in the campaign to return to folklore. His wizardry on the ngoni was legendary. In 1969, Koné set up the Rail Band du Buffet Hôtel de la Gare, which went on to launch Mory Kanté.s and Salif Keita's careers.
In 1971, a rival band was formed in Bamako, Les Ambassadeurs du Motel, the resident band of a small hotel in Bamako. While the Rail Band was known for its roots repertoire, with songs like "Sunjata", Les Ambassadeurs were more experimental and international in outlook; at least half numbers were foreign-style pop – rumbas, foxtrots, French ballads, Cuban and even Senegalese Wolof songs.
Two Guinean musicians now arrived on the scene: Mory Kanté, a singer and multi-instrumentalist from eastern Guinea; and his cousin Kanté Manfila, an innovative guitarist who had learnt to play in Côte d'Ivoire. Manfila became leader of the Ambassadeurs, while Mory became a second singer in the Rail Band.
In the Rail Band, Mory Kanté was immediately seen as a potential rival to Salif Keita. They both had powerful, inspirational voices and were adept at praise lyrics. During 1972, Salif made a brief trip out of the country, and on his return found Mory doing the lead singing. Salif's response was to defect to Les Ambassadeurs, which created an uproar among his fans and even greater rivalry between the two bands.
A third charanga-style band, originally called Las Maravillas de Mali, whose members had spent several years training as musicians in Havana Cuba, were renamed Badema National ("the national family") as part of the cultural authenticity drive, and like the EIN, were government-sponsored. They recruited the singer Kassé Mady Diabaté, bringing him to Bamako from his village, Kela, in order to introduce a more traditional repertoire.
By the late 1970s, both the Rail Band and Les Ambassadeurs had moved their base to Abidjan, where the recording studios were. The Rail Band returned to Mali to play at the Buffet de la Gare, the beer garden of Bamako's train station, but their audiences dwindled. Les Ambassadeurs had a massive hit with their song "Mandjou", recorded in 1978. And this group was to produce some of West Africa's most successful musicians, such as Amadou Doumbia (now of Amadou & Mariam and former guitarist with many of Mali's dance bands including Les Ambassadeurs).


Old Music, New Era
By the early 1980s, local audiences had begun to lose interest in the old-style dance bands. The Biennale Festival ceased altogether in 1988, the year of the Touareg rebellion in the north of Mali. New experiments in Mande music coming out of Abidjan and Paris – such as the 1984 album Mory Kanté à Paris, which included his first version of the electric kora dance track "Yeke Yeke" – made the Cuban-style arrangements of jeli tunes by Mali's dance bands seem outdated. Focus shifted from the collective identity of the dance bands to the individual singers who took up solo careers with their own groups. At home in Bamako, it was the women singers who were gradually becoming the true stars of the local music scene. Some new privately sponsored dance bands formed, such as Zani Diabaté's Super Djata Band, which cultivated a rocking Wasulu/Bamana sound, but by the early 1990s most of its members had emigrated to Europe.
Meanwhile, a new kind of music was coming up that would eventually challenge the monopoly of the jelis. Wassoulou expressed perfectly the mood of the country, which was ready for a change. In 1991, a series of student demonstrations protesting against the government's refusal to pay school bursaries resulted in a popular uprising and a clash with the army, in which over a thousand people lost their lives. A military coup followed, led by Colonel Amadou Toumani Touré, who then handed over power to a democratically elected government in 1992 under President Alpha Oumar Konaré.
All this had a profound effect on the music scene. Local culture once again began flourishing. With freedom of the press, many private radio stations opened, and new venues for music called "éspaces culturels" began to appear around Bamako. These were up-market restaurants and bars that featured small groups playing live music. Many important contemporary artists and musical trends have come out of this circuit. The Biennales were resumed in 2003, but it remains to be seen whether they will have the same impact on local music as before.
Meanwhile, the original Rail Band still survives, despite losing their sponsorship and original venue. They perform occasionally at the Djembe club in the Lafiabougou neighbourhood, but their main audiences are now at festivals abroad. Their leader, guitarist extraordinaire Djelimady Tounkara, occasionally joins them, but has mostly taken up a solo career with his own semi-acoustic group. The closest thing to a dance band is Toumani Diabaté's Symmetric Orchestra, which combines elements from traditional jeli music and global styles, with a semi-acoustic line-up of twenty or more. However, unlike the bands of the 1970s, it has no horn section. Their regular Friday night gigs at the Hogon club in Bamako are now legendary. In addition, Toumani Diabaté has influenced a whole generation of young kora players in Mali.


Salif Keita – Mali's Superstar
The most famous of the musicians from the dance -band era is Salif Keita, who, more than any other individual, is responsible for fusing Mande music with world beats. On both his mother's and father's side he is a Keita and there was no precedent for someone of such noble lineage to take up singing as a profession, as if a jeli. Salif trained as a schoolteacher but poor eyesight prevented him from teaching as a profession.
In 1980, Salif Keita, Kanté Manfila and two other musicians from Les Ambassadeurs spent four months in the US making another of their classic records, Prinprin, with local session musicians. But in 1982 Salif left the band altogether and moved to Paris, eventually coming up with the fusion album Soro with French keyboardist Jean-Philippe Rykiel under the guidance of Senegalese producer Ibrahima Sylla.
Soro's phenomenal success marked the beginning of the World Music boom. Many of Salif Keita's original group of musicians – some of whom, like Cheikh Tidiané Seck and guitarist Ousmané Kouyaté, had remained with him since the days of Les Ambassadeurs – were encouraged to form their own groups, and a spate of Soro sound­alike albums came and went, often featuring the same group of musicians, and produced in the same studio by Sylla. On Soro, Salif had finally abandoned all trace of Latin influence, instead working with contemporary sounds from the global world of rock and pop. Also, he was no longer primarily using the idioms of jeli praise song, but had begun to draw on other Malian styles, especially the melodies of Maninka hunters, which was his real heritage: his father Sina Keita was the head of the hunters' association in his village Joliba.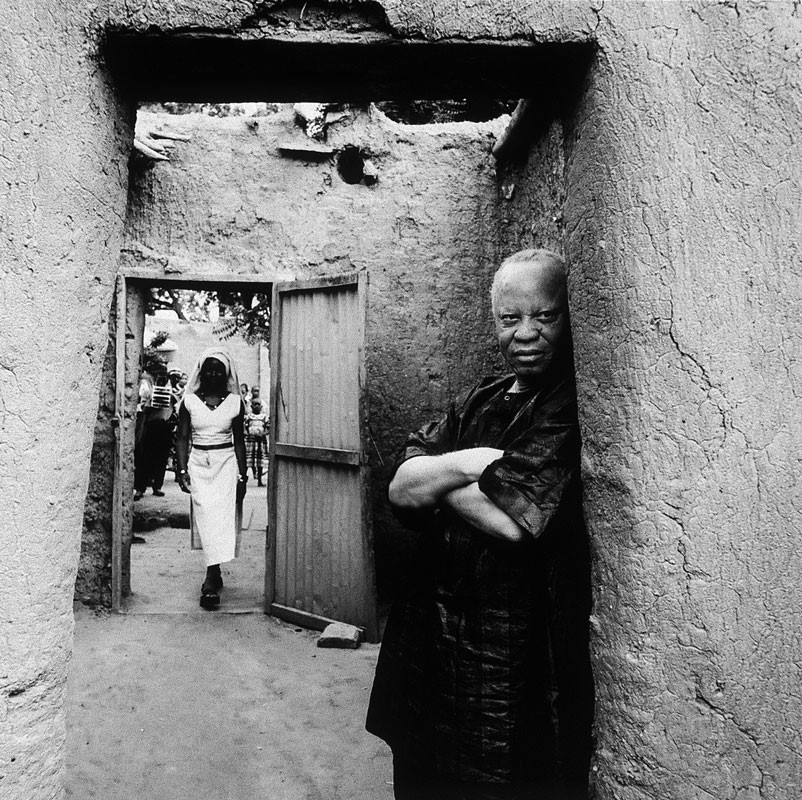 Salif Keita has always been torn between his deep love for Malian culture and music, and a desire to be part of the global world of pop and rock; his musical output veers between large-scale rock albums such as Ko-Yan and Papa, and the more recent acoustic albums such as Moffou. For the first time in many years Salif has chosen a band that is almost entirely Malian and Guinean. Furthermore, since Mali's new democracy, he has invested in a recording studio and nightclub (also called Moffou), is producing local artists, and now spends long periods living and working in Mali reconnecting with his roots.


Current Trends
In recent years, Mali, like other Francophone West African countries, has had its share of hip-hop groups. A rhythmical, poetic, dynamic and uptempo spoken lyric, providing social comment over music, is hardly a new idea in Malian music. It's one that's many centuries old, in fact: the elder male griots used a similar method to narrate events and epics, as do also the fune, a special group of Mande artisans dedicated exclusively to performance of the spoken word.
Two of the pioneering and most influential and successful Malian rap groups are Les Escrocs and Tata Pound. Les Escrocs are not a typical rap group in that they use a live band of jeli instruments and the music and choruses are clearly in the jeli style. Tata Pound are three youngsters from Bamako who rap in Bamana, and work in a more mainstream style using a backing of samples with hip-hop and reggae sounds, and are noted for their outspoken criticisms of the government. Their most recent album, Cikan (Le Message), includes a collaboration with Ivorian reggae superstar Tiken Jah Fakoly and a cover version of Salif Keita's Prinprin. Fakoly himself has similarly bold lyrics, and his criticizing of corrupt politicians in his native Côte d'Ivoire forced him to flee the country. He is now settled in Bamako, where he has opened a studio. He is enormously popular among the youth and is single-handedly reviving interest in reggae.
The trend in Mali at present is towards smaller, semi-acoustic groups featuring mainly traditional instruments, such as those of singers Kassé Mady Diabaté and Habib Koité, kora players Toumani Diabaté and Ballake Sissoko, and Djelimady Tounkara. They all draw primarily on the celebratory jeli style, such as one might hear at a wedding party, although their experiences of collaborating with international artists bring a new, more contemporary perspective to the tradition. The cross-fertilization between "traditional" wedding music and modern music is inevitable, given that many of the musicians play in both domains.
Kassé Mady Diabaté is arguably as mighty a singer as Salif Keita, though more rooted in the jeli tradition. His 1988 album Fode was meant to be an answer to Soro but did not get much press attention. His second album for the Paris-based producer Ibrahim Sylla, Kela Tradition (1991), an all-acoustic recording of some of the classic jeli songs, showed this to be his true forte, as further demonstrated in his 2002 album Kassi Kasse, recorded on a mobile studio in his native village, Kela. He has since gone on to participate in Sylla's fine album Mandekalou.
One other important trend in Mali since the mid-1990s has been a new interest amongst the urban youth in the balafon music of the Senufo people from the south of the country. The lead performer of balani is Neba Solo, a brilliant player and singer who has adapted and modernized the tradition by adding bass notes to the xylophones to fashion a more pronounced bass line.


Wassoulou
Wassoulou, so-called because it came from the region of Wasulu in the south, was based on some of Mali's most ancient traditions, which had been imitated by the youth as a kind of acoustic village popular music. It had strong messages of social freedom and powerful dance rhythms, and young women singers were its main stars.
Wasulu is a remote corner of the country that straddles Mali, Guinea and northern Côte d'Ivoire. The roots styles that wassoulou draws from are found right across the region, but contemporary wassoulou music is specific to Mali. The region is populated by farmers, hunters and blacksmiths of mainly Fula descent, as shown by the four most common surnames (Sidibé, Sangaré, Diakité and Diallo).
What makes the music of Wasulu different is that here, even though there are jelis, anyone is free to sing or play an instrument. Since musicians play by choice, they call themselves kono – "songbirds". The explosive emergence of Wasulu "songbirds" challenged the monopoly of the jelis, and opened up possibilities for new styles and creativity, while attracting new, younger audiences who were tired of hearing praise songs in honour of the military government. In the words of wassoulou's most famous star, Oumou Sangaré: 'At first, when women singers of wassoulou wanted to perform in public, the jelis gave us a hard time … this has been a real struggle for us but in the end we're coming out on top because the public is tired of being extorted for money.'
A lot of wassoulou sounds quite traditional, but it dates from after independence and really only took off in the late 1980s. It combines two types of roots music, characterized by two instruments which have circulated far beyond their local habitat: the hunters' harp, recreated in a smaller, higher-pitched version called the kamalengoni, and the djembe drum. The original hunters' harp, the donsongoni, and the music (and culture) of hunter societies in general, is currently enjoying a wave of popular interest in Mali. As for the djembe, it has become Africa's most universal drum, played around the globe by hundreds of thousands of people. But few of them realize that it comes from Wasulu, where it's played for the komo (an all-male secret society of the blacksmiths) and sogoninkun, a masquerade for the end of harvest.


Hunters' Music
The music of Mali's hunter societies (donsoton) is considered to be among the oldest surviving forms of music in Africa, and is probably the ancestor of the music of the jelis. The hunter societies are inter-ethnic and egalitarian (only women and children are excluded) and may have up to 100,000 members. In the past, hunters served as guardians of the village, providers of meat and healers. Although there have been restrictions on hunting for many years now in Mali, hunters continue to play important roles as healers, diviners and musicians.
When they meet on festive occasions the hunters' musicians (sometimes called sora, or jurufo-kono – "string-playing songbird") play their six-string harps and sing vivid epic stories of legendary hunters. In recent years, this esoteric music has acquired something of a cult status, evoking a sense of pride in the country's great heritage. Major festivals organized in Bamako in 2001 and 2005 have celebrated their blues-like melodies, powerful rhythms and graceful dances.
Bamako's market resounds to the music of literally hundreds of cassettes featuring hunters' musicians who have become quite popular, such as Seydou Traoré, Amadou Sangaré and Sibiri Samaké. Many listeners are struck with the strong similarities between this music and that of gnawa (which allegedly was brought to Morocco by Bambara slaves from Mali) and the blues. Yoro Sidibé, from Yanfolila, in deep Wasulu, is currently the local "star" of hunters' music.


Birth of the Kamalengoni
The story of how hunters' music was appropriated by the youth goes back to the 1950s. In Wasulu, boys and girls in the villages would organize dance parties when the moon was bright, playing a six-string instrument called ndan, consisting of several individual bows, each one with a single wire string, mounted on an upside-down calabash.
Most wassoulou musicians say that the first kamalengoni player was Allata Brulaye Sidibé, who had the idea of improving and adapting the ndan. First he turned the calabash around so it was facing upwards, then attached the strings to a single long neck, in effect creating a smaller and higher pitched version of the hunters' harp (donsongoni). Allata Brulaye's "invention" became extremely popular throughout the region, but also was strongly censored by parents and village leaders.
The appropriation of what had been a sacred instrument for the entertainment of unmarried youth was considered scandalous. The elders disparagingly called it samakoro, meaning "bedbug" or "flea", complaining that it made people dance as though they were itching uncontrollably from flea bites. Interestingly, with its funky rhythms and jerky dance steps, it has some similarities with the jitterbug dance of the 1950s, which also gets its name from a bug. Only much later when it gained some respectability, in the 1970s, was it renamed kamalengoni (male youth harp).
Allata Brulaye was the first to record on the kamalengoni in the late 1970s, but it was the singer Coumba Sidibé from Yanfolila who first brought the music to Bamako.
These days the kamalengoni thrives in the villages of Wasulu, alongside the music of hunters, and no longer meets with disapproval. In the city as well, the kamalengoni has become a favourite instrument of the youth, as it is portable and cheap to make, and not difficult to play at a basic level. Players such as Benogo Diakité (with Oumou Sangaré's band since 1990), Haruna Samake and, most recently, Kokanko Sata – the first woman to play the kamalengoni – are the best-known exponents.


Wassoulou Women
Despite the importance of the kamalengoni, the true stars of wassoulou music have always been female singers. Coumba Sidibé, who was recruited into EIN in the mid-1970s in order to introduce the sounds of her region, soon went solo, with a fully electric band. Her gritty voice and driving jembe rhythms, derived from her background as a sogoninkun singer, were appreciated as much as her lyrics.
Coumba paved the way for other artists such as Kagbé Sidibé (no relation), who cultivated an electric style based on sogoninkun rhythms. In the late 1980s, Sali Sidibé (also no relation) challenged Coumba's popularity with her hypnotic voice and a more rootsy sound, using traditional instruments like the one- string fiddle (soku), the Senufo xylophone, the bolon (four-string bass harp) and the kamalengoni. Ten years later, male singer and kamalengoni player Issa Bagayogo (better known as "Techno Issa"), developed the remix sound which made him a favourite with UK DJs. Meanwhile, the unique voice of Nahawa Doumbia was also remixed by French DJ Frederic Galliano on his Frikyiwa Collection Vol 1 (2000).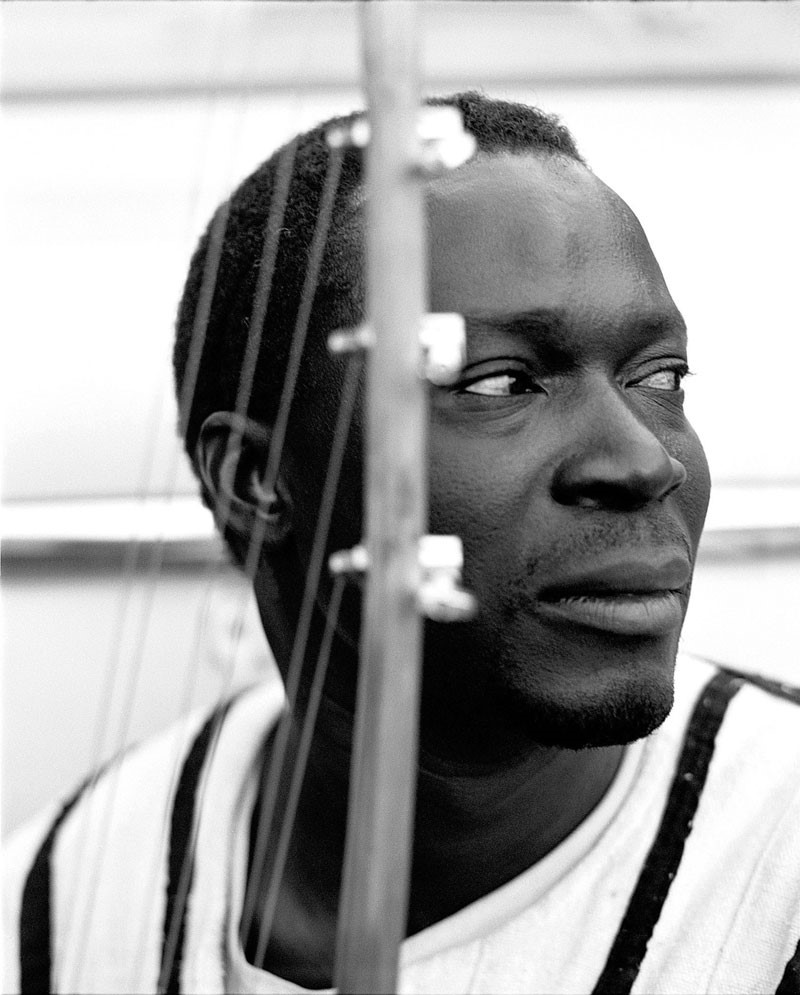 Doumbia was one of the pioneers of the wassoulou sound, although she only began using the trademark kamalengoni many years after she became established. The orphaned daughter of a Mande blacksmith from a remote village in Wasulu, with a plaintive, child-like voice, she was famous in Mali for her participation in the Biennale festivals, and in 1980 was voted Best Singer for her song "Tinye De Be laban", later recorded on her album Yankaw. Doumbia's favourite style is the vigorous didadi, a harvest dance from Wasulu, which features djembe and dunun drums. In the late 1980s and early 90s she recorded three hi-tech electric albums in Paris for the Syllart label, and she was meant to be a kind of female answer to Salif Keita, but her more recent work is increasingly acoustic and back-to-roots. She draws directly on the sacred repertoires of the hunters.


Oumou Sangaré: the Songbird
No one has broken social taboos in Mali quite like Oumou Sangaré, with her outspoken criticism of polygamous marriage and her celebration of female sensuality. And no one has taken wassoulou music around the world as she has.
Born in Bamako to parents from Wasulu, her mother's unhappy experience as the first wife abandoned by her husband in favour of a new bride, was to have a lasting impact on Oumou, becoming the dominant theme of her songs. 'Polygamy is false, ultra-false, it's sheer hypocrisy,' she declares. Oumou began singing at an early age at wedding parties in Bamako with her mother (a sogoninkun singer). Her international career began with the group Djoliba Percussions, with whom she came to Europe for the first time in 1986, to great acclaim. Back in Mali she started her own semi-acoustic band and recorded her first album when she was just 21 years old and still unmarried. Aptly named Moussolou ("Women"), it was released in 1990 and was an instant hit, selling over 200,000 cassettes. It addressed a number of women's issues but none so radically or controversially as in the song "Diaraby Nene" (Love fever), an overtly sensual piece about the "shivers of passion" and female sexuality. Moussolou's back-to-roots sound gave Oumou's version of wassoulou its real impetus.
'My style of wassoulou was radically different from that of other wassoulou singers. First of all I placed the kamelengoni at the centre of my sound … because it's the instrument in Wasulu that the young people love most. And my songs are directed at the youth. The elders are already set in their ways, they're already polygamous, you can't change them… "
Oumou's second and third international albums, Ko Sira and Worotan, explore the problems of polygamy and arranged marriage more explicitly. Many of her songs are inspired directly by hunters' songs, such as "Sabou" and "Mogo Te Diya Bee Ye". Others like "Yala" push wassoulou closer to the world of dance music.
On stage Oumou Sangaré is formidable. Tall, beautiful, radiant, charismatic, a wonderful dancer, surrounded by some of Mali's best musicians, she is the ultimate songbird, a true ambassador for Malian women and music.