World Pioneer Award
Youssou N'Dour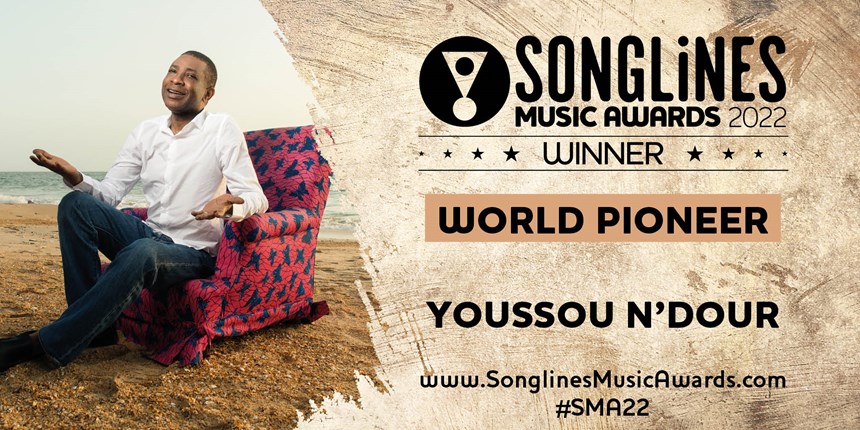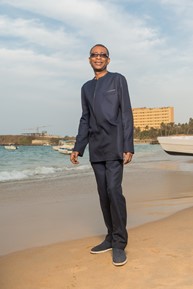 While most of the Songlines Music Awards honour a specific album release, World Pioneer is a unique accolade for it celebrates an entire lifetime's contribution to the world of global music. The list of previous recipients is an august roll call of canonical names that includes Island Records' founder Chris Blackwell, Éthiopiques curator Francis Falceto, Beninese superstar Angélique Kidjo, musical polymath Nitin Sawhney, the posthumous pairing of Tony Allen & Hugh Masekela and last year's winner, Cuba's veteran reigning Buena Vista Social Club queen, Omara Portuondo.
As perhaps the most soulful voice to come out of Africa in the last 40 years, this year's winner Youssou N'Dour is a glittering addition to the pantheon. Born in the Senegalese capital of Dakar in 1959, by the age of 16 Youssou was already a sensation in the city's nightclubs, singing with the legendary Star Band. By 1978, he had left with several other members of the band to form Étoile de Dakar, which effectively became his backing group. Departing from the Afro-Cuban sound that had dominated Senegalese music, Youssou forged a new more urgent dance style known as mbalax. With Étoile and later Super Étoile de Dakar he recorded some of the classic albums of 1980s West African popular music. By the time he went solo he had emerged not merely as a singer with a golden voice but as an artist with something profound to say. "I am a thoroughly modern griot, but I know that music can carry a message and change people's lives," he said.
Songs such as his seminal 1984 composition 'Africa', about the trials of a continent still struggling to emerge from colonialism, or the title-track of his 1985 album Nelson Mandela, brought him to the attention of Western musicians, including Peter Gabriel, on whose albums Youssou has guested. He also joined Gabriel, Bruce Springsteen, Sting and Tracy Chapman as the only African artist on 1988's star-studded Human Rights Now! tour in support of Amnesty International. Even wider international recognition came with the 1994 international Top Ten hit single '7 Seconds' on which he duetted with Neneh Cherry, and the accompanying Grammy-nominated album The Guide (Wommat).
Since then his albums have grown increasingly adventurous, his mbalax dance style expanding to embrace semi-acoustic Afro-pop (2002's Nothing's in Vain), Arabic strings (2004's Egypt) and African reggae (2010's Dakar – Kingston). History, released in 2019, celebrated his 60th birthday by reworking some of his old favourites in a more contemporary style. He truly has become one of West Africa's most significant cultural ambassadors with his own nightclub, studios, record label and radio station, mentoring and producing other artists from Cheikh Lo to Orchestra Baobab and even serving a spell as Senegal's minister for tourism.