Saturday, March 3, 2018
Chouk Bwa: Deep Roots, Borderless Energy
By Doug DeLoach
Doug DeLoach immerses himself in the ecstatic and positive music of Haitian band Chouk Bwa, who are about to embark on their debut UK tour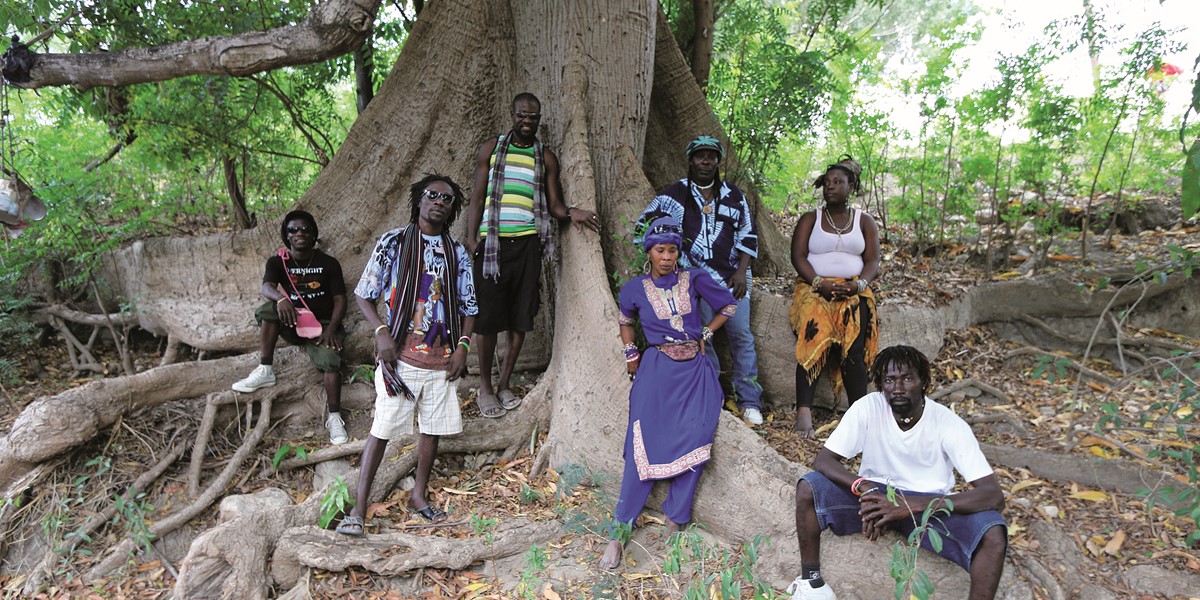 (photo: JY Le Docte)
Honouring the spirit of late 20th-century Haitian mizik rasin (roots music) bands, such as Boukman Eksperyans, Racine Mapou de Azor and Boukan Ginen, Chouk Bwa have emerged from a remote Haitian jungle enclave to convey the mystical power of voodoo through music and movement.
"We were born in voodoo. It was in the family, in the community. It's our heritage. We have one culture," says founder and lead singer Jean-Claude 'Sambaton' Dorvil during the Savannah Music Festival in Georgia last April, the scene of Chouk Bwa's American debut. Joining Dorvil in the interview are dancer and singer Edele Joseph and Belgian tour manager Michael Wolteche, who serves as translator.
Chouk Bwa's music combines percussive rhythms and choreography lifted directly from voodoo ceremonies with call-and-response vocals that attest to the trials and righteous aspirations of the Haitian underclass. Through this music, a largely misunderstood culture is revealed while the voice of the Haitian diaspora is given a global platform. Chouk Bwa strive to dispel the sensationalised myths and legends associated with Haiti's predominant religion, voodoo – zombies, voodoo dolls, spell casting and the like – born of European colonialism and sustained by racist strains in Western pop culture.
"Naturally, we sing about certain conditions, which affect our lives, and part of what we do is focused on destroying the negative image of voodoo," Dorvil says. "Voodoo is essentially about sharing and friendship."
Last year was an eventful one for the band formerly known as Chouk Bwa Libète. The group's decision to drop 'Libète' was born of a philosophical re-assessment and practical expediency. As Wolteche explains with a wry chuckle: "The band said, 'we are already free, so what's the point?' Besides, it's easier for the press to remember."
Inspiration for their original name, which roughly translates from Haitian Creole as the 'Tree Stump of Liberty,' stems from the words of Toussaint Louverture, known as the 'Black Napoleon' for his prowess as a guerilla commander during the Haitian Revolution at the turn of the 19th century. In 1801, captured by French forces and facing exile to France where he eventually died of pneumonia in a castle dungeon, Louverture defiantly declared: "By overthrowing me, they have only felled the trunk of the tree of liberty in Saint-Domingue, but it will grow again, because its roots are deep and numerous."
The roots of Chouk Bwa run through an area of mountainous jungle in northern Haiti near Gonaïves, which was founded by Arawak/Taino Indians in 1422. Currently inhabited by some 300,000 people and officially recognised as the 'City of Independence,' Gonaïves was the site of a major revolutionary battle in 1802. Then on January 1 1804, rebel leader Jean-Jacques Dessalines declared Haitian independence from France, establishing the first liberated black republic in the post-Columbian world (after San Salvador, the island of Haiti was Christopher Columbus' second landfall).
The origins of the band itself "are somewhat mysterious," says Wolteche. What is certain is that Dorvil was a member or leader of several precursor voodoo-centric bands and that some form of Chouk Bwa has been in existence since at least January 2012, the year Wolteche initially encountered the group. 
"There was a problem with a leader [of the band] who was dictatorial," he says. "There was kind of an explosion, so I left. When I came back three or four months later, these guys were together. That's when I decided to work with them."
For Chouk Bwa's American debut, "these guys" comprise Dorvil and Joseph along with Riscot Cedieu (drums, conch, vocals), Yves Figaro (drums, vocals), Sadrack Merzier (drums, cornet, vocals), Jean Rigaud Aimable (drums, vocals), Gomez 'Djopipi' Henris (drums, co-lead singer) and Maloune Prévaly. "This concert was special because it was the first time we performed in the US," Dorvil says. "With members of our family in the audience, there was an extra measure of concentration to do this. The gods brought us extra strength and energy to make this possible."
The Savannah concert is billed as 'Haitian Roots,' and opens with Leyla McCalla and her trio, joined by McCalla's former Carolina Chocolate Drops cohort Dom Flemons. The American-born child of Haitian immigrants, McCalla draws deep inspiration from Haitian culture and the title of her latest album, A Day for the Hunter, A Day for the Prey (a Top of the World in #119), was inspired by a 1997 book of the same name by Gage Averill. Averill appropriated the turn of phrase from a Haitian proverb that acknowledges the dualistic nature of the struggle for a democratic future in Haiti.
The performance begins with Dorvil issuing a clarion call through a lanbi (conch shell), which symbolises the rallying cry of the enslaved inhabitants of Haiti. Flanked by a shimmying dancer on each side and the percussion quartet arrayed behind him, Dorvil sings out the lead verses, triggering a collective response. Throughout he directs the drummers, their braided hair swinging wildly in varying tempos, by tapping the fer (metal rod).
The densely polyrhythmic music, crafted to summon voodoo spirits, mesmerises the audience. People sway in their seats, then stand up and sway on their feet. As the concert comes to an end, it evokes a rousing tent revival gospel service with people clapping in unison, singing songs intelligible only as exultations and raising their hands in faithful invocation of gods and messengers from another culture. One middle-aged man, identifying himself as an evangelical Christian who had driven several hundred miles from Kentucky for the concert, succinctly sums up the event, saying: "This has been an overwhelming experience."
Chouk Bwa sing songs to invoke healing, expose injustice, celebrate the liberation of Haitian people from colonial rule and remind listeners of present day oppressions and hardships all too close at hand. Their a capella version of 'Neg Ayisyen (Haitian Man)', from their first album, Se Nou Ki La! (reviewed in #110), is roughly translated by Wolteche:
'We are the Haitian people,
Children of Nago, children of Kongo, children of Dahomey…
our God is the Eternal,
We are from Africa. We have to speak for our ancestors,
The religion of our ancestors is Voodoo,
Jean-Jacques Dessalines fought for us…
Toussaint Louverture talked…
"Our roots are long, they are very deep"
We are Haitians.'
At the song's conclusion, the audience, still not entirely satiated, pleas for an encore. From backstage, McCalla walks out, carrying her cello to the centre of the hall where she takes a seat. Without saying a word of introduction, she begins strumming an achingly soulful melody while softly crooning in Creole for what sounds like a lullaby. Members of Chouk Bwa and Flemons join in, playing hand drums and singing. The audience encircles the musicians, singing and humming, swaying and swooning, lost in the moment, revelling in the cathartic solace of voodoo. "That show made me fall in love with life again," McCalla says after the concert. "My heart is so full and I am so grateful."
Following on from the success of their US debut, Chouk Bwa spent the summer performing at multiple festivals in Canada followed by a September trip to Brussels before returning home. In November, the band released 'Electric Mambo/Nago', made in collaboration with Brussels-based electro-duo The Ångstromers. Mixing traditional voodoo drumming and chanting with reverb and dub-style electronic effects, the music represents a distinctly experimental trajectory for the Haitian troupe. Wolteche describes the track as 'a kind of future-leaning voodoo dub… Chouk Bwa & the Ångstromers unearth untimely dances where rituals of the future can be heard leaking into the precisions of the past. These technicians of the sacred invoke the spirits of freedom through songs rooted in their ancestral ceremony.'
Up to this point dancer and singer Edele Joseph has said little, but she leans forward in her chair, black Ray-Ban sunglasses dropping from her eyes. "It's important for you to know that the mission is to bring positive energy to people, something to keep and hold, something that makes them feel better and can be brought with them everywhere they go," she says in a low raspy voice. "This energy has no borders. There is no question of race or anything else in it. It is for everybody." Just as it should be. Years ago, the Art Ensemble of Chicago favoured a slogan, which, with only a slight tweaking, could well serve Chouk Bwa: 'Great Voodoo Music: Ancient to the Future.
Listen