Tuesday, December 10, 2019
Daymé Arocena: "I am letting people see inside me with the music"
The young Cuban singer Daymé Arocena has had a rapid rise to fame. She tells Jane Cornwell about her journey so far and her tribute to Santería's female orishas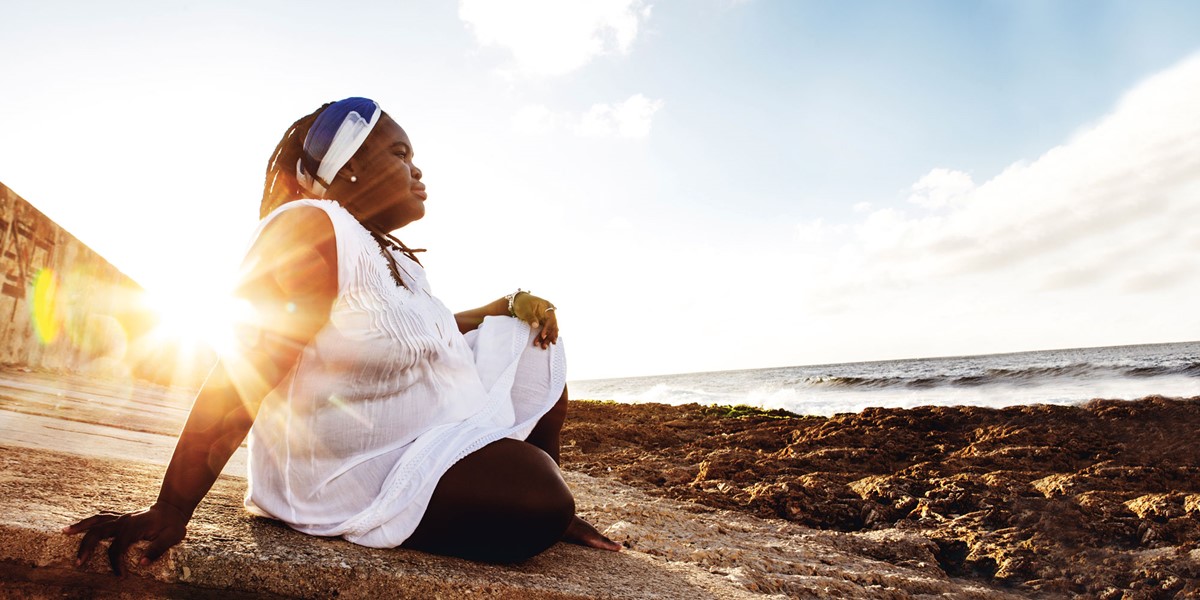 (photo: Fabrice Bourgelle)
Each night, after another day immersed in music, Daymé Arocena sleeps deep, and dreams songs. The images that come are vivid, loaded with meaning: a woman singing on a bridge; the deity Yemayá emerging from the waves; a phrase repeated, its symbolism cloudy then, after coffee, clear. So it was that Arocena was heard sleep-talking by her husband early one Havana morning, muttering something that sounded like 'echocardiogram' again and again.
A singer, composer and choir director, 27-year-old Arocena hails from a family where musicality is the norm. Her cousins, aunts and uncles are singers, percussionists and rumba players. Her father is a nightclub manager and jazz fan who raised the eldest of his two children on a steady diet of La Lupe, Pérez Prado, George Benson and Sade. Both Arocena's grandmother and mother are singers, neither of them professionally. Her mother is a nurse who works in cardiology, overseeing the ultrasound tests that evaluate the structures and blood flow of the heart. That is, the echocardiograms.
Arocena had been musing on a title for her third album, which she recorded in a no-frills rehearsal room in Vedado, hipster Havana. These sessions were stripped-back, infused with the earthy rumba vibe she grew up with. A band on keys, bass, percussion and kit drums buoyed 12 original songs, some paying homage to the female orishas (deities) of Santería, the Afro-Cuban religion that informs much of Cuba and its diaspora; others telling of love, heartbreak and redemption in ways honest and boldly transparent.
"I am baring my soul on this album," says Arocena of Sonocardiogram, which she co-produced with pianist Jorge Luis Lagarza Pérez and released on Gilles Peterson's London-based Brownswood label. "I don't have a (cardiogram) machine, obviously," she adds, "so I'm letting people see inside me with the music."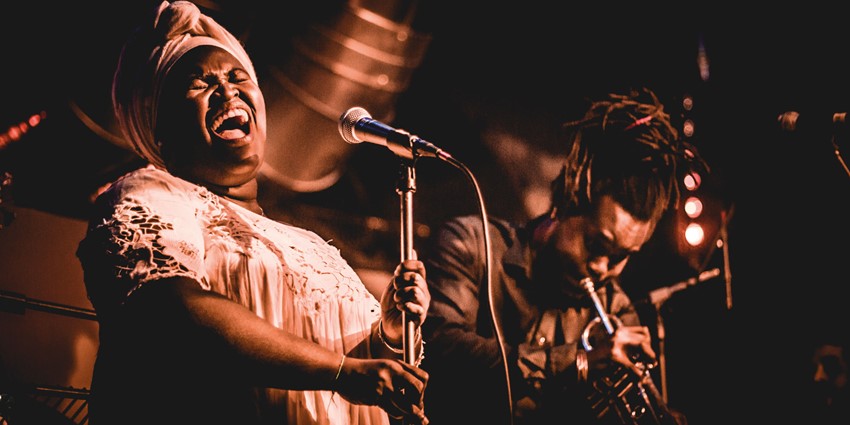 We're chatting on Skype while Arocena is in Toronto. It's a city she's been visiting since 2013, the year she was spotted performing in the all-female band Alami at Havana's Jazz Plaza Festival by famed Canadian saxophonist and bandleader Jane Bunnett, who invited the group to Canada to collaborate with some big name Cuban jazzers in a project called Maqueque.
Our real time encounters began, however, in April 2015, when Arocena made her memorable UK debut at St Pancras Old Church in King's Cross: barefoot, dressed in white, with bells around her ankles, a band of UK-based musicians (notably, producer and percussionist Simbad and pianist Robert Mitchell) at her elbow and a charisma and talent (including vocalese and body percussion) that made converts of her audience-cum-congregation. Back then Arocena was fresh from working with electronic producers on Havana Cultura Mix: The Soundclash, a project involving Gilles Peterson (who has played a key role in her career) and the zeitgeist-lassoing Havana Cultura platform.
Her two original contributions, 'Me Ileva la Habana' and 'U Knew Before' (a nu-soul marvel she'd recorded with producer Raumskaya), gave little indication of her onstage charisma and humour. A chat about a troubled relationship with a malo hombre, for example, introed an upbeat guaguancó-style track featuring passages of scatting, fragments of Afro-Cuban chants and an impassioned, off-the-cuff holler of 'I hate you!'
Songs from her debut Nueva Era (a Top of the World review in #110), recorded during the same visit, included the Spanish-language 'Madres', a tune that referenced her two designated orisha 'mothers,' Oshún (deity of fresh waters) and Yemayá (deity of the sea), and the English-language tune
'Dust', the story of an asthmatic singer in a filthy Toronto household. Tipped as the next big Cuban music star, not long afterwards she joined Peterson and London rumbero Adé Egun (Crispin Robinson) on a journey through rumba culture in 2016's album and feature-length documentary, Havana Club Rumba Sessions. She performed at the Barbican as a guest in US jazzer Miguel Atwood Ferguson's acclaimed Suite for Ma Dukes show, and alongside Roy Ayers and Brazilian star Ed Motta at Peterson's Worldwide Festival.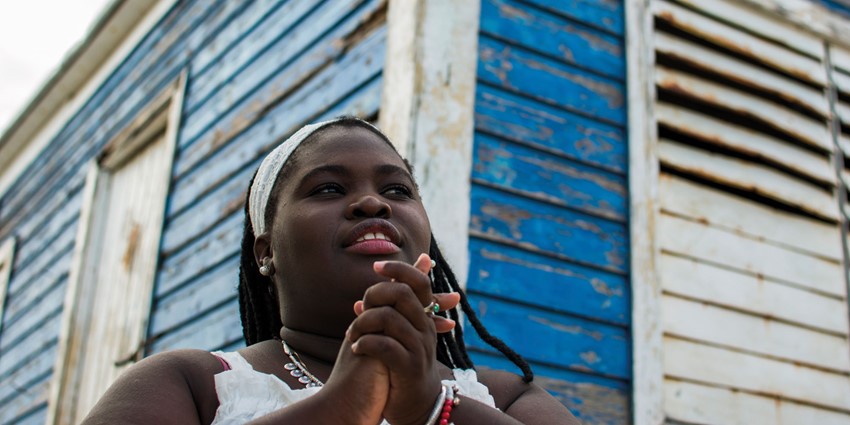 Then off she went around the globe, playing everywhere from Paris and Los Angeles to Sydney and Tokyo, her white garb and repertoire of chants piquing interest in Santería, whose syncretism she explains, Arocena-style, as "a religion born in Cuba, where the mother is Catholic and the father is African [Yoruba]."
In 2017 came her second album Cubafonía (reviewed in #123), a work that set out to tell the history of Cuban music, much as the pianist Roberto Fonseca did with his 2016 masterwork ABUC (on which Arocena sang guest vocals). But where Fonseca's overriding theme – a look back at the evolution of Cuban music – was laid out in the artwork and press material, Arocena's similarly ambitious concept was left to the listener to infer ("I didn't see many articles about this so I was very disappointed,") and Cubafonía's mesh of jazz, soul and classical was regarded by critics as busy and confusing. What was noted, however, were the improvements in her songwriting, which now did justice to her astounding vocal range. "I have a very strong voice," she says matter-of-factly. "But when I sing, I also want people to appreciate the beauty of nuance, subtlety and intelligence."
Arocena's fans – including a loyal front-row of UK-based Cubanas – who flocked to her gigs at London venues, including Rich Mix and the now-defunct Forge in Camden, couldn't help but note the light and shade in her performances. Neither could crowds at festivals such as WOMAD, where her sets commanded double takes from fellow artists; WOMADelaide 2018 saw Arocena hanging out with British singer Lianne La Havas and American bass-playing genius Thundercat, who famously contributed to the landmark 2015 album, To Pimp a Butterfly by American rapper Kendrick Lamar (an artist Arocena has previously name-checked as one she'd love to work with).
Today she bumps Lamar down her list in favour of a wish-list of female collaborators including Sade, the mercurial British Nigerian chanteuse whose oh-so-smooth jazz hits dominated the 80s charts.
"My father used to play Sade's records all the time and go a bit crazy, which made my mother jealous," she says, laughing. "Sade is Yoruba so she's connected to Oshún, and is on my list of queens. Others are [Afro-Spanish nu-flamenco diva] Concha Buika and [Malian singer-songwriter-guitarist and former Songlines cover star] Fatoumata Diawara, whose album Fenfo is incredible. When she talks she is such an inspiration. I was on a women's panel with her in Havana and she said that she never travels with her husband. Isn't that great?" A dimpled smile. "And of course, if I could, I would have worked with La Lupe," she says, referencing the late Cuban powerhouse singer and 1940s and 50s Latin soul sensation, to whom she dedicates a track on Sonocardiogram.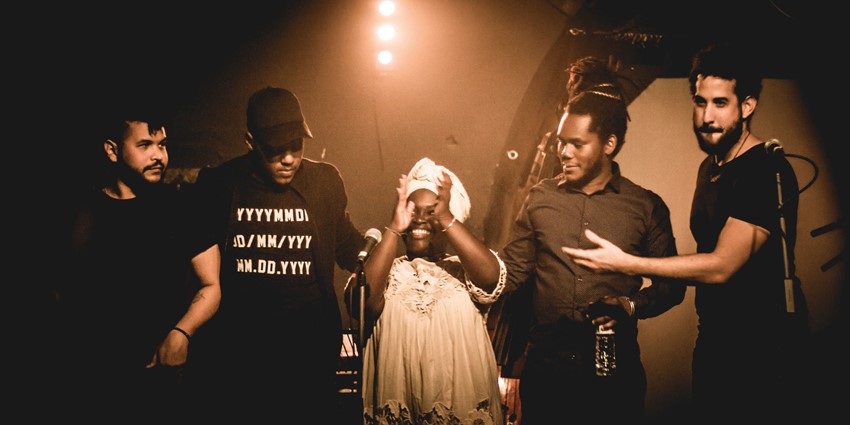 "I first heard her singing a song called 'Con el Diablo en el Cuerpo'. It was insane. Later, I made an arrangement for choir with these weird voices and complex things and people used to love it. La Lupe was like an actress; she made every song she sang a movie. Her version of 'Fever' is so hot! She is a big influence, like [bandleader] Arsenio Rodríguez and [singer] Merceditas Valdés," she says. "I pay tribute to them in [closing track], 'Homenaje'."
Arocena was born singing, more or less. Instead of crying she made a lilting mewling sound, and would copy sounds coming from the TV in the family's two-room apartment in Diez de Octubre, a Havana district beloved of rumba street parties. Aged five she was singing along to her father's records using a deodorant stick as a mock microphone and entertaining the 14 other family members living in her home. She won a kids' singing competition before going on television with her cover of The Beatles' 'Let it Be'.
At the age of ten she was studying choir directing, a popular choice among parents. Five years later, she enrolled at the Amadeo Roldan Conservatory – which had been at the vanguard of the 1920s Afrocubanismo movement. She became a singer with big band Los Primos, whose conductor loved playing traditional jazz. She sang songs by the great divas – Fitzgerald, Holiday and Simone – and Brazilian standards, before joining a jazz quintet and touring Nicaragua and Norway. Then came Jazz Plaza and Jane Bunnett, Gilles Peterson and Havana Cultura. But always, there was rumba.
She came relatively late to Santería: "The director of Amadeo Roldan decided to put folkloric music and chants alongside the classical traditions. One day I arrived at school and heard these batá drums and it was, ah!" She rolls her eyes. "It was magical, like falling in love. I wanted to join in but was told I didn't have the right hands to drum. I began singing with the band instead, learning Santería chants and rhythms."
Sonocardiogram opens with 'Nangareo' in which Arocena speaks and sings over the sound of waves, handclaps and ambient synths, asking the sun ('the largest star') for permission to begin. "I am opening my soul like a book," she says of the track. It is followed by the suite Trilogia, whose three movements are named for 'Oyá' (the first female deity), 'Oshún' and 'Yemayá', and were written when Arocena was just 17. An extra player on kit drums updates and dialogues with the patterns of the batá: "I wanted an album that sounds like me, that does it my way."
'Interludio' came indirectly out of a trance Arocena fell into during a Santería bembe (party), while chanting for Yemayá: "I was taken out of the room because I was out of my body and brought back later. But what I experienced made me think it was a good way to connect my saint and religion and energy to the woman who is Daymé."
"Falling in love is a bit like leaving your body too," says the recently married Arocena, eyes twinkling. "This piece of Yemayá chant connects both sides of me."
Midway through the album comes the five-track Suite 'Cinco Maneras de Amar', reflections on love lost and won. The malo hombre gets it in 'Porque Tú no Estás': "At the time I started writing this song about someone who destroyed my life, who told me I was crazy and would be alone. I used to have dreams where I was crying and he was standing over me pointing and going 'Hahaha.' I couldn't finish writing it until I met my [Cuban] husband," she says happily. "So the second half of the song is like, 'Look where I am, how good I feel now'."
'Para el Amor: Cantar!' is about a woman singing to her lover on a bridge. The Portuguese-language 'As Feridas' praises humility. 'Menuet Para un Corazón' is about the healing of a broken heart. 'Not For Me' spells out, in English, where Arocena is right now: "No more toxic relationships. No more long-distance relationships. No more playing with my feelings. That's not for me."
Neither should it be for anyone.
"I will be so happy if every single person who listens to Sonocardiogram feels that they can see my soul and identify with me. I want to encourage honesty and authenticity between people and inside themselves. Being happy being who we are, doing what we love, and being open to the future."
She pauses and grins. "This is my biggest dream," she says.
This article originally appeared in the December 2019 issue of Songlines. Never miss an issue – subscribe today!