Friday, February 14, 2020
Dispatch From Belo Horizonte, Brazil
By David Katz
A vibrant arts and hip-hop scene is happening in the Minas Gerais city. Songlines spoke to those who have been instrumental in its boom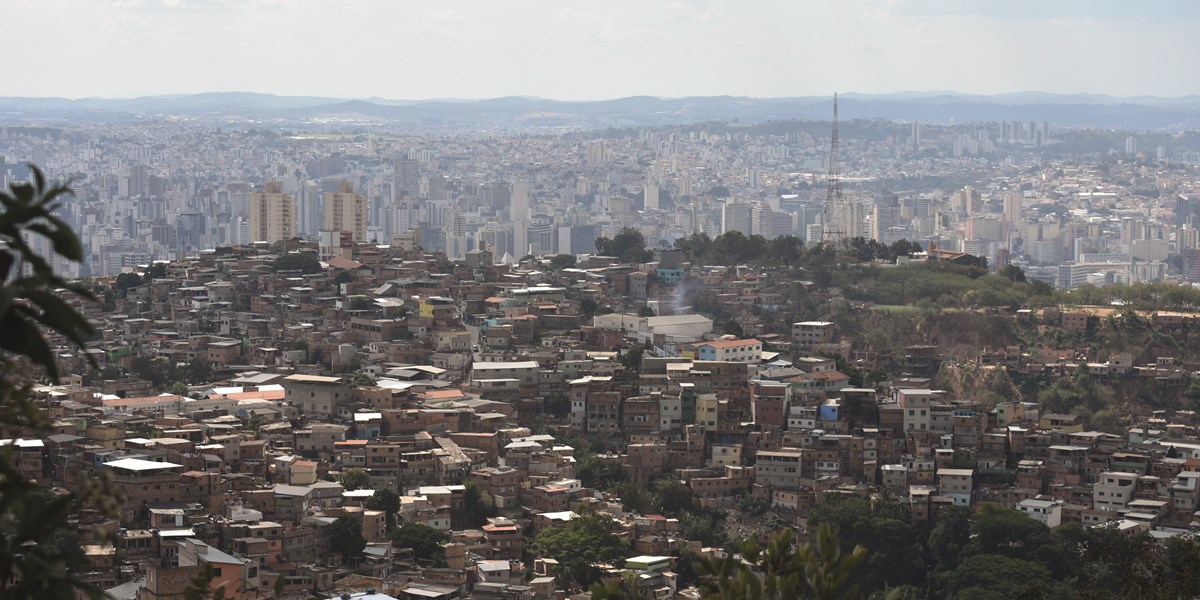 Belo Horizonte is Brazil's third largest metropolitan area
Underneath the ancient, graffiti-strewn Santa Tereza aqueduct, two favela kids square up for a different kind of battle. Bass-heavy backing tracks blare from stacks of speakers and there is palpable tension as the sizeable crowd chants, 'Gonna die! Gonna die!' The first contender showers his opponent with stinging rebukes, delivered in spitfire bursts of caustic slang and then the second responds in kind. As the setting sun casts shadows across a row of buildings decorated with street art, dozens of fresh faces vie for enough audience approval to reach the next round and if much of the material is braggadocious, there is abundant political commentary too.
Welcome to the Duelo de MCs, a weekly event staged in the heart of downtown Belo Horizonte, Brazil's third largest metropolitan area. The capital of Minas Gerais, a state built on mining, dairy products and coffee, Belo Horizonte is often seen as a conservative backwater, yet its thriving alternative arts scene provides robust forms of musical resistance, especially through local variants of hip-hop and reggae.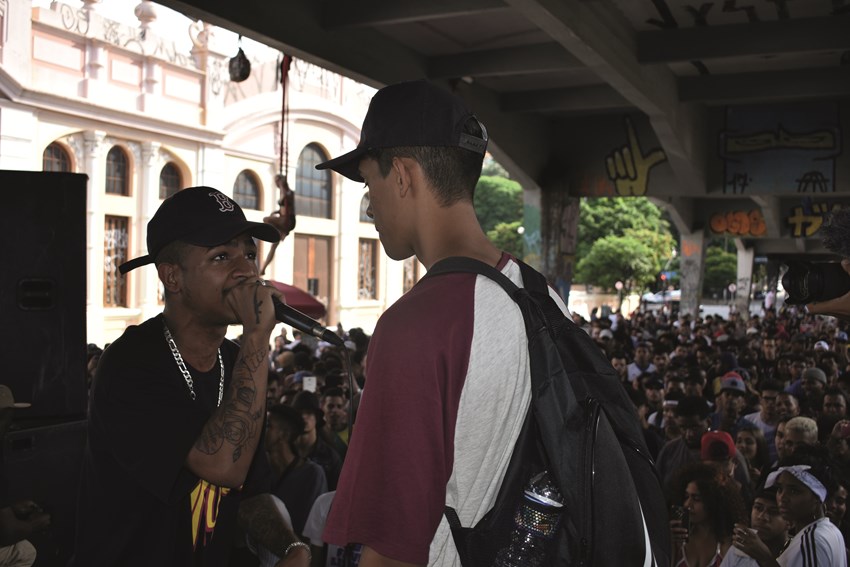 "Belo Horizonte is a conservative city, but it's also a revolutionary city," says Gustavo 'Oreia' Aguiar of the duo Hot e Oreia, one of the city's most respected rap acts. "The Duelo de MCs is the biggest hip-hop event in Brazil right now and it grew out of the widespread demonstrations that took place in our city in 2013, sparked by social inequalities and rising bus fares. Our Carnaval was also revitalised through demonstrations at the square facing the train station, which became a kind of public beach after the mayor said it was forbidden to gather there."
Hot e Oreia got their start in larger rap group, DV Tribo, together with Djonga, now one of the biggest names in Brazilian rap. Mario do Nascimento, aka 'Hot', explains that rap is a constantly evolving art form: instead of aping the styles of American megastars, hip-hop thrives on hybrid creations aimed at local audiences. Venerating tropicália giants in their work, Hot e Oreia titled their debut album Rap de Massagem (Massage Rap) to poke fun at mainstream rap's prevailing 'gangsta' imagery, employing humour and a gender-fluid dress sense in their videos. The album opens with an orixá blessing and has another track devoted to Xangô, the orixá of justice in the Afro-Brazilian Candomblé faith. Outstanding single 'Eu Vou' attacks the exclusionary policies of reactionary president, Jair Bolsonaro.
Roger Deff, another graduate of the Duelo de MCs, uses traditional Brazilian instruments on his backing tracks. His debut Etnografia Suburbana explores the lives of disenfranchised citizens living in precarious favelas on the outskirts. In contrast, youngblood Samora Nzinga works in Afro-trap, the hypermodern offshoot pioneered by Senegalese rapper MHD.
In the reggae realm, the city's longest-running sound system is Deska Reggae, which has worked with Jamaican artists, while Reggae Time focuses on ska and early reggae. Meanwhile, the charismatic vocalist, graphic artist and dancer, Zaiko Dos Santos, shifted from rap to reggae several years ago with the creation of Salto, Belo Horizonte's first female sound system. "We faced negative preconceptions for being female," she explains. "They said we wouldn't be able to lift the boxes, but we proved them wrong."
Reggae, rap and baile funk have always thrived in Aglomerado da Serra, an area of speculative housing that is reportedly the third largest slum in Brazil. Inspired by Rastafari teachings, self-sufficient cooperative Roots Ativa has spearheaded food-waste recycling here, while in Favelinha (Little Ghetto) a young former rap star called Kadu runs the inspiring arts project, Lá da Favelinha, producing upcycled fashion items for local benefit.
"Aglomerado da Serra has a strong cultural reputation, but the people face a lot of prejudice," he explains. "It's much harder to get a job in the city if you come from here, so I started the project to provide a bridge between the community and the city and to provide a means of income for the community."
Belo Horizonte's gritty urban conurbation is largely off the tourist map, but those that make the effort to come here will find all manner of unique musical and artistic expression that foster its resistant identity.
This article originally appeared in the January/February 2020 issue of Songlines. Never miss an issue – subscribe today!
Watch