Tuesday, October 29, 2019
Harp of Darkness: "If I expose the bin-baja harp, something will have to die"
Patrick Jered ventures into Madhya Pradesh in India to unearth the legendary bin-baja harp, widely considered as a pariah instrument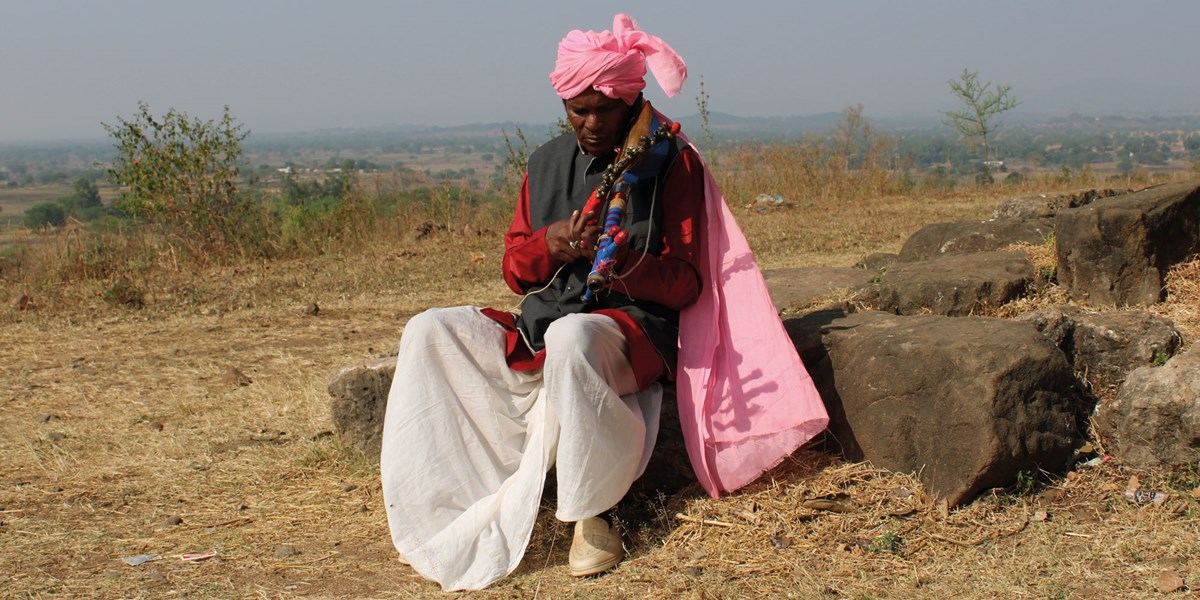 The mood at Kokomata village suddenly turns hostile, and the group of people who have collected around us grow audibly agitated. Naresh, who is acting as my interpreter, has just mentioned the bin-baja harp to the only tribal musician left in the village.
"We told Ram Prasad repeatedly to get that instrument out of Kokomata," he says tersely. "For years we threatened to eject him from the village – even from the tribe – if he didn't. He always ignored us and we never did throw him out, but he died 15 years ago. And the day he died, we took that filthy thing from his hut and threw it on a bonfire." I wince at the very thought: the wanton destruction of perhaps the rarest musical instrument in the world, maybe the very last of its kind.
For the past two weeks, I had been in the tribal region of Madhya Pradesh, India, following in the footsteps of American musicologist professor Roderic Knight. In the 1980s, Knight had become intrigued by an obscure book, published in 1946 by Indian writer Shamrao Hivale, The Pardhans of the Upper Narbada Valley. It described the unique musical traditions of the Pardhan tribes of Central India. At the end of 1981, he set out to investigate if those traditions were still alive, and spent six months living in Rahangi, a Pardhan tribal village.
Tribes such as the Pardhans have existed outside of mainstream Indian society for thousands of years. It is believed that in order to avoid being assimilated during the Aryan invasion they had retreated into India's inaccessible regions, where they preserved their own aboriginal languages, traditions and gods.
I was initially driven by my fascination for primitive violins. My interest is in the bana, a three-stringed fiddle used by Pardhan musicians to play a unique style of music, unrelated to Indian folk or classical traditions. But Knight's work had aroused my interest in something much more intriguing. The bana fiddle had a 'dark side', an evil sibling: the bin-baja harp, a pariah instrument.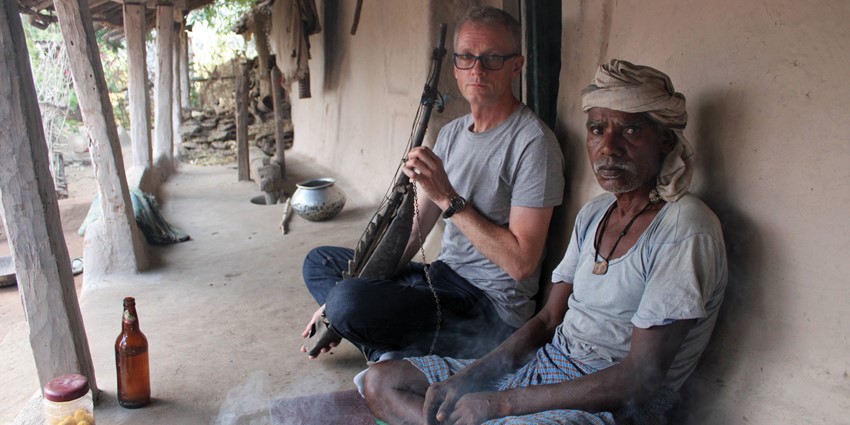 Although the bana fiddle is extremely rare, unknown outside the Narmada Valley region of Madhya Pradesh, I had fairly easily found some bana players. However, they are clearly thin on the ground in the 21st century. In 1981 and 1982, Knight had documented 18 bana players at Rahangi village; I find only two, neither of whom had played their instrument in years. At the largest Pardhan village, Patangarh, I find only one competent bana player, Narajan Tekam, among the 600-odd villagers. In the 1940s bana players had been commonplace there.
The bana fiddle – considered to be a female instrument – is sacred to the Pardhan tribe. They believe their tribal god, Bara Deo, exists within it. Playing the bana is an act of worship and is always preceded by a formal ritual. Pardhan mythology tells of how the first bana fiddle came into being at the point that their god had descended among them. But the Pardhan creation myth of the bin-baja harp – considered to be the fiddle's male sibling – is very different. The first bin-baja was fashioned from a piece of wood that had been spat out of a funeral pyre by the restless spirit of the burning corpse. According to orthodox Hindu sensibilities, that would have made it ritually unclean, along with anybody who touched it and all of their descendants. The bin-baja harp is reviled by most Pardhans, and it had continuously evaded me. When questioned, most Pardhans simply inform me that it was no longer played anywhere; it had died out. The hostility we encounter at Kokomata village is unusual.
The idea of a pariah musical instrument is a fascinating concept in itself. But back in the 1940s, Hivale had failed to understand the true importance of the bin-baja. He had apparently not recognised that it was a harp at all, or why that was so significant. He was an anthropologist, not a musicologist. It was significant because at the time, the harp was believed to have been extinct in India for perhaps as long as a thousand years. Knight had understood this. During his entire six-month stay in the region, he had only managed to find one man willing to admit to owning a bin-baja harp: Ram Prasad of Kokomata village, the mention of whose name had elicited the hostility we encounter there. We at least establish that the harpist is now dead and that his instrument had been destroyed.
It starts to feel like we might be physically ejected from the village if we're not careful, and so we extract ourselves cautiously from the situation and leave the crowd of disgruntled villagers behind us.
As we leave Kokomata, one of the men among the crowd gives us a tip. He believes that until recently a bin-baja had been in use at a small village nearby called Jhanki, but not by a musician, by a tribal shaman who used it to cast spells.
An hour later, a Pardhan boy at Jhanki village leads us along a rock-strewn path to a rambling adobe-walled house, the home of Teli Pandarom. The shaman is neither friendly nor unfriendly, but his sombre presence makes me feel uneasy. We sit cross-legged under the rough wooden awning that covers his front verandah as a slow and lengthy discussion unfolds. Eventually Naresh translates for me. "He says he does own a bin-baja harp, but he doesn't want to show it to you." It's explained that the harp is a powerful artefact used to contact the spirit world, and it could not be exposed without a clear reason. The Pardhan boy cleverly interjects that I have a serious problem in my private life that could perhaps be solved by a ceremony with the instrument – after all, who has no personal problems?
Then Pandarom addresses me directly for the first time, with a penetrating stare and a chilling pronouncement. Naresh translates once again: "If I expose the bin-baja harp, something will have to die," he says. Such a magic ritual is always preceded by a blood sacrifice. For it to be performed in my presence, I would have to buy a goat at the village, or at the very least a chicken, and slit its throat before the bin-baja. I attempt not to dismiss the idea outright, but know this is never going to happen.
After another slow negotiation it's announced that there is just one other acceptable possibility. In place of an animal, the very poorest of villagers would make an offering to the bin-baja of a litre of mahua, the locally made moonshine liquor. And so it's agreed. Naresh and the Pardhan boy are sent back to Jhanki to buy the various offerings and implements for the ceremony. I'm left sitting rather uncomfortably in the presence of a tribal shaman who seems almost oblivious to my presence when he isn't staring at me as if peering into my soul. Then Pandarom abruptly stands up and disappears into his house. He returns a while later with something shrouded in a white cloth, which he props against the wall next to me with a hollow clunk, then disappears again. I feel the hairs on my neck prickle in anticipation of what is about to follow.
When my companions return, a metal thali is prepared with rice, sweets, coconuts, a cash offering, and a bunch of burning joss sticks. I'm instructed to kneel at the foot of the instrument as it is unveiled and anointed with a splash of mahua accompanied by a mantra. Then two glasses of the liquor are poured. I copy the shaman, raising my drink to the bin-baja and down it after repeating the toast, "jai Bara Deo."
As my head begins to swim a little from the combined effects of alcohol and the smoke from 20 joss sticks, Pandarom incants the spell that would reach into the spirit world and summon the presence of his tribal god. I am instructed to slowly rotate the thali seven times before the instrument, while concentrating on the personal problem that Bara Deo would banish from my life. I feel the shaman's intense gaze on me, and I know he is counting the rotations.
I sense that it would be inappropriate to ask if the ritual could be filmed, and I'm correct. When it's over, Pandarom is reluctant to even allow me to photograph the bin-baja. However, a glass of mahua further on, he seems to warm to me a little – as far as I can tell – and relents, even permitting me to briefly hold a musical instrument as rare as a living dinosaur. We quickly snap some photographs before he changes his mind.
The bin-baja, like a mummified reptile, looks in pretty poor shape. One of the five strings is missing and the others are untuned. Pandarom tells me that the broken string would soon be replaced, but as the strings are made from peacock veins, they are difficult to come by nowadays. Then he tunes the harp and starts to play again. The leather membrane covering the sound box is also damaged. Pandarom explains it had belonged to his great-grandfather, of that much he was sure, but it was certainly many hundreds of years older than that.
I suddenly realise that dusk is gathering around us. With a five-hour drive on unlit country roads back to our lodgings, we really need to set off before sundown.
Trudging back along the stony path towards our car as the night comes on, I berate myself for leaving with so many questions still unanswered. And I wonder, if somebody followed in my footsteps 25 years hence – as I had followed in professor Knight's, and he in Shamrao Hivale's – what would be left to find of the Pardhan musical traditions? In 2053, would the bana fiddle – musical tabernacle of the tribal god – still be played by anybody at all? And what would have become of the bin-baja, harp of darkness?
A full account of Patrick Jered's trip to find the bin-baja harp will be published in his forthcoming book, Turquoise Lakes, to be published in 2020
This article originally appeared in Songlines #151. Never miss an issue – subscribe today!