Sunday, December 13, 2020
Jambinai: definitely not K-Pop
David Hutcheon speaks to Jambinai, the South Korean band bravely exploring a middle ground between traditional music and heavy metal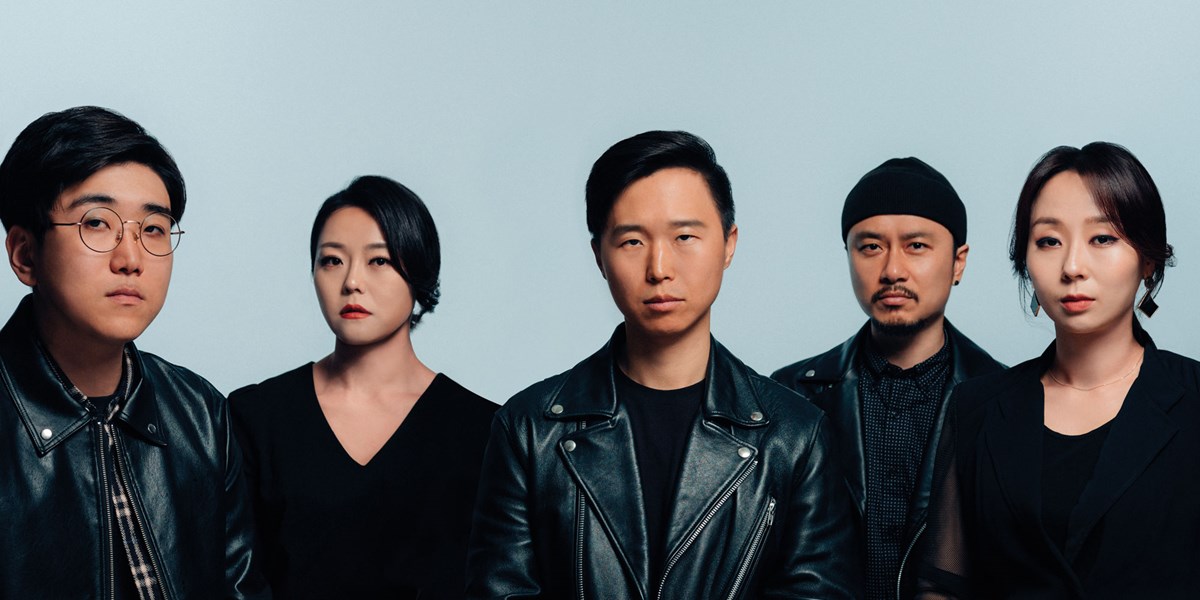 From left to right: Yu Byeong-koo (bass), Kim Bo-mi (haegum), Lee Il-woo (guitar, flutes), Choi Jae-hyuk (drums), Sim Eun-yong (geomungo)
Soundchecks are notoriously boring affairs. The thrill of having exclusive access is dimmed by their repetitive nature. Occasionally, however, you witness something special. Once the band relax, they may debut new material or a cover they will never record. If the crew are confident, they may push the PA a little further than necessary, to see how it copes, knowing they can always adjust it for the gig.
And so it is with Jambinai, South Korea's titans of classically trained noise, who are in London on the eve of the release of their third album, the magnificent ONDA. As the quintet close their warm-up with the title-track, their engineer pushes the volume to 11. The climax of the song may be the loudest thing Songlines has ever heard, an exhilarating assault on the ears that will take hours to fade completely into the background. Jambinai are not endorsed by any reputable otologist.
Thirty minutes later, however, the band are struggling to make themselves heard above the din of a busy Italian restaurant. One founder member, Sim Eun-yong (who plays the geomungo zither), has elected to get her rigatoni later, so Lee Il-woo (guitar and flutes) and Kim Bo-mi (haegum fiddle and various xylophones and glockenspiels) settle back into a vinyl booth to tell the story of a band who have risen from being Seoul rebels to playing the closing ceremony of the 2018 Winter Olympics.
Lee looks every bit the indie rocker: ripped black jeans, black T-shirt, black jacket and black Beatles fringe; Kim, on the other hand, is wrapped up in a chic blue raincoat and has her curlers in. Since Jambinai started to get attention in the West, they have been on English-language courses with impressive results, which they confidently mix with phrases picked up from rock'n'roll. They trade sentences like an old married couple – at 38, they have known each other almost 25 years – and Kim has a laugh only slightly quieter than their soundcheck.
Trying to get a handle on Jambinai can be tricky initially. Are they traditional musicians who play in a heavy metal style, or a heavy metal band who use traditional instruments? Does it matter? "Mostly, people in Korea think traditional music is really boring," begins Lee, "and it's just smooth music for relaxing, for old people, but I wanted to break that stereotype, to prove a traditional sound can also be thrilling. And I'm a big fan of heavy metal, so I tried to merge the two."
"But I'm not a fan of heavy metal," interjects Kim. "When I was in elementary school, I watched a film that used Korean traditional music and it was so touching I decided that was what I had to study, so I went to a middle school that taught music and that was where I met Lee. I prefer world music, especially tango. My favourite musician is Astor Piazzolla."
"If you really listen to our music, you can hear that," adds Lee. "The way Bo-mi plays the haegum has the colour of tango. In the traditional way, the haegum is a very soothing sound, very different from her emotions. When she plays it is darker and it has so much power. Many composers write Korean traditional music but only think about the melody, never the musicians' feelings while playing. For our tunes, like 'Connection' on our first album, I started by looking for a feeling before thinking about the melody."
If it is this power that distinguishes them from other musicians who studied at Korea's National University of the Arts, it also crossed red lines for several of their teachers. While some agreed that traditional music needed to adapt, others decided they were lost causes. "My teachers still worry about my survival because we don't make huge money," laughs Kim. "But they still talk to us and tell me we are friends."
So you took one type of music that isn't popular and added another kind of music that isn't popular and now… "We're still not popular! Jambinai is cursed," says Lee, glumly, before perking up. "But at least after the Olympics our parents now say: 'Do you want to see a recording of our children on TV?' People are starting to be proud of us."
As in the UK, so in Korea, heavy metal is the music that refuses to die. Lee talks about the alienation of being a teenager who could only find like-minded souls at heavy metal clubs. "Nobody else enjoyed it, so only I listened and when I went to the record shop or the heavy metal record club, there were a lot of people like me."
Metal's endurance in the face of the march of time and critical hostility is nothing if not impressive. Those outside its world decry its refusal to change, yet whenever a band manages to add something new to the template – Faith No More introducing hip-hop, Guns N' Roses a punk attitude, or, dare we say it, Yat-Kha with horsehair fiddles and throat singing – the scene reinvigorates itself. Could this work both ways in Korea?
"Well, we can never forget we are traditional musicians," says Lee, "and if we are to make new music with Jambinai, I think we need more of these traditional skills. That's why we practise every day and still play with pure traditional musicians. Now I hear that the younger generation of traditional musicians really respect what we do and I've heard that some students covered our song 'Time of Extinction'. It's…" Kim pauses, "cute."
If you have followed the Jambinai story from their first album, the extraordinary swings from violence to beauty of Différance, to the raging anger of A Hermitage, you will undoubtedly sense significant developments. For one, the band is now a settled five‑piece. "Before, we had bassists and drummers in the band who were just not professional," explains Lee. "They thought touring was simply visiting Europe and drinking European beer. Choi Jae-hyuk (drums) and BK Yu (bass) are professional players, they just focus on playing and the tour."
More importantly, however, is that ONDA feels more varied, more grown up. Lee is happy to agree. "We are getting older and our thinking is changing every day. Before the second album I was very angry, I had a job with a Korean orchestra but that was very stressful (Lee has talked previously about an attempted sexual assault on him by another musician), but we had an American tour two years ago and after that I got to do some sightseeing. So I hiked out to the Grand Canyon and Horseshoe Bend. They were on my bucket list. I felt my stress and anger had gone, and that feeling inspired me to write new songs. Our third album was born because I wanted to make an anthem for people, to tell them to follow their dreams. I wanted to say: 'Your darkness is going to change into shining stars one day.'"
It's time to return to the venue. As we enter, it's clear that the smattering of T-shirts bearing the names of obscure rock bands suggests Jambinai's relentless touring schedule is paying off. A critic from Metal Hammer magazine stops by to say hello, then sticks a pair of plugs in her ears and heads to the front row.
"Before this year, we were a strange band from a strange country," announces Lee mid-set. "Now you all know all about Korean music. Thank you, BTS." Yet this Korean music could hardly be more different from the shiny, happy K-pop of BTS (Bangtan Boys, a seven-piece boy band). There is the anger and violence of 'They Keep Silence', skewering the Korean authorities' inept response to the sinking of the MV Sewol with the loss of more than 300 lives. There is also the transcendent 'Connection', for which it's hard not to transpose the characters in that song's video – a difficult child, a grieving widow and a blind man – to the characters the front three adopt while hammering away at their instruments. And they close once again with the brutal 'ONDA' – which is definitely the loudest thing Songlines has ever heard.
We know that's the last tune because Sim Eun-yong immediately stands her geomungo on its edge – it is, at most, an inch shorter than she is – and puts it in its case. Lee, meanwhile, jumps offstage to find out what the crowd thought. "We have to keep trying to change," he says while signing LP sleeves. "We are not just a heavy metal band. Heavy metal is just a tool to break the clichés of traditional music, but now there is a new cliché: 'Jambinai is a heavy metal band'. We are just 'a band' but we can play all kinds of music."
This article originally appeared in Songlines #151. Never miss an issue – subscribe today!