Monday, February 12, 2018
Kaushiki Chakrabarty interview: "when I sing, I feel a kind of bliss comes over me"
Khayal singer Kaushiki Chakrabarty speaks to Jameela Siddiqi about her demanding yet expressive North Indian classical vocal style and how she got her remarkable start in this mainly masculine genre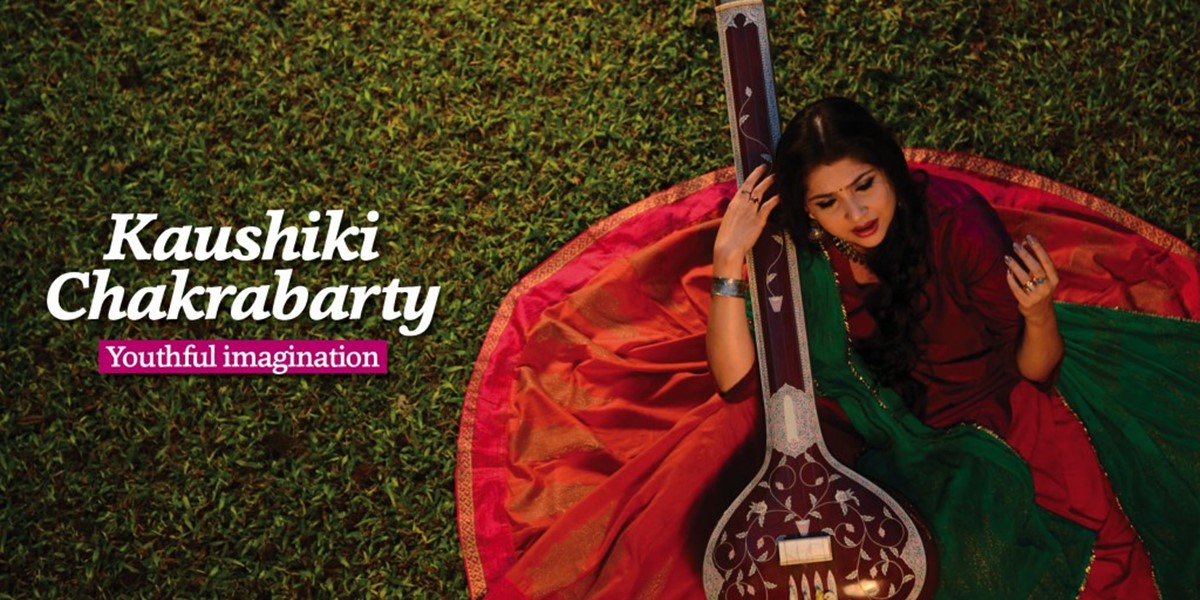 The Indian classical vocalist Kaushiki Chakrabarty has had the kind of debut that other musicians can only dream about. In 1997, aged just 16, she received thunderous applause after her first public solo recital in an audience that included, among others, the late legendary tabla player Alla Rakha and his son Zakir Hussain as well as sarod maestro Amjad Ali Khan. But, Chakrabarty says, "it was some two years later that I discovered this was called a standing ovation." This early success continued with a BBC Radio 3 Award for World Music win in 2005 that gained her international recognition, which was followed by several highly acclaimed albums.
The daughter of celebrated classical vocalist Ajoy Chakrabarty, she admits that she had it easier than most other newcomers. But that's not to say it wasn't a lot of hard work with several hours of practice each day. She is a singer of khayal (meaning 'imagination'), a North Indian classical vocal genre that demands full fluency in the raga being sung, as well as the ability to expand and improvise with a wide range of ornamentation while remaining within the strict confines of the chosen raga. It is an art that not only requires extensive musical knowledge and vocal dexterity but also the ability to compose musical phrases on the spot while delving deeper to unfold the multi-layered meanings of the song texts. While khayal is largely improvised, particularly in its slow, pulse-free introductory sections, the later (and faster-tempo) part of khayal recitals often consist of pre-composed song sections which, nevertheless, require a great deal of creativity to turn an average performance into an outstanding one. In Indian classical music terms, it is a relatively modern genre that gained immense popularity during the 18th century and, within a hundred years, had all but eclipsed its predecessor, dhrupad, an ancient song form that upholds the supremacy of the musical note, pure and unembellished.
As a genre, Chakrabarty considers khayal to be unique: "It needs the poise and peace of the middle of the sea, it needs the force of a waterfall, it needs the soft and crisp feeling of rain, it needs the grandeur and majesty of giant waves… it needs everything that a musical form can possibly accommodate."
Given the demands the genre makes on the performer, surely a khayal singer needs to be older or, at any rate, older than she was when she first took the Indian classical music world by storm? "It's similar to the journey of life recreated in a musical form. It requires the tremendous energy of youth yet demands as much poise as maturity can provide," Chakrabarty says, fully aware that the fact she was a teenager had originally played straight into the hands of her detractors who adhere to the purist belief that you have to be at least 40 to be taken seriously as an Indian classical musician. "Of course, khayal means imagination and imagination is something that evolves with age, experience, knowledge and maturity. But that's not to say that a child's imagination is not a valid thing."
While some may have envied her musical maturity while still a teenager, others were quick to celebrate her immense talent and, more important, point out that she was filling a void in that there were hardly any women vocalists in khayal, which is based on the famous Patiala gharana (school or style), named after the North Indian princely state where it was first developed and later popularised by the musical giant Bade Ghulam Ali Khan (who died in 1968). The style is characterised by a heavy reliance on semi-classical song forms, particularly thumri, but there are other technical features that make it an essentially masculine style, requiring tremendous lung power, particularly for the akaar (an introductory phrases ending in open-vowel sounds), which require full control and mastery over a range of three octaves, coupled with taan(melodic phrases) delivered at the speed of lightning and punctuated with dizzying glissandos. So, why take up such a masculine style?
"Although it's mostly men who sing the Patiala style, I find it is so vast that there are enough delicately nuanced spaces that can accommodate a female voice, as long as that original strength and spark is retained. I'm aware of being in an unending learning process," adds Chakrabarty.
For Chakrabarty it has indeed been a long process since her meteoric rise that has led to a glittering career in India as well as abroad. Having been awarded a prestigious BBC Radio 3 Award for World Music in 2005, she appeared at the UK's Darbar Festival, still in its early years and then held in Leicester. While preparing to appear at this year's Darbar at London's Southbank Centre, she speaks fondly of her last appearance: "I just loved the energy and the vibes I got from the first time I was at Darbar. I also loved the idea of artists interacting socially with the audience. It was also really inspiring to listen to other musicians performing at the same festival. It inspired me to try to give my very best on stage. Darbar is doing a great service in propagating and raising awareness of Indian classical music for a Western audience."
While Western audiences have been exposed to Indian classical music since the heyday of the late Ravi Shankar, many leading Indian musicians claim that there are still some fundamental differences in how their music is received outside India. Chakrabarty maintains that Indian audiences have generally had greater exposure to khayal and also the ability to compare performances. But, she says, it is even more challenging to perform before a Western audience that doesn't have these reference points. "It is like initiating them to embark on a new journey and a new world of possibilities. Language is not a barrier. I have seen European audiences weep during a song (in Hindi), which is about a young woman pining during separation from her beloved."
While almost every Indian musician of her generation has been eager to take part in fusion as well as film and pop music projects, Chakrabarty herself is a relative latecomer to the scene. Even so, what little she has done in this area, appears to stand tall over other similar projects. The founding member of Sakhi (the word for 'female friend'), the country's first all-women Indian classical music ensemble, she is adamant that Sakhi is not about fusion between different musical traditions but that it is about fusing different aspects and styles from within the Indian classical tradition.
Her song 'Lagi Lagi' for MTV Coke Studio, a highly popular TV series featuring live music in India, as well as Pakistan and the Middle East, has been a monumental hit. She believes this is because the Indian film composer Shantanu Moitra, while composing this song in the Bengali folk style of keertan, never lost sight of her essentially classical training and the resulting elasticity of her voice. More recently, she has also sung a number of film songs in both North and South Indian languages, the latest being for the film Gulaab Gang (2014).
So how do these lighter song forms compare to her main forte – easier to sing or more difficult? "Nothing is easier or more difficult. Every genre is unique. I learned a great deal about voice projection and conveying emotion in the lighter song forms, a technique that is quite different from classical."
Not surprisingly Chakrabarty feels classical singing is her natural home. "Music is all I have. I never really had other hobbies. I always felt naturally connected to melody and rhythm and when I sing, I feel a kind of bliss comes over me. Indian classical music is unique. It involves a lifetime of sadhana [sustained and singularly devoted effort] to get to the stage where this music embraces its performer."