Tuesday, February 18, 2020
My instrument: Ivan Bobot and his fujara
In Slovakia, one of the most distinctive instruments is the fujara. Simon Broughton talks to one of its current players, Ivan Bobot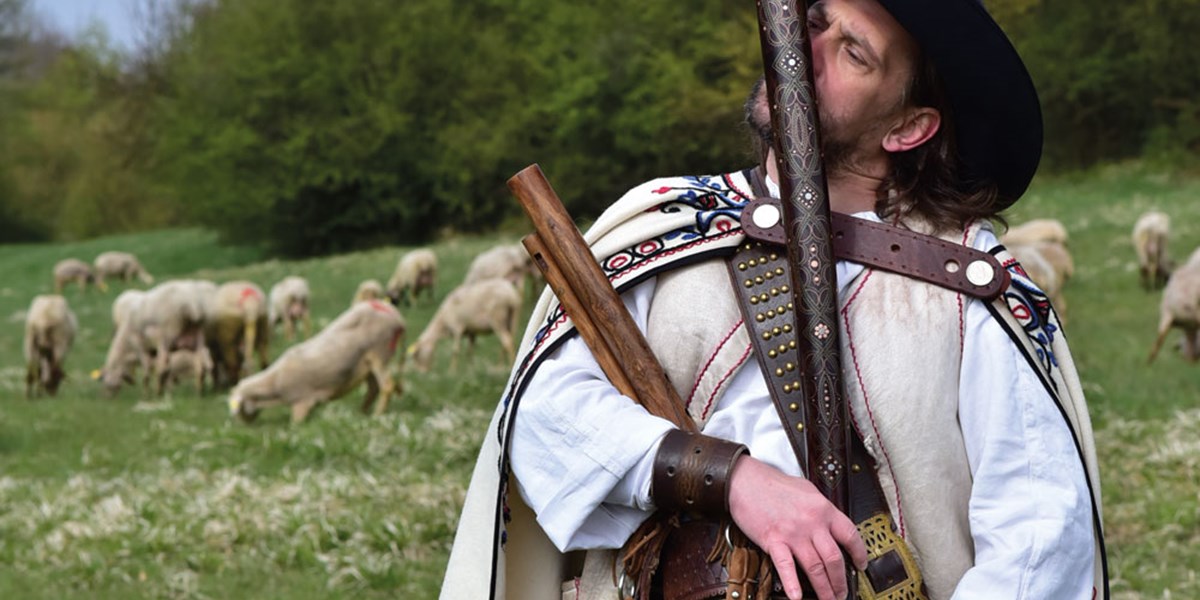 Ivan Bobot (photo: Karol Robota)
The Slovakian fujara is one of the most extraordinary-looking instruments in Europe. It's a shepherds' pipe but at nearly two metres it is as big as a man and intricately decorated. Ivan Bobot plays the instrument in Trombitáši Štefánikovci, a group reviving Slovak pastoral music. Their album Grúňom Hore was reviewed in #142. The band is based in the village of Nimnica, which is where I visit them, although Bobot is from Nemšova about 20km away.
"I was playing drums in a punk band at the time [in the late 70s, before the political changes], but went to the north of Slovakia and heard an old shepherd playing fujara and this really turned me on to it." Bobot asked for a fujara for his birthday, but they were too expensive so he decided to try and make one himself. "At that time, there were no books and the fujara makers preferred to keep the secrets to themselves. But I managed to make one that worked quite well." I wonder if he had a particular teacher? "No, I just listened to the music and found my own way to play it."
Although the instrument is so big, the fujara has a surprisingly soft and ethereal sound that is much closer to a flute than an alphorn (which Trombitáši Štefánikovci also play). Fujara players usually start with a kind of breathy introduction running up or down the range of the instrument, often featuring high harmonics from overblowing. The instrument has only three finger holes, but by using overtones, the player is able to play a diatonic scale.
Traditionally, a shepherd would make his own fujara and play it solo at his chalet or in the fields – primarily as a way of passing the time. As this unique Slovakian contribution to European music became recognised, the instrument began to feature more in groups or duos and trios.
The heartland of the fujara is the Podpoľanie region in central Slovakia, east of Zvolen and beneath the Poľana hills. The instrument's history is well explained in Oskár Elschek's excellent book Fujara: The Slovak Queen of European Flutes, published by Music Centre Slovakia. The Podpoľanie Folklore Festival, established in 1966 in Detva, helped to regenerate interest in the music, and the instrument and its music were added to the UNESCO Intangible Cultural Heritage list in 2005. The number of fujara players is growing and there was a very active fujara workshop at the Vychodna Festival I attended back in 2018 (see the Festival Pass in #146).
Bobot has about half a dozen instruments, each in a different key. He picks up one in G, which he finished just three months ago. The fujara is made from a long branch of black elder (sambucus nigra) and the wood is cut in winter and left to dry for three years. The inside is quite soft and hollowed out with what he calls a 'Gypsy drill.'
"It takes just a couple of days to make a fujara," he says, "but the decoration takes two months." Some instruments are painted, others carved, but Bobot inlays filigree pieces of metal, almost like embroidery. "The fujara is only found in Slovakia," Bobot says. "This kind of sound and transport of the air is unique. We're proud of this, of course!"