Tuesday, February 5, 2019
My Instrument: Soumik Datta and his sarod
Soumik Datta reveals to Simon Broughton the secrets of his innovative, go-faster sarod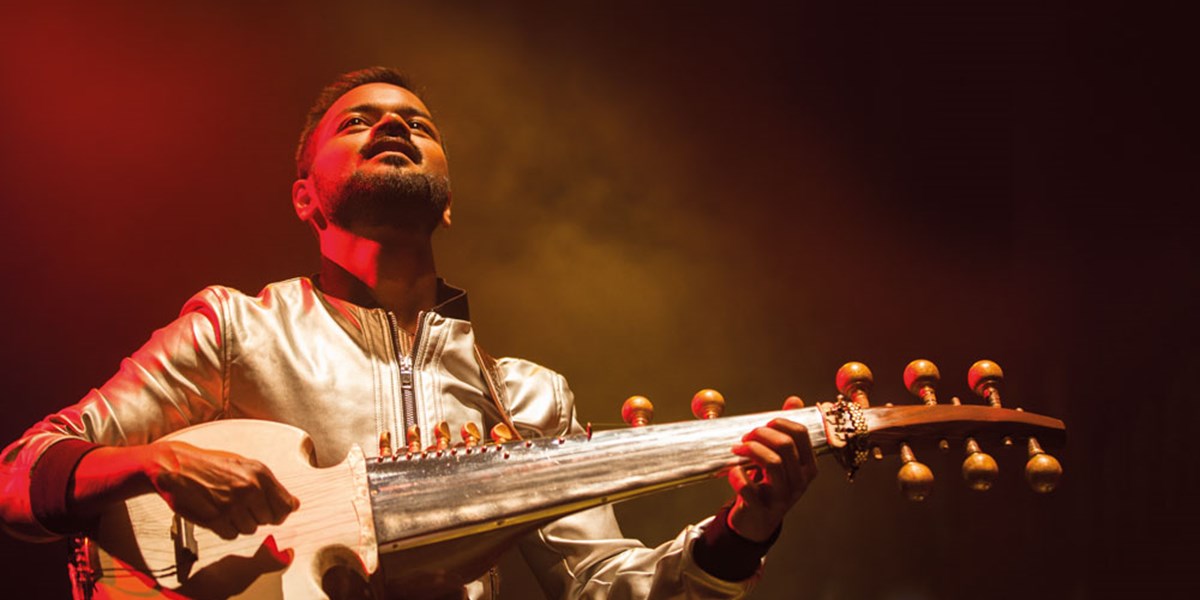 (photo: Reymat Rayatt)
Soumik Datta, 34, is the UK's best and busiest sarod player. He performs in various fusion groups, has composed film scores and played at the 2018 Songlines Encounters Festival. He had a major classical recital coming up at the Darbar Festival in October. "I don't know exactly what I'll be playing," says Soumik, "but I want to dedicate it to my guru, Buddhadev Das Gupta, who passed away in January."
The sarod is one of the main instruments of North Indian classical music. It's less jangly in sound than the sitar and has a deep, muscular tone. The instrument was developed many years ago from the Afghan rubab, removing the frets and adding a metal plate to the fingerboard so the left hand can slide up and down, like on the violin.
Soumik Datta first played his grandmother's sarod, an instrument dating from around 1890 that was probably one of those hybrid bridging instruments between the rubab and sarod. "I couldn't play it on a regular basis because it was a precious heirloom," he says.
His first regular instrument was made for him by Dulal Kanji of Oriental Musikraft in Kolkata. He started on that, aged 13, and played it for around 12 years. Since then Soumik has been working with Dulal's son, Naba Kumar Kanji, to create a sarod more suited to what he is doing in 21st-century London.
"My first instrument was a replica of my guru's instrument," he explains. "He was a tall, broad man and he could envelop it in his embrace. Aged 13 or 14 I found it difficult and got pains in my back. Even then I felt the instrument didn't quite reflect me and I wondered whether it would be possible to get a more lightweight, streamlined sarod."
There were several things that Soumik wanted in his ideal sarod. In fusion groups, the sarod only cuts through in its higher register and that was hard work on the big instrument he started playing on. So he wanted more sustain on the notes and also an instrument that was easier to tune.
He's played several different instruments over the years, but Soumik feels very happy with the latest one, which Naba Kumar Kanji finished about two years ago. With a narrower metal plate on the fingerboard he can reach more notes more easily and because a lot of wood at the back has been carved away, he can reach higher positions as easily as on a guitar. "You can just slide and use the same positions from one to ten, so that is really inspiring. And you can play at higher speeds if your fingers don't have to leap around so much."
His new instrument has a stainless-steel fingerboard that changes the balance of sound between the played notes and the sympathetic strings – so the played note sounds more strongly, and the resonance is sustained for longer.
Soumik's final innovation is with the tuning. The sarod and many other Indian instruments require a lot of time to tune. Famously, when Ravi Shankar received rapturous applause at the beginning of his Concert for Bangladesh in 1971, he quipped, "if you like our tuning so much, I hope you will enjoy the playing even more." So Soumik has added German-made, fine-tune cello pegs, which look similar to traditional pegs but have a mechanical system built into them.
"The sarod has innovation in its DNA, because it evolved from the rubab," says Soumik. "Sometimes people frown because I've changed the shape, but even my guru changed the instrument to suit him. He used to say that innovation should be the solution to the seemingly impossible and I think that's what's driven me to do this."
➤ This article originally appeared in Songlines #142. Find out more about subscribing to Songlines