Tuesday, April 7, 2020
Ravi Shankar remembered
Memories of the Indian sitarist by fellow musicians and admirers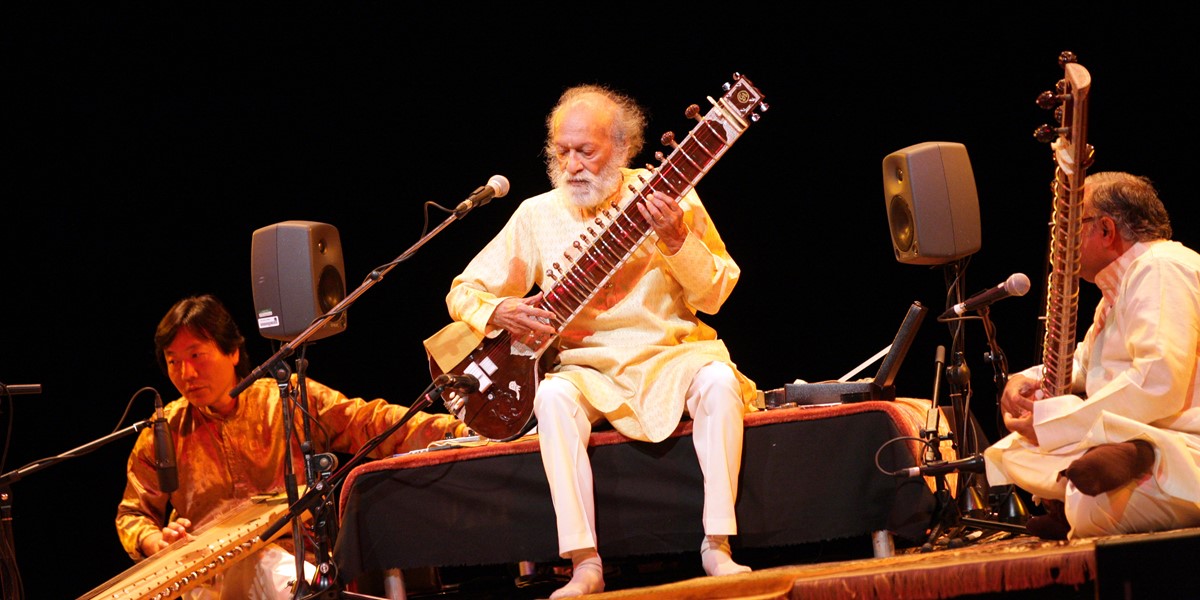 Ravi Shankar (photo: Ricki Combo)
TANMOY BOSE
Tabla player
Writing about Ravi-ji is like trying to measure the ocean. As students of Indian music, many of us saw Ravi-ji as the ultimate artist.
In later years, when I had the chance to be around him, I realised what music really meant to him. Everyday he would sit for riaz [practice] or come up with a new composition or a tihai. However, what made him stand out from everyone else was his ability to structure his presentations. He was an avid reader, a staunch film lover and, above all, a man of utmost humility. The dignity and respect he commanded benefitted the whole music fraternity. Today, Indian musicians at overseas concerts are being treated with respect because of him.
As a percussionist, I personally feel his greatest contribution to Indian music was raising the status of tabla players. His introductions on stage always made sure the tabla artist was noticed by the audience. The tani avartanam or the solo percussion section he curated had never happened before. Ravi was always ready to showcase something new in his performances.
I have experienced how much people loved him and his music in every corner of the world. I remember the young group of listeners who waited all night outside his hotel in order to meet him after his concert at the Boston Symphony Hall. Farewell Ravi-ji. You are around and always will be so.
SOUMIK DATTA
British sarod player
The first thing you noticed about Ravi Shankar were his eyes. They glistened with life, rapt with the zest of youth. And when he smiled they flared with an electricity that was only matched by his own playing. In a single moment you realised that it was not the sitar that danced in his hand, it was his own spirit, translated through music. In the summer of 2011, my friends and I had the fortune to play for this eclipsing giant of Indian classical music. Ravi-ji surprised us with vivid stories that wove together his life in Maihar, the Beatles, touring with Ali Akbar Khan, Sputnik and his fascination with YouTube. Unyieldingly curious, he had questions for us all.
A few months later he invited us to play at his music festival in Delhi, where our discussions continued. What is the future of Indian music? In the end, this was his manifest concern. Today, the legend is no more. New leaders are yet to be born. And now is when the fraternity of musicians must unite and offer an answer to his question, not through words but by deeds and sounds, for it is through the sublime voices of our instruments that we connect the world, honour legends of the past and reckon with an uncertain future.
DAVID HARRINGTON
Leader of the Kronos Quartet
Having encountered his transformative Monterey Pop Festival concert on recording in the late 60s, I was really excited to finally have the chance to hear Ravi Shankar live in the early 80s. For many Americans, the Monterey concert had introduced us to a whole new form of music. A new sound and feeling in music and a new way to listen to music.
My first and only live Ravi Shankar concert experience took place outdoors on a warm, perfect summer night at the Ojai Music Festival in southern California. The stars were out, the insects were buzzing, the audience was hushed and waiting, the moon was up. Then, at last, the music began – very slow, gentle, beautiful, thoughtful. The sound was exquisite. After some minutes this soft music faded away. There was rapturous applause from the huge, ecstatic audience. With his light, courteous voice, Ravi Shankar said, "Thank you. That was our tuning..." I think many of us were embarrassed that we did not know the difference between his tuning and an ancient raga. But it was the most amazing tuning I've ever heard from any musician and he set the bar incredibly high for how one should approach one's instrument. He brought the audience in to this most personal, essential and revealing of musical acts. What a gift his tuning was! And the rest of the concert was one of the best live musical experiences I've ever had.
MARK KIDEL
Film-maker
Although purists have sneered at his waywardness – in comparison to other less adventurous Indian masters – Ravi Shankar managed to bridge two worlds, firmly anchored in his spiritual beliefs. He was, in every way, a sublime communicator. All of this made Ravi-ji an extraordinary subject for a film [Ravi Shankar: Between Two Worlds]: there were so many great photos – from his earliest days as a dancer through to the elegant cool of his later years – fantastic footage of him playing at the Bolshoi in the late 50s and the ecstatic climax of his legendary performance at Monterey.
Led by the way in which Ravi had kept himself together through devotion to a spiritual path – and his guru Tat Baba – I chose to anchor the film in the holy city of Varanasi, where Ravi spent much of his early childhood. I also embraced the raga's connection with colour and filmed a street painter mixing pigments as he paints an image of Krishna by the Ganges. The film is also haunted by references to the four elements, earth, water, air and fire, the fundamentals of our earthly existence.
As Ravi says near the end of the film, he is astounded by the way in which, even in his 80s, the musical ideas keep coming. Working with such a fountain of creativity undoubtedly helped me make a film that hopefully mirrors some of his divinely inspired imagination.
NITIN SAWHNEY
Multi-instrumentalist and composer
When I was seven years old I remember listening to Ravi Shankar on an old vinyl record that my dad had on perpetual play. I asked him how on earth they made that instrument sound the way it did. "What do you mean?" he responded. "I mean how did they do that trick, Dad?" I replied. "What trick?" my dad inquired with feigned interest. "You know the one where they speed up that instrument – how did they make it sound like that?" He gave me the most confused stare and spoke in a quiet, direct tone. "He just plays that way. That's Ravi Shankar."
I spent the next two hours playing back the same part of the track over and over. I spent the next 41 years trying to figure out how to play my instruments with even a fraction of that virtuosity.
Meeting Ravi Shankar was an incredible honour. Interviewing him and getting to know him through my good friend and his gifted daughter, Anoushka, was also a wonderful experience. But ultimately I could never really take my eyes off his right arm. All those incredible performances and genius came through that most graceful of limbs – the powerful arm that held me in a childlike awe, never once diminishing throughout my life. That fragile arm I once held as I assisted him to a humble old wooden chair.
These tributes originally appeared shortly after Ravi Shankar's death, in the March 2013 issue of Songlines. Never miss an issue – subscribe today!