Thursday, November 7, 2019
Rowan Rheingans: "We need to learn not to be afraid to sit with some sorrow and grief. We need to make room to feel and have compassion"
By Julian May
The musician Rowan Rheingans has a new solo project and album that are part-memoir, part-theatre. She talks to Julian May about the many influences that shaped these works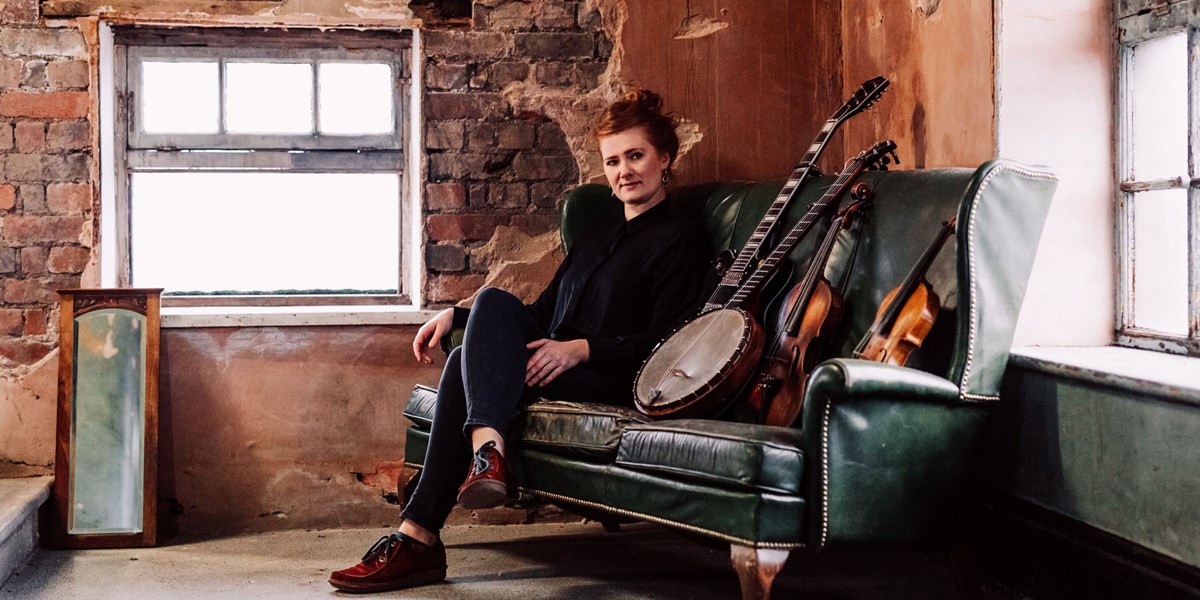 Rowan Rheingans (photo: Elly Lucas)
Stage left: a shiny black semi-acoustic guitar and, in a wide arc, a baritone banjo; a five-string banjo; a viola; a violin and, stage right, a bank of sound pedals. Something about this almost theatrical arrangement creates a sense of anticipation. It suggests that Rowan Rheingans' Dispatches on the Red Dress will not be your conventional concert. She opens her show with a song, then just as the audience is about to applaud, stifles this by starting to move and talk. But not in the chatty idiom of the introduction, bringing us from the imaginative world of one song back to reality before introducing us to the next one. Her words, rather, sustain the atmosphere created by the song. Thus begins the story of the red dress Rheingans' great grandmother made for her daughter to wear to a dance at the end of World War II. This is woven through an engaging, troubling and entertaining evening of song, words, music, even dance – all performed by Rheingans alone.
"I sing the songs and in between I'm revealing, unravelling the story of the red dress," Rheingans explains. "It's about my German grandparents, with some of my thoughts about the world. There are the songs I've written, but almost half the time I'm performing the script that I've written. It's a whole piece."
Rowan Rheingans is one of the Lady Maisery trio, along with Hannah James and Hazel Askew. She is also half of an acclaimed duo with her sister Anna. As well as playing fiddle music, especially French and Scandinavian, in 2016 they won the BBC Radio 2 Folk Award for Best Original Song for 'Mackerel'. Her show, Dispatches on the Red Dress, and the linked album, The Lines We Draw Together, are her first solo projects and they draw on her family experience. "My grandparents, in their mid-80s, live in Bretzenheim, near Frankfurt," she says. "My father grew up in the village, left when he was 28 and came to England. He met Mum and has lived here ever since. I've grown up entirely in England but with a very strong relationship with my grandparents. We spent chunks of the summer there as children and visit often. But they have always been far away and separated by language and land. My Oma [grandmother] told me the story of the red dress and it helped my understanding of a very complicated time in their lives... the way nothing is simple, and how a single thing can be a source of fear, and a source of joy and beauty. I find that really inspiring."
Her grandparents' experience was complicated. In the Nazi era they flew the red swastika flag – but only when it became too dangerous not to. When he was 12 Rheingans' grandfather cycled to school past bodies piled in a camp, but that camp, known as the 'Field of Misery' (Feld des Jammers), held German soldiers after World War II had ended. A vast cage without buildings, with little food but a lot of disease and brutality, it was run by the victorious Allies. Thousands died.
"I never learned that in school," Rheingans reflects. "What happened to the German population in the five years after the war is unknown to most of us. People think everyone just went home. German soldiers were rounded up and kept in camps. My great grandparents fought. They were farmers, with no interest in going to war, who had been conscripted. They spent years in these camps. Sometimes the guards shot at the inmates. I wanted to include that. Not to say 'we were bad, too' but that war dehumanises everybody, makes people act terribly. I wanted to express that complexity."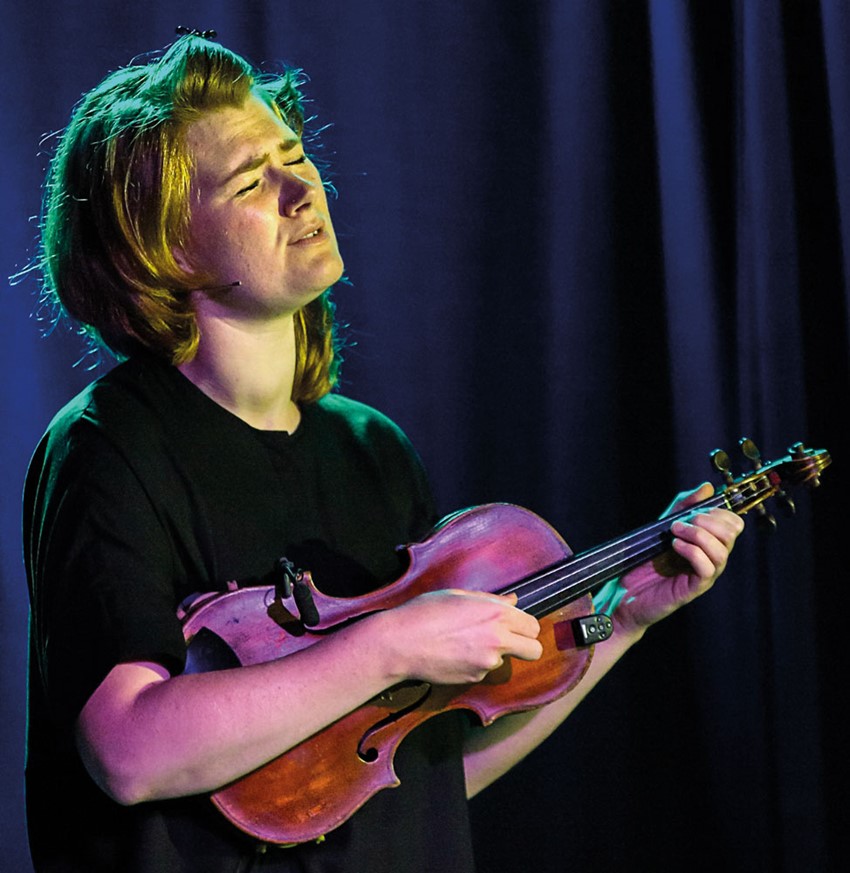 The Lines We Draw Together includes all the songs she wrote for the Dispatches on the Red Dress show, and more. In her exploration of that complexity she is not concerned solely with telling the stories of her grandparents. Through their specific experience she is tapping into the universal. "I'm hoping that the way I'm framing the lyrics and performing the show and the album is an invitation to people to think much more widely than about my family. I wanted to make something beautiful and meaningful out of my grandparents' story; something that could be useful to today's world, a question, or a warning."
Like The Young 'Uns with The Ballad of Johnny Longstaff and Karine Polwart with Wind Resistance, Rheingans is moving from the concert towards the theatre. In the same way theatre people, Maxine Peake for instance with her show The Nico Project, are moving towards the concert in what's known as 'gig theatre.' Rheingans worked on her script with Liam Hurley (who was also Polwart's dramaturg). It draws on the thinking of several writers: John Berger, Gisella Konopka and, especially, Etty Hillesum. She was a Dutch Jewish diarist who died in Auschwitz. Even there she led a rich interior life, finding beauty, even joy. 'The sky is full of birds,' Hillesum wrote, 'the purple lupins stand up so regally and peacefully, two little old women have sat down for a chat, the sun is shining on my face – and right before our eyes, mass murder... The whole thing is simply beyond comprehension.' In her song 'Sky' Rheingans uses 'The sky is full of birds' as a refrain. She is not, though, simply looking back 'above the barbed wire, watchtowers and mud puddles' of World War II.
"It could be now, on the border with Mexico, or Syria. It's not me lamenting the Second World War. It is drawing on that but it's contemporary, too. In 'Long Walk Home', I'm imagining my grandmother walking home in her red dress. But in the last verse there is a little girl standing by a wall. She's a different girl. She's in Gaza. That's who is in my mind when I'm singing that."
Rheingans is, then, alert to the links between the past, the present and the future. Hence the title of her album The Lines We Draw Together. "For me this is to do with how we see ourselves in the world and in the passage of time; the moment of history and the future, entirely connected to who has been before us, and who will come after."
Anyone involved in traditional music and dance, which come from the past and have to be nurtured in the present and passed on, will grasp this. Rheingans' thinking, though, goes further. "There is some agency in this. It is something we are always making. We draw those lines. We are making this life together. I also like this as a metaphor for support and comfort."
There are songs – 'Walls', 'The Long Walk Home' – about dancing and at one point Rheingans waltzes around the stage. She is, at once, herself in the present, and her paternal grandmother in the past. Her maternal grandmother liked a dance, too, so she is her as well. "When I go to folk festivals in Sweden, I'm waltzing around in a wooden room to acoustic music. That isn't far from what my German grandmother was doing in the 40s. Dancing is making the lines that we draw together. In folk dance we make the lines that people have been making for hundreds of years. My maternal grandmother died ten years ago. She didn't know me as a musician. Through dance I find I can connect with people, even people who are long gone, or in the future, coming."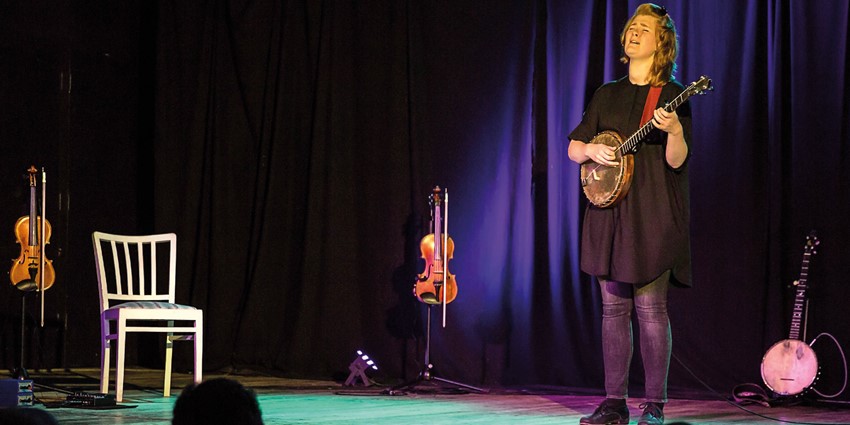 Rheingans is a folk musician but here she's composed every note, written every word. She listens to jazz and modern classical music. The other musicians on the album come from different worlds: clarinettist Jack McNeill works in chamber ensembles; Michele Stodart plays electric bass and was in The Magic Numbers. Rheingans uses pedals to create drones and swirling swathes of sound. The intimacy of the lyrics contrasts with the spaciousness of the music, echoing sonically the multi-layered nature of her subject.
The multiple readings she mentions are clear in as much as the album and the show are expressions of both joy and of sorrow. One of her songs begins 'hush, don't sing! You can't sing those songs anymore...' Rheingans is exasperated and saddened by her grandparents' enthusiasm for the ersatz German folk music that has replaced older, dangerous songs. But she understands that the very vacuousness of the music is its attraction. It's safe. She feels her grandparents' grief at having lived through the years of fascism, they now see it rising again. She feels their fear for her.
Dispatches on the Red Dress and The Lines We Draw Together are different aspects of one powerful work. Its importance is that it is not an appeal to learn the lessons of history. We've had many of those. Rheingans' appeal is for us to learn again to feel them. "We need to learn not to be afraid to sit with some sorrow and grief. We need to make room to feel and have compassion," she explains. "That's missing from our political discourse. The world feels broken and polarised, but we're all complicit in that."
Her song 'Sorrow' ends with a couplet drawn, again, from the writing of Etty Hillesum, and these are last words of her show, and her album: 'we better make some room for sorrow, or we will sing a darker tune tomorrow.'
This article originally appeared in the October 2019 issue of Songlines. Never miss an issue – subscribe today!