Wednesday, November 18, 2020
Zoë Modiga interview: South Africa's new voice on language, identity and #BLM
A deft exploration of identity, Zoë Modiga's latest album proves the South African is on the up. She speaks with Jane Cornwell about topics ranging from Black Lives Matter to the cultural importance of cattle in African society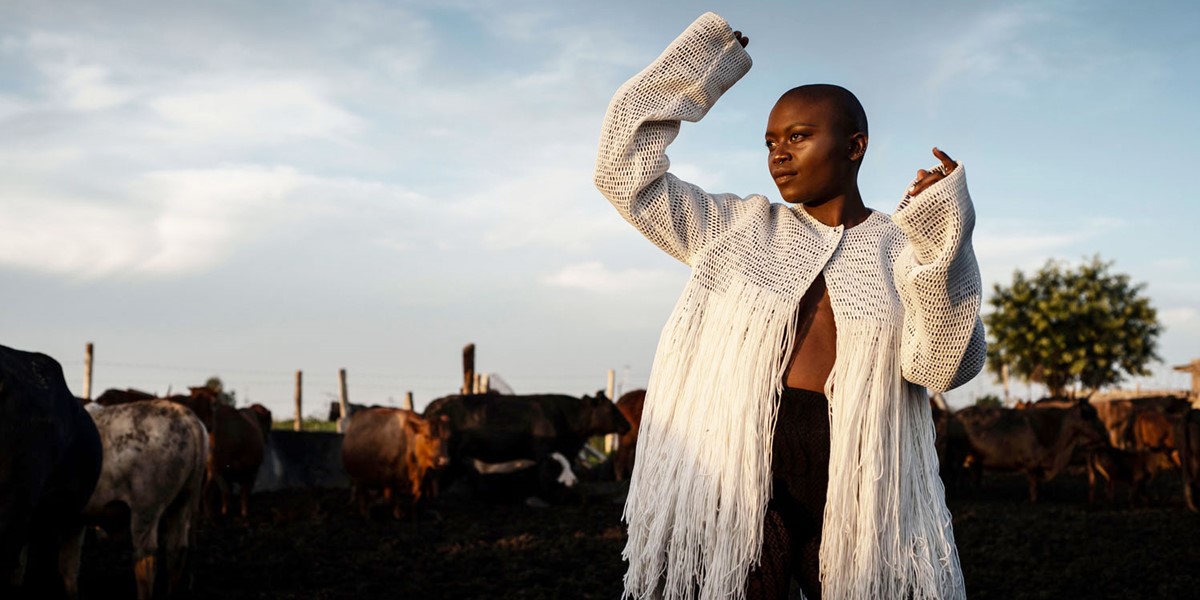 Photos by Tatenda Chidora
Zoë Modiga is a fast rising star in South Africa, and no wonder. Hers is a talent brimming with blessings: a virtuosic voice; a charismatic stage presence; instrumental skills (she plays piano, clarinet and guitar); a knack for composing songs with hooks and texture, and for penning lyrics that embrace, in her mother tongue of isiZulu, ideas around identity, spirituality and self-discovery.
Her current sophomore album Inganekwane (isiZulu for 'Fairytale') takes the themes explored in her 2017 debut, Yellow: The Novel, and delves even deeper into what it means to be a young black woman in Africa today. More unusually, as featured across the album's artwork – Modiga draped in white fake fur, or with curving silver horns, standing amid a herd of cattle – the work also examines the cultural significance of the cow in everyday African life. "Identity is something that's happened to you, so this is me looking back and being appreciative of where I come from," says the Durban-born 27-year-old, Zooming with me from her home in Johannesburg.
"And as a quiet kid raised by my paternal grandparents in a beautiful home in Pietermaritzburg [the capital of the province of KwaZulu-Natal] I was always fascinated by the nature of cows," she offers. "I loved staring into their eyes as they chewed their cud. It made me feel peaceful," she says.
"Later I learned of the cultural significance of cattle, as providers of food and clothing, as signifiers of land ownership, and ownership of the means of production. They are at the heart of our memory and history as a people."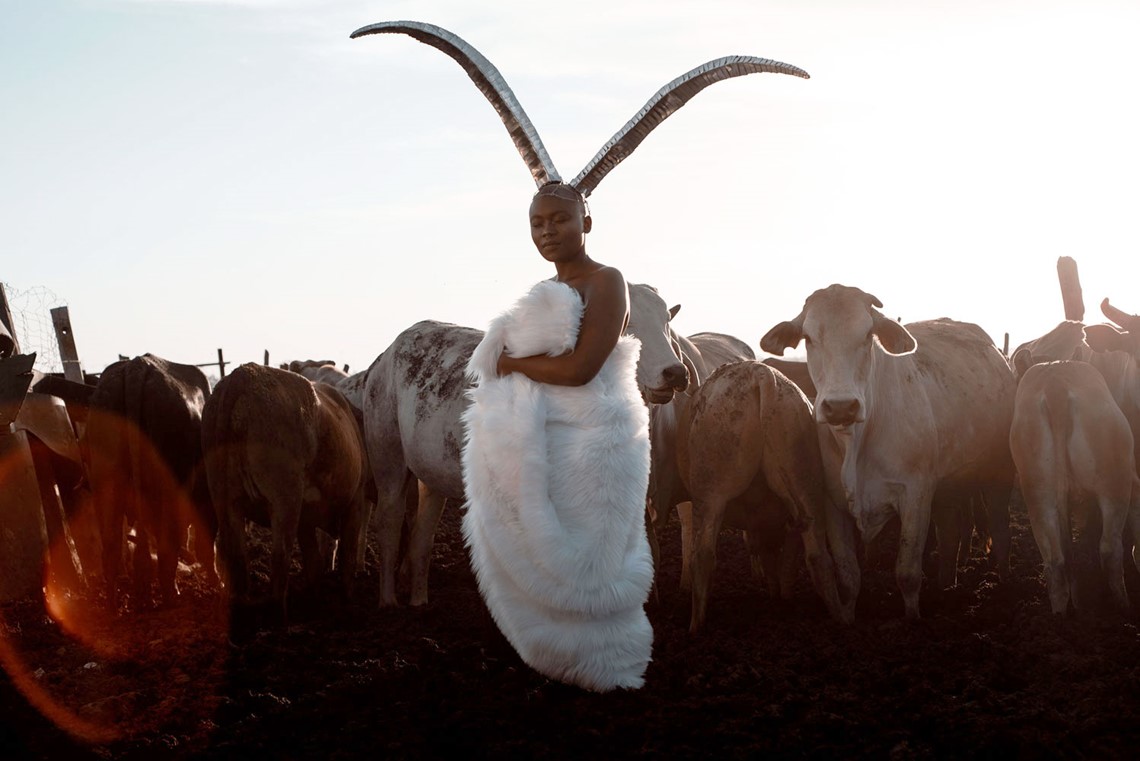 Her story is both her own, and that of her people, she says. "I'm singing about my experiences, and about people who are like me. People who are not like me can relate to these songs as well. This is a full circle."
The 16 song-stories on Inganekwane unfurl over a musical landscape that takes in South African sensibilities, West African rhythms, pulsing keys and swelling guitars. Shooting off on tangents, riding on rolling, danceable grooves, it's a sound threaded with a rich seam of soul and gospel (Modiga grew up singing in church choirs), and imbued with the liberating power of jazz. Modiga's influences – Erykah Badu, Fatoumata Diawara and Nina Simone as well as the South African greats Miriam Makeba, Busi Mhlongo and Thandiswa Mazwai – can be gleaned via repeated listening. But it's the singularity of each of these touchstones that resonates the most.
Produced by bassist BandaBanda and engineered by a clutch of Grammy winners, Inganekwane is released on Modiga's very own Yelloëwax label. "Being a self-employed independent musician has challenges, which are often about having these amazing ideas and trying to find the resources to match them," says Modiga, who has enjoyed live collaborations with the likes of Thandiswa, Ladysmith Black Mambazo, lauded jazz drummer Louis Moholo and the late Johnny Clegg.
"I like to create space to let the music do its thing," she adds. "Bra Louis Moholo taught me you can't be a smart arse about music. You don't lead it. It leads you."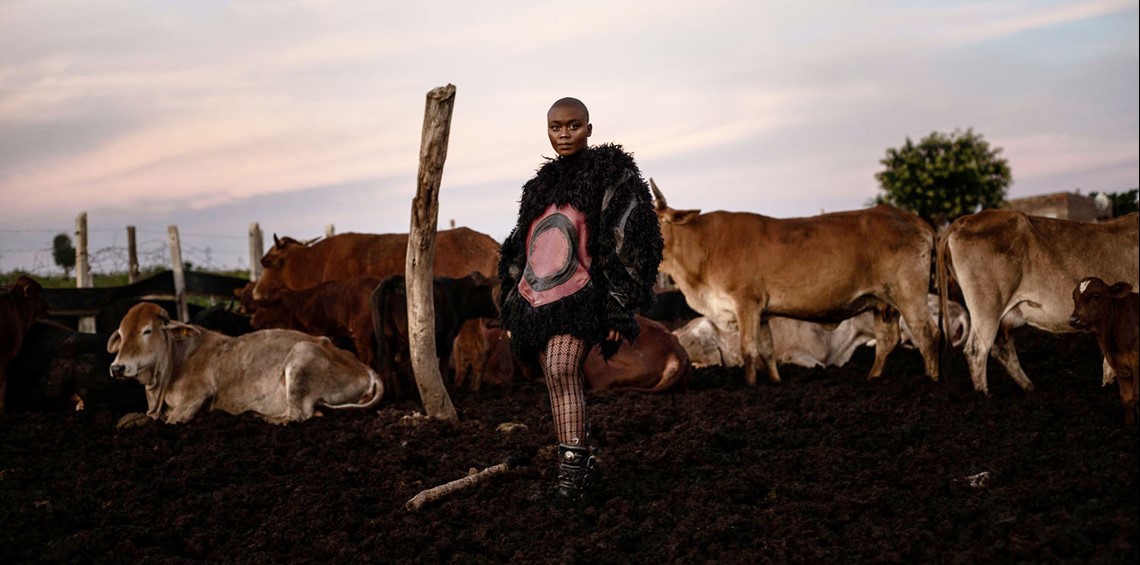 Modiga's self-produced, independently funded 2017 debut Yellow: The Novel is a testament to her tenacity and self-belief. A passion project whose 23 tracks are structured as a four-part novel with English and isiZulu musings on heartbreak, rejection and redemption, Yellow was very nearly something other than the two-time South African Music Awards 2018 nominee that many Modiga fans say changed their lives.
Having come to national attention in 2016 on the South African version of the TV singing competition The Voice (Modiga's renditions of hits including Rihanna's 'Diamonds' and Nirvana's 'Smells Like Teen Spirit' are available online), she piqued the interest of a major record label. On hearing her rough cut of Yellow ("my favourite colour; the colour of happiness"), they made her an offer that involved wresting creative control. She duly set up Yelloëwax, determined to do things her way.
Hailing from a family of academics working across fields including forensic science, Modiga intended to command the same level of respect with a musical career. She attended the National School of the Arts in Johannesburg, studying everything from singing, acting and choreography to the instruments noted above, honing a flamboyant aesthetic involving leftfield fashion (glitter, fringing, platforms) and a predilection for blowing up (yellow) balloons on stage.
"I'm a big performance geek." She flashes a smile. "If people pay for a ticket and they're walking into a venue to see you, they are expecting to see how you occupy that space. They're seeing the sparkles on your shoulders, your dance moves, everything."
"The pandemic means we can't perform as much right now," she says of a band that includes South African guitarist Nathan Smith, Nigerian drummer Ire Bolaji and Senegalese percussionist Samba Ndokh Mbaye. "But we're currently exploring other 3D ways for people to experience us."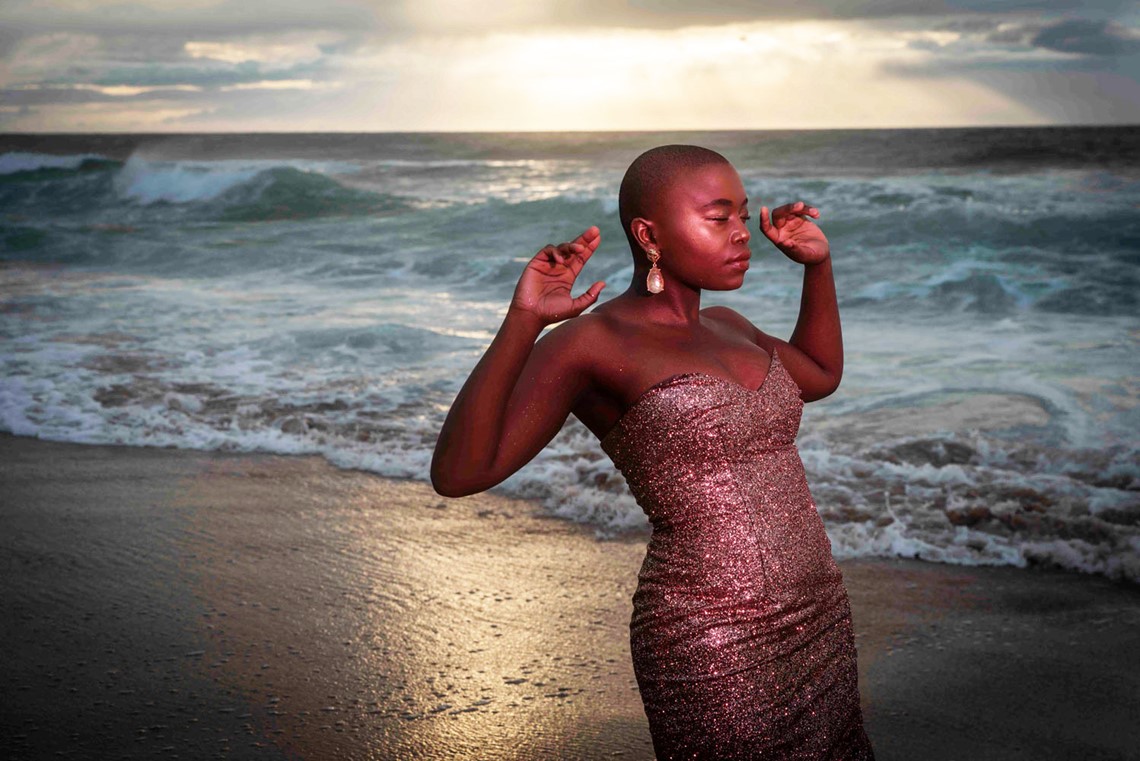 Modiga went on to study jazz vocals at the South African College of Music, based at the University of Cape Town. Her time there was not as she had anticipated: "When I got to my third year in 2015 unfortunately I was kicked out because they said my theory was not up to par," she says with a shrug. "This was a very disappointing period that pushed me into a space of creativity. Thankfully I was still able to use the facilities at UCT for that year, so I locked myself in a room with a grand piano and the songs for Yellow: The Novel just came pouring out."
There were other compensations, including being chosen by acclaimed South African jazz pianist and composer Kyle Shepherd to sing 'Amazing Grace' on the film, Noem My Skollie (Call Me Thief). Modiga was awarded a SAMRO Overseas Scholarship – open to those who have completed or are in their final year of music study – and spent weeks in New York and California investigating different ways of learning music.
Having garnered a solid following with storming appearances at local venues and celebrations such as the Cape Town International Jazz Festival, and with her debut ready to go, Modiga decided to relocate to the bigger, brasher Johannesburg ("a place where you can grow your talents and get your message heard"). But first, she needed exposure. A stint on The Voice, she figured, would showcase her versatility, and fast track her into the big time.
It worked. Having finished in the show's final eight, she capitalised on the attention, repositioning herself as an artist of original merit. After releasing Yellow she spent three years collaborating and performing (a European tour, stints at now defunct Jo'burg venue The Orbit, a lauded set at South Africa's Afropunk festival). Slowly, came the story-songs of Inganekwane, "about black people and the African diaspora. About knowing what's there within you, and about our Creator, Umdali."
Modiga decided to tell these stories through the prism of her mother tongue. "As a people, the idea of language has been taken from us," she says. "Recording this body of work in isiZulu allowed me to reclaim the power of my language, and express my own understandings. It was a journey for me as well."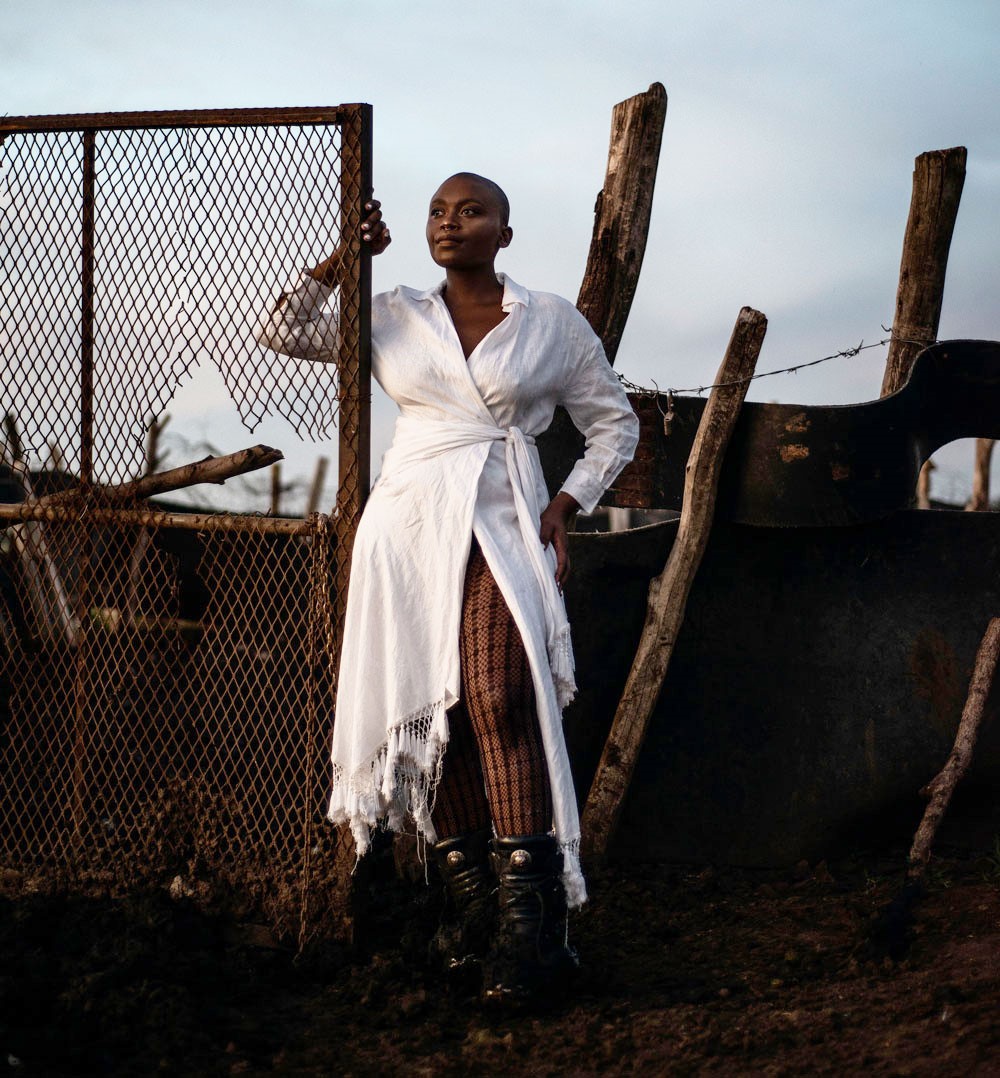 She therefore took some convincing before agreeing to include 'Black Butterfly', the album's only English-language track, an acknowledgement of her love of language and an ode to reawakening. 'Flying low, but through the sky, black butterfly/Glad your wings know what to do…' she sings.
"I wanted to help change the negative connotations surrounding the word 'black' as a descriptor – 'black market', 'black mail', 'blacklist' – and recognise the weight of a word. This song acknowledges that we generally fly low as black bodies because that is the way the systems have been created. But though our flight is of a different kind we still fly high."
Opener 'Kwasukasukela' (Once Upon a Time) plunges us into the South African storytelling tradition in which Modiga was raised, a fantastical world where animals are given to human thought, where life lessons are learned through adventure. 'Truth is heavy,' she sings in isiZulu on 'Umlolozelo' (Lullaby), a tune intended to sooth a spirit fragmented by trauma. 'Lengoma' (This Healing) is a groove-laden homage to the self featuring the deep voice and African horn playing of Tubatsi Mpho Moloi from acclaimed quartet Urban Village. "I asked Tubatsi to hop on this song because I knew he would bring a beautiful kind of male energy to the record," says Modiga of a tune whose call-and-response refrain plays on the words ingoma ('song') and ubungoma ('healing) as both chant 'thina siphilela lengoma' (we live for this song). "We recorded it at a time when conversations around femicides and gender-based violence were taking place. I wanted a female and a male voice to symbolise unity and healing."
'Umdali' (The Creator) is an otherworldly tune that features the soaring flute playing of Mthunzi Mvubu and Modiga on guitar, over subtle synth-sounds that imply the idea of a peaceful universe. Laden with biblical references, it asks the listener to embrace their own godliness: "To take messages from the people that came before us so we can fully live out our life's purpose, the things we were put here on this earth to accomplish."
Rearranged by BandaBanda from the song made famous by Miriam Makeba (on her 1989 classic Welela), 'Ilanga Lishonile' is an African standard whose images of sunsets and unspoilt nature chime with Inganekwane's emblem of the cow – a trope that might have been strengthened by further reference elsewhere on the album, but whose traditional and spiritual significance is undeniable.
While 'Abantu' is a love letter to Africans and the African diaspora ("our only fault is that we have been conditioned to see ourselves as shadows of who we are"), 'Intsha' raises a clenched fist to the youth movements of the world. "Outside of commemorating 1976 [the Soweto uprising], young people have always been part of watershed moments. This is a song affirming that our generation are the leaders, dreamers, protestors and heroes of our time. We have to step into these roles. We can bring change to this reality we live in."
"I wrote this album a year before the Black Lives Matter movement," continues Modiga, eyes flashing. "So it feels incredibly special and important to be releasing music that really speaks to the times and contributes to the type of conversations that the world is having right now. For black people and our allies these conversations are way overdue."
The stories on Inganekwane, then, acknowledge the past to clear a path to the future. They use song and music, and metaphor and magic, to offer healing and hope. Like all good fairytales, they stir stories within the listener. 'Cos cos yaphela' ('The end') sings Modiga on the closing track. "Though it never ever ends," says the artist who is only just getting going.
This article originally appeared in the November 2020 issue of Songlines. Never miss an issue – subscribe today!