Tuesday, January 14, 2020
The 12 best African albums of 2019
All 12 of these albums received the maximum award of five stars when reviewed in Songlines magazine in 2019, featuring Africa Express, Bénin International Musical, KOKOKO!, Blick Bassy and many more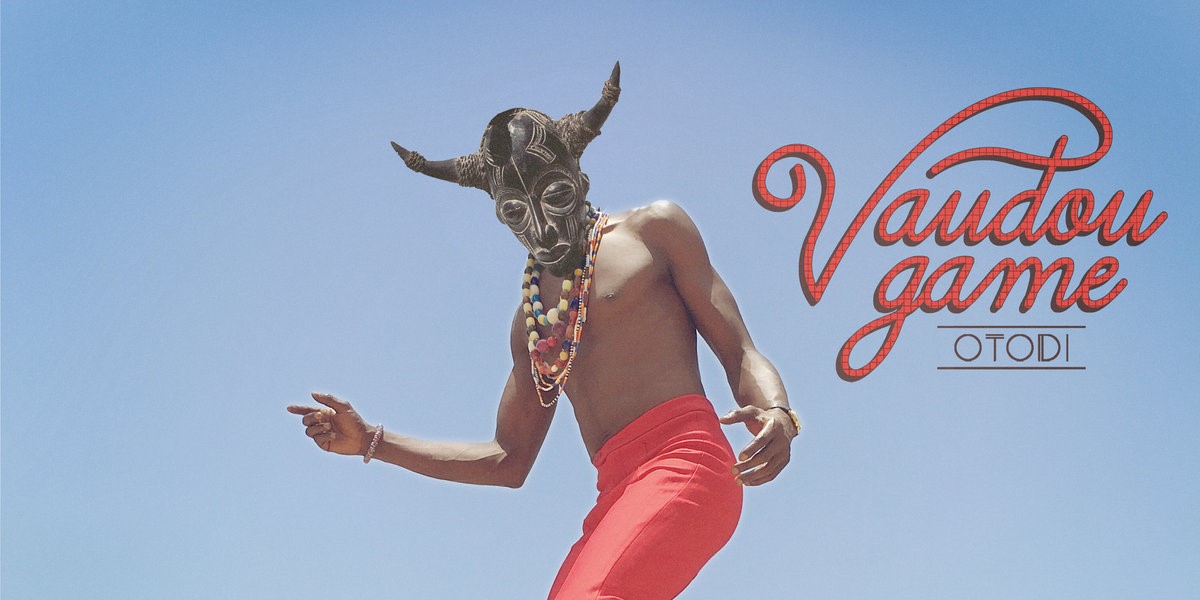 In every issue of Songlines magazine we review the best new albums from around the world in different geographical categories: Africa, Americas, Asia, Europe, Middle East, Pacific and Fusion. Below are all of the albums from the African section which received a coveted five-star rating in 2019. If you are seeking your next favourite album, then look no further, and if you would like to explore some additional recommendations, visit Songlines Music Awards 2019.
To enjoy reviews of the best new releases, as well as interviews with leading artists and features that explore music traditions around the world, consider subscribing to Songlines.
1
Dawda Jobarteh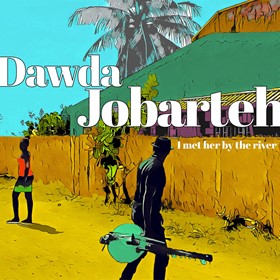 I Met Her By The River Sterns Music
The stately and elegant opening title-track of Jobarteh's latest album suggests we can expect a solo kora record rooted deeply in tradition, in the style of, say, Toumani Diabaté's Mande Variations. Yet as the album unfolds, it becomes clear that nothing could be further from the truth. We can only marvel at a spectacular version of Mongo Santamaría's 'Afro Blue' played on an electrified kora with a throbbing jazz bass and skittering percussion; swoon to a lovely solo interpretation of Adele's multi-million selling hit 'Hello'; and wonder at 'Jeg Gik Mig Ud En Sommerdag', a jazzily experimental setting of an old Scandinavian folk song. We also get a brace of Jobarteh's own compositions, including the social commentary of 'Begging Boys', featuring the deeply resonant voice of Souleymane Faye, and a cover of Touré Kunda's 'Sidi Yela', which Jobarteh sings himself.
Now resident in Denmark, as the scion of a famous family of Gambian kora players dating back generations, Jobarteh has absorbed all the virtuosity and values of his ancestors. But on I Met Her By The River he takes his griot heritage into bold new territory on a kora adventure that is both audacious and thrilling. NIGEL WILLIAMSON
2
Vaudou Game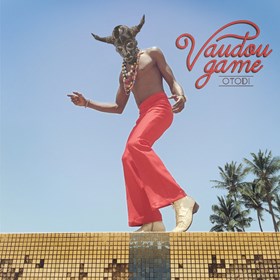 Otodi Hot Casa Records
The cover of this album goes a great way to describing the audio treasure that lies inside. A mask representing the voodoo tradition of Togo and Benin, funked up with some brightly coloured flares and Cuban heels. Peter Solo, the father of Vaudou Game, channelled his voodoo traditions – he was born in a centre of the culture, Aného-Glidji in Togo – and a love of Afro-funk, which perfectly collide to form a haunting, groovy and authentic album. The listener can revel in pristine recording quality which hails, surprisingly, from an abandoned analogue studio – big enough for Solo to conjure the spirits of voodoo. Fluttering horn lines, rich vocal textures and ceaseless percussive drive carry you through a resplendent set of tracks deeply rooted in African sounds of the past and present. The James Brown-esque shrieks of guest singer Roger Damawuzan pay homage to US funk in 'Something is Wrong', before relenting to undulating strings and a spine-tingling chorus of Togolese women in 'Tassi'.
Otodi scratches an itch that a lot of modern music just doesn't these days. It also positively represents a tradition that has had its reputation irrevocably scarred. Otodi is an instant classic. CHARLOTTE ALGAR
3
Ali Hassan Kuban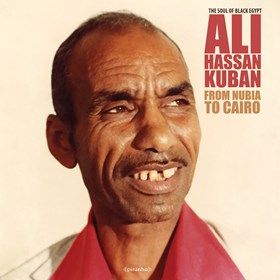 From Nubia to Cairo Piranha Records
First released back in 1989, when 'world music' was young, this set is as life-enhancing and plain funky as an all-night, no-holds-barred Nubian wedding street party could ever be. It first appeared in the same year Ali Hassan Kuban made his European festival debut in Berlin, having already made his name as go-to singer for thousands of Nubian weddings. His was a pioneering fusion of Nubian melodies set to pulsating Western beats, funky American jazz and international pop.
Self-taught on clarinet and bagpipes, the young Kuban avoided a career as a Cairo tailor and went on to master the pentatonic Nubian roots repertoire instead, becoming one of the most popular wedding musicians in Egypt. Chancing upon a band of visiting Harlem jazz musicians on the Cairo streets one day, the sound of keyboards and a brass section soon ventured deep into his repertoire. This classic set, remastered from the original analogue tapes, was recorded before the only working microphone in Cairo's Delta Sound studios with a band featuring three saxophonists, keys accordion and percussion. There are seven songs here, all in praise of Nubian women, and of Nubia itself. It's got a beautiful spirit, and an awesome sound. All round, a fantastic reissue of a classic. TIM CUMMING
4
Blick Bassy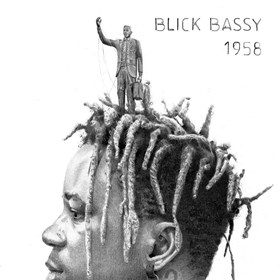 1958 No Format!
With his soulful voice, Cameroonian author and singer/songwriter Blick Bassy delivers a luminous and reflective album of 11 songs. Using the local Bassa language, he evokes his country's recent history and its courageous fight for independence. Bassy invites us to remember historical events and the leading heroes of this time, including Ruben Um Nyobé, who was executed in 1958. He also chronicles the chaos of urban life, especially in the song 'Won´i', where he describes the increasing dependence on alcohol in his country. On 'Mpodol' Bassy honours the value of the agricultural and pastoral village life of his elders where everything was shared in harmony, which is in stark contrast to the millions who are now trying to survive without work in the African megalopolis.
Tenderness, sorrow and gentle persuasion prevail throughout the album. There is a feeling of meditative intimacy in Bassy's music. There are no drums or percussion on the album at all. Instead, pulsating assiko, bolobo or hongo rhythms are played on melodic instruments: Bassy's guitar and banjo, Clément Petit's cello, Johan Blanc's trombone and Alexis Anérilles' trumpet and keyboards. The overall production is refined and serves hauntingly beautiful melodies. 1958 is crafted with peaceful delicacy. PIERRE CUNY
5
Baba Commandant and the Mandingo Band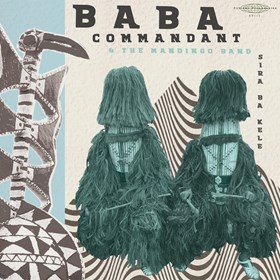 Siri Ba Kele Sublime Frequencies
Baba Commandant is the stage name of Sanou Mamadou, a gritty-voiced singer and musician from Bobo Dioulasso, Burkina Faso's second city and the cultural centre of the country's Mande population. This is his second album with the Mandingo Band and follows 2015's debut Juguya. That record was a stirring mix of Afrobeat rhythms with added doses of contemporary funk and the follow-up builds and expands on the style, giving greater prominence to the Mande-meets-psychedelia electric guitar solos of Issouf Diabaté, who channels the great Djelimady Tounkara's work with the Rail Band on tracks such as 'Logo Fo Djelba' and the cosmic jam of 'Keleya'.
Recorded in Ouagadougou with the French producer Camille Louvel once again at the helm, the sound is crisp and expansive, the rhythm section of Massibo Taragna (bass) and Mohamed Sana (drums) locking into a mesmerising funk groove over which the soloists can strut. The balafon of Sami Kimpe adds layers of polyrhythmic mystery to 'Bobira' and 'Siguisso', Baba plucks his donso ngoni (similar to the kamalengoni) with snapping intensity and his booming vocals are indeed commanding. There is, by all accounts, a thriving music scene in modern day Burkina Faso and Siri Ba Kele leaves you wanting to hear more. NIGEL WILLIAMSON
6
Mdou Moctar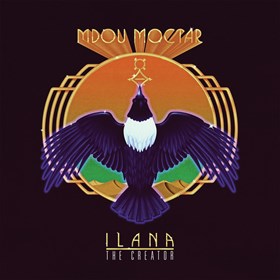 Ilana: The Creator Sahel Sounds
Saharan rock fans have good reason to be excited by this new release. From the raw and punchy opening number 'Kamane Tarhanin' to the anthemic bars of 'Wiwasharnine', Mdou Moctar's first professionally produced studio album delivers a healthy abundance of fiery and furious electric Touareg guitar. Moctar (real name Mahamadou Souleymane) established his credentials a little over ten years ago when he left his village in Niger to record tracks in Sokoto, Nigeria, which were distributed on mobile phone memory cards and swapped by users right across the continent, as was common back then. One of these, 'Tahoultine', was heard by Sahel Sounds label boss, Christopher Kirkley, while scouting for talent in Mali. He included the song on his collection Music from Saharan Cellphones and international success swiftly ensued for the talented young guitarist.
Moctar's playing has evolved technically since those early days yet retains a blistering, frenetic energy, combining urgent riffs with poignant lyrics that deal with emotive and topical subjects such as ex-colonial powers' exploitation of African resources — as on the title-track. This is raucous, vital, invigorating stuff and it's almost impossible not to love it. RUSSELL HIGHAM
7
Bénin International Musical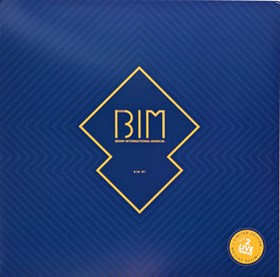 BIM#1 World Tour Records
Kicking off with an attention-grabbing holler before skittering into Afrobeat on the opening track 'Destiny', this fabulous debut showcases Benin's vibrant contemporary scene while offering a paean to the former Kingdom of Dahomey, with its traditional ceremonies and voodoo roots. With side projects in music education and training, the seven-strong Bénin International Musical – or if you like, just BIM – are a tour de force, combining deeply felt old songs and percussive rhythms with guitar grooves, celestial choruses and electro beats that take the sound neatly into clubland while maintaining a sense of authenticity. French producer Jérôme Ettinger deftly steers the collective through tracks that trace the path of voodoo and related syncretic religions, taking in influences from Haiti, Cuba, Brazil and New Orleans in ways that are fluid and often entrancing. There is jazz, blues and funk here, and Afrobeat, trip-hop and rap. 'The Benin Atmosphere' features local hip-hop act Yewhe Yeton growling phrases in Fon over soaring female harmonies and a male singer's rich, plaintive tenor. Throughout, vocal stylings are variously exquisite and rousing, particularly on the scatter-gun 'Iyé' and 'Achika Wôgo', a stunning, slow-burning ballad. Already booked to play Carnegie Hall this October, BIM are a major addition to the scene. They're also a stunning live act; UK festival programmers take note. JANE CORNWELL
8
Africa Express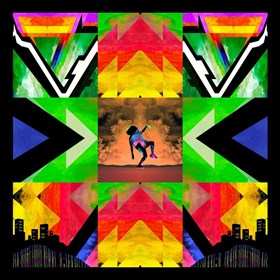 Egoli Africa Express Records
All aboard Damon Albarn's exhilarating Africa Express again, this time bound for Johannesburg. Albarn travelled to South Africa last year with a crew of Western musicians that included Gruff Rhys of Super Furry Animals and Yeah Yeah Yeahs' guitarist Nick Zinner. After seven days of intensive recording with an impressively diverse cast of South African artists, he returned home to fashion the tapes into this wonderfully eclectic 18-track collection. If the methodology was similar to Albarn's 2003 album Mali Music, which effectively launched what became Africa Express, the execution this time is considerably more assured. There's too much going on other than to pick out a few highlights. Veteran Zulu guitarist Phuzekhemisi is a star and teaming the Mahotella Queens with the young British singer Georgia on the electro-pop 'City of Lights' is inspired. BCUC sound great backing township singer Nonku Phiri, and the electrifying Xhosa ghetto-funk maverick Moonchild Sanelly is surely (in the words of Albarn) "a global superstar waiting to happen."
As ever, Albarn allows his collaborators centre stage but he also contributes a handful of brilliant compositions, including the sublime 1970s soul throwback 'I Can't Move', on which he duets with Sanelly, and the gorgeous ballad 'See the World'. Egoli may just be the best thing Africa Express has ever done. NIGEL WILLIAMSON
9
Various Artists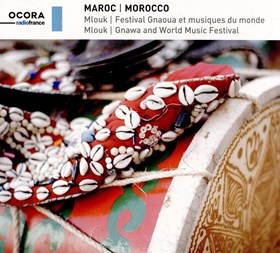 Mlouk: Gnawa and World Music Festival Ocora Radio France
The Gnawa and World Music Festival of Essaouira, Morocco is one of the planet's most pioneering and progressive musical celebrations. Created in 1998, it has showcased the malleability of the bluesy, pentatonic music and elevated the Gnawa, once derided, to living heritage status. Under the aegis of visionary founder and director Neila Tazi, it has highlighted the form's authentic (tagnaouite) roots and its practitioners' role as healers. This CD offers a taste of the liberation inherent in all-night ceremonies known as lilas, which involve incense, trance, symbolic use of colour and songs divided into three phases. The third and longest, the mlouk (possessors) is represented here on six songs by three Gnawa maalems, masters of the gimbri (bass lute), each from revered families.
First up, from Casablanca, are 20-year-old Asma Hamzaoui and Bnat Tombouctou. The young female leader boldly wields her three-string instrument through plaintive, insistent songs accompanying the use of the black colour. Also from Casablanca, Maalem Saïd Oughassal and his Koyous chant and handclap through the playful section call oulad Bambara (meaning sons of Bambara), emoting en route; the voice of Marrakech's Maalem Aziz Baqbou soars through the highly spiritual 'Allal', his group's qaraqab (iron castanets) skittering behind him. Throughout, a sense of otherness, family and intimacy captures what the festival is about. Stunning. JANE CORNWELL
10
KOKOKO!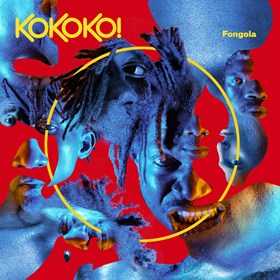 Fongola Transgressive Records
The most exciting thing about this Kinshasa collective is the extraordinary alchemy by which they turn pure building blocks of harsh, dissonant noise into compelling 21st century music. Like their famous Congolese predecessors, Konono No 1, they cobble their instruments together from old junk – everything from plastic bottles to a toaster – and their French producer and synth operator Débruit incorporates electronica that evokes the best 1970s Krautrock while aurally cementing the whole thing together.
But this is no mere clinical studio exercise. I saw the band perform in a grim London basement club earlier this year. Dressed in high-visibility yellow boiler-suits (in tribute to Devo?), they demonstrated the fine art of turning landfill into floor-fillers with real aplomb, exuded extraordinary energy and charisma as they got a typically aloof, hip young crowd dancing their socks off from the opening number right through to the close.
Fongola is their debut full-length album, but it feels much more like a confident second or third release. It's also one of those rare records that reveals something new each time you play it. This is without a doubt my 'world music' album of the year so far. HOWARD MALE
11
Tinariwen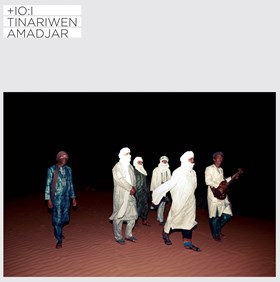 Amadjar Wedge/PIAS
Following the takeover of their homeland in northern Mali by militant Islamists in 2012, Tinariwen recorded their last two albums in the US. Both contained some fine and often rather sombre music, but severed from their desert roots, something didn't quite seem right. The change in the dynamic may have been small but it was perceptible – and it was hard not to conclude that the pain of loss and separation had resulted in a diminution of their fiery Touareg pride and passion. Tinariwen sensed it, too, and to record Amadjar they returned to the desert, working up their new songs under the Saharan stars on a 12-day journey across Morocco and Mauritania and then recording them in a large tent pitched near Nouakchott.
There they were joined by Noura Mint Seymali and her guitarist husband Jeiche Ould Chigaly and additional instrumentation was later overdubbed by a bunch of Western indie rockers. The outside contributions are valuable, particularly the droning violin of the Bad Seeds' Warren Ellis on 'Tenere Maloulat' and the mandolin of Micah Nelson from Neil Young's band adds a sparkling texture to 'Anina'. But it is essentially ornamentation, for at the core of the record is the soul and dignity of Tinariwen, restored to their natural milieu and back to their best, from the intense blues-rock of 'Zawal' to the more playful rhythms of 'Taqkal Tarha' via the timeless acoustic majesty of the closing track 'Lalla'. NIGEL WILLIAMSON
12
Various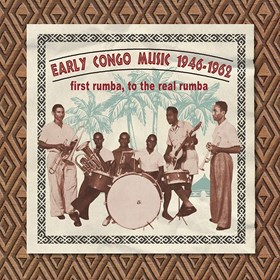 Early Congo Music 1946-1962: First Rumba, to the Real Rumba El Sur Records
Early Congo Music 1946-1962 has been compiled and annotated by Japanese collector Yoshiki Fukasawa. His unusual sub-title comes from the summation that the early troubadour and brass band recordings were erroneously labelled as rumba as a flag of convenience. Globally popular novelty Latin songs like 'Manicero' (The Peanut Vendor) were frequently labelled as rumba – even when they might have been bolero, chachachá, son or any number of other rhythms. Disc labelling (or mis-labelling) in the Congo frequently followed suit. Tracks on the first CD are therefore 'falsely labelled' rumba, whereas the second CD of recordings post-1951 is the 'real rumba.' There are rare tracks from Wendo Kolosoy, Joseph Kabaselle, Tino Baroza, Bowane, Rochereau, Franco and Docteur Nico. Also we get to hear fascinating examples from lesser-known artists like Orchestre Odeon-Kinois, who recorded for Olympia Records in 1946.
These represent some of the earliest recordings from the Congo – a couple of military band inspired pieces with tuba, trombone, sax and trumpet and a gloriously swinging syncopation. Other tracks show the development of Congolese music with influences from West African palm wine as well as the ubiquitous Latin styles, religious music, and local folk traditions. Additionally there are songs that reflect social history like Camille Mokoko's 'Klim Abikisi Mwana' – an advertisement for Klim powdered milk. The release is attractively presented in a box with a booklet annotated in Japanese with an English translation, English outline of the song lyrics, plus period photographs and record label images. Available from farsidemusic.com. MARTIN SINNOCK